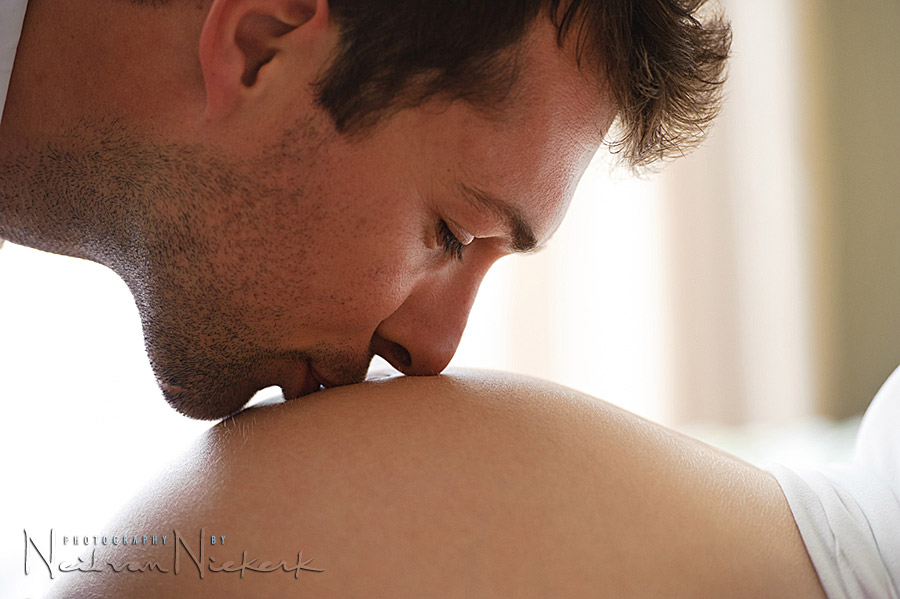 high-key lighting with maternity photo session
Part of what makes wedding photography so rewarding, is keeping contact with clients over the years as life continues past the wedding date. Maternity photo sessions .. babies .. kiddos .. it's all part of how couples' lives unfold. If we're fortunate as photographers, we remain part of it.
So it was with great pleasure that I had a maternity photo session with Renee and David. As usual with a photo session, I like to mix things up in terms of the lighting … all with the intent of getting more diversity in the selection of images:
Here is a comparison photo where I disabled the flash.
For the photograph at the top, I had a speedlight on the floor behind their bed, bouncing straight up to the ceiling. This flooded the room with light … and the reflected light spilling around David and Renee, wrapped around to create soft light from the camera's point of view.
The curtains and everything behind them were blown out by the flash over-exposing everything there.  That was the intention though … the couple is my subject, not the out-of-focus areas behind them. I wanted that high-key lighting.
The speedlight behind them on the floor was the only additional light that I used here.  The flash was controlled by an on-camera PocketWizard FlexTT5 which controlled the FlexTT5 on the Slaved flash. The slave was controlled as a TTL flash.
TTL flash is fairly unpredictable in how it would behave with a back-lit shot like this. Rim-lighting is best controlled as a manual flash, since the camera can't really meter for rim-lighting. But with this scenario, where there are large areas that are bright, and large areas of mid to below-mid tone … the TTL flash did very well in giving me correct exposure.
camera settings: 1/250 @ f4 @ 800 ISO
That's the technical aspect of the photograph. The artistic intent here was to capture a simple portrait of a dad-to-be, showing all the tenderness that exists.  These things – the intent and the implementation – they go hand-in-hand to create a photograph that works. By simplifying my composition to only include David and his baby-daughter-to-be, the connection between them is highlighted. The lighting just supplements this.
equipment used (or alternatives)