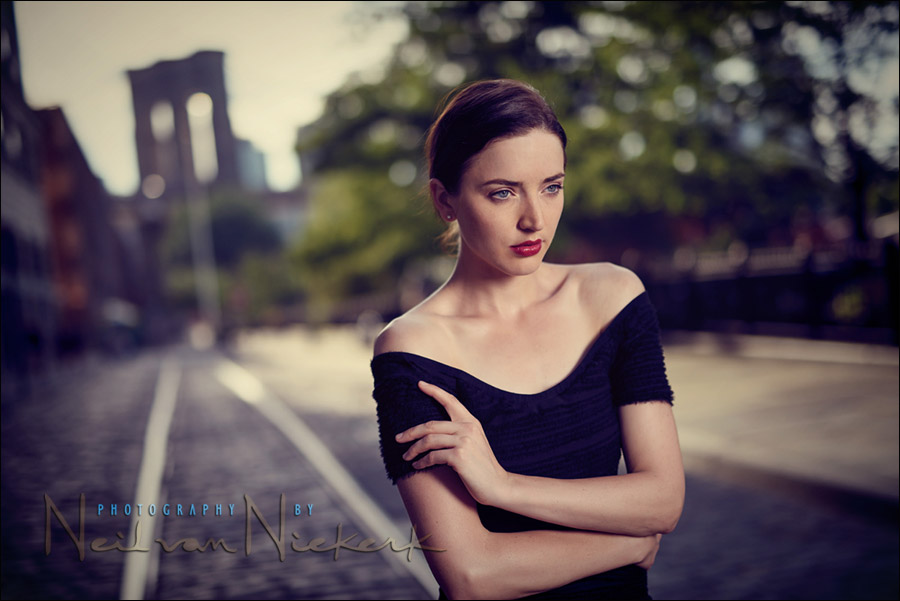 recap: NYC photo walks – photography workshop
A fun addition to the photography workshops that I present, are the occasional Photo Walk in NYC. We roam a small area in New York with a model, and look for interesting views and places as background. There's no lecture style seminar, but I am there to answer any questions about lighting, posing and photography in general. I want these events to be informative and fun … and for you to get some stunning images.
More details about the Photo Walks: We travel light – no need to bring flashed and light-stands and tripods. Just a camera and a lens or two (or three). The group is purposely kept small so that everyone gets a chance to shoot and move around. No clustering. I bring a high-powered Profoto B1 flash (affiliate), and a softbox. There's an assistant to hold up the light and help things run smoothly. I have enough Canon and Nikon transmitters on hand so that everyone can shoot independently. Here we use the narrow stripbox, the Profoto RFi 1'×3' softbox (affiliate), specifically for how mobile it is. My assistant holds the light up on a 75″ tall Gitzo monopod (affiliate).
The gear we use is mobile, and with a small group, it is easier to move around and still have everyone keep track of what we're doing.
For this most recent photo walk, we met up in Brooklyn on the East River waterfront, and from there we moved around. Our model was Anelisa – someone who would be familiar to any follower of the Tangents blog.
The photo above had some retouching done with a home-brewed combination of the Totally Rad Actions to get that faux cross-processed look.
Here is the original image, as well as the pull-back shot … as well as a few other images from this Photo Walk:
Camera settings & photo gear (or equivalents) used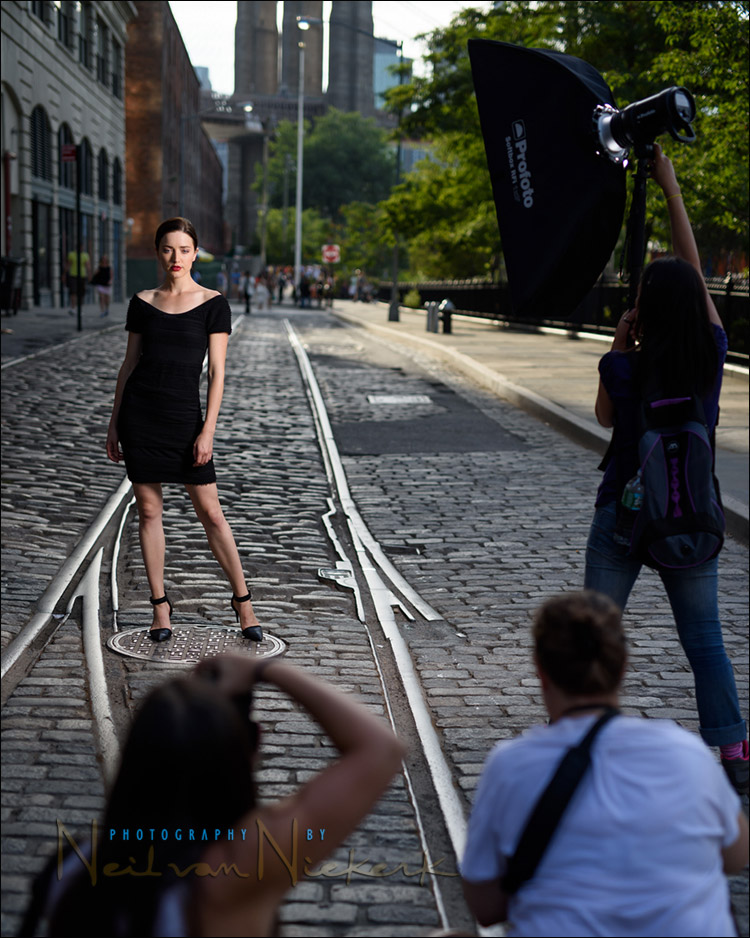 With these next two images, compare the light that we created … and then look at their respective pull-back shots to show how the flash was positioned: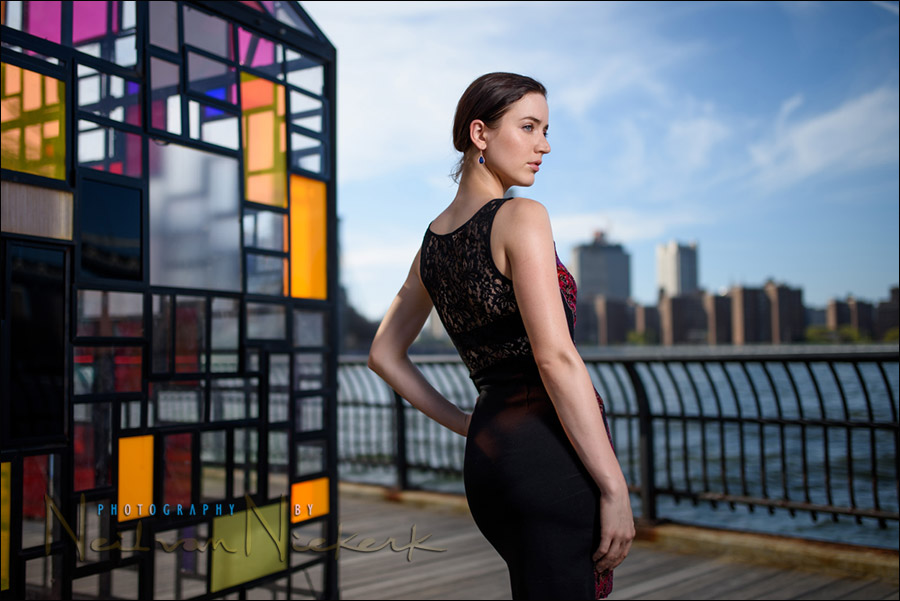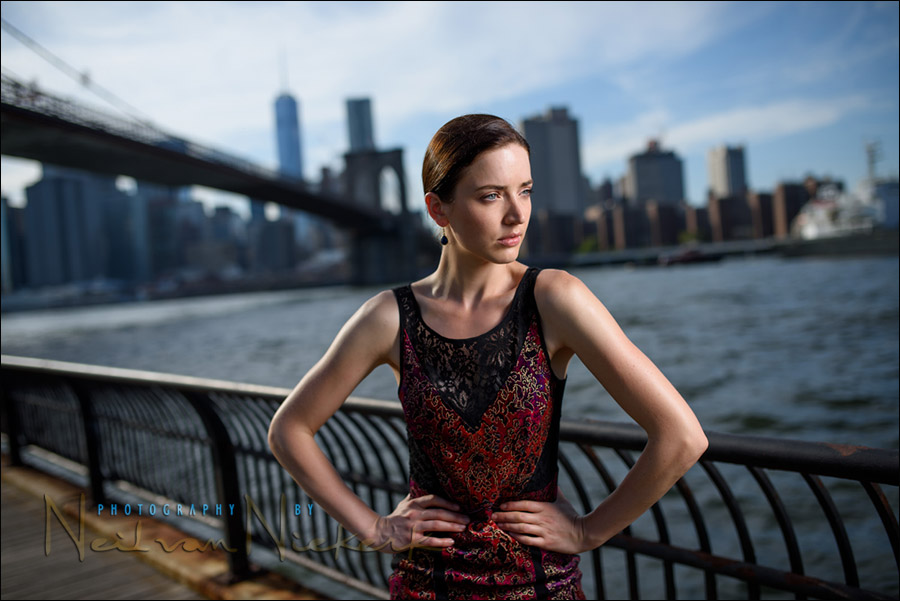 With the second photo, we moved the light more to the side, in relation to how Anelisa was posed. Compare this to the previous photograph, and you will see we now have short lighting on Anelisa, instead of the more even light. Also notice how her body was position compared to the light.
Do keep in mind that our own position in taking the photo, has as much impact on the final image as the position of the light.
We always have to keep that triangle in mind:
– our subject's position and pose,
– the position of the light in relation to our subject,
– our own position in relation to the light and our subject.
With the second image, we have the strong sunlight from behind as the rim-light. The combination of the flash and sunlight is quite dramatic. There's a line of thought with the use of off-camera lighting, that you shouldn't create a secondary light source, and that it looks unnatural. I don't buy into that restriction. If the image looks good, it looks good, regardless of such finicky critique.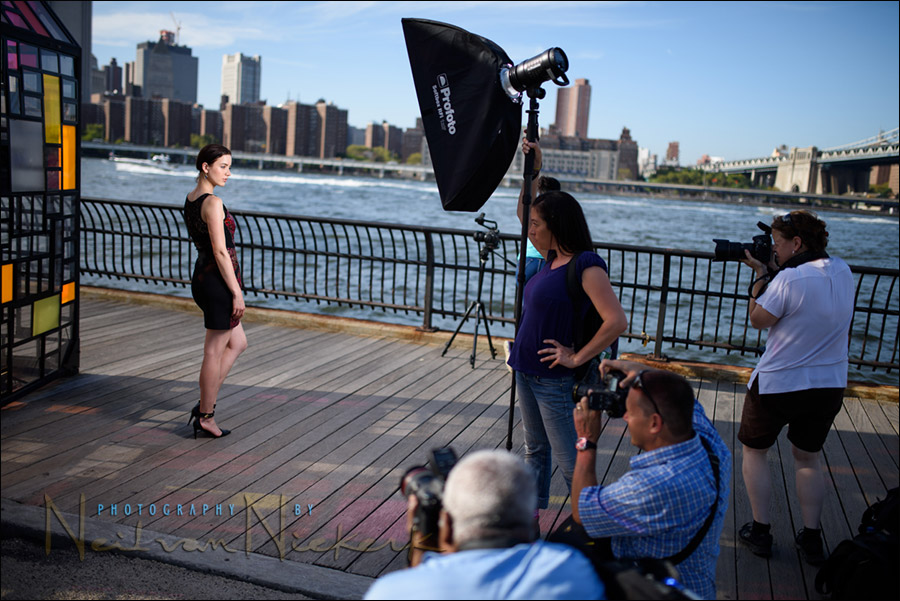 The lens used for both those images, was the Sigma 35mm f/1.4 ART lens.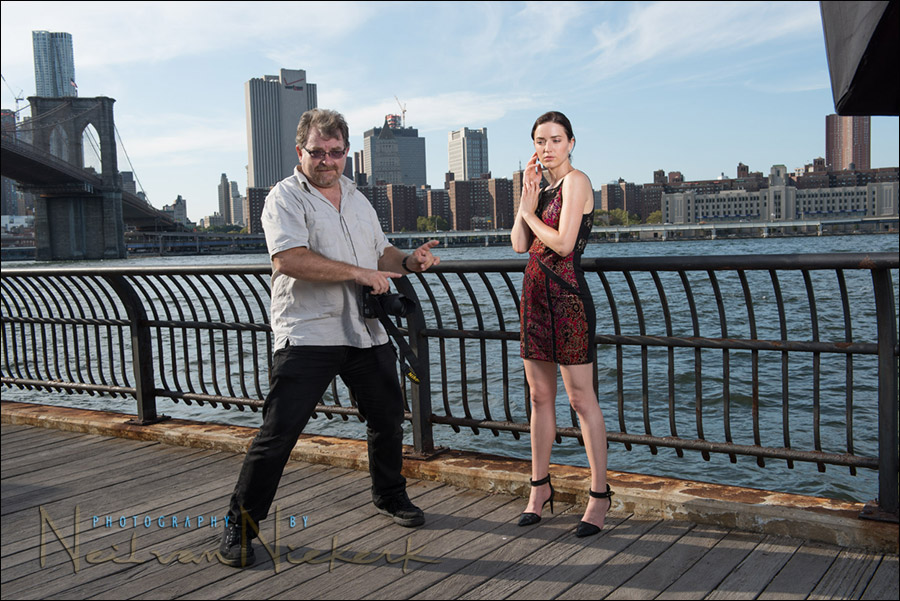 Of course, with a photo walks, I am on hand to help with posing, and camera settings and any other questions.
For the future dates and more info about the Photo Walks, and how to sign up: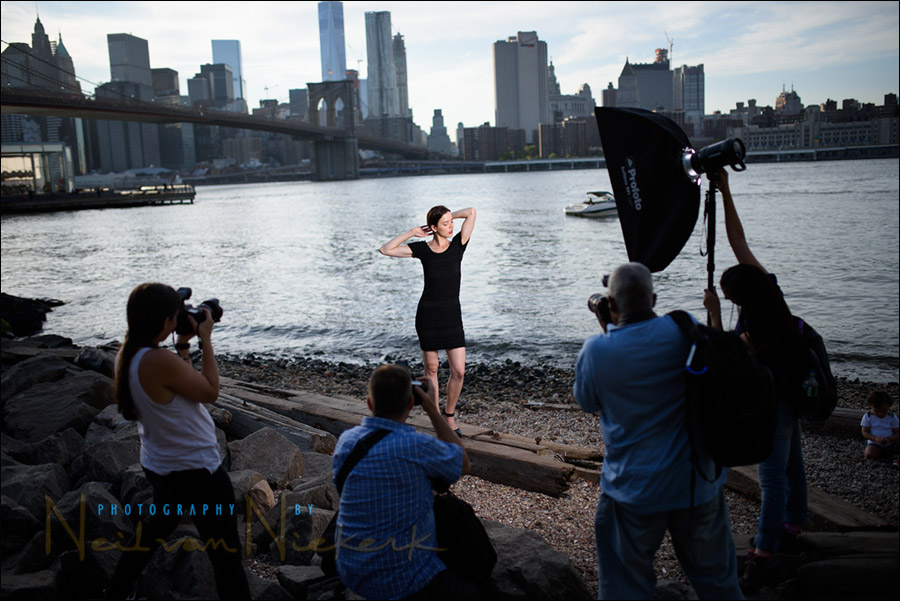 Related articles
Photography workshops