photo session (available light) – Ekaterina
Ekaterina, (or Kate, if your tongue trips over her name), was the model at the top of my recent review of the Canon 8-15mm f/4L fisheye zoom lens. Since the fisheye makes everything bendy, and it must be the least flattering of lenses for portraits, I wanted to show a handful of images from the rest of the photo session with her. These should portray her graceful beauty much better.
The images here were all shot with available light only. The approach was exactly the same as described in the article, "using the available light" is not random. In that article I described how I photographed a bride using available light only, by positioning her such that the light just had to come in at a flattering angle. Predictably so. Similar here with these two photos of Ekaterina – I had her against the doorway which was deep enough under the canopy of the buildings. So the soft light was coming in mostly from 30-45 degrees from above – that natural softbox effect. Very flattering.
camera settings: 1/320 @ f3.2 @ 400 ISO
Nikon D3;  Nikon 70-200mm f2.8 AF-S VR II (B&H)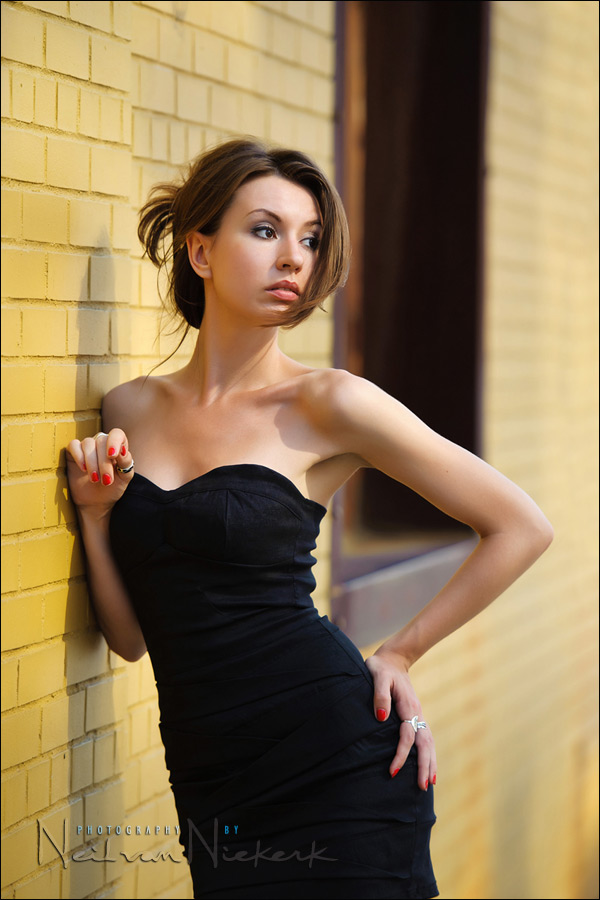 camera settings: 1/500 @ f3.2 @ 320 ISO
Nikon D3;  Nikon 70-200mm f2.8 AF-S VR II (B&H)
Working on the shadow side of a building with this bright yellow wall, I noticed there was this splash of glare from the sun being reflected off glass.
This created a natural spot-light effect which I then Ekaterina position her face towards. Here is the comparison image where I asked her to just look at the camera – no regard for the direction of light. It just creates a messy pattern of light. This just underlines the idea that "using the available light" isn't random.
This idea ties in with two other related articles:
– direction of the light – using available light (model – Shawna)
– available light vs fill-flash  (Jessica & Michael)
– finding interesting available light
Back to the final image: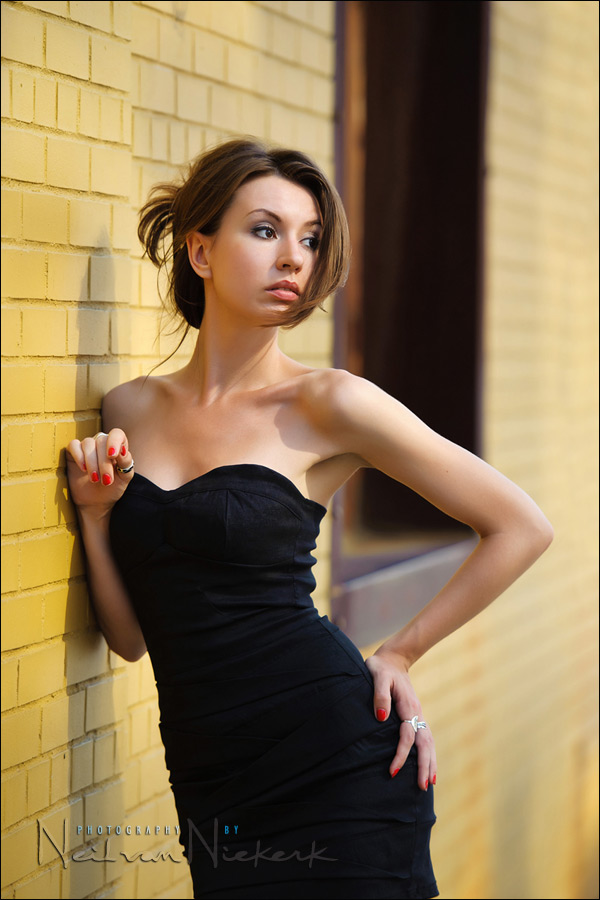 Being so intent on checking how the light fell on her face, I didn't note the shadow that her shoulder was casting. I should've caught that at the time and asked her to gently roll her shoulder back until the shadow isn't as distinct. The learning curve is never-ending.