After the photo session where we played around with banners of fabric on the rooftops, we went to Times Square with the Modern Gypsies …

My assistant, Jessica, and I arrived ahead of them on purpose so we could set up the softbox on a monopod. Since we aimed at getting there during dusk, I knew we'd need off-camera lighting. The reason we wanted to do this at dusk, is so that we'd have both the massive neon displays light up .. and some remaining ambient light to avoid getting too many dark areas in the picture.
The lighting set-up was simple again. My assistant Jessica was going to follow me with the softbox – walking to my left, and a little ahead of me, but out of frame – while I photographed the group of performers.
We were going to photograph them as a group, and individually. I had my 24-70mm f2.8 lens on the one camera body. The speedlight on the camera was set to Master, and the speedlight on the Lastolite EZYBOX softbox, was set to Slave. A simple setup to shoot with wireless TTL flash.
Before they arrived, I got a basic exposure where there was enough detail in the sky and the surrounding buildings. With the neon signs flashing, and the evening light rapidly failing, I had to figure out an ambient exposure that would encompass all that.
Here is the same photo as above, but with the flash disabled, to give a sense of what was flash and what was ambient light.
1/200 @ f5.0 @ 800 ISO .. TTL flash, FEC +0.3EV
Nikon D3; Nikon 24-70mm f2.8 AF-S … at 24mm
using off camera flash on location with a softbox
It is in a scenario like this where TTL flash really shows its strength. With the thronging crowd we eventually had to move through, as well as the stilt-man's erratic movements, we weren't always sure of having the same distance between our light and the subject. This constant change in distance would've made manual flash a bit harder to work with. I needed the help of the TTL flash technology here in getting me close to correct exposure, since TTL flash is designed to give you correct exposure, even with changes in distance.
We expected a massive crowd around us …. and even the possibility of the cops shutting us down. This fortunately didn't happen. Cool people.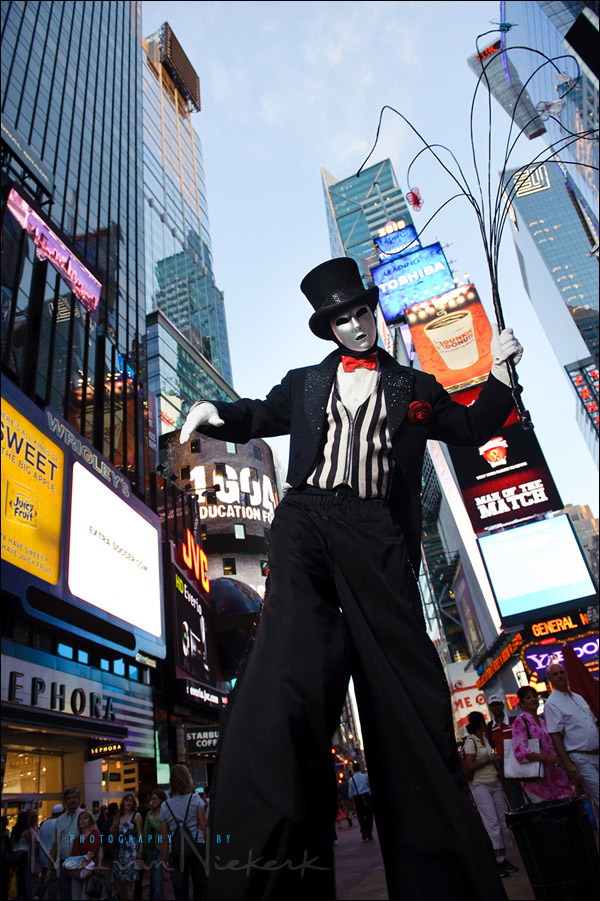 1/200 @ f4.0 @ 800 ISO .. TTL flash, FEC -0.3EV
Nikon D3; Nikon 24-70mm f2.8 AF-S … at 24mm
1/200 @ f4.0 @ 800 ISO .. TTL flash, FEC -0.3EV
Nikon D3; Nikon 24-70mm f2.8 AF-S … at 24mm
1/200 @ f4.0  @ 800 ISO  .. TTL flash, FEC -0.3EV
Nikon D3; Nikon 24-70mm f2.8 AF-S … at 35mm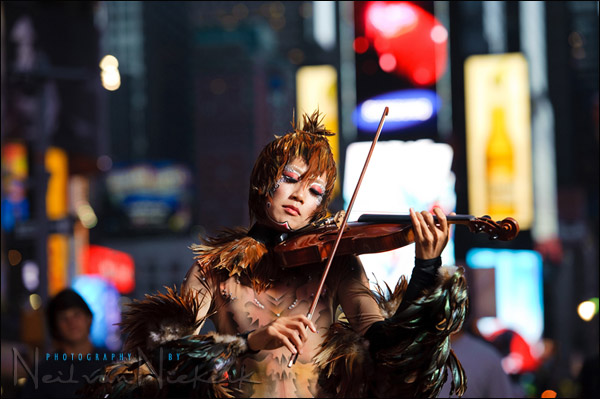 1/200 @ 3.5 @ 500 ISO .. TTL flash, FEC -1EV
Nikon D3; Nikon 70-200mm f2.8 AF-S … at 135mm
The technique used here with the photos in Times Square should be obvious and even self-explanatory by now if you look at the images. We find an exposure for the background that works for us … and then we add flash.  How much flash?  We let the technology help us out there on a fast-paced shoot by using TTL flash.  Simplicity itself when the subject is darker than the surrounding areas in the photograph.
Thank you to the Modern Gypsies for … being other-wordly.
And a thank you to Jessica and Robert for helping out.
More articles on off-camera flash …
Equipment used during this photo session:
Nikon D3;  Nikon 24-70mm f2.8 AF-S (B&H);  Nikon SB-900 (B&H)
Lastolite EZYBOX 24×24 softbox (B&H)
Manfrotto 680B monopod (B&H);
brass stud to attach softbox to monopod (B&H)