Photo shoot with Off-camera flash – Adapting to opportunity
One of the fun elements of the Photo Walks in NYC, is looking for opportunity, and being ready for any serendipitous moments. We were photographing Claudia, using the Profoto B1 TTL flash (affiliate), and a 3′ octa-box as our off-camera lighting setup. Of course, we could also shoot available light … or sweeten it with a touch of off-camera flash. We have options in how we use light. It's all part of the adventure of looking for great photos.
In this instance, there was this reflective metallic wall on three sides of the one building's entrance. With the cars zipping around, and people walking past us, the patterns in the reflections were constantly changing. Great for shooting available light portraits of Claudia, as show here below:
A simple enough way of working, giving us some variety in the images. Then, walking around the corner, I noticed that the 5pm sun, which was leaning Westward, was reflecting in this semi-halo kind of way against the wall. I thought this might make a neat frame for a sequence of photos with Claudia.
Of course, exposing for the reflection, would mean that Claudia would be heavily under-exposed … and this would necessitate adding off-camera lighting.
The softbox killed too much light, so I decided we should go with bare flash, so that we had a chance of matching that bright metallic reflection of the sun.
This pull-back shot will show how the bare Profoto B1 was angled towards Claudia. It was set to power level 9.5 which is close to max output. We had started at full output, but as the sun started dipping behind the skyscrapers, we had to adjust our camera settings, and the flash power. For the sequence here, we were are the settings show below.
Photo gear (or equivalents) used during this photo session
Even though we used a bare Profoto B1 here, these photos are entirely within the reach of anyone who uses a speedlight!
A little bit of homework
Working with a speedlight, what would your flash settings and the distance to your subject be, to get the same flash exposure as here?  1/250 @ f/11 @ 100 ISO
Hints:
Tutorial: How to use the guide number of your flash
Applying the Sunny 16 Rule & Flash Guide Number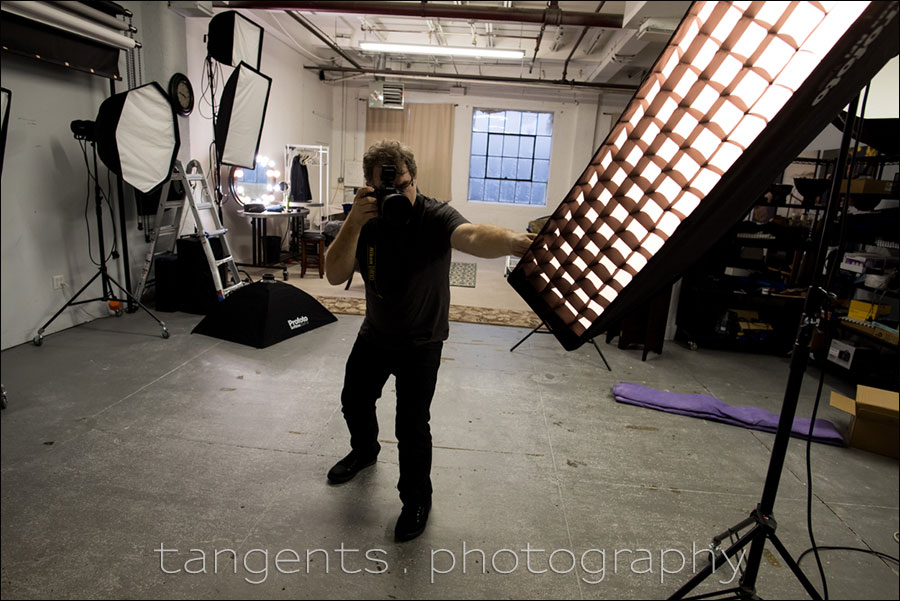 Posing and positioning the light
A question came up in the comments, and it is an important one:  "How did you get such soft flattering light with the bare strobe head?"
The key here is to work conservatively. I often see photographers who are new to using off-camera flash, place the flash too low, or too far off to the side.
I aim to have Butterfly Lighting, or Loop Lighting. This way there are no dramatic shadows, and little risk of the shadow of your subject's nose creating a Charlie Chaplin mustache, or streaking across their cheekbone.
So, just a very simple way of posing my subject into the light.
Have a look at these two images. The left-hand one is where I started. It also has mild Loop Lighting as a lighting pattern. (Close to being Butterfly Lighting.) The flash here was nearly at a right angle to the wall – in other words, at quite an angle to where I was photographing from. This caused that gradient of shadow across Claudia's cheek. The lighting is flattering, but very contrasty.
Moving the light much closer to me, and having Claudia turn her face more to the camera, gave light which was more flat … and hence, more flattering for such a small light source.
Summary
The algorithm is to find our background exposure – in this case, the semi-circle reflection of the sun … and then expose for our subject with flash. For the thought-process in how we got to our flash settings, have a look at the little bit of homework given above.
The thought-process here is very similar to other tutorial articles here, in how we progressively set this up for a successful photo. No haphazard jumping around between settings! Then it all falls into place much more easily.
Related links