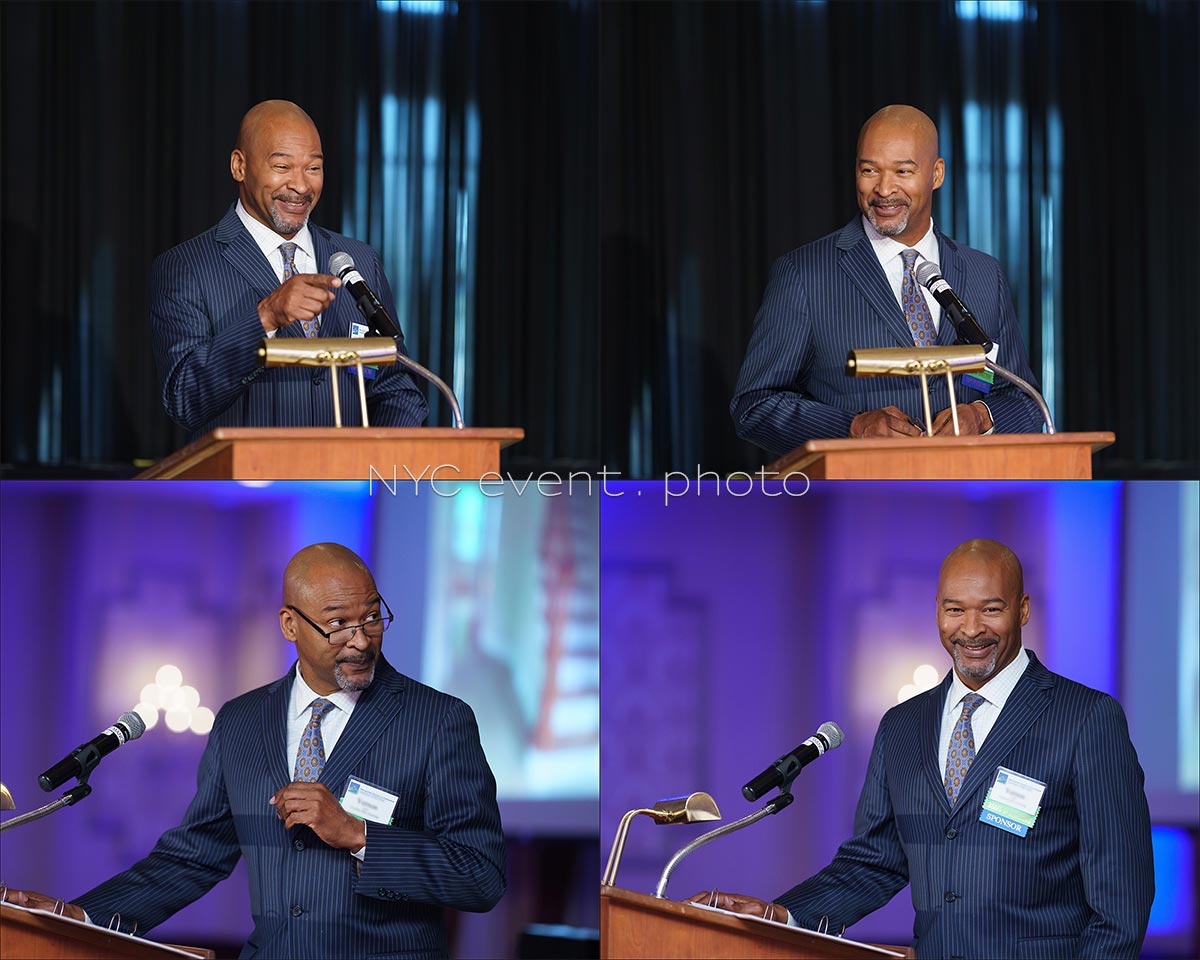 Photographing corporate events – flash or no flash?
Mirrorless cameras offering an electronic shutter which is truly silent, is one of the best advantages to using mirrorless cameras over DSLRs. With these types of events, I really do prefer using a silent shutter, so I can take enough photos where the speaker doesn't have odd expressions and weird mouth shapes. You really have to over-shoot to be sure you have enough usable images which you can give to your client. With flash and the shutter sound, at quieter events, I am sure it can be distracting to the speaker to have every movement tracked with a *click* and the flash. And in turn, I too start to cringe every time the shutter clicks. So taking a huge number of photos without the shutter sound, is a major advantage to me.
The sequence of images above are from a recent corporate event I photographed. But with this event, the personalities were more gregarious and the crowd rowdy .. so me taking a fair number of photos of each speaker, wasn't nearly as potentially distracting as it might have been … so I used bounce flash here to augment the spotlight on the person speaking.
I gelled my flash with 1/2 CTS gel to better match the spotlight in color balance. Here's more about why and how I would gel flash for Incandescent light / Tungsten light
And as usual, I bounced the flash up and behind me into the room and onto the ceiling. Just enough light returned to make the light very sweet indeed. The thought-process for me with bouncing my flash, is that I bounce my flash  into the direction I want the light to come from. In this case, I bounced my flash into the room behind me, partially hitting the ceiling.  But I rarely bounce my flash straight up, since that isn't the direction I want my light to come from.
1/250 @ f/2 @ 1600 ISO
The shutter speed I used here was unusually high for event photography indoors — except they had a spotlight on the speaker at the podium.  I therefore used a high shutter speed – specifically maximum flash sync speed – to keep the spotlight under control, and allow me maximum efficient use of flash. If you're curious about the significance of using maximum flash sync speed here to give me maximum range of my flash, here is a video tutorial on High Speed Flash Sync (HSS)
Camera settings for these images
1/250 @ f/2 @ 1600 ISO
bounce flash, gelled
Related articles