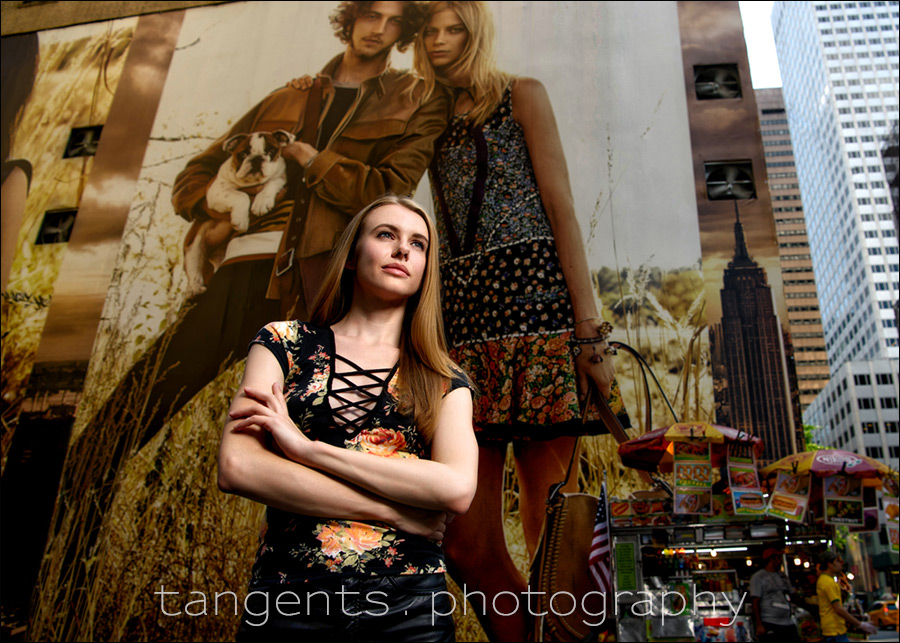 Photographing wide-angle portraits
In photographing wide-angle portraits, we have to make the decision whether we want to embrace the wide-angle distortion (such as Bill Brandt famously did), or have a more natural approach where the wide-angle is used to show more of the environment and to help with a dynamic composition.
With this photo of Anastasiya, I wanted to include these massive billboards 5th Avenue. That meant I had to use a wide focal length. In this example, I had my 24-7mm zoom racked to 24mm.
The idea here is that we need to be purposeful. Better to shoot in a more controlled way with a specific idea in mind, than afterwards think to yourself, "if only their hands and feet weren't so distorted." It needs to be a conscious decision at some point. Control.
So if the intention is to use a wide-angle lens for a portrait, and not have crazy distortion, there are a few things we should look out for: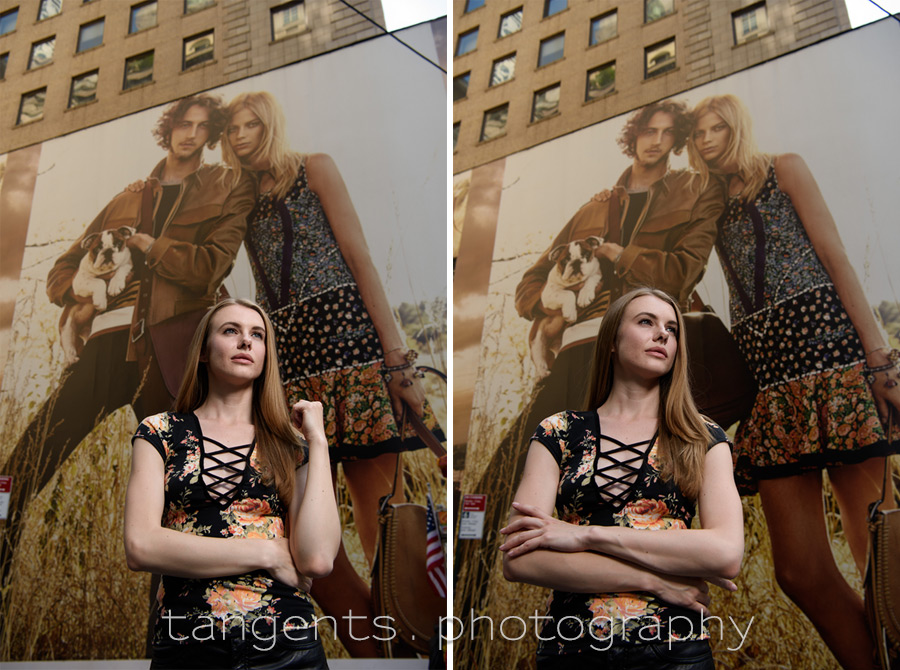 Shoot from waist-high if you can. Then you have about the same distance to your subject's feet as their face. Think of how photographers used twin-lens reflex cameras hanging from their neck – the camera was about belly-button height. This helps minimizing perspective distortion. Shooting from lower down also prevents you from shooting 'down' on your subject.
If you shoot from a lower angle, as in these two examples above, then you are likely to get severe perspective distortion – you can see that Anastasiya' hands and arms look much larger in the frame compared to her face. The way around this is to move further away – don't shoot so close-up, and then, as in this case, have your subject lean forward ever so slightly. This will help correct the distortion. That's what we did with this frame.
With a wide-angle lens, try to keep your subject central – the closer they are to the edge of the frame, the more stretched-out their features will look. Oddly-shaped, distorted heads aren't attractive for portraits!
Post-processing the photo
The main image shown at the top was boosted a bit with some mild HDR via the Aurora HDR software.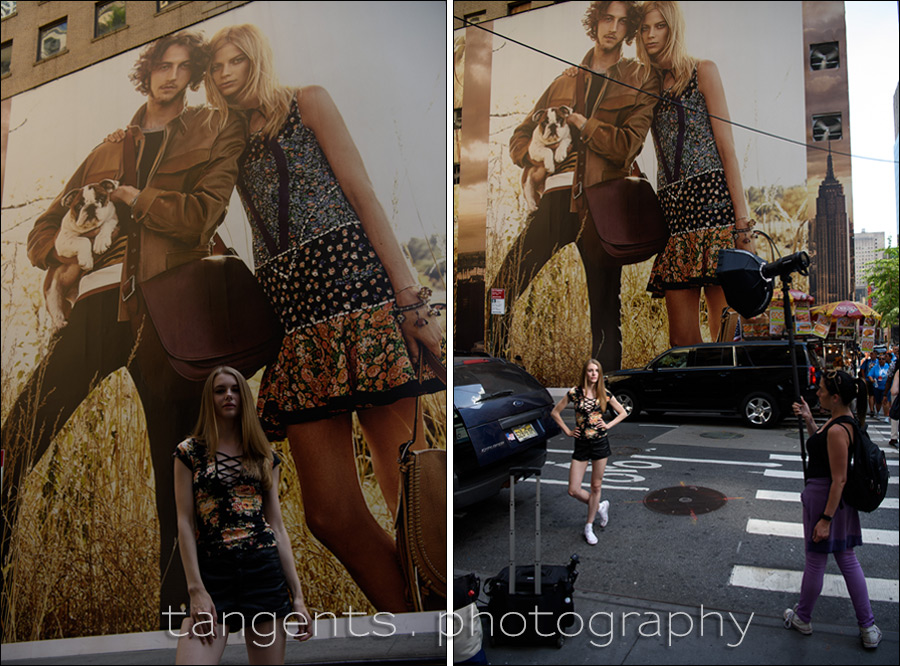 Photo gear used during this photo session
This pull-back shot (and a comparison without flash) will show the effect the off-camera flash had, and how it was positioned. In this instance, I had my assistant hold up the Profoto B1 flash  (B&H / Amazon), with the Profoto OCF Beauty Dish (24?)  (B&H / Amazon). (This softbox also needs the OCF speedring to mount to the Profoto B1 or B2 flash.)
I like this setup because it is powerful, but the softbox is small enough to not be unwieldy out on the streets in New York.
Related articles