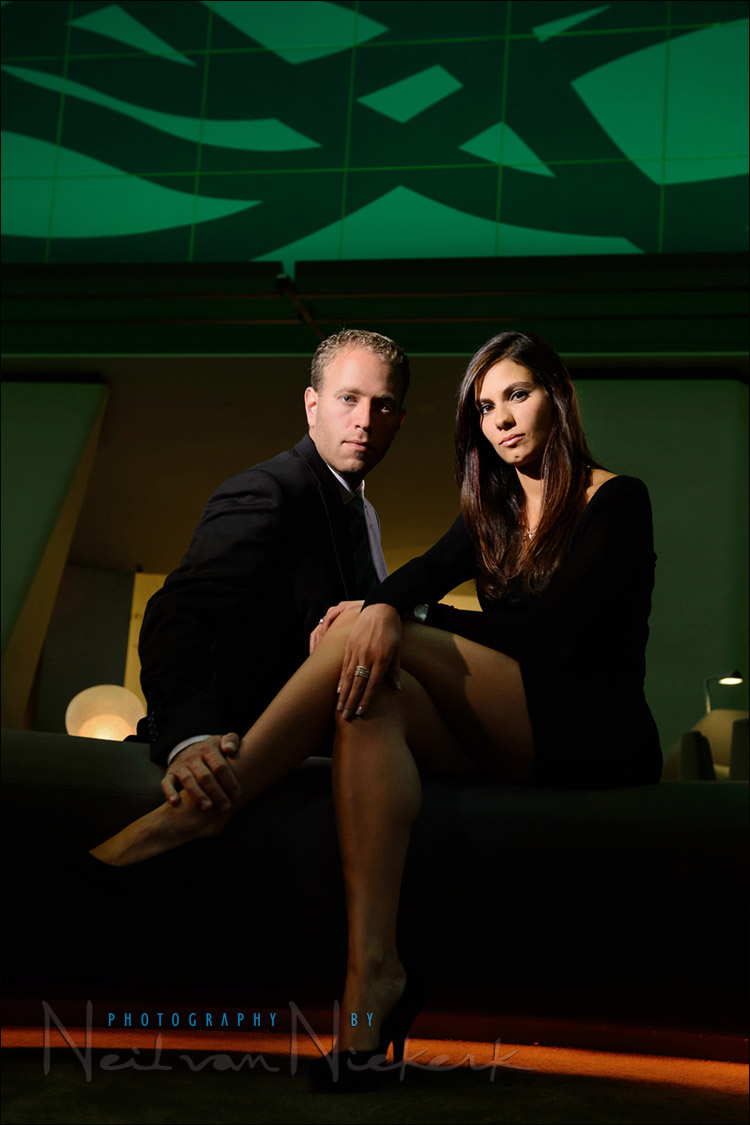 Posing and lighting technique – posing in relation to the lighting
When taking a portrait, the pose needs to suit the lighting. And vice versa, the lighting needs to be done in relation to the intended pose. Especially so when the lighting is dramatic. This is such a key idea – lighting and posing are tightly correlated. Started again: you pose the participants in relation to the light. You light the people you photograph, in relation to how you position the light.
When lighting a couple, I tend to favor the woman in terms of flattering light. So in setting up a pose, the lighting is paramount to that.
Aviva and Brian brought some spy movie style to the photo session. The location was a hotel lobby with huge visual displays that are ever-changing. So the challenge was to retain this certain Noir mood, and add a touch of sexiness.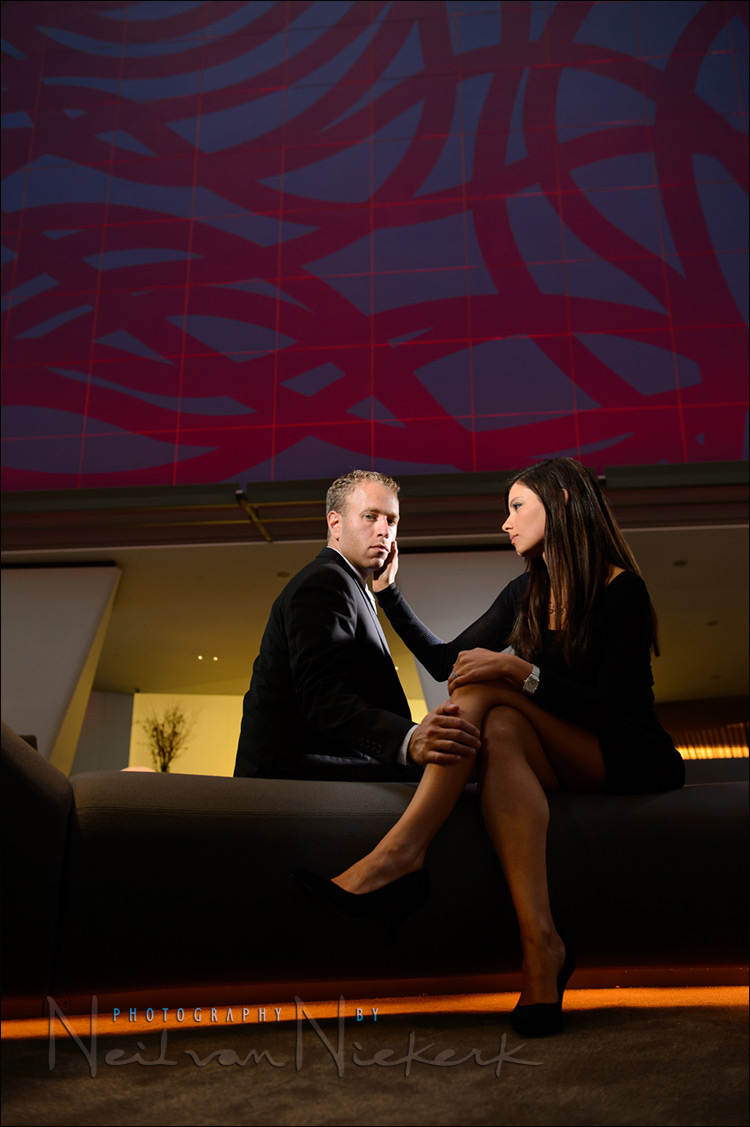 I used the LED fresnel lights – a modern version of the hotlights used for Hollywood Glamor lighting. The specific make was the Litepanels Sola 4 LED Fresnel Lights  (B&H / Amazon). The 4″ diameter fresnel gives a fairly concentrated beam. This beam can be focused and dimmed, and of course, flagged.
The one light was used for Aviva, and the other light for Brian, but more as side-light / back-light.
In deciding on this partical background, I sat down in each spot to feel if the pose made sense and to figure out the lights. All of this done before positioning the couple. Then, when it seems the idea will work, and the lights are set up, will I add the couple and finesse the pose and the lighting.
While I generally tend to loosely pose people, here we had to be more meticulous with how Aviva placed her hands.  Brian's hand on her leg also had to be purposeful, and not look like a casual after-thought.
---
---
The dramatic lighting dictated that we had to be more specific with how they were posed. With smaller light-sources, the light tends to be harder / more contrasty. Slight changes in how someone holds their head, can make or break the image. The nose's shadow over a top lip, or eyes unintentionally shrouded in shadow, can easily make an image fail. So we have to be quite specific with every gesture of our subjects.
In positioning someone's head I most often use large slow gestures with my hands to show. Using my own body and face to mirror what I want them to do, is also an important way of helping a pose.
The pull-back shot to show the positioning of the lights.
The lights were flagged with barndoors to contain the spread of light.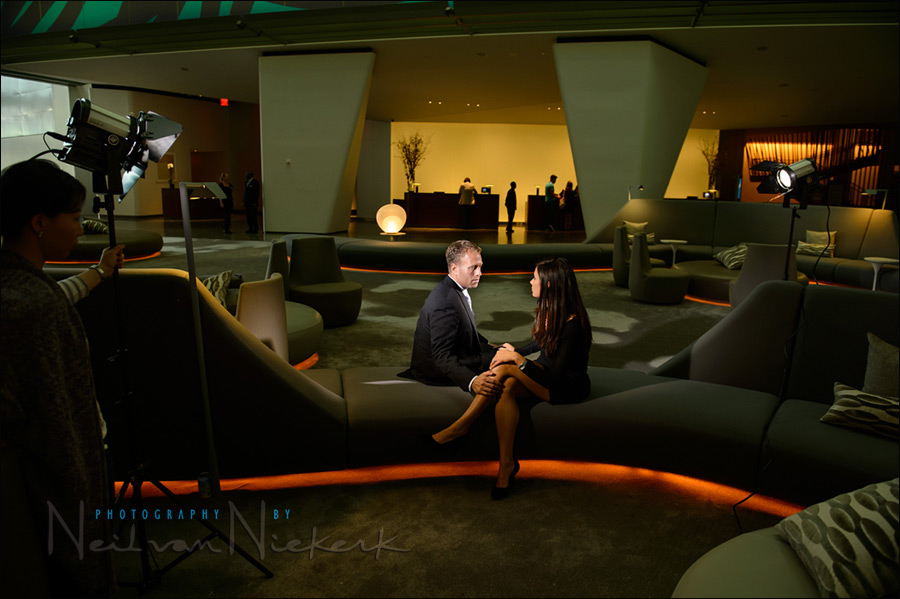 Camera settings & photo gear (or equivalents) used during this photo session
1/100  @  f/4  @  1000 ISO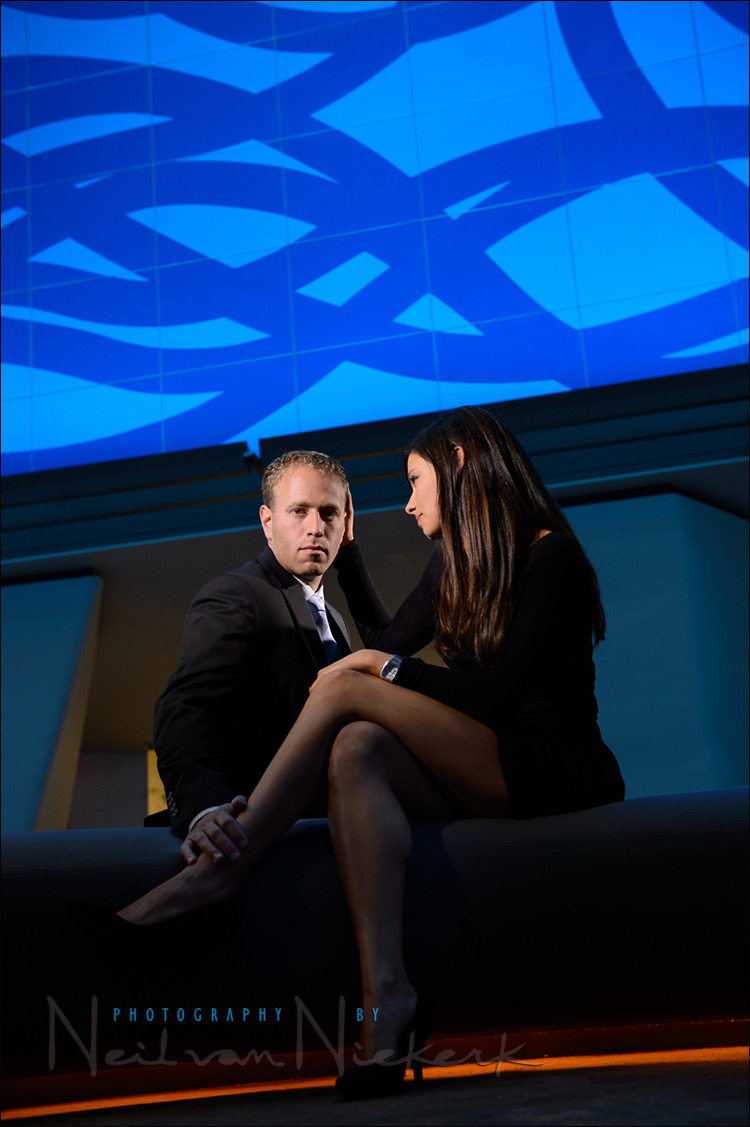 Related articles
Books on Hollywood portrait lighting
I strongly recommend this book where the authors analyze and break down some of the best known portraits and describe how the images where lit – Hollywood Portraits, by Roger Hicks and Christopher Nisperos. (Amazon)
---