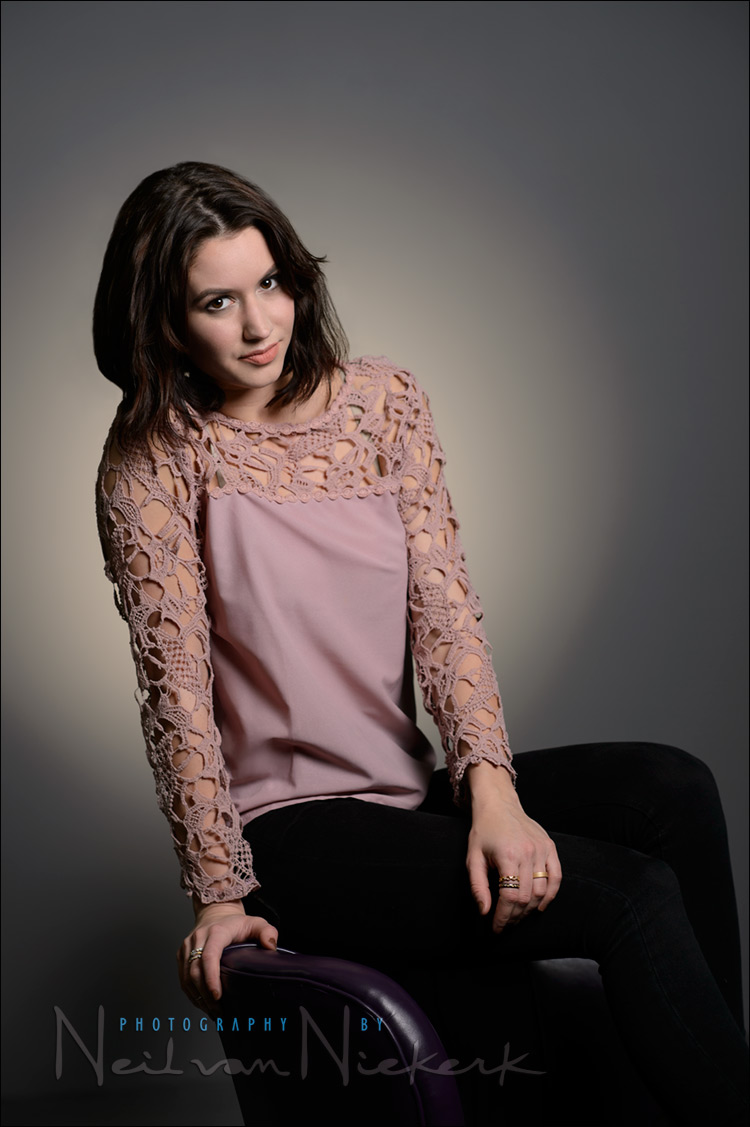 Posing people: Tips for improving your portrait photos
Throughout the numerous articles on the Tangents blog, I'm often asked about how I go about posing people. I've described some of it in the article, adjusting a pose with incremental changes. Instead of a traditional way of posing, it's mostly a "feel" thing, looking at my subject and seeing if there are elements that could be better balanced. This studio portrait of a model, Adrienne, doesn't follow rigid guidelines of formal portraiture. Her shoulder is a little scrunched up, and her head is tilted to the side. Yet, to my eyes, this works. There's a "looseness" to it. Yet, I did adjust a few things before firing the shutter.
That is a constant for me – I wouldn't just fire off frames without being at least partially satisfied how my subject appears in the frame. It's that delicate balance between maintaining spontaneity (and capturing some of the real personality of your subject), and controlling what you see in your frame. Just firing off frames will rarely give you many successful images.
For all that though, the moment and expression trumps technical perfection. It's not an excuse to not put in the effort to excel — it's permission to be okay with a photograph that is awesome despite what might technically be seen as flaws.
In posing someone, there are a few things I immediately look out for: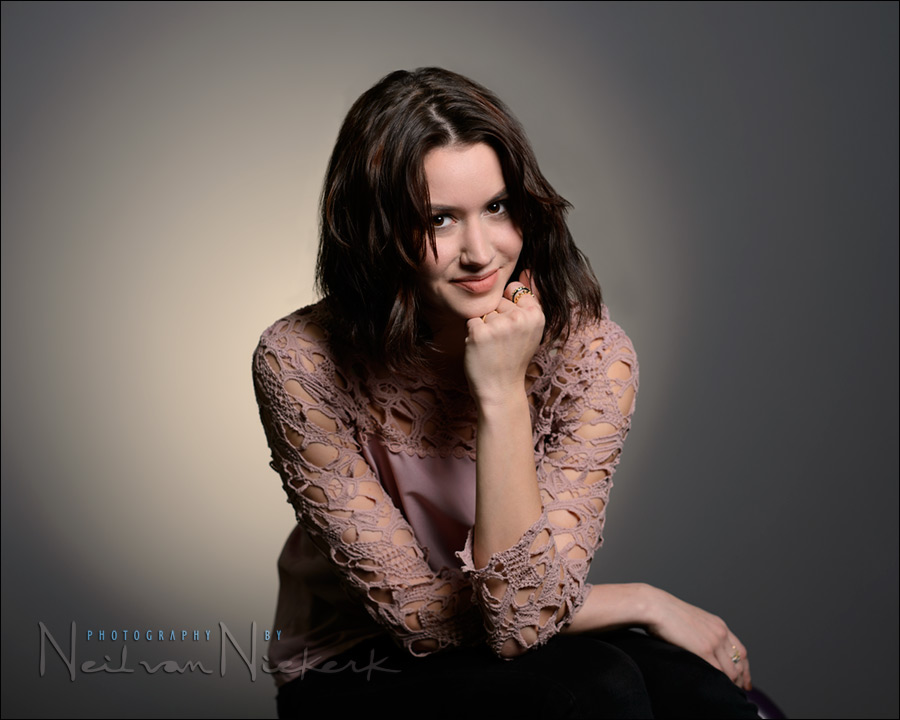 This photograph shows a few of the things I try to avoid when posing people:
The hand square-on to the camera. It usually looks better if you can see the edge of your subject's hand. Also, the hand usually looks better placed as an S-curved shape, rather than a straight line with the fore-arm.
She is too hunched over, without there being intent in the pose.
The light is too high / her face has dropped too low. This is an important consideration – posing and lighting go hand-in-hand. Here, her eyes are nearly shaded by her brow, and you can see the shadow of her nose dip too low, nearly touching her lips. I could either move the light, or ask her to perk up a bit – which solved the hunching pose as well.
Then there are other things I avoid as well:
1. Fore-shortening of the limbs. We see in 3 dimensions, but with photographs we lose the dimension of depth. So if an arm is extended to the camera, it can often just look plain weird due to fore-shortening. i.e., the arm becomes "shorter". With this in mind, I usually try to (very loosely) have limbs in a plane parallel to the camera.
2. A "flat" stance. With standing poses, I invariably start by having my subject place their weight on their back foot, and then the other foot is swept forward a bit. That's just to start with. From there I adjust the pose if necessary.
Note here in this following image how her arms and legs are parallel to the camera, to avoid fore-shortening. I then had her rotate her shoulders more open to the camera.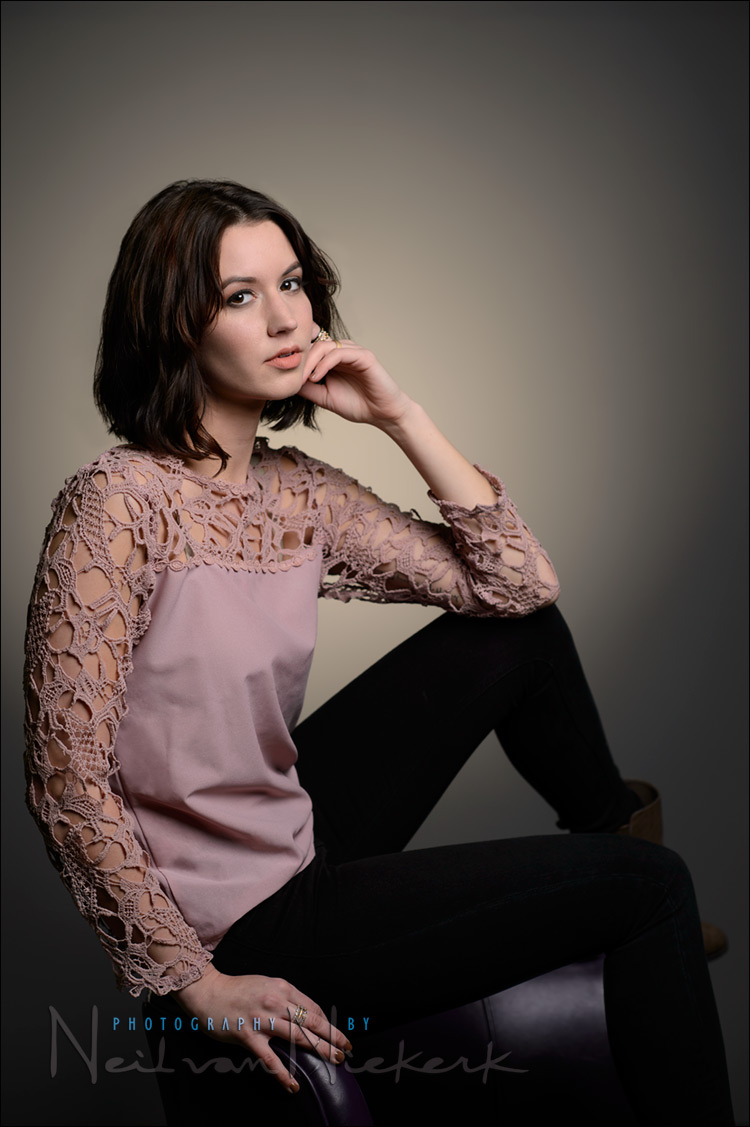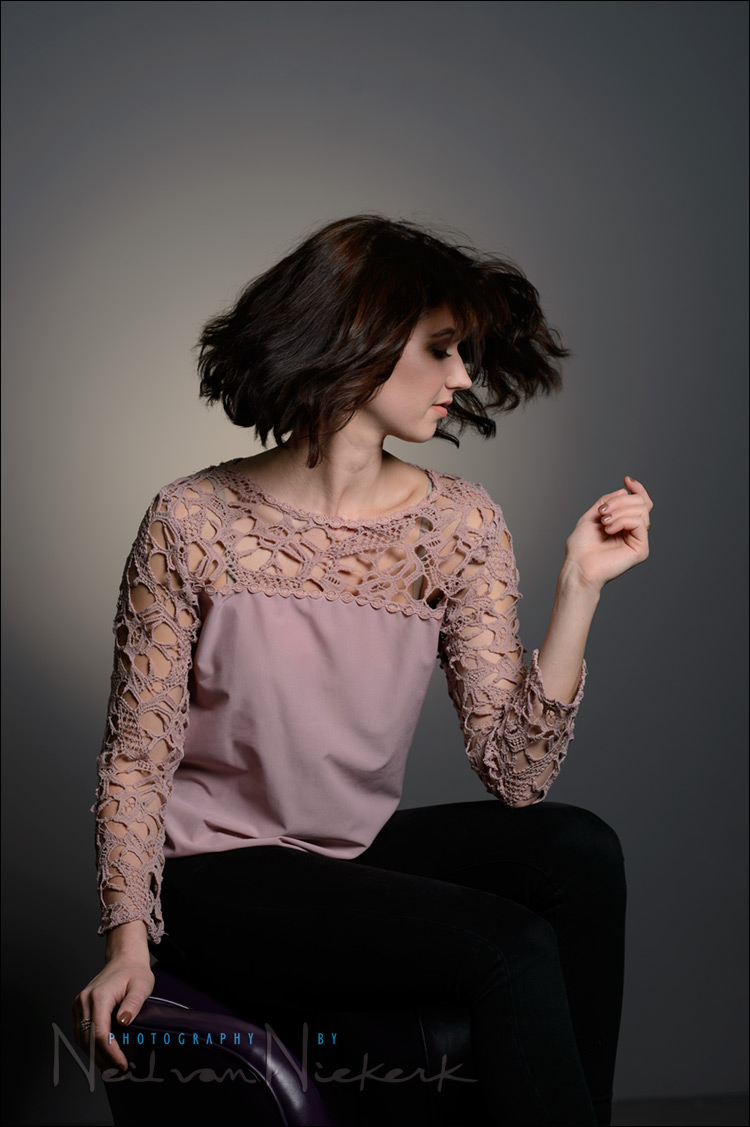 Adrienne, swinging her head to swirl her hair for a few photos.
---
---
The lighting setup:
Camera settings & photo gear (or equivalents) used in this photo session
camera settings:  1/200  @ f/9.0  @  200 ISO
The warm halo in the background is from the gridded light behind Adrienne. I added the 1/2 CTS gel (affiliate) over the background light for that warm tone. The background light can be moved closer or further away from the wall to change the size of the spot.
The main light on Adrienne is the 3′ Octa. For on-location work, I have the Westcott Rapid Box 36″ Octabox  (B&H / Amazon) which opens up (and collapses) very quickly. It's definitely worthy of consideration if you want a fairly large on-location light modifier that is easy to carry, and easy to set up. The Westcott Rapid Box comes in all kinds of mounts, including Profoto, AlienBees, Bowens and Elinchrom.
Related articles