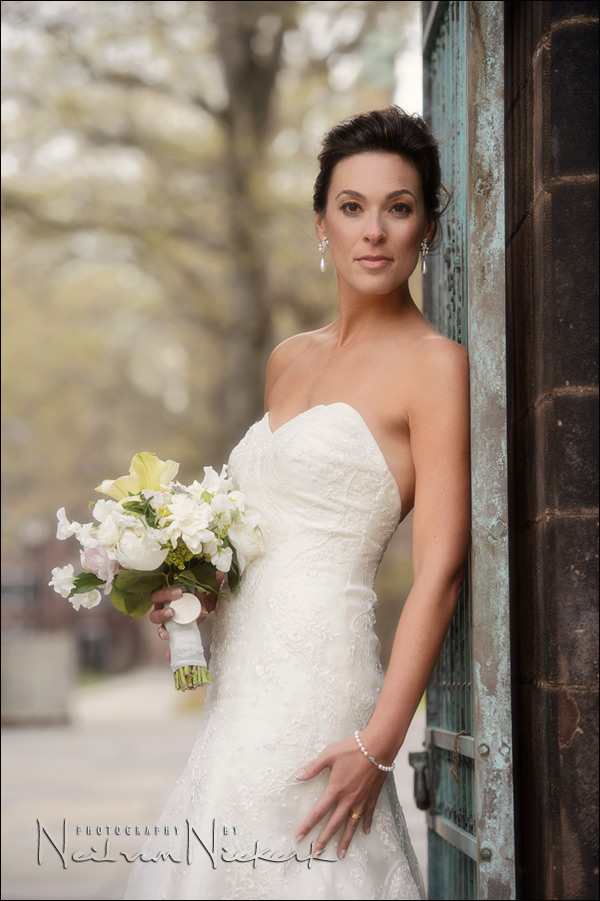 Photography: Posing tips – the leaning pose
Even when you're photographing a bride as graceful as Patricia, there's still a need to adjust and guide the pose. I liked the roughness and color of this gate, and I also knew the background would be an out-of-focus mush behind her.
When you ask someone to lean against something, they tend to fall back onto the wall or object, with both shoulders and their back flat agains the surface.
My starting point with this pose, is that I show what I want. Remember, people don't usually know what you're after, and they most definitely don't know the composition you're getting. So I like to get in there and physically show the pose. (And yes, she did laugh at me doing that.)
Then it's series of gentle verbal nudgings to where the photograph will look good:
– roll against your (left) shoulder towards me,
– separate your (right) shoulder away from the wall,
– lean a tiny bit towards me,
– pop your knee out,
– use your hand to shape your body / leg / arm.
– drop your chin / lift your chin.
And with that, I've finessed the leaning pose that I showed to my subject.
With the leaning pose, those are my general instructions, and it usually gets us to where the photograph will look good! I don't rigidly pose, but use a few verbal instructions to finesse the pose. In that sense, the way that I pose someone is fairly "loose", and helps keep the momentum of the photo session going, because we don't get stuck in the minutiae of every limb's every position. We get to a point where "yes, this looks great!", and then we move forward to the next place. The momentum is also important.
(This photo is from Patricia and Erwin's wedding, where I was the 2nd photographer for JC Carley.)
Camera settings & equipment used
Related articles