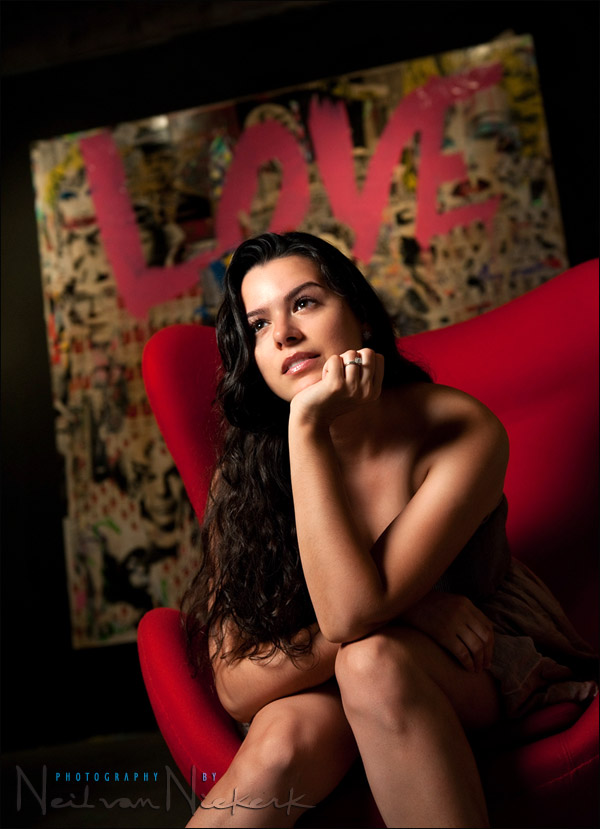 Sequence of photos in posing a model
The photo above is one of my favorite images. It was also subsequently chosen as the cover image for my book about off-camera flash photography. Oktavia is a professional dancer and we both wanted some photos to extend our portfolios. Of the number of places we used as a backdrop, I really liked this place – an art gallery in Manhattan where we were kindly allowed to use as a setting.  What I'd like to show, is some of the images leading up to this final choice – how a combination of positioning Oktavia and changing the light, culminated in this photograph.
The lighting was once again very simple – a speedlight in a softbox, wirelessly controlled by the on-camera Master flash.  The slaved flash was set to Manual output.
camera settings: 1/60 @ f3.5 @ 640 ISO
The settings were chosen such that the background would register – incandescent lighting on an art piece.
Here are 8 other images – picked to show some of the changes in posing; and positioning of her hands; body posture … and changes in the position of the softbox.  Click on the image for a larger version.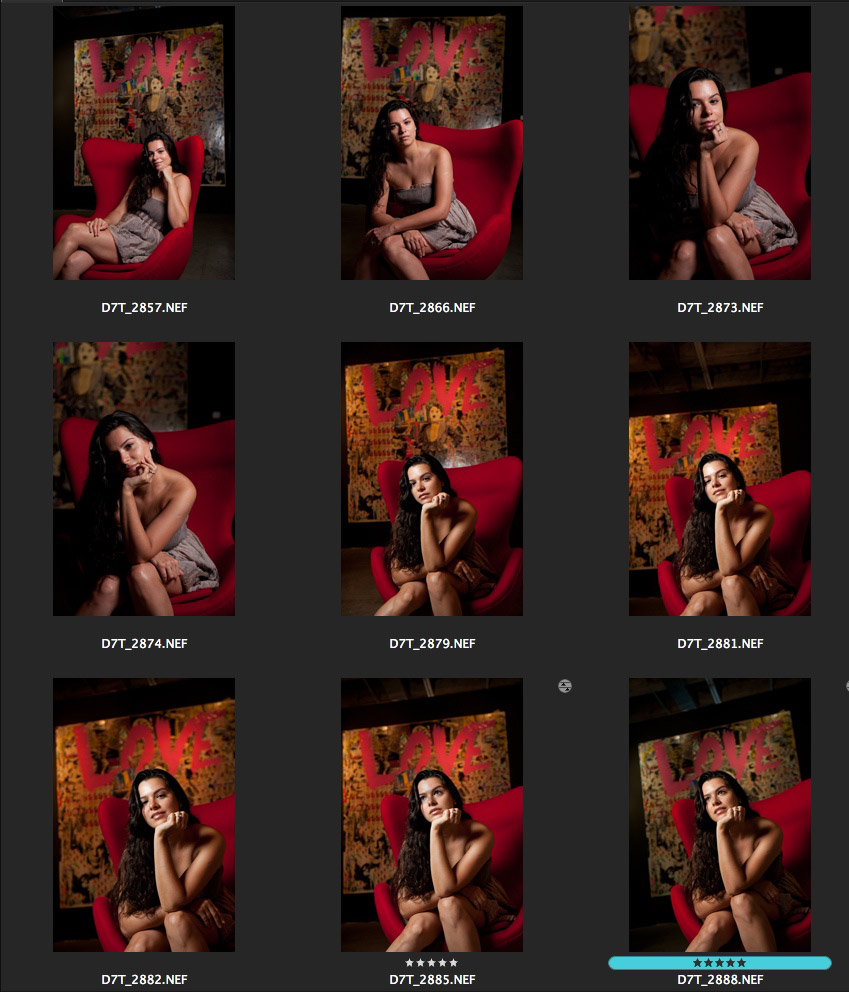 You can also see how I changed my own position to hide the flash glare on the background. By dipping lower, I was able to hide the glare spot behind the chair.  But this caused her gaze to the camera to cause heavy shadows under her eyes.  I therefore asked her to look up towards the light.  This immediately gave clearer more 'open' light on her features.
With the initial images, I had the softbox on my right-hand side, but I didn't like how that caused her body to be cast in shadow.  By changing the light to the other side (camera-left), and directing her gaze towards the light, the lighting pattern on her body changed completely.
I also asked Oktavia to move her hand resting on her lap slightly so that her fingers are slightly more hidden from view.  A subtle change, but an important one.
I started this session with the flash gelled with a full CTS gel.  I took it off to see how that would change the background .. and I didn't like the deep orange tones of the background now.  So for the final choice, I had placed the CTS gel back on the speedlight in the softbox.
Finally, the image I chose as my favorite is a culmination of having a patient and cooperative subject; an interesting background; how my model was posed; the lighting; and other choices of equipment used. With portraits it is most often a case of a number of adjustments that are made until everything falls into place.
---
More articles on off-camera flash …
Equipment used during this photo session:
Nikon D3;  Nikon 24-70mm f2.8 AF-S (B&H);  Nikon SB-900 (B&H)
Lastolite EZYBOX 24×24 softbox (B&H)
Manfrotto 680B monopod (B&H);
brass stud to attach softbox to monopod (B&H)