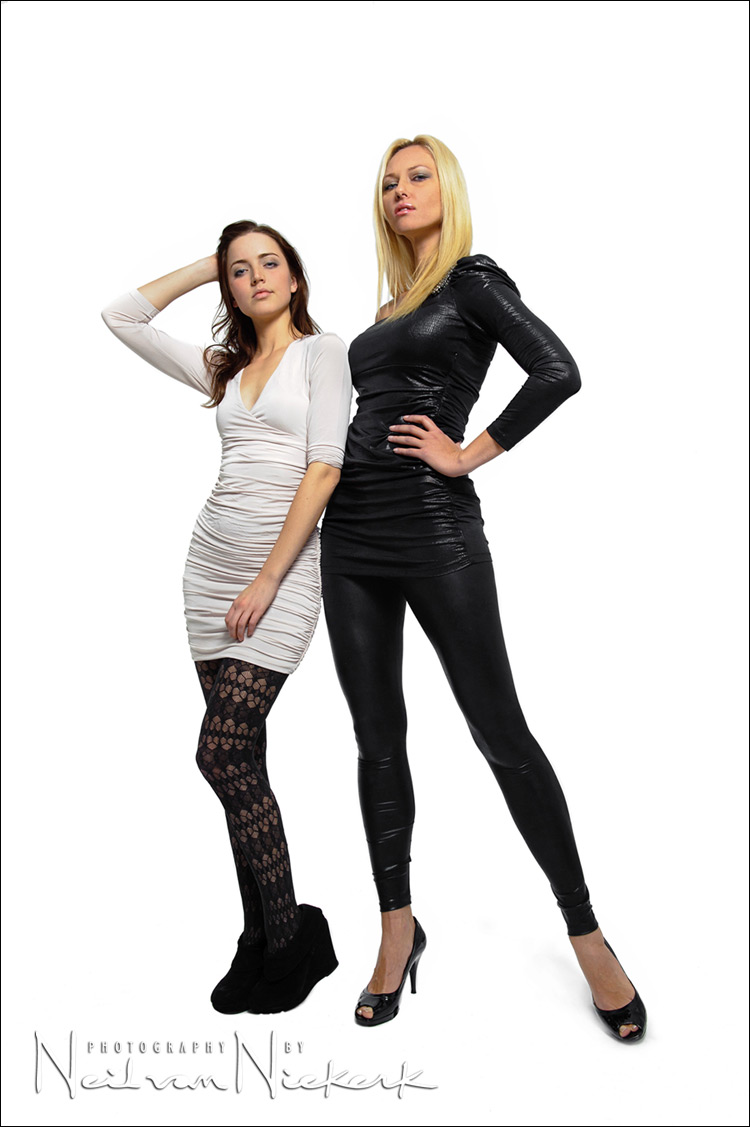 A simple lighting setup for home studio photography
This photo of Anelisa and Aleona, two of my favorite models, were taken towards the end of the evening of the most recent flash photography and lighting workshop in New York. The studio that the workshop was held in, had a white cyclorama that was just inviting to be used. As a recap of manual flash photography, I wanted to show how simple and easy a basic studio lighting setup was … and that it was quite within the reach of every photographer. Well, not the studio itself, but the lighting setup and equipment, as well as the technique, are well within the reach of any photographer.
A comment I had as feedback about this part of the workshop, was: "I was personally surprised at how little it took to create that sort of a photo."
And that's what I wanted to show – the simplicity of the lighting setup. Here is the pull-back shot.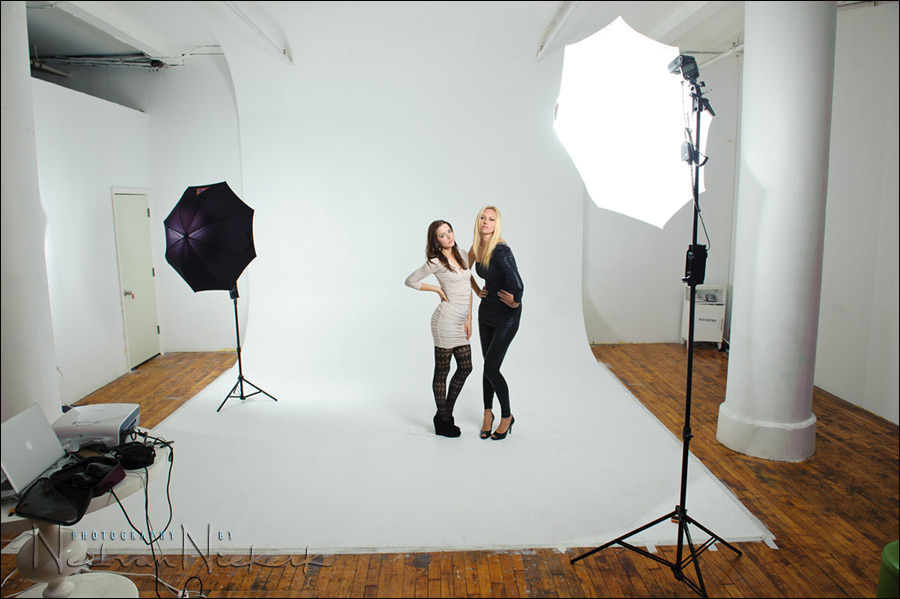 Two speedlights, each with an umbrella. For a home-studio setup where you are using part of the living room or such, and you have daylight coming in through a window, you can even forego the light on the background. Just the one light in the front.
I used a 45-Inch White shoot-through umbrella (affiliate) to create a large light source.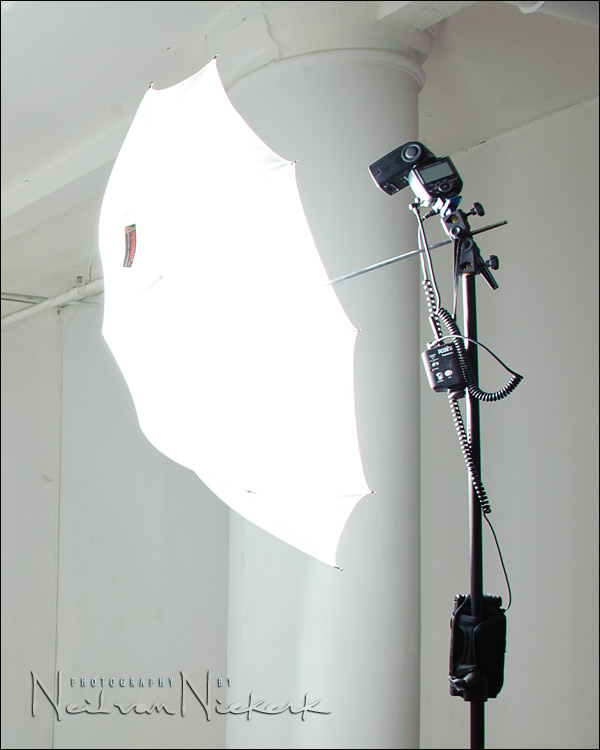 All the equipment hooked up there:
– a speedlight,
– a battery pack (to make sure the flash recycles fast enough),
– a light-stand / umbrella clamp / umbrella
– a radio trigger to have the camera trigger the flash.
The radio trigger here is the  Pocket-Wizard radio trigger (affiliate), and is a simple unit that only allows manual flash. No more is needed for a studio setup. We just need manual flash capability here. Where the Plus II unit is easier to work with than the PocketWizard TT5 units or the RadioPoppers, is that the Plus II units make it easy to use a lightmeter.  (The PW TT5 and RadioPopper units rely on the camera's wireless technology, and the communication between the Master and Slave units consist of visible light pulses .. which trigger a hand-held lightmeter prematurely, making it impossible (?) / tough to get an accurate lightmeter reading.
But to start off with, a wireless trigger / radio transmitter isn't even essential for a basic studio setup – you could use a speedlight on the camera as the Master flash to trip the Slave unit. Many of the examples in my book about off-camera flash was shot exactly like that, without radio transmitters.
But the lightmeter makes it easier to be much more specific and precise about our decisions and choice of settings.
About the choice of camera & flash settings
Since we're shooting with manual flash,
we have 4 controls for our flash exposure:
– distance
– powere of our flash
– aperture
– ISO
(Shutter speed has no effect if we don't go into high-speed flash sync.)
Distance:
In this case, we set up the main light a certain distance from the two models – close enough to get a wide spread of light – but far enough to get the half-length portraits at a medium telephoto focal length. (That makes for a more normal and pleasing perspective than a wide-angle view.) However, in the example at the top, I purposely exaggerated the view by zooming to 30mm on my 24-70mm lens, as I shot from below.
Aperture & ISO:
We decided on f8 @ 400 ISO … why? Because that is what we decided we needed. A medium aperture at a decent ISO that is within the capabilities of a single speedlight. Simple.
Power (of our speedlight)
All that is left is to figure out our power setting on our flash – which is set to manual output, of course. In that linked tutorial on manual flash, we used our flash on our camera to see the relationship between flash output and distance. But here we have the umbrella diffusing our flash, so the distance scale on our flash has little bearing on anything. We need to calculate our flash's setting to give us f8 … the aperture we (arbitrarily) decided on.
This is where the lightmeter makes our life so much easier. We now hold the lightmeter close to our subjects (the two models), and trip the flash, and look at the light meter's display. (Of course, we had set the correct ISO on our lightmeter.)  We now trigger the flash and check the aperture that the lightmeter says our flash is giving us (for that distance and ISO). Then we change our flash's output, by as much as is necessary to get to that aperture we want.  Simple as that.
I  "count the clicks" to shift the exposure – adjusting my flash's output by as many 1/3rd stop clicks as my aperture dial tells me.
All this takes much longer to describe than actually do. It really is simple.
For anyone who has been curious about using a simple off-camera setup like this – the equipment needed for an initial start is surprisingly little and inexpensive. The technique is really simple.  Don't let all the wordiness fool you – it really is simple. You just need to DO it and see for yourself.
In the image above, I had a second speedlight in an umbrella with a black backing. With this, I wanted to add enough light on the background so it doesn't go grey, but remains white. In retrospect, I should've bumped the exposure from that flash up somewhat so that the background went white by blowing out a bit. It would've saved me some of the Photoshop effort to get a white background.
Photo gear (or equivalents) used in this photo session
Related links