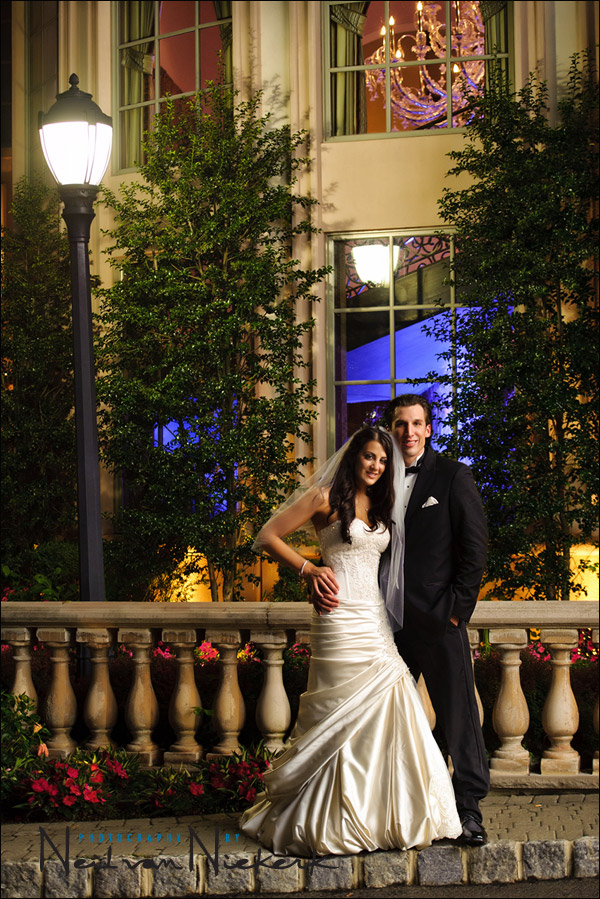 Using on-camera bounce flash outdoors
With wedding photography, when doing the night-time romantic portraits of the couple, the pressure is usually on. The only opportunity to whisk the couple away for a few minutes, is during dinner time, when the party is at a lull. The pressure is on because you have even less time than you had during the earlier part of the day, and you also don't want to lose the attention of your couple who wants to get back to their guests at the reception.
I usually scout a few places before-hand, getting a clear idea of what I want. When setting out with the couple, I rely on bounce flash and on video light. There is rarely time for carrying around a soft-box. You need to move fast, set up fast … and still come up with the goods.
With this wedding from the past weekend, I wanted to capture two specific portraits of the couple with the outside of the venue as a backdrop. I would normally have used video light here, but I had the idea that I wanted the compression from a longer lens … the 70-200mm f2.8 … and then the person holding the video light would be in shot. So the solution was to get flash in there. Where we were working outside there, I fortunately had part of the building to bounce my flash off.
---
---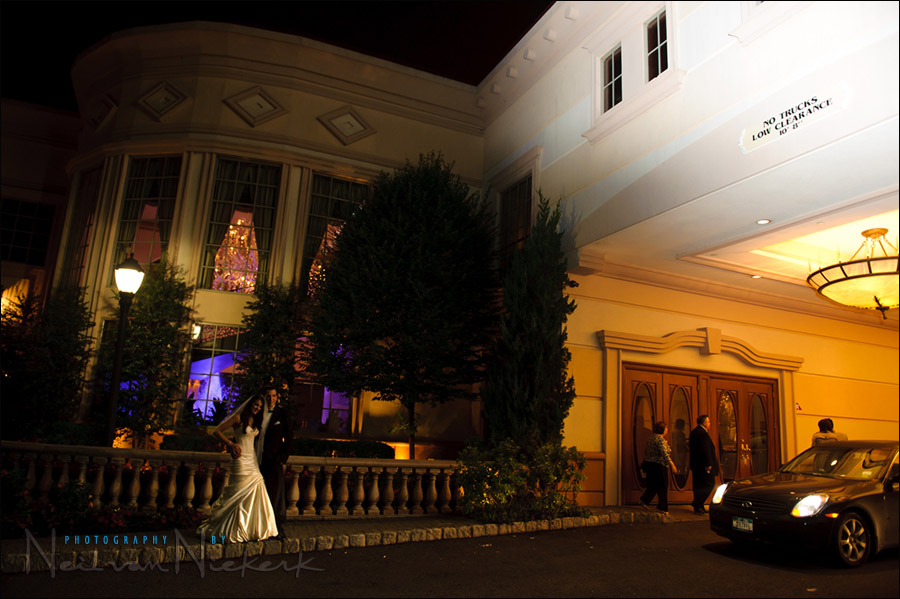 Here is a quick grab-shot with my camera which had the 24-70mm f2.8 on, so that you can see what I bounced my flash off – that part of the building over where the guests arrive.
Because I had to bounce my flash partly forward, towards the couple, I had to flag my flash. Black Foamie Thing to the rescue! As always, the idea with using the BFT to flag my flash, is to block any flash falling directly on my couple. This way I can get soft indirect light, similar to using an off-camera softbox. Of course, I had to be at fairly extreme settings on my camera to make this work in this case.
Camera and flash settings & photo gear used (or equivalents)
camera settings: 1/60 @ f2.8 @ 1600 ISO; TTL flash
The lens was zoomed to 70mm for this specific image.
On-camera flash modifier – the black foamie thing
Summary
Oh, about those sloping verticals – that light pole is actually skew! And the kerb does slope outward like that.
Working fast like this, with a flexible idea of what is possible in bouncing on-camera flash, I was able to get an image which really looks good. Ultimately though, on-camera bounce flash is just one part of any photographer's lighting arsenal.