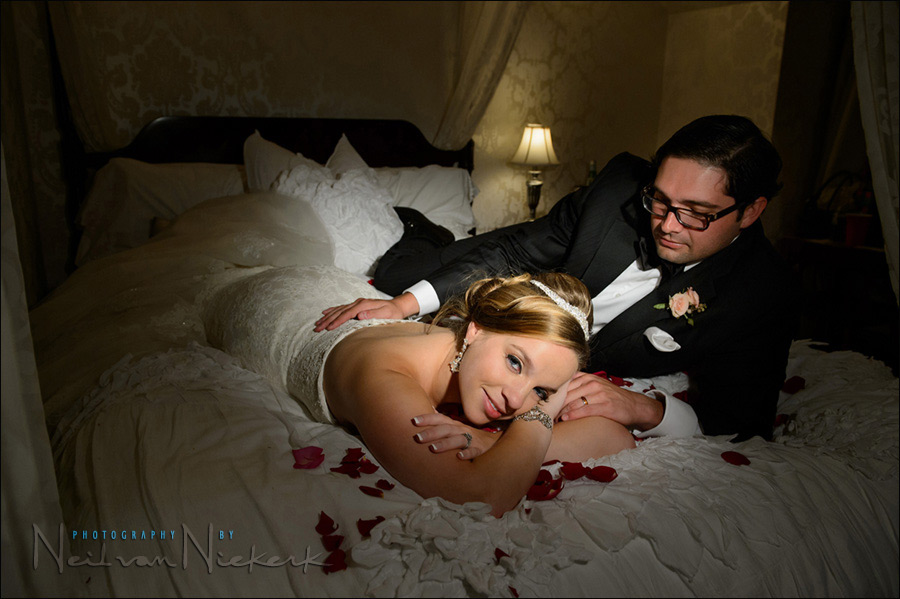 Using video light for romantic portraits of the bride & groom
One of my favorite photos of the day. Why can't wedding portraits of the bride and groom be a little bit sexy? When I went back to the bridal suite during a quieter moment in the wedding reception to fetch some gear I had left there earlier, I had this thought that mmmm, yes! romantic portraits of the bride and groom on the bed in their suite. This might just work! So I called Julia and Louis back to the the bridal suite at the venue, and we did a sequence of images using video light.
I'm a big fan of video light for certain wedding portraits. The harder light and the rapid fall-off in light, lends a certain dramatic quality to images. Also, a video light like the Lowel iD-Light (B&H / Amazon) that I used here, is neatly balanced for the Incandescent lighting found in most places indoors. The color balance is usually easily matched. However, an LED video light (affiliate), makes it even easier to change the color balance to your own intent since they usually have a variable WB setting.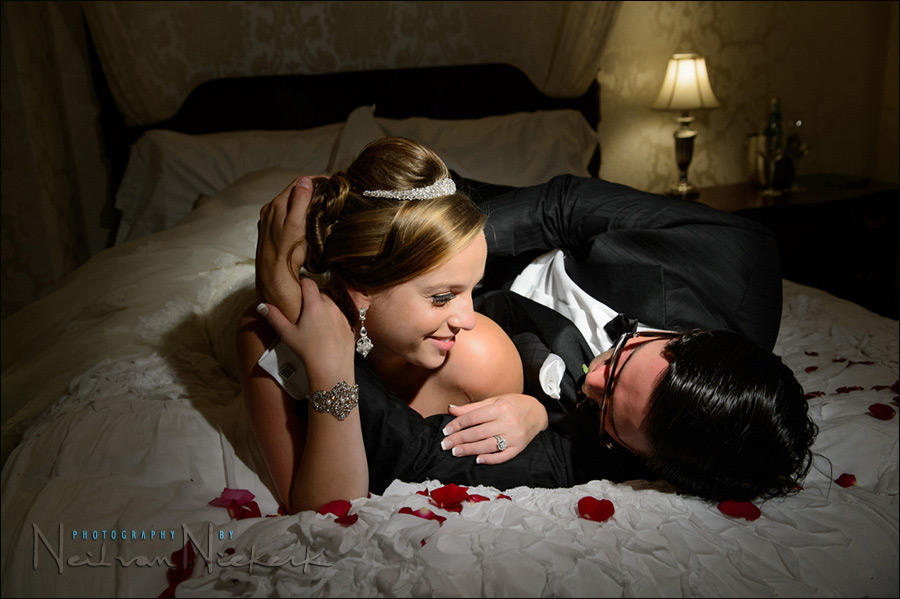 A video light is so easy to use in one sense, and kinda tough in another way. The WYSIWYG nature of video light means you can easily adjust the power and position of the light. But since it is a small light source, you have to be quite particular about how you position the video light in relation to your subject. There's also a lot more info about this in my book, Direction & Quality of Light.
camera settings for both images: 1/100 @ f/4 @ 1600 ISO
For both those images, I lifted shadow detail in post-processing of the RAW file. I also used the local corrections brush with the RAW image to bring up some more detail in the shadowed areas.
And the pull-back shot …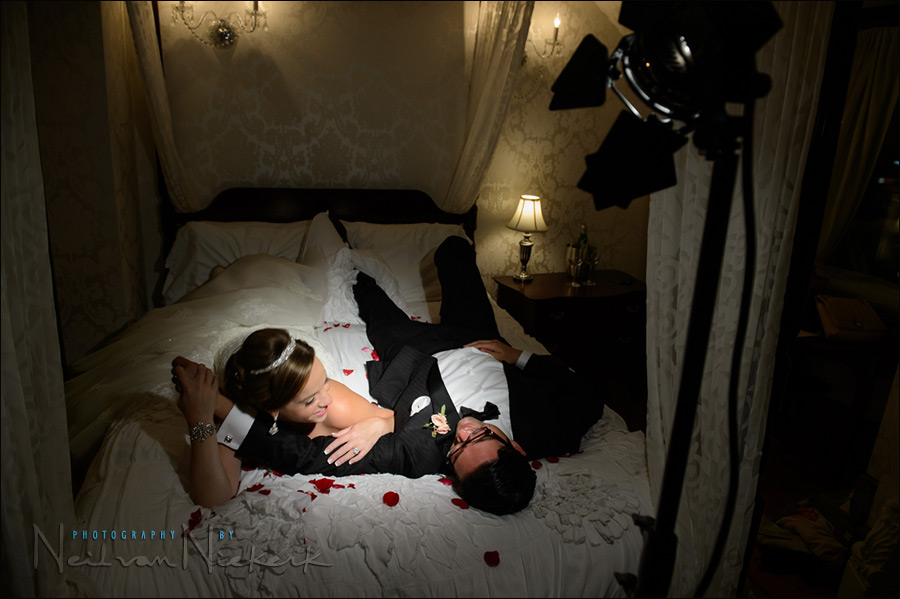 A little bit of homework
Video light is for me, an essential part of my lighting arsenal when I photograph weddings. So the little bit of homework is … why don't you have one in your camera bag yet?  Okay, okay … the little bit of homework. With my camera settings as:  1/100 @ f/4 @ 1600 ISO,  how was I guided to get to those exposure settings? (Keep in mind that the video light has a dimmer dial too.)
But the question really is, why don't you have a video light yet?
---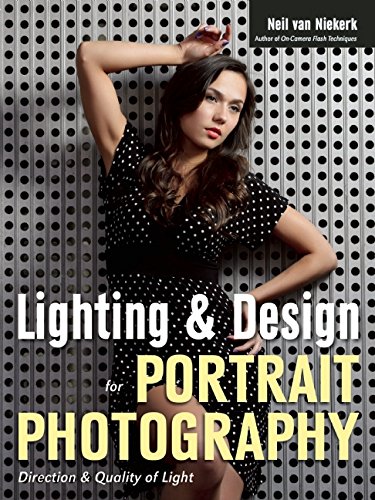 Lighting & Design for Portrait Photography
Lighting & Design is a follow-up of sorts to Direction & Quality of Light. It's a slightly eclectic mix, discussing the thought-process with various scenarios shooting portraits. The examples use available light, bounce flash, off-camera flash as well as studio lighting.
The idea is that in every one of the 60 sections, there is something to be learnt and applied, regardless of your level as a photographer or where you shoot – all shaped to form a cohesive narrative arc throughout the book.
You can either purchase a copy via Amazon USA or Amazon UK. The book will also available on the Apple iBook Store, and Amazon Kindle.
---
Related articles
Photo gear (or equivalents) used