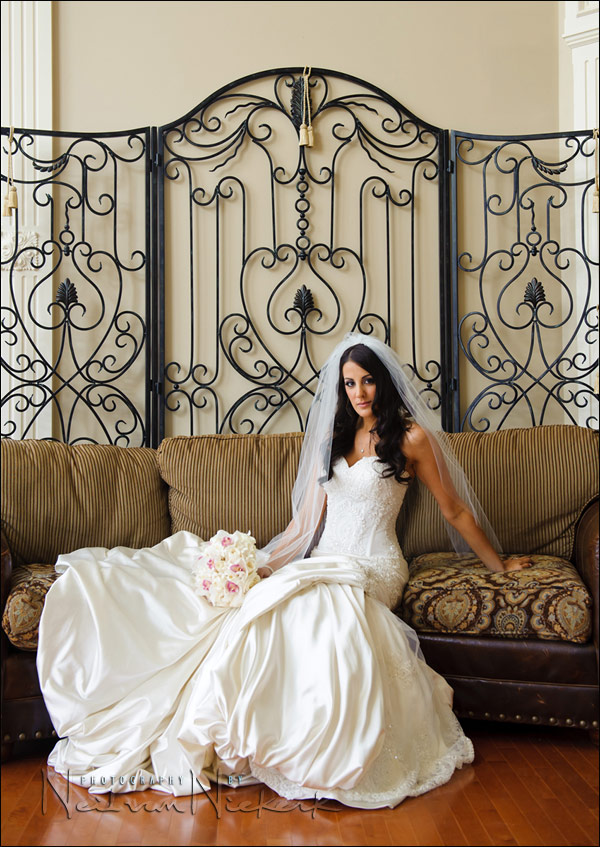 Wedding photography – Developing a personal style
I've been mulling a while now over a question someone asked me about how long I think it took to develop a personal style in photography.
"What does it take, and how many years do you think it generally takes a photographer to develop their own personal style, meaning, you can look at a photograph and know who took it. Not everyone would know, but some people could tell it's your style. I think very few photographers actually have their own style and I'm curious what you think it took to get there."
How long do I think it takes? A life-time. But that's too glib an answer, even though I think it is a never-ending journey as a photographer – honing your style along with your technique, understanding and skill. So how does one develop a personal style in photography?
Now, the question wasn't phrased about wedding photography per se, or about my own photography either – but I can more readily see how my style has changed over the past few years in terms of my wedding photography. It may be hugely presumptuous that I'd now even offer an opinion on this, especially because I know my own short-comings, and know where I need to improve and develop my own work. So if everyone reading this could be generous enough to allow me to describe how I see my style in (wedding) photography has developed, and what affected it over time:
My personal style in wedding photography
When I look at the selection of images for my Latest Work blog, or the images included in the albums on Facebook, a few things become apparent about my wedding photography – there is a simplicity in composition, and the lighting is clean and open. The photographs hopefully have a timeless style and elegance that draws the viewer in. I can recognize my own work by now for that specific look.
The photo at the top (with bounce flash), and this next image (with video light), are typical of my bridal portraits – uncluttered, stylish compositions.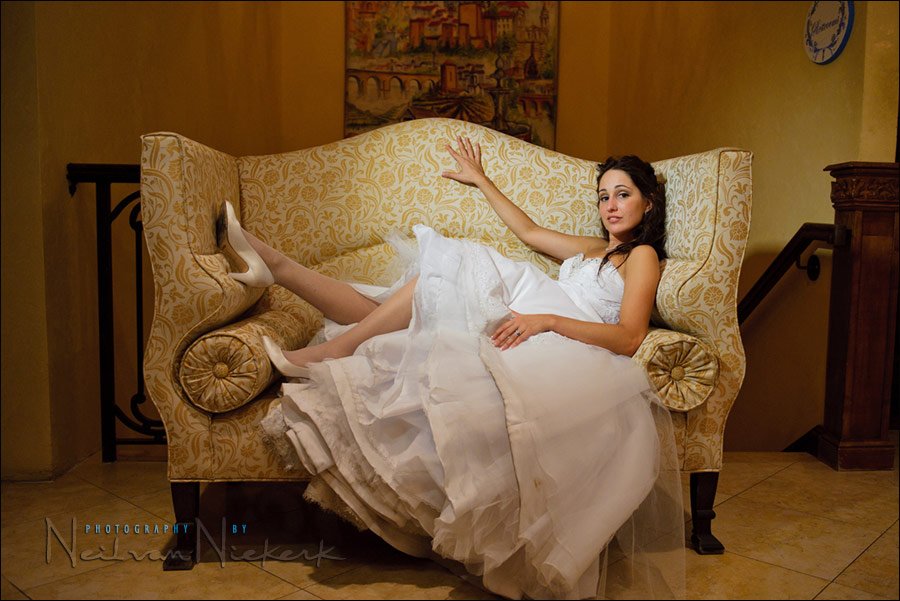 In all my photography – whether personal photography, or in photographing models, or my wedding photography – there are a few things I immediately try to control if possible:
the background has to be uncluttered and has to be complementary. I try and eliminate everything from the frame that doesn't add to the image. Simplify, simplify, simplify!
posing my subjects in a natural way that complements them, and is natural to their personality.
That is when I can direct my subjects. However, a large part of the wedding day is uncontrolled and unscripted and often borders on near chaos. Then it becomes a matter of anticipating events and moments, and anticipating how people will move into and out of your frame, and how they will respond.
Anticipation and timing in wedding photography
With practice and experience, it becomes easier to predict the flow of events, and know what to look out for. But this is actually a two-fold thing:
1. You have to have the ability to recognize when something looks good in the viewfinder. 
You have to have that proverbial eye for this. I truly believe this is an instinctual thing for people with an artistic ability. While composition and such can be taught, I believe that this sensibility won't be a natural thing if it has to be mechanically understood, instead of instinctively understood. It's the difference between "aaah, I get it!" and someone mechanically trying to fit everything to the Rule of Thirds or the Golden Mean.
Finessing ones skill as a photographer, means a constant learning and re-learning by reading voraciously and by studying your own work and the work of others.
You can be taught what to look for. Such factors as:
– repetitive patterns which bring a simplicity to the image;
– leading lines;
– diagonal lines;
– balance;
– tension.
Once a photographer or artists has an emotional grasp of these elements, they are understood, and don't have to be mechanically applied from memory.
There needs to be an intuitive and emotional reaction to your subject or scene. It has to be on the level of, "aaah, this looks good in my viewfinder!" rather than a mechanical compositing of elements within the frame.
We need to be artists, not technicians.
2. You have to know your cameras and equipment, and you have to know the fundamentals of photography.
You absolutely have to understand how shutter speed / aperture / ISO inter-relate. You absolutely have to understand how depth-of-field changes with aperture. And so on. There's a long, never-ending list of these things. We're all on a constant learning curve with this, and we can never be complacent.
We should never give ourselves excuses for not learning. "I have no idea how my camera works, LOL"  Well, that's just stupid self-indulgence.
You can not effectively capture those images you see if you are struggling with the controls of your camera, or handing it all over to the camera via Program mode.
"P" is for Professional?
Well, I use "M" for "I Know WTF I'm Doing"
Having a "passion for photography" is no replacement for knowledge, regardless of what those inspiring blog posts and workshops might be telling you.
You can not succeed while you're making excuses!
A series of epiphanies
There were a few events and things over the years which had a huge effect on me, and changed everything for me as a wedding photographer:
1. Learning from the best
A pivotal experience for me was a seminar that I attended (circa 2004?), where Yervant and David A Williams teamed up for the day.
At the time I didn't know who David A Williams was, but that soon changed. He has had a huge and long-lasting impact on me. There's more than I can possibly do justice in a single paragraph. But I'd urge any serious photographer to search out his work and attend one of his Almost Alone seminars if possible. It will change you and it will change your photography. Guaranteed.
Back to Yervant. I went to this particular day-long seminar because I was truly impressed with his work. This was at a time when the Australians were creating massive sweeping changes in the stagnant traditional approach to wedding photography. Yervant has an amazing style – there's a Fashion sensibility and story-telling motif throughout his work. His wedding albums are fascinating to see. An experience. With that in mind, I attended this seminar.
I was / am in awe of Yervant. But what brought me down, was my preconceived idea that he had a team of people working with him helping him set up and do the lighting and such. How wrong was I on that! During the seminar, it turns out that he works alone with just an assistant carrying a camera and a video light. Simplicity! I was shocked. Work as sensational as his, created just by working with his clients, the environment and working with the existing light, augmented with video light? Wow.
This was truly liberating for me. I didn't need a team of people. I didn't need a host of lighting equipment. It was all up to me. All I had to do was hone my skill in seeing and pre-visualising an idea. It was entirely up to me. There were no limitations but my own. Liberating! No more excuses. It really was within my and anyone else's reach.
There is also Jerry Ghionis whose meteoric rise has rightfully put him at the top of the wedding photography field. If anyone is not familiar with his work, then you should make the effort to check him out, and attend one (or more) of his seminars and workshops. Jerry works in a similar style to Yervant in that his choice of equipment is not extravagant. He favors the 70-200mm f2.8 and works with minimal lighting equipment when on location. And often finds unusual ways to implement the available light. Sheer genius.
 2. The photo gear is actually important!
One of the misleading platitudes in photography, is that equipment isn't important. That it is all about the photographer's ability. Now while the "either/or" discussion can rage on, it is trivial. It isn't "either/or" … it is "and". You have to have the abilities AND the equipment with better specifications and features that will enable you. Then the limitations are your own.
But the point where the equipment enables you, can often come at surprising times. It isn't about the 10 frames a second capability that a camera has. It's more than that, and it's often more subtle than that. Here's an example:
Where my approach to on-camera flash completely changed a number of years ago, was when I moved over from the Nikon system (and the SB-800 speedlight) to the Canon (and the 580 EX speedlite). The commonly held belief then was that Nikon had the superior flash system. But going from the SB-800 to the 580 EX had an immeasurable impact on my style as a photographer.
The reason is that the Canon 580 EX could swivel 180 degrees to either side, instead of stopping at the 90 degree point when rotating the flash head to the right. This makes a huge difference when bouncing flash with the camera held in a vertical position. Instead of bouncing flash into the ceiling above me – who'd put a softbox directly over someone's head in the studio? – I could now bounce my flash behind me towards the direction I wanted my light to come from.
I can't over-emphasise how important that realization was. I could bounce my flash towards the direction I wanted my light to come from. That changed everything for me in how I used on-camera flash.
The point of this discussion here, is that debating the differences between f1.2 and f1.4  is a distraction. Just make sure you have the best equipment you can afford. It need not be the Canon 85mm f1.2 in your bag. It could be the Canon 85mm f1.8 … but the f5.6 kit lens as your only lens, just isn't viable. It will limit you.
Ultimately, I believe your equipment should be better than your own capabilities. Then you can grow as a photographer.
Oh, if I could have another minute on this soapbox:
Style in photography isn't created or found by using a specific item as a constant gimmick (such as a tilt-shift lens), or using a specific Photoshop action set to give your images a certain defined look. That's a side-track which is ultimately a dead-end. That's not "style". That's just something you do.
3. Look elsewhere too
Look through Fashion magazines. Study the movies you watch. Take in elements from other fields of photography and art than just wedding photography.
David A Williams lays emphasis during part of his seminar on the importance of this – looking at the work of the master painters. There's much to learn there in composition and light.
4. Emotional impact is essential
At the heart of wedding photography is the notion that we should capture photographs which have emotional impact. Great composition, excelling timing, good lighting, and everything else that we do as photographers – all these things should be the underlying basis in creating images with emotional impact.
Individual images might just be supporting an overall story that we're telling through our photos, but when combined as a collection of images, there needs to be a connection with the person viewing the images. Inevitably this traces back to the day's narrative – the photo-journalism of telling the story of the event.
My top 10 tips in developing a personal style in photography
In writing articles for this site, I always start with an idea of where I want to go with a topic, but they rarely end up along the lines of a "10 tips to develop a personal style" type of article. Regular followers of the Tangents site will know this by now – the articles and posts here are more like meandering conversations than bulletin point tips. And this time again I hope something useful and even revelatory could be found.
I started working as a full-time professional photographer here in the USA during 2002. It's been a never-ending learning curve. In a way this blog – Tangents / planet neil – relays the arc of where I am in my own photography. There's a forward momentum to which I don't see the end in sight yet. I've been honored in that there have been photographers following this blog which have stayed for the ride.
All this brings us back to the original question – how long does it take to develop a personal style in photography? I really have no clear idea. 5 years? 10 years? 15 years?
I believe each point in your personal journey as a photographer will see you with an evolving personal style, where you can see elements within your own photography which are clearly how *you* do things. A personal style will develop … and continue to finesse and even change.
---
---