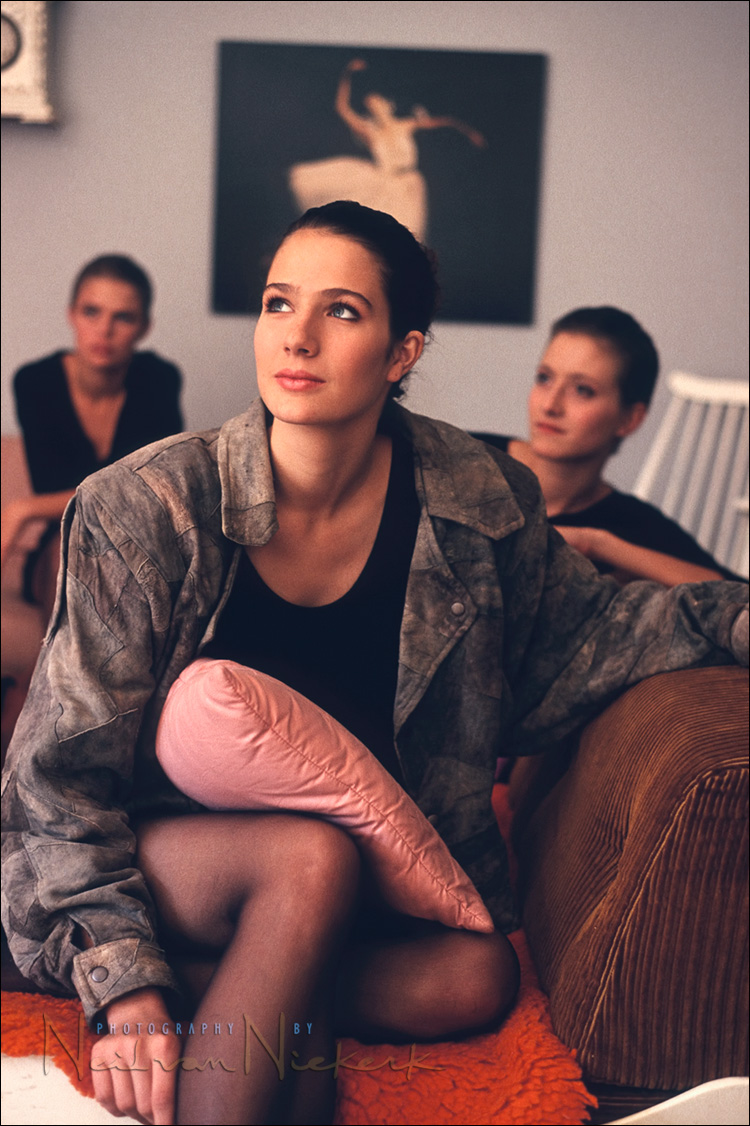 portrait photography – show us a favorite or break-through photograph
This photograph remains one of my favorites. It was taken circa early 90's during a studio shoot-out arranged by a camera club (CCJ) I belonged to in Jo'burg. In this photo, the models are waiting for their turn to be photographed in a studio setup, using studio lighting, as well as available light in the large studio. It was a candid moment, as I knelt in front of this model, Megan.
For me, this was a transitionary photograph – I was at a point where I knew basic photography techniques. I read voraciously, and devoured magazines and books. But my own images at the time – landscapes and cityscapes and such – were mostly "found" images. For me, there was still a gap between what I was photographing, and the images I was drawn to – portrait and fashion images which were more controlled. Even then, the portraits and fashion photography that appealed to me, had a fresh and "loose" feel – and I felt I wasn't quite  capable of that yet. It wasn't just insecurity, but also shyness in working with people, and posing them. I lacked the courage to involve the people in my photography.
Yet, here I had a photo that had that spontaneity and elegance that appealed to me. Even though the moment was presented to me, and I had nothing to do with how it was arranged, I still felt really proud of it … but more so, the realization dawned on me that I could do this. I could have set this up and shot it. It was within my reach.
I was aware of the problems with this photograph – the fingertips cropped off, and the tilt. The pillow she held to herself is incongruous. The background is cluttered. A more controlled photograph would've been more successful. Still, this was one of those photographs which sparked a change for me.
This photograph then, was pivotal in my progress as a photographer. For the first time I took a photo that looked (nearly) as good as I saw in photography magazines. I could do this!
I would like to hear your story, and see your favorite or breakthrough portrait.
It need not be perfect. It just needs to be important to you.
There are two book prizes to be won:
The Portrait: Understanding Portrait Photography
The Portrait: Understanding Portrait Photography, by Glenn Rand & Tim Meyer, is a good introduction to portrait photography. Over the course of 200 pages, the authors explain the essentials of Portrait Photography.
You can order this book from Amazon, or directly from Rocky Nook.
If you order an eBook directly from RockyNook, then the coupon code Portrait40 offers 40% off the ebook version of The Portrait.
You can also buy it at a discount as an e-book bundle, along with Tilo Gockel's book, Creative Flash Photography. (review)
{ 66 comments }