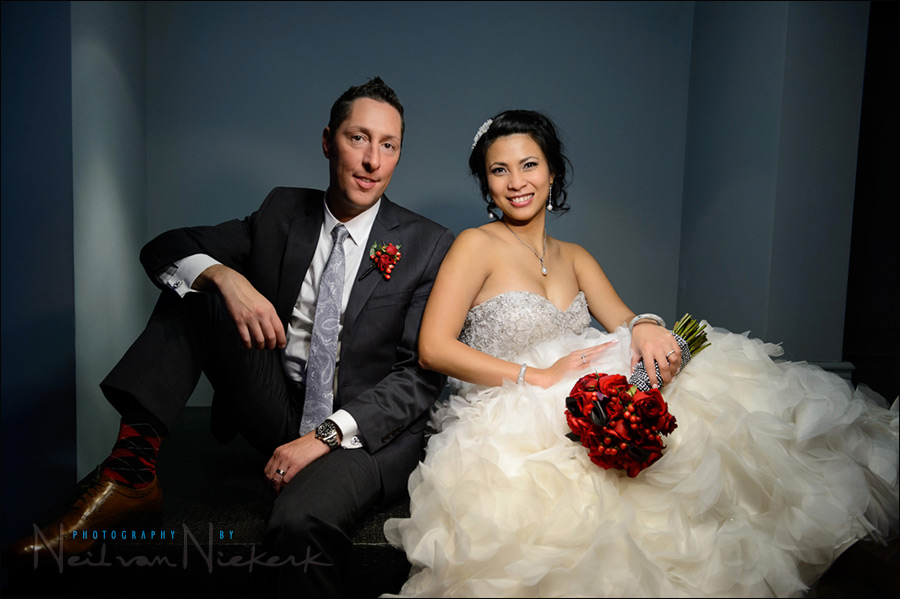 use light & lighting to add dramatic impact to your portraits
Simplifying your composition is generally a really good way to add impact to your photos – remove visual clutter, and draw the viewer's eye to what's essential. But there's a converse challenge to this – when you have a location that isn't necessarily that interesting , how do you add more impact? Light and Lighting is an obvious way to do this.
Create impact and drama in how you add light to the scene, and light your subjects. A recent article discussed this in relation to off-camera flash: using off-camera flash for that extra bit of drama.
For the romantic wedding portraits of Grace and Joseph, we were landlocked to a few rooms inside the venue because of the snow storm outside. Then it becomes a challenge to come up with ideas and use nooks and crannies, and make it all count! For the image at the top, we were in the room where they serve pre-dinner cocktail snacks and drinks. Nothing much there. But I came up with the idea of having Joseph sit on this table against this wall, and then adding Grace.
Posing tip: In terms of posing a couple, it is nearly always easier to start with one person, and then adding the other. Use the first person to anchor the pose. And I usually physically show them where to sit or stand or lean when I pose someone.
The pose works, now we just had to add dramatic light. Bounce flash would've flattened out everyone. Well lit, but too evenly lit. Off-camera flash with a gridded soft box would've worked like a charm as well – but as I most often do with the romantic portraits of a couple, I went with video light. This time around, I had more toys to play with, thanks to Ryan, the other photographer shooting alongside me, who had brought his video lights along as well. Learn more inside…
{ 21 comments }