Using grids with flash for a spot of light
My preference is for softer, flattering light. When I use off-camera flash, I really try to use a softbox if at all feasible. It's easier to use in that you have leeway in how your subject is posed.  For with a smaller, harder light source, you have to be much more specific about posing. A bigger light source is therefore easier to work with when you shoot fast – such as at a wedding.
But there are times when you just want to light up a portion of the scene, or want to specifically light your subjects. The photo above is an example. I am shooting from up high from a balcony overlooking the dance floor. I don't want to light everything up – I just want to light up the couple to the same level as the chandeliers at the top. Of course, how much light I add to them, or how bright I want the surroundings, is something I control from my camera with my camera settings – and the flash power. Choices. And this is how I wanted to balance the scene here with off-camera flash.
The pull-back shot below will show where and how I placed the Profoto B1. It was high up on a 12-ft tall Manfrotto 1004BAC light stand. I didn't put it all the way up … just high enough to have the light fall from a proper angle from above.
I also added the Profoto OCF grid kit  (B&H / Amazon), to contain the spread of light. If you recall this article – comparing output: Studio lights vs. speedlights – you'll see that the Profoto B1 and D1 flashes spread their light very wide. I wanted to control the spill of light to just light up my couple. I just keep the 30 degree as a default. No time to experiment when shooting faster. As it is, I had to shout at the couple for them to hear me – there is no leeway to run up and down and change the grids to a tighter beam. I choose the wider beam grid then as a default – it is the better compromise than one that throws too tight a beam of light.
Camera settings & photo gear used during this part of the photo session
1/40  @  f/4  @  1600 ISO
Since the venue had very warm lighting, I gelled my flash with a full CTS gel that comes with the Profoto OCF gel kit  (B&H / Amazon). This brought the flash's WB down to the value of 2850K that I tweaked the RAW file.
Summary
As always, with flash photography it is all about the control of light,
and specifically the Direction and Quality of light.  [ book / video tutorial ]
Grids for speedlights
There are a number of options for speedlites, but the most elegant is most likely the 
MagMod grid
  (
Amazon
 / 
B&H
). The MagMod system is impressive for how easy it is to add a grid or a gel, or swap it out again. Magnets!
With magnets holding the items together, it is super-quick to change out gels, or add a grid – all to control your speedlight's output and the spread of light. You literally just place the grid or gel, and the magnets snap it into place – and keep it there. Simple as that.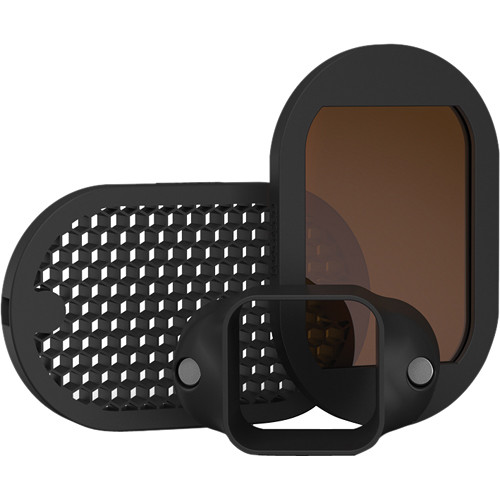 Gelling your flash
With the Profoto B1 flashes, I used the Profoto gel sets. But for speedlights, I cut my own strips of gel to tape to the front to my flash.
Since I frequently gel my flashguns to turn the WB of my flash much warmer (usually for  Incandescent light), I use these gels that I cut up and tape to the top of my speedlight's head. One of these sheets (which aren't expensive), will give you a lifetime supply of these filters. For me, these gels are an invaluable part of flash photography.
Tape the gels down on your lens hood when not in use.
You can buy gels through these affiliate links: Related links