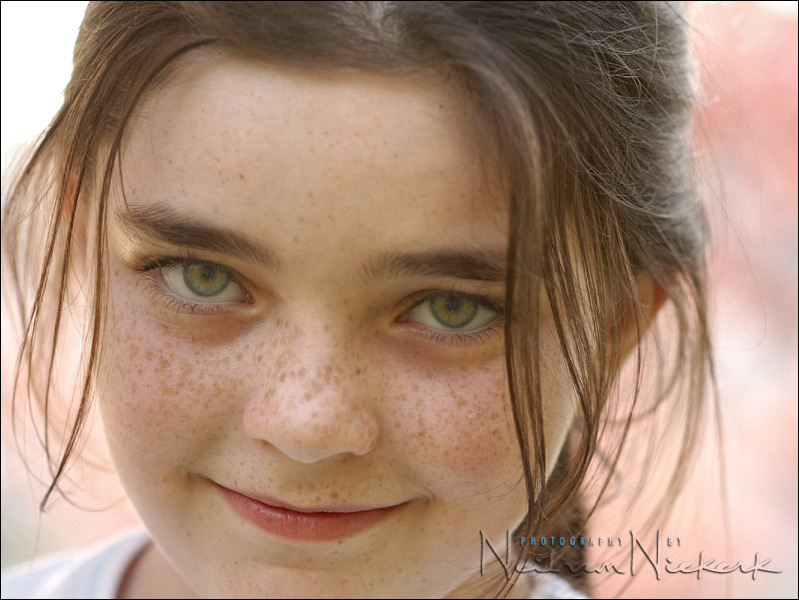 your personal photography – aiming for more than just snapshots
This just might be my most favorite photo of my daughter, Janine. It's from 2003 when she was 9 years old. I was trying out my new Nikon D100, reveling in being able to instantly see any photos I took. We were outside in the garden area of the apartment complex we lived in at the time. With a long focal length, I concentrated on capturing her expression, and some element of who she was at the time – that interesting blend of confidence and shyness … and a fortunate dose of just indulging her dad with the new toy.
Simplifying the composition, the photo is all about her expression and those soulful eyes. She still has that. But she has grown into a confident young woman.
She's currently (2013) studying to become a Chemical Engineer and doing very well at university. Yup, she's bright. That obvious intelligence is also blended with an amazing confidence now. She always was independent; even more so now as a young adult. There's an individualism there that I can see others are drawn towards. Magnetic. It's astonishing at times to watch her interact with other people with an assuredness I didn't have until much, much later in my life. I'm very proud of her, and in a large way also in awe of who she is. She's an incredible person to know. Even more so as her dad.
It's interesting to look over the older photographs now, trying to recognize traces even then of who she is now.
And if I sound a little nostalgic, I am. She moved out of the house when university started in 2012, and she has gained momentum with her own life. So we see much less of her now.
While all the memories are intact, the photographs I have of her have an even more powerful resonance now. And I wish I had more photos of her.
Like any new parent, I shot rolls and rolls of film of her as she grew, but this tapered off as she grew older. In a way , as the "newness" of the baby was shed, we became more used to her as being part of the family. She's just *there* with us; part of us.
Now I wish I had many more photos of her taken during later stages. And not just camera-phone snapshots, but more carefully crafted portraits like this image.
I think there is a danger there – if danger is the proper word – that we reach for our camera phones more readily than before, instead of using a "proper" camera to record events. Make no mistake, I do value having a camera and video-camera as capable as the iPhone on hand, everywhere. In fact, this weekend I surreptitiously recorded a 10 minute video clip as she railed about something. The gestures are amusing. Not that I'd show her now, but to her mother and I, this is an incredibly endearing thing to have. It's very much her.
While having an iPhone / camera phone on hand is just dandy, I think that as photographers we easily become a little too lazy over time. We gradually start to neglect to properly photograph those who are dear to us with better cameras than just our phones.
So this post is a touch self-indulgent as I reminisce, it's also a gentle reminder to everyone that there is real value in taking the extra bit of time and effort. We shouldn't stop taking careful, meaningful portraits of those who touch our lives. With time, we'll be ever more glad we did.
To counter-balance the sweetness of the photograph at the top, here are a few anecdotes from the past year …
{ 33 comments }