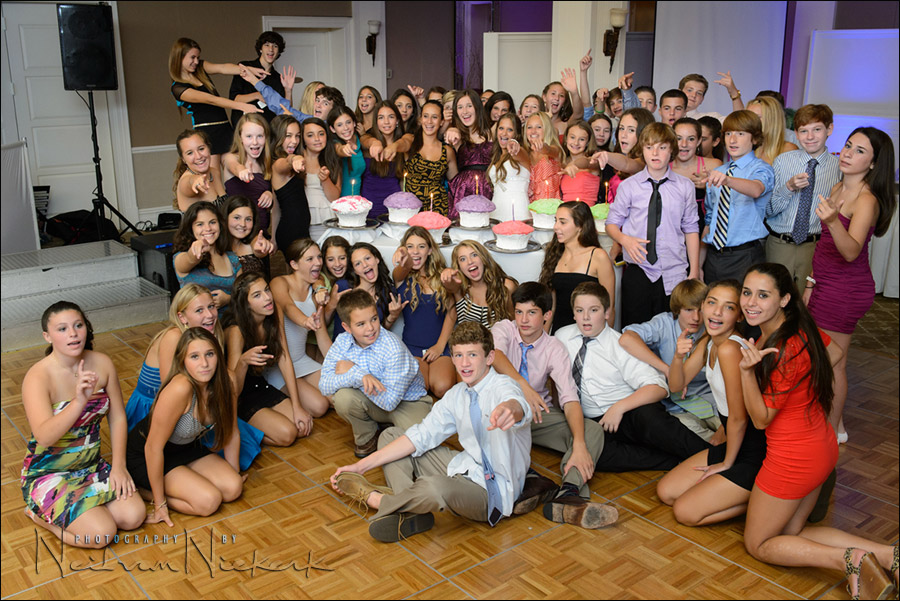 What if you need more light from your bounce flash?
Because I so often use on-camera bounce flash, one of the questions I'm regularly asked is, what if there is nothing to bounce your flash off? There is also the variant – what if there isn't enough light from the bounced flash?
In both cases, the answer is the same – you improvise!
Not only that, but you need to be prepared to improvise.
The photograph above is from a recent Bat Mitzvah, showing the big group shot of the kids. If you've photographed Bar / Bat Mitzvahs before, you know this is coming up, and you have to be prepared for it.
You're prepared for it by:
– having a ladder handy to stand on
– a wide enough lens and enough space to move back into
– enough light!
You can not just be passive and go … oh, oops! You need to be prepared and have done some homework before any event you photograph. (It seems such an obvious thing to even need stating like that!)
This particular venue has a really awkwardly shaped ceiling, and it has a bronze color in places. So it makes bounce flash photography a bit of a challenge, but I was able to get pretty good results by pushing the ISO higher. Using a camera like the Nikon D4 is an obvious boost here!
{ 16 comments }