Intimate male portraiture – two perspectives
This video clip and photo shoot are the results of a discussion with a friend, Cate Scaglione, one of New Jersey's best boudoir photographers. At a photography convention, the topic came up whether male and female photographers approach their subjects differently (whether male or female). My take on this is that there is such a diverse range in styles and skill levels, that it would be impossible to make any clear grouping on styles depending on the photographer's gender. Cate believes this does have an influence. And from that, the idea for this shoot originated.
Nick is a New York based actor and model, and Cate's client. Cate was tasked with building up his portfolio … and with his good looks and willingness to take part in our idea, it all came together as a photo shoot in Cate's studio. One model, one studio, two photographers with difference styles and approaches. This is of course explained in our intro to the video.
What followed was this behind-the-scences video clip, showing how we worked with Nick. Cate and I shot separately, with no idea what the other was going to do. Cate shot during the day, using available light only in her studio. By the time it was my turn to photograph Nick, it was dark already. Not an issue – I wanted to use my trusty portable lighting kit, based on two Profoto B1 flashes (affiliate). I had the intention of making the photos moody with a touch of dramatic light. My style tends to be very much portrait based. Portrait-y if you want. Cate's style is different, as you can clearly see.
Anyway, have a look! Hopefully the clip is both entertaining and have some snippets of info. There is also an additional article where I discuss techie details and my lighting setups throughout my part of this photo shoot. Oh, and if you're confused about my T-shirt in the video – it's the rocket from Tin Tin – Explorers on the Moon (Amazon).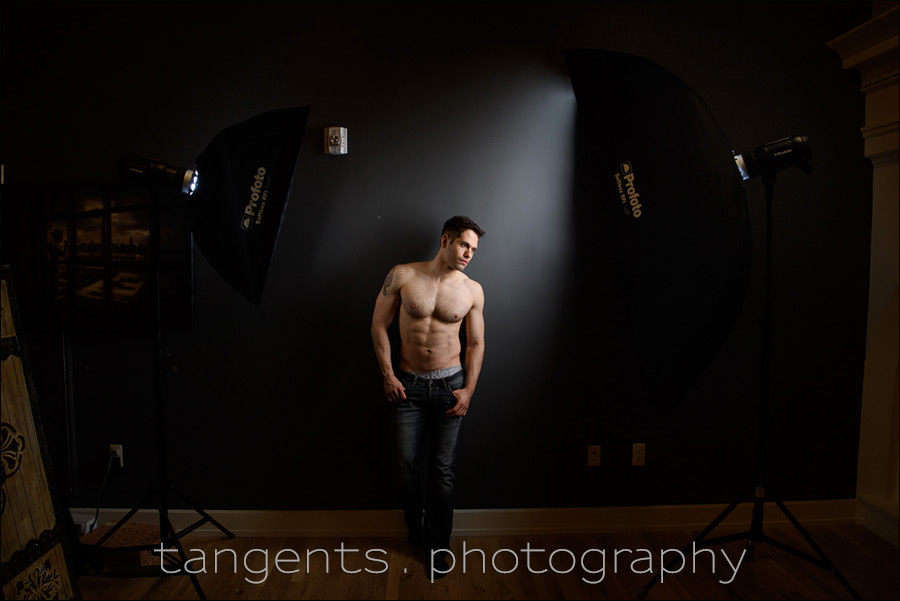 Photo gear used during my part of this photo session
A lot more detail here: Photo session – Intimate Male Portraiture w/ Nick Mathews
Related articles