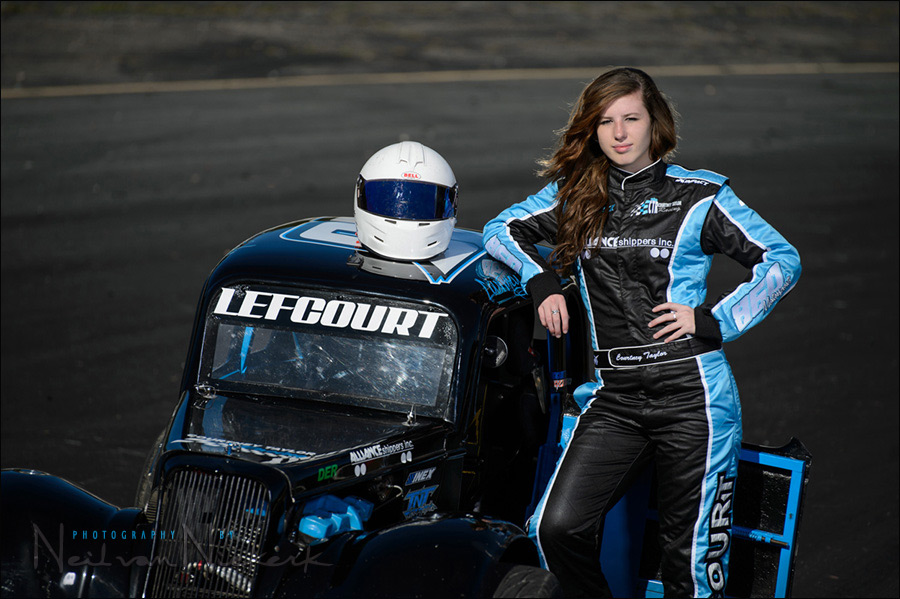 Environmental portraits – Speedway racer, Courtney Lefcourt
When Courtney's mom first contacted me, she told me that Courtney is a race-car driver and that the camera loves her. Intrigued, I met up with her family at the Bethel Motor Speedway for on-location portraits of Courtney. To find out more about Courtney, check out her Facebook page, Courtney Taylor Racing.
So the challenge here was two-part. The sun was very bright since it was 3:30pm in the afternoon. The other challenge is that while speedway racing might be an exhilarating sport to watch, the speedway race-track isn't exactly a visual feast. The race-track is a barren oval strip of tarmac at an angle. I had to accentuate her more, and the race-track less – but still keep it relevant as an environmental portrait.
Courtney's fire-retardant suit was fortunately a vivid blue and black. This neatly matched the blue sky and black top. This especially helped with the wider images.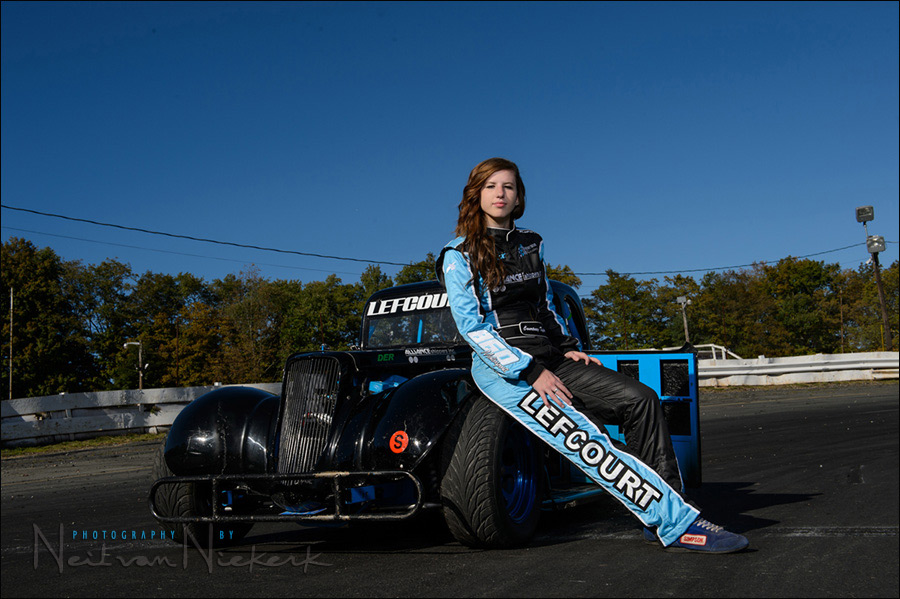 For the wider shots that established where we are, I used a wide-angle and went for a lower viewpoint. The pull-back shot for the wider images in the series, shows the lighting setup – a Profoto Acute B2 600 Ws powerpack (affiliate), and a Profoto beauty dish (affiliate)  with a 22″ sock (affiliate). These wider shots were done without a ND filter, since I didn't so specifically need a shallower DoF.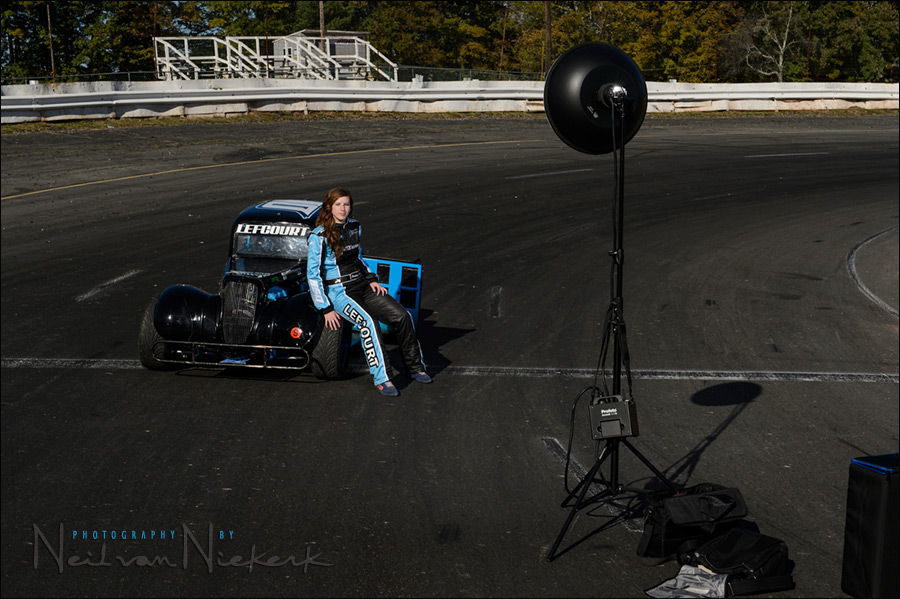 For the tighter portraits, I could eliminate the distracting background that would be the crash barrier and trees, by shooting from an elevated viewpoint and shooting down on the race-track. That would really simplify my background to just the black tarmac. For this, I stood on a small step-ladder. I was very careful not to include any of the edges of the race-track. Visual simplicity by eliminating clutter!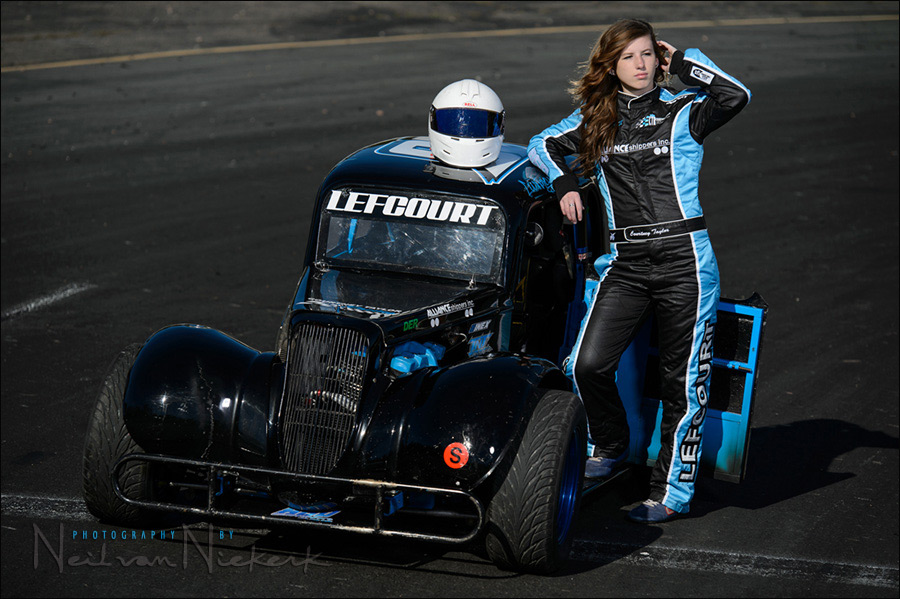 So the higher viewpoint helped accentuate her. But with the bright sun, we'd be working at small apertures, and I would prefer a wider aperture. Adding a 3-stop Neutral Density filter (affiliate), brought my aperture to f/4.5 and this was an aperture that made sense. Just enough depth-of-field.
Then, to create even more separation, I set a speedlight behind her at full manual output. It gave that bit of rim-light which helped beautifully to create that bit of a 3-D effect with Courtney really popping out even more from that neutral out-of-focus background.
Both the Profoto light with the beautify dish, and the speedlight, were at full power. The speedlight just had to add that bit of rim-light from behind. The Profoto had to do the heavy lifting in more than just matching the bright sunlight, thereby opening up the shadows and giving flattering light on Courtney. (Keep in mind that the ultra-wide angle view in the lighting setup shot distorts the relative distances.)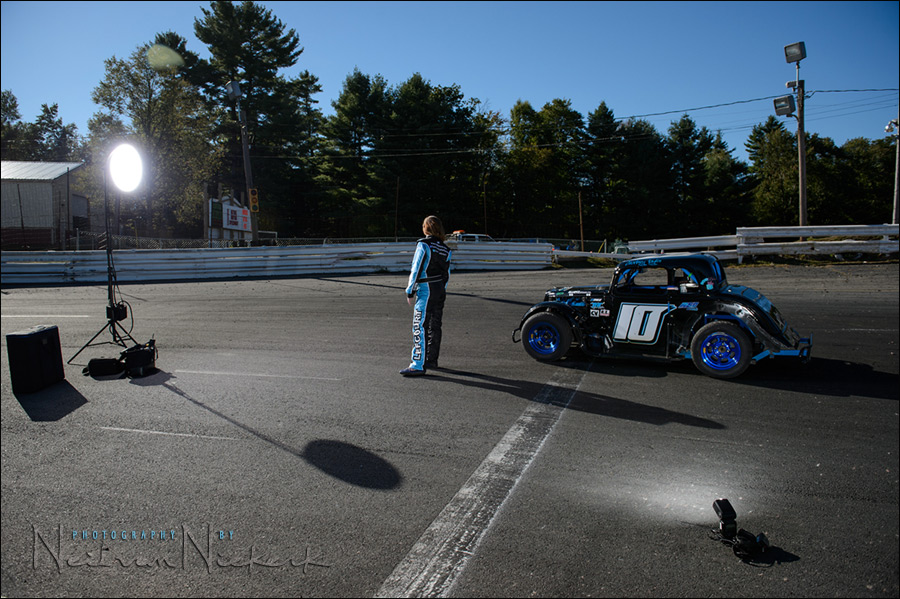 Photo gear (or equivalents) used in this photo session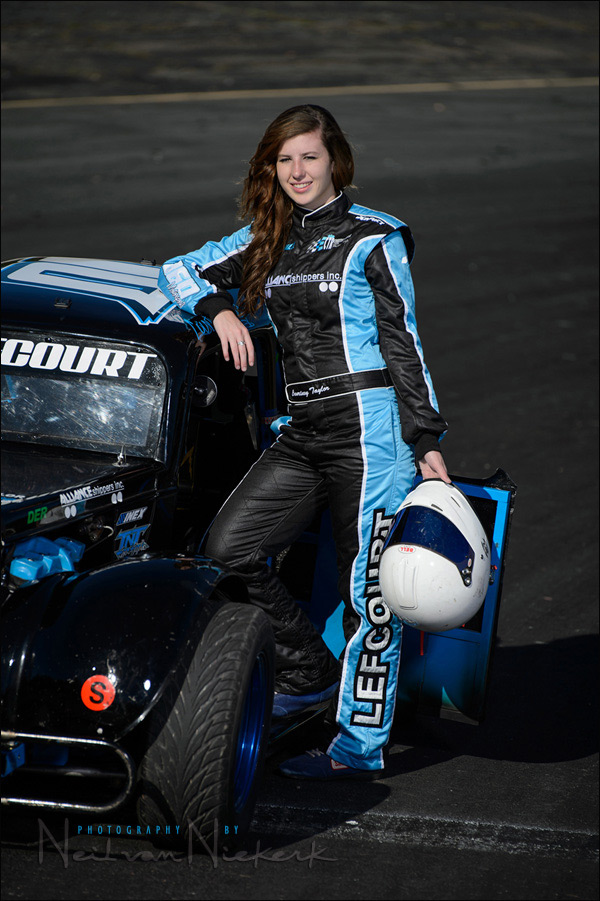 Keeping to a specific thought-process in adding off-camera light to strong sunlight, the photo session was made easier, and the chances for success significantly better.
Related articles
A little bit of homework
What was the thought-process, or algorithm if you will, to get to my camera settings?