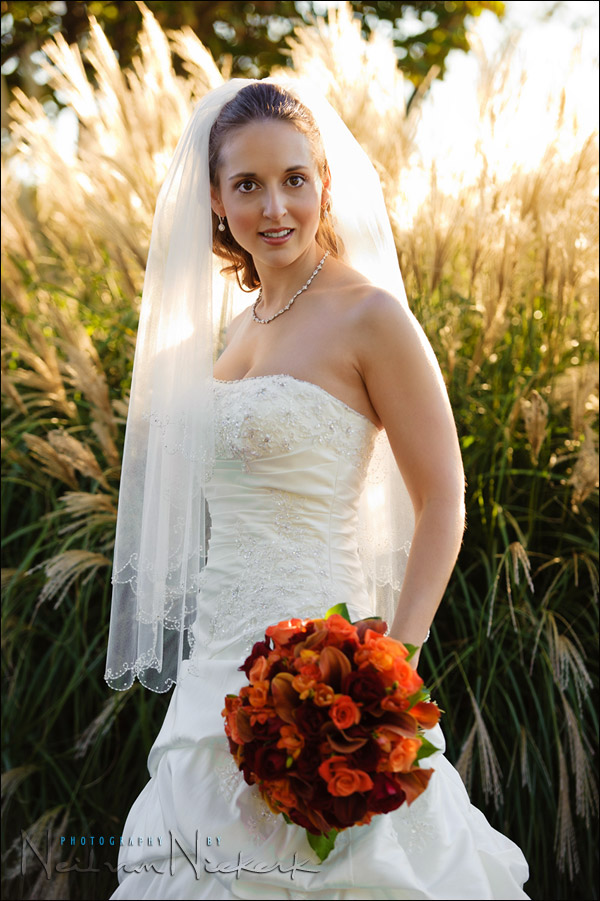 Exposure metering – bride & the bride's dress
From a technical point of view, photographing a bride in her dress can be a challenge … depending on the lighting.  If everything is under your control as the photographer, and you're lighting the formal portraits with off-camera manual flash, then it is essentially a study of the zone system.
The simplest way for me then to get accurate exposure, is to use the histogram.  I place my brightest relevant tone at the edge of the histogram.  All the other tones will fall into place.  (It is clearly explained in that linked article, and in my books on flash photography.)  In using flash like that as your dominant light source, you simply expose correctly for your subject – the bride in her white dress.
Now, when working with ambient light (perhaps with a touch of fill-flash), things are slightly different .. but not really.  You still always (or nearly always**), need to expose correctly for the bride's white dress, making it the brightest tone that you want to capture detail in. For this article, we're going to look at exposure metering for available light. The same thought-process can be applied to flash or other additional lighting, but just for simplicity of explanation, let's just stay with available light here.
So, looking at this portrait above of Jill, a bride whose wedding I photographed, you will notice that there are darker areas in the frame (towards the bottom), and there are brighter areas to the top … and then of course, a striking looking bride as our subject. In white.
This is where using an automatic metering mode on your camera, such as Aperture Priority (Av) or Program will most often fail you. Your camera – even with Evaluative / Matrix metering – will meter for the entire scene, including your subject.  Even though Evaluative / Matrix metering will give weight to different areas of the frame, and try to get to the best compromise exposure it can figure out according to the camera's built-in metering algorithms … it's still guessing at what you're trying to do.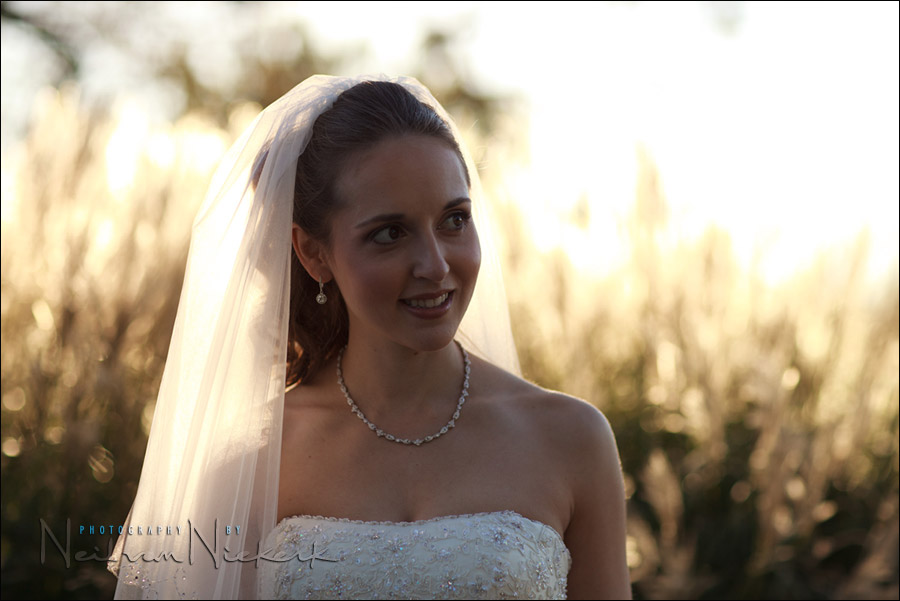 Here's an example of the camera set to Aperture Priority, and left to its own to calculate the exposure. The bright areas in the frame fooled the camera's meter into under-exposing your subject. This is a crucial distinction we need to make – we always (or nearly always**) need to expose correctly for our subject, not the entire frame.
You may have noticed the (**) there – the "nearly always" qualifier.  Often enough, there are different considerations than exposing just for your subject.  A recent example would be the couple photographed against the 'neon sky'. So there are exceptions to the general advice to always expose for your subject. That is something we as photographers need to decide as to how we're going to interpret our subject & scene, by our choice of exposure settings.
Back to the portrait of Jill. With the strong back-lighting, I had to meter for specifically for my subject.  NOT the scene.  Unless, as just mentioned, I wanted a silhouette effect.  Or something similar, such as under-exposing my subject to an extent for a specific mood that you might want to create.  It depends.  But generally, you expose for your subject.  And here, I wanted the shaded side of our bride (and her dress) properly exposed.
The linked article about how I use the histogram to figure out exposure metering, makes use of the idea that the right-hand side of my histogram shows the brightest detail that I can capture.  That would be the white dress here.  But you should notice, that every part of the dress isn't at the same tonal level.  The area of the dress at the bottom of the frame is darker.  There is also rim-lighting where the edges of the dress blow out.  So, without additional lighting here to even it all out, there is no way to capture ALL of the dress as the same tonal level.  We have to make a decision as to what part of the dress we'd want to capture and place correctly as a bright tone.
This then, would be the top-most part of the dress which has the same kind of light, and same intensity light that falls on her face.  Using the histogram method, and using the camera's built-in meter reading selectively … I point my camera at ONLY the brightest part of my subject.
With my camera in manual metered mode, I can then either,
– zoom in tight (which is what I normally do), and exclude EVERYTHING that isn't the white dress; or
– use the camera's spot-meter.

Now in the same way that the camera's built-in meter was fooled by the bright background, I can't simply zero my camera's meter while in manual.  I need to keep in mind WHERE / HOW I want to place the white tone.  Depending on the camera make and model, I will shift my exposure between 1 and 2 stops in exposure up from where the needle is zero. For the Canon 5D,  I found that +1.7 stops (5 clicks on the display / camera controls) will do the trick.  For the Nikon D3, it is around +1 and +1.3 stops (3 or 4 clicks up.)  This is something you need to figure out for your camera. You HAVE to be familiar with your camera's controls, and how your camera's meter works and responds.
Here is the screen-grab of how this RAW file looks in ACR / Lightroom.  The red areas are were the RAW editing software is warning me that I could be, or am, losing detail.
Where there is rim-lighting, I will lose detail.  But this doesn't bother me, since this is what makes it rim-lighting – some area around the edge of my subject that is bright enough to lose some detail.
Where the background is over-bright, I will lose detail.  Once again, this doesn't concern me here.  I'm not a landscape photographer.  I'm a portrait / wedding photographer. My SUBJECT is all-important.  Not the background.  The background is merely context or something interesting to place my subject against.
Where I'm losing detail in the veil, I will (and did) attempt to pull back a fair amount of detail with the local (exposure) correction brush in ACR / Lightroom.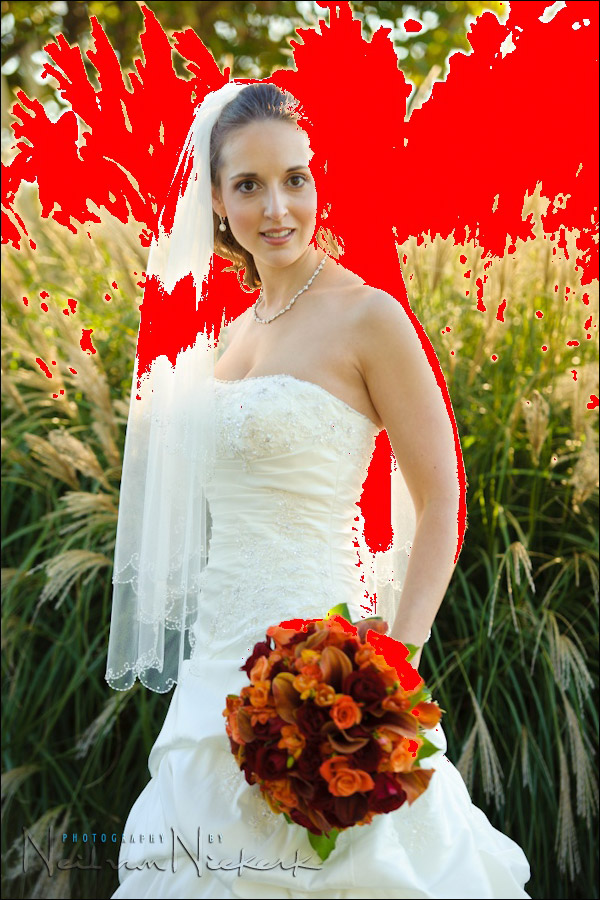 As you can see here from the histogram in ACR / Lightroom, the histogram is bunching up against the right-hand side.  This is because I am losing detail … the image is over-exposed … if you consider the entire frame.  But we shouldn't.  We should mostly just consider our subject.  So that histogram there is meaningless to me.  The histogram that did matter to me, was the histogram I got in my camera at the time that I selectively metered off her dress.  THAT histogram needed to dip close to the edge of the histogram display, and not bunch up against the side.  (Again, this is explained in the linked article and in my book on flash photography.)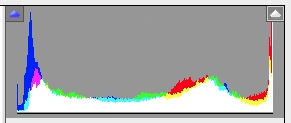 Here is the final image again … I corrected the WB as part of my normal raw work flow, and pulled down the exposure in her veil with a localized correction brush. I did sweeten the image slightly in post-processing the JPG for displaying here.  (It isn't something I would do for 500+ proofs for a wedding.  It's just not logistically feasible.  Just selected images.)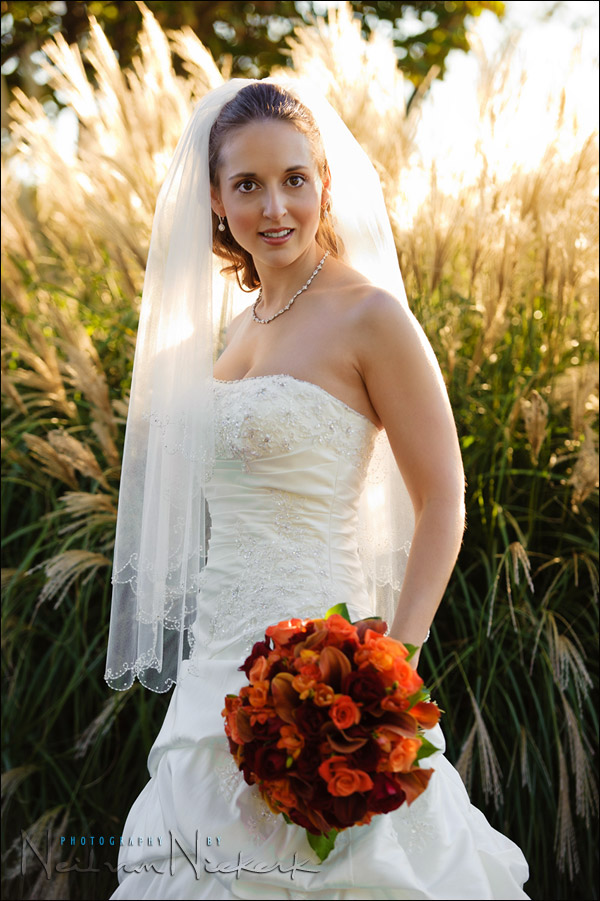 Oh, and here are my camera settings.
So with this, I have now answered a question I am often asked … when I do my exposure metering for the bride and her dress, do I meter off the bride's dress?  And the answer is … nearly always**
Yes, do note the qualifier there.  Nearly always.  But there is a method to it, and consideration of the proper tonal placement of the white dress, and subsequently, the skin tones.
---
All of this also ties in with a question that Mark Smith sent in. Mark was concerned about the histogram in this image bunching up to the right. Yet the dress looked fine with no blinking highlights showing that there might be loss of detail.
So coupling this with the preceding explanations, I'd say the exposure here is perfect, and we can't gain anything useful from the overall histogram.  I would be guided by the blinking highlights (and perhaps numerical values of colors in Photoshop) of the dress.  That would show perfect exposure.  And this would imply perfect exposure for the skin tones that are important – the bride and groom's.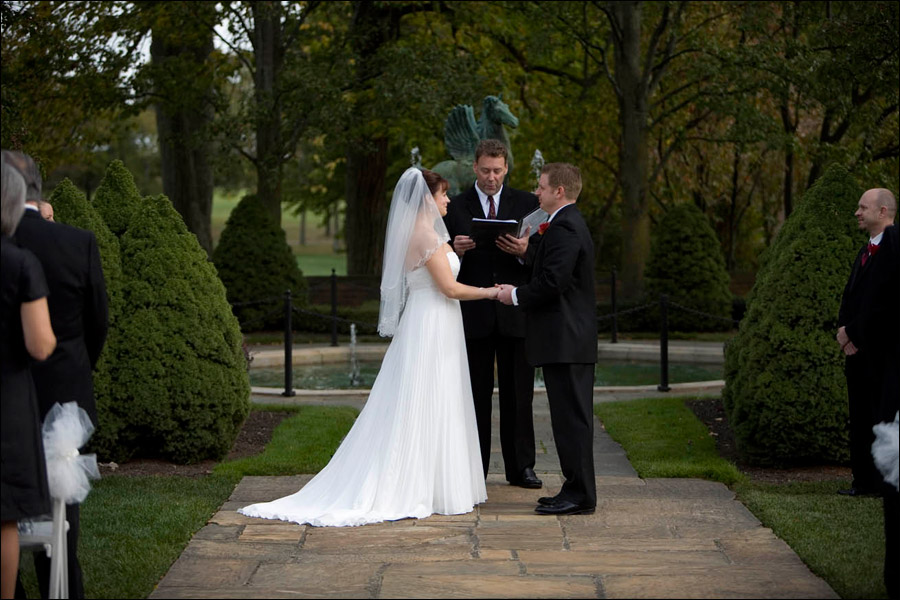 Mark was also concerned that this following image showed 1.5 stops under-exposure, but the dress was blowing out.
Going by the previous explanation again, the meter reading might well show under-exposure … but this isn't relevant, since the meter reading is for the entire scene.  And what we are interested in, is correct exposure metering for our subject – the bride.  The dark trees and foliage and black tuxes are influencing your camera's meter here.  What we really should be looking it is correctly exposing for our brightest relevant tone – the bride's white dress.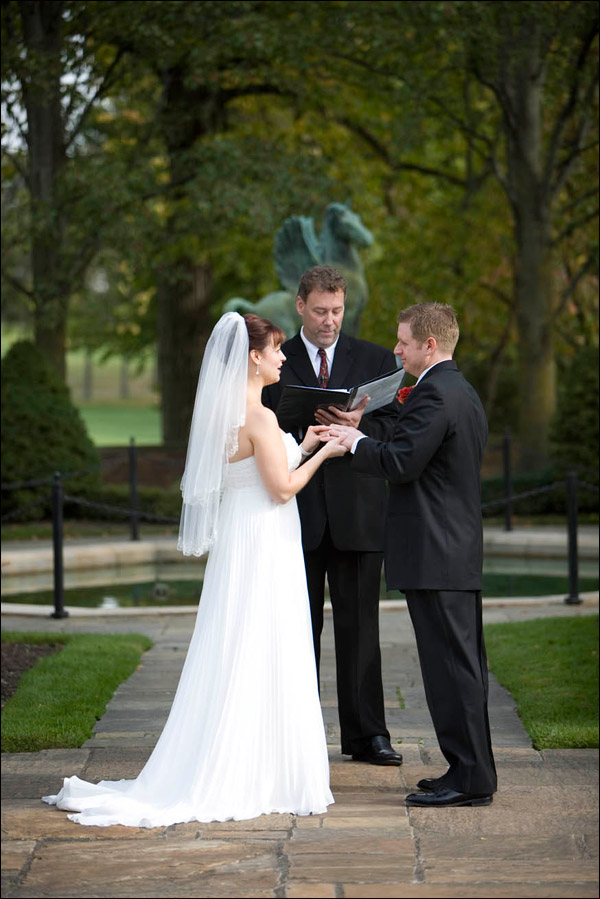 Summary
Hopefully this article ties a bunch of different concepts and photography techniques together into something that makes sense, and offers us a coherent method.  A consistent method of approaching our exposure metering.
Recommended books
Exposure metering technique is a topic too complex to cover completely in a single blog post. Besides, the definitive introductory book on this is readily available: Bryan Peterson's Understanding Exposure, 3rd Edition: How to Shoot Great Photographs with Any Camera. If you struggle with exposure metering, then I strongly suggest his book.
---