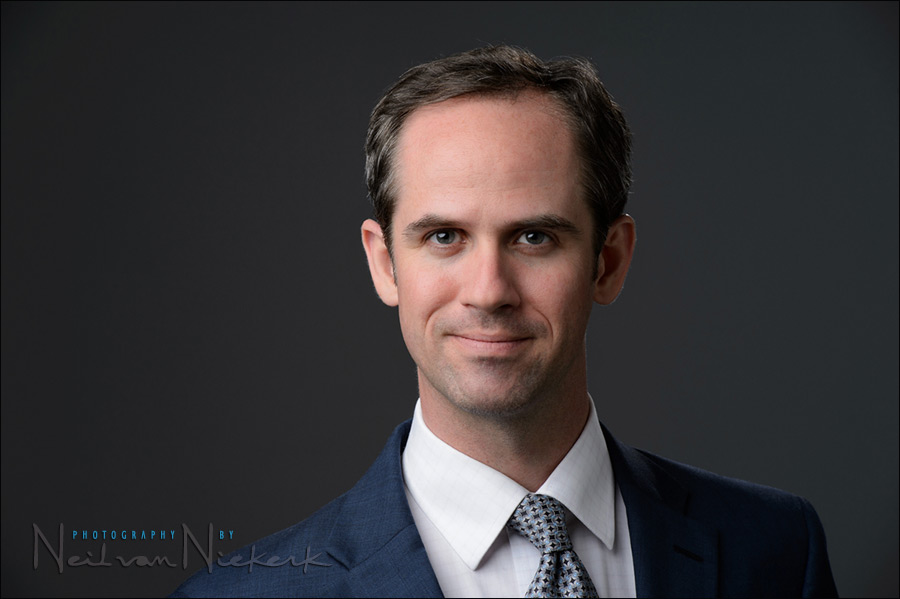 Headshot photography in the studio
Mike is an actor / musician friend of mine, who also works with the Modern Gypsies at times. We recently updated his headshots with a session in and around the studio. As a working actor in New York, he has appeared on stage, as well as some spots on television. Amusingly enough, while shooting outside the studio against the warehouse building's facade facing the main street, a young boy, walking past us with his mom, turned around and asked Mike, "Are you famous?" Of course we couldn't disappoint the kid.
Being a character actor, and shooting with that in mind, we took many photos where the expressions were quite goofy and strange. But I'll leave that up to Mike to show to the world. Someday perhaps. Here's a small selection of headshots of him, where we show some of the character and expression. That's actor Mike. For raconteur Mike, you'd just have to meet him in person.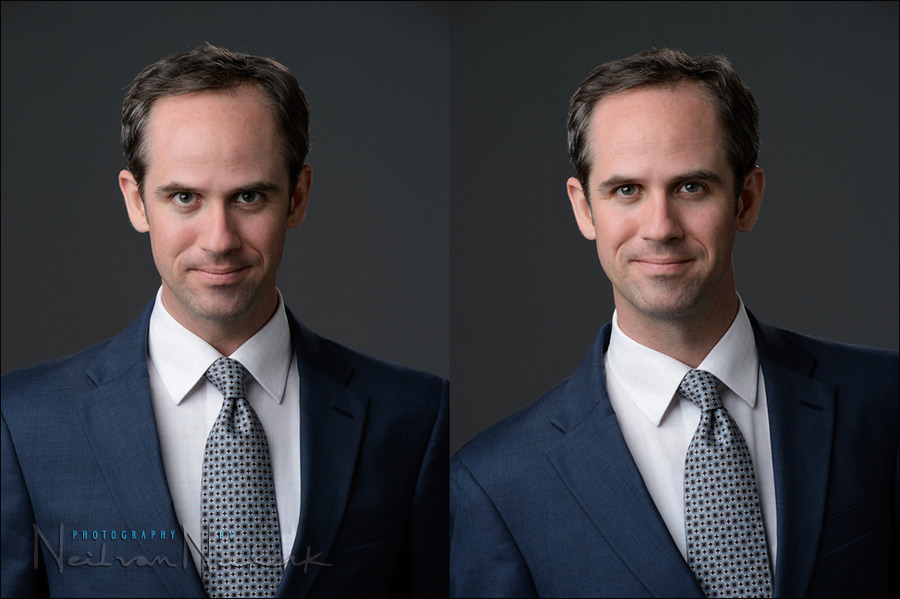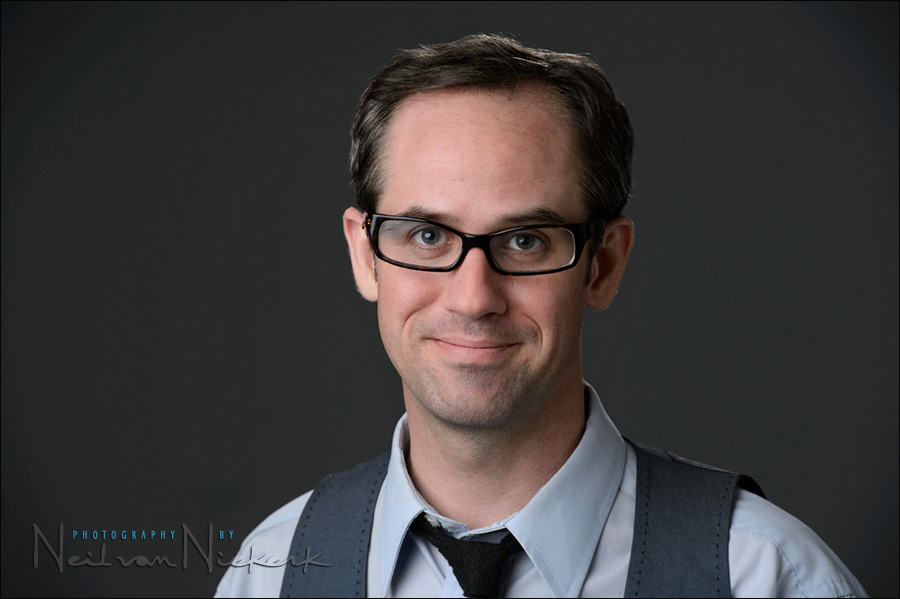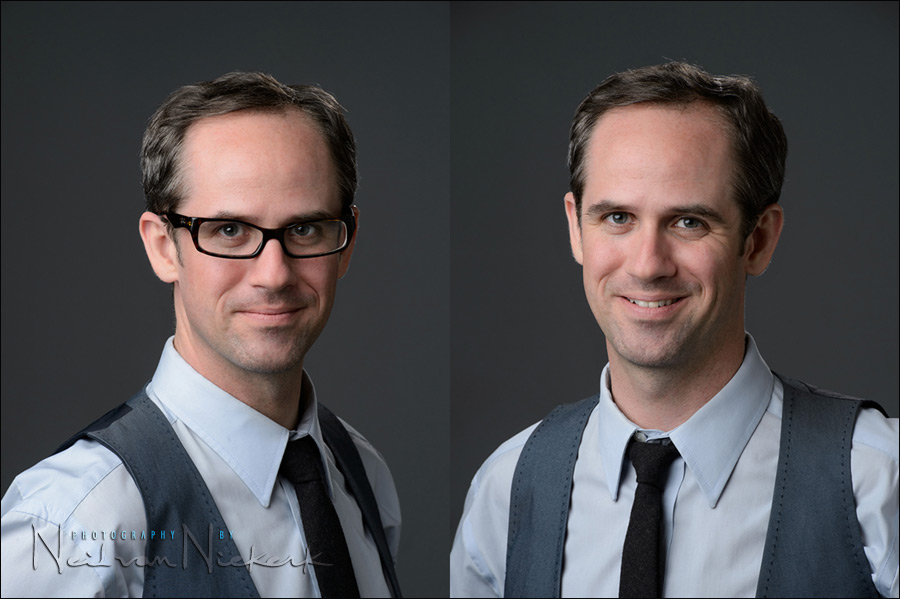 The lighting setup was fairly simple. I wanted clean open light on him, so you could clearly see his expressions. I also wanted a large light source so we had some freedom with his movement. But we still wanted some contrast to the shadow side. But not too dark.
I used two Profoto D1 Air 500 Ws studio light (affiliate) for my lights.
The main light on him was diffused with a large Profoto 5.0′ RFi Octa Softbox (affiliate). This massive octabox gives beautiful soft light. I had it set to an angle, so it was feathered away from him a bit. There's a reason for that. If you feather a large light source like that, you can have your subject step forward, and then you have more contrasty light. If you have them step back, then you get more of a wrap-around effect to the light. Of course the exposure varies a little bit, but nothing that a click or two of the aperture dial won't control. So with this light, I can get more contrast, or less contrast, depending on how far forward or back my subject is positioned in relation to the light.
Fill-light was via a white V-flat which acted as a reflector. The V-flat consists of  two white foam core boards that are taped together with gaffers tape to form a V so it can stand upright. I set it up so that it reflects light from the front and side and a little bit from behind. Just enough fill-light for what I wanted. No real science to it. Okay, okay, there's a bit of Light, Science and Magic involved.
The hair light was via the second Profoto D1 500 Ws studio light (affiliate) on a  Manfrotto 025BS boom w/ 008BU stand & casters (affiliate). The light was controlled with a grid on the reflector:  Profoto 7″ Reflector and a Profoto 10 degree Honeycomb Grid.
The background was the back wall of my studio, painted a light grey. Because of light fall-off, the background appears dark grey in the final images.
camera settings: 1/160 @ f/11 @ 200 ISO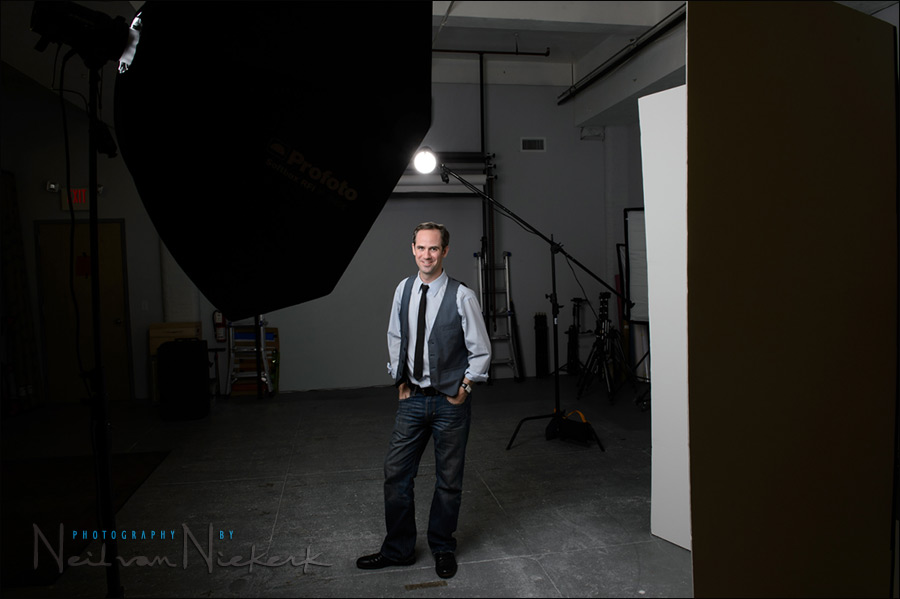 This relatively simple setup gave me the results I wanted for these headshots, but I do change it up at times, always exploring.

Photo gear (or equivalents) used during this photo session
Nikon D4
Profoto 7″ Reflector with a Profoto 10 degree Honeycomb Grid
Related articles
Studio lighting workshops
If you are interested in learning more about studio lighting, including lighting for headshots, I offer workshops on studio lighting. The workshops will be held at my studio space in NJ, and it has a wide range of studio lighting gear to play with!