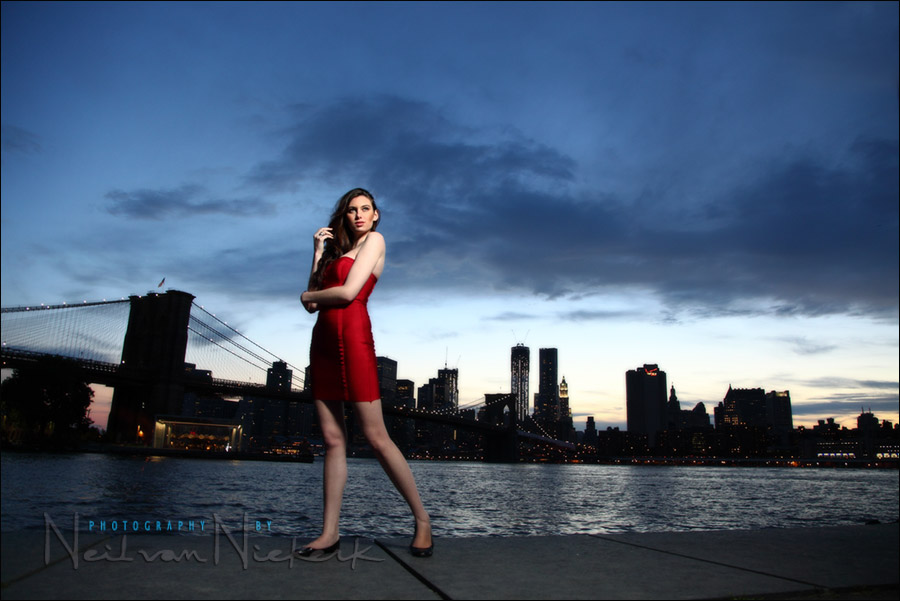 Off-camera flash in low light – choosing your shutter speed
With flash photography, the maximum flash sync speed is an important camera setting. It is the best go-to camera setting when you use flash in bright ambient light. But when we shoot in low ambient light levels, then we need to adjust our shutter speed accordingly. We would most likely be at a shutter speed where the ambient light shows up. We want some of the ambient light to register in our photographs, because it gives us context. Allowing more ambient light to appear in our low-light photos where we use flash, enhances the mood. It also reveals more of where we are. Context!
To remain at max flash sync speed in low light isn't the immediate best choice, because the background would usually go far too dark. Even black. Our photographs usually look best with our subject in surroundings we can recognize, or complements our subject in some way.
Shutter speed choice when using flash, will vary depending on what we're photographing, or trying to achieve. In low light, we're most often dragging the shutter. But we have to be able to adapt what we do, against what we're trying to achieve with our photos.
As recap example of using flash in low light, let's have a closer look at the top image: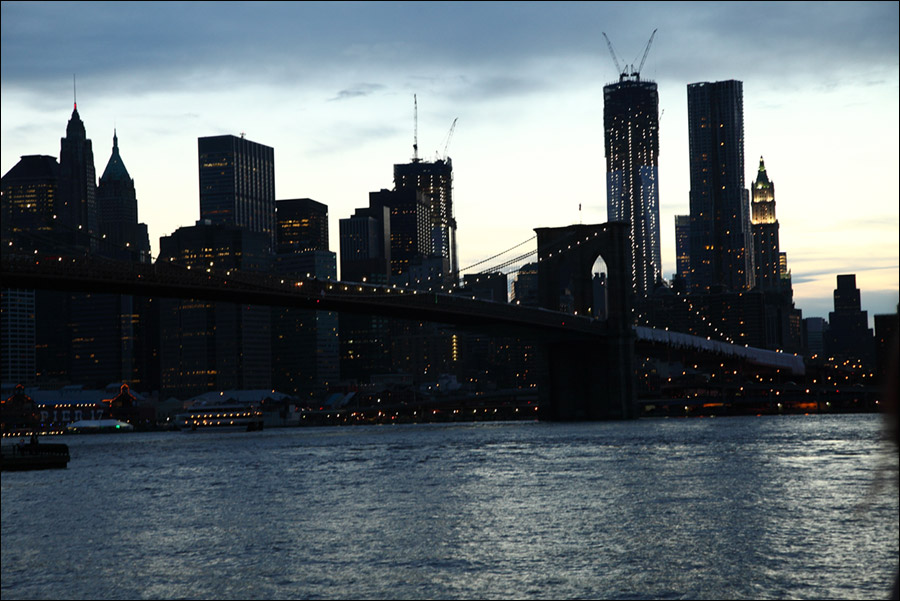 I was busy photographing a model, Molly K, for the review of theCanon ST-E3-RT Transmitter and Canon 600EX-RT Speedlite. For a final image, I wanted her against the awesome backdrop of the early evening Manhattan skyline.
The photograph above was my first test shot: 1/30 @ f/5.6 @ 800 ISO.
You can't use your camera's light-meter in a general way, since there are dark areas and bright areas. Selectively metering and guesstimating, along with a few test shots, will get us there. I eventually settled on 1/20 @ f/5.0 @ 800 ISO for the settings of the final image.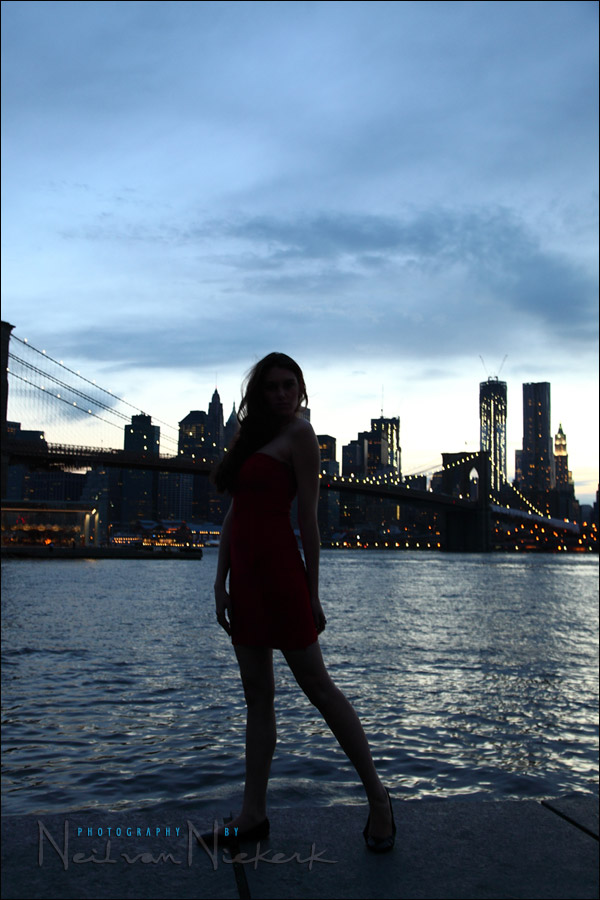 Working at shutter speeds as low as 1/20 hand-held, will strike fear with some photographers. Alternately, some might be okay with it, saying that "flash will freeze the movement."  Well, yes … but not necessarily. It depends. Or if this was a Facebook relationship status, it would fall under "it's complicated."
Flash will only effectively freeze motion, if
– the ambient light on your subject is 4 stops or more under the (proper) flash exposure, and
– there isn't a bright area behind your subject that will reveal there was movement.
Whether flash will freeze action, is discussed in detail in this article: will flash freeze the action at slow shutter speeds?
Back to the example above – in that straight-forward portrait of our model, there isn't any movement to contend with, except for potential camera shake. This is where a stabilized lens works wonders. The Nikon 24-120mm f/4 VR (affiliate) and the  Canon EF 24-105mm f/4L IS (affiliate), are both superb stabilized lenses for general photography. With the image at the top, there was minimal available light on her, so the flash froze any potential camera shake. Along with a the stabilized lens, a careful stance and breathing, this all ensured that I get crisp images.
Since she wasn't going to move or jump, the brighter sky behind her wouldn't show the blur of movement.  Flash will freeze action, as long as the subject isn't moving against a much brighter background – for then we will see some kind of ghosting effect, or parts of our subject might disappear into the brighter areas.
Doing another test shot at my final settings of: 1/20 @ f/5.0 @ 800 ISO, I could easily confirm that camera shake would not be a problem. In this case flash would freeze any movement, whether the model's or my own. On top of that, I was shooting at a focal length of 24mm, and in comparison, especially with a stabilized lens, a shutter speed of 1/20th isn't all that scary.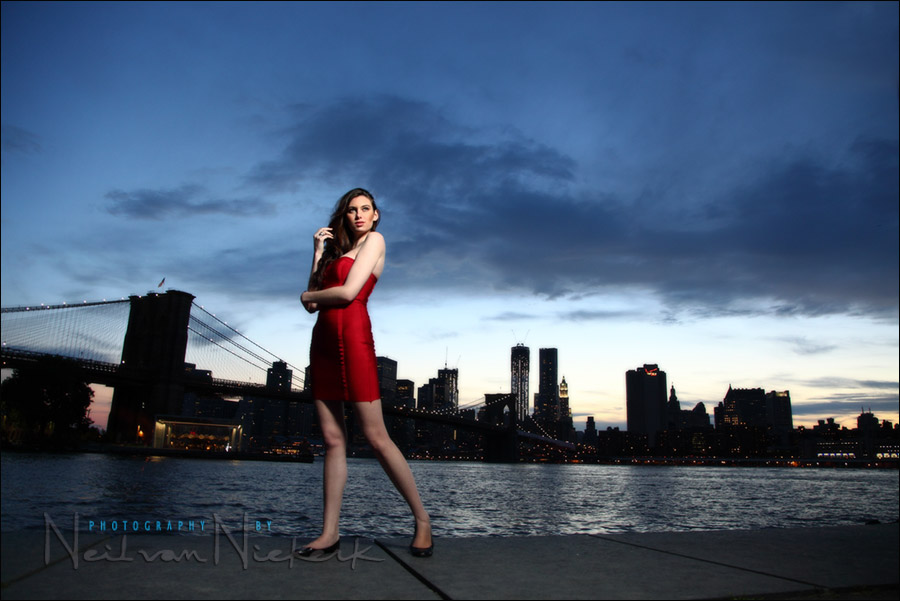 camera settings:  1/20 @ f/5.0 @ 800 ISO
I used a softbox to camera-right, with the Canon 600EX-RT Speedlite (affiliate). The speedlight was in manual exposure mode, and was controlled by the Canon ST-E3 Speedlite Transmitter (affiliate).
I didn't specifically meter for the flash. From experience, I have a good idea of how powerful my light will be at specific distances with that softbox. With manual flash, we have that specific relationship between Aperture + ISO + Distance + Power, to give us the correct flash exposure. And this remains consistent, even if we shoot on another day in another place.
Camera gear (or equivalents) used in this photo session
Related articles