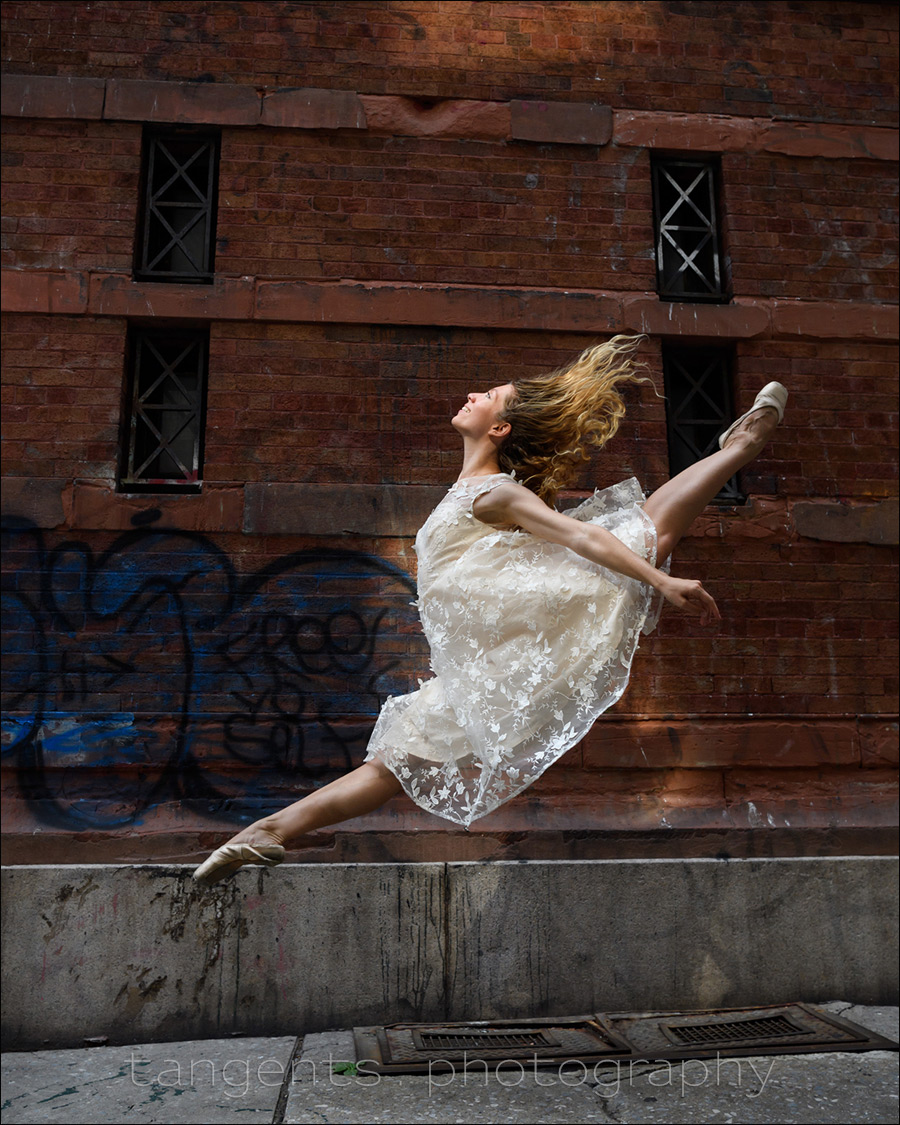 Photographing with available light only
While photographing dancer, Anna Russell, in this side-street in New York, I noticed those splashes of light against the wall. These little pools of light were from sunlight reflecting off nearby windows. I wanted to see if we could have Anna hit one of those in mid-air. What also helped was the general direction of light in this area – it mostly came from the main road to the left of the frame, since we were shooting in a narrow street with tall buildings.
The main splash of light on her was sunlight reflecting off this window of a building opposite to where we were working:
This meant that Anna was facing towards the main source of available light — and it made sense to photograph her leaping in that direction. A simple, obvious choice.  And then, those random splashes of light to brighten the scene.
Obviously the higher ISO was to force a faster shutter speed to freeze her movement.
I played a bit with this image by adding a color grading effect to slightly warm it up, and reduce the contrast.  But as so often happens when I explore Photoshop effects, I dialed it down until it was so close to the original to render the added effect trivial. The images I shoot generally look pretty good out of the RAW converter. My RAW defaults are set to punch up the basic image a bit already, because I adjusted my RAW defaults to give me a basic image that I already like.
Here is the effect which I liked … but then discarded in favor of the basic image which already looked good to my eye.
---
With available light only
Here is a rambling train of thought that was triggered a discussion recently on FB. I saw a lovely portrait photograph (in a FB group), and the photographer offered that it was "available light only". This caught my attention because it didn't look like it was only availably light – I was convinced that a fair amount of Photoshop work went into creating that portrait. My feelings are that you can not boast how a photo is "natural light only", when you juice it up with (let me quote from that example), "Frequency Separation; dodge and burn and gradient maps in Photoshop". That's a truckload of Photoshopping which belies the ethos of it being only natural light.
I have to mention that I am in awe of Photoshop wizardry. Just don't call it "natural light only."  Also, this isn't a rant about photographers using available light – the same goes for people who show amazing photos using off-camera lighting, and in mentioning the lighting setup, don't acknowledge the amount of post-production that went into the look.
The editing, regardless of natural or artificial, can be misleading to new photographers when it isn't mentioned upfront as part of creating a specific look.
Please note again, this isn't an "available light vs additional lighting" discussion. I do believe that the stronger photographers can easily utilize either option, and still keep it to a coherent style. That is essential!
---
My friend Ulysses more eloquently elaborated on the dilemma:
The problem comes in when you're trying to make purchase decisions on lights and light modifiers, you can't completely trust a lot of the FB and IG samples because the results they often show are inherently deceiving — not necessarily purposeful. You just need to understand what you're looking at.
I love natural light. I love strobes and auxiliary lighting. I love not touching a well-put-together photo. I love going nuts with filters and styles on other photos. I admire photographers who excel at minimalism when it comes to not needing to heavily process their photos (like so many Nat Geo photographers). I admire craftsmen who know the ins and outs of Photoshop tools to a degree that I will never achieve. What I do NOT love is the way photographers can get really frustrated with their tools and with their photography because they don't understand why they're not getting the results they want. This happens partly because the system is a little bit rigged against them. Again, not always on purpose (but sometimes on purpose).
The context here is interesting because I've been fielding a lot of comments from photographers new to the Godox lights and to the wide choices of modifiers available. I keep getting shown all these sample photos with comments like "I want my photos to look like this. If I buy modifier XYZ, how can I make my photos look like this during my kids' holiday vacation?"
Answer: Your photos ain't gonna look like that during the holiday vacation.
---
The cautionary word here then is to not be misled about the results that can be achieved with a specific light modifier … or with natural light only. There might very well be much more to it.
With additional lighting I have more control, and (can) spend less time in post-production because I already control the contrast and tones to a large extent while shooting. With available light only, you have to get more lucky more often … or spend time in Photoshop.
How this relates to my work in general, and specifically the tutorials on the Tangents blog – my images here tend to have minimal Photoshop work aside from mild skin retouching. For me, it is important that I show the results (nearly) straight out of camera, or at least, straight out of the RAW converter. It just wouldn't be truthful to have lighting tutorials which rely too heavily on Photoshop for the specific look.
---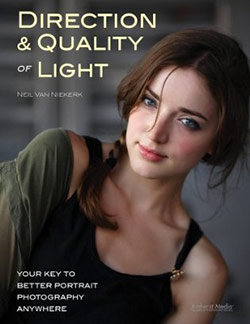 Direction & Quality of Light
I wanted to distill the essence of what we, as photographers, work with – light! Before we can truly grasp on-camera flash and off-camera flash, and really, any kind of photography, we have to be aware of the direction and quality of light. We need to observe the light that we have, and then decide how best to use it, or enhance it.
With this book, I try my best to share those "aha!" moments with you, and I do believe this book can make a difference to your photography.
The book is available on Amazon USA and Amazon UK, or can be ordered through Barnes & Nobles and other bookstores. The book is also available on the Apple iBook Store, as well as Amazon Kindle.
---
Related articles
Finally
Let us know what your take is on this? I'd love to hear.