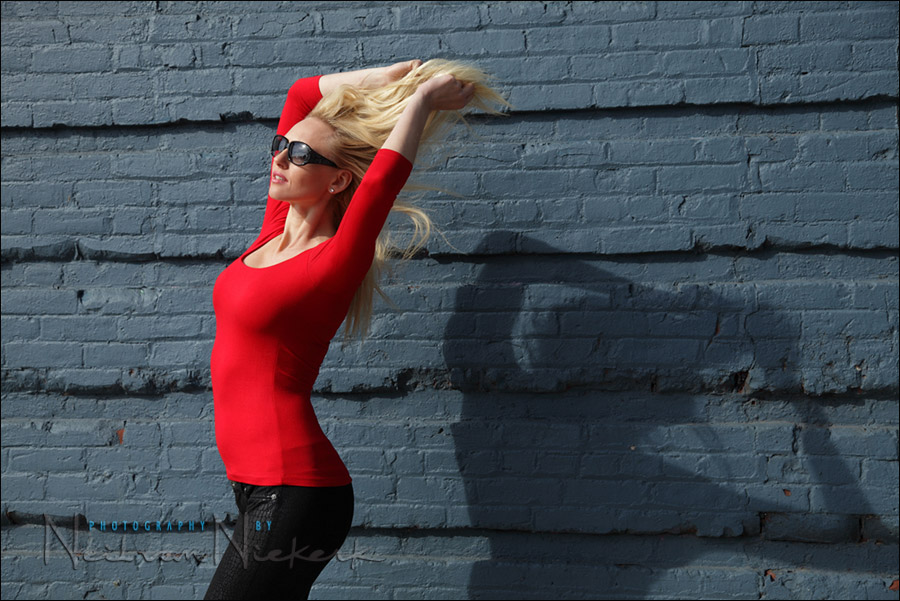 Taking photos in bright sunlight
Taking photographs of people in hard sunlight will always be one of the more daunting lighting situations we can find ourselves in. Without additional lighting, or the use of scrims, we have a few basic ways of dealing with the harsh sun:
– pose our subject into the light,
– pose our subject with their back to the sun, or
– just suck it up and accept that our photos will look bad.
Well, that last option isn't really the way to go if we have any pride in our work as photographers. Which leaves us with the two other options …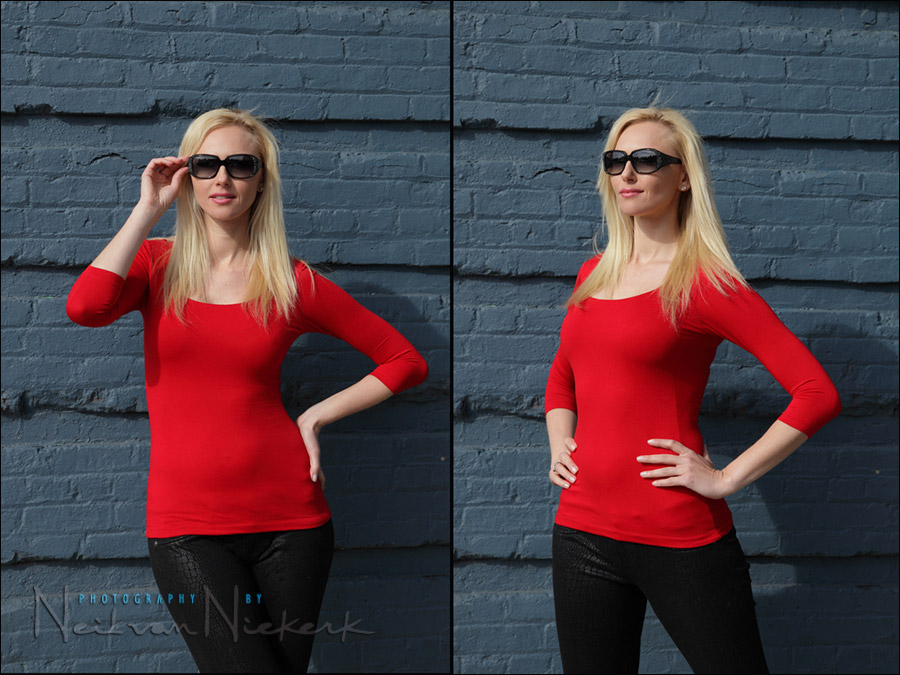 We had Aleona again as our model during a recent personal photography workshop in New York. During one of the scenarios we covered, we had Aleona in some seriously bright sunlight. Since I like her too much to have her sear her retinas, looking towards the sunlight, she wore sunglasses.
With these two photos, you can see how the lighting pattern on her face changes, simply by having her move her head towards the sun. Now add a dramatic gesture or pose, and we have an image like the one at the top here. Even better if we use the shadow as part of the composition.
It's as simple as that – pose your subject "into" the light, and watch how the lighting pattern changes – especially, how the shadow of their nose falls.
Related articles
---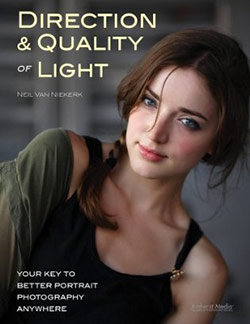 Direction & Quality of Light
I wanted to distill the essence of what we, as photographers, work with – light! Before we can truly grasp on-camera flash and off-camera flash, and really, any kind of photography, we have to be aware of the direction and quality of light. We need to observe the light that we have, and then decide how best to use it, or enhance it.
With this book, I try my best to share those "aha!" moments with you, and I do believe this book can make a difference to your photography.
The book is available on Amazon USA and Amazon UK, or can be ordered through Barnes & Nobles and other bookstores. The book is also available on the Apple iBook Store, as well as Amazon Kindle.
---
Exposure metering short-cut : shooting against the sun
Still not using any additional lighting, the other way to deal with the harsh sun, is to simply turn your subject away from the sun. In this case we expose correctly for the shady side of our subject, and just allow the background to blow out. The sunlit parts of our subject will also blow out. We will lose detail, but depending on how high the sun is above us, the areas that are blowing out, will hopefully just be rim lighting that enhances our subject. Even if there are larger areas blowing out, it's still better than having our subject's face partially lit by sun, and partially in shadow.
Going about it this way, gives pleasant even light on the our subject's face.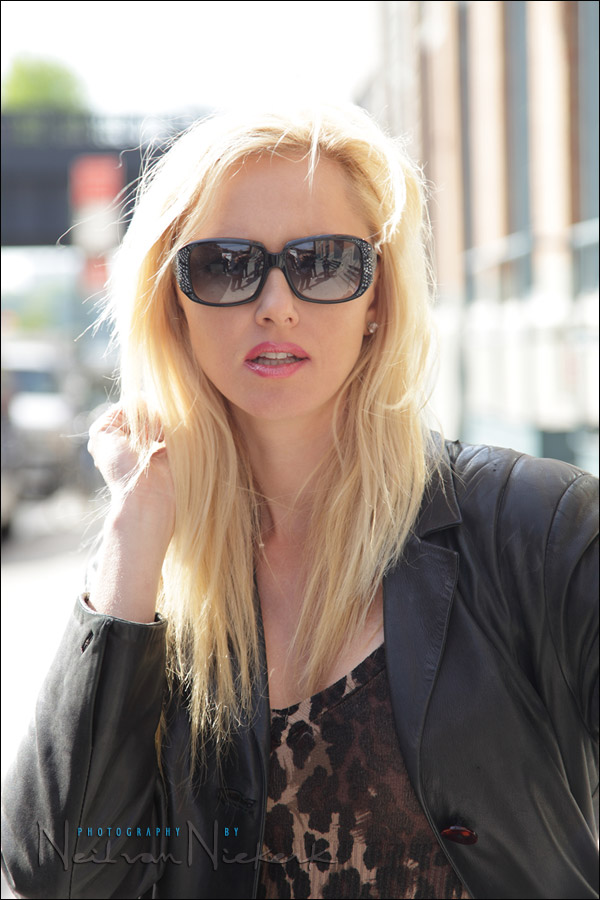 This photo isn't much more than a test shot, to show a shortcut that I use to get to close enough to the correct exposure settings.
The shortcut is that I set my camera to 1/250 @ f/4 @ 100 ISO, and this is close enough a lot of times.
Using a Canon 5D Mark II with the Canon EF 70-200mm f/2.8L IS II (affiliate),
this photograph of Aleona was shot at:
1/200 @ f/4 @ 100 ISO
Let me explain how I got there:
Remember the Sunny 16 Rule … when you photograph something in bright sunlight, then your exposure settings are:
the shutter speed is the inverse of your ISO, for an f/16 aperture
For example, if you are shooting with a 100 ISO setting in bright sunlight, then the shutter speed is 1/100 for an aperture of f/16 … or 1/200 at f/16 for 200 ISO.  Simple, round numbers.
Memorize these two combinations of settings:
1.  Instead of setting 1/100 for 100 ISO at f/16, I usually go to 1/200 or 1/250 @ f11 @ 100 ISO
The higher shutter speed helps with subject movement and camera shake, and it also happens to be maximum flash sync speed for most cameras. Great for when we do want to use flash in very bright light.
2. Alternately, to get a shallower depth of field, I just take my camera to these equivalent settings:
1/2000 @ f/4 @ 100 ISO
In my experience, if you're shooting in bright sunlight, then the shaded side is around 3 stops under the sunlit area. This of course, is a very rough guide. But these settings: 1/250 @ f/4 @ 100 ISO, surprisingly , will bring me close enough to correct exposure that I can nail the exposure with just one test shot to see how close I am.
The benefit of working like this, is that if I step out of a building into sunlight, then I have camera settings at hand that save me a lot of dial-twiddling:
for the brightly sun-lit areas:
1/250 @ f/11 @ 100 ISO, or
1/2000 @ f/4 @ 100 ISO
for the shaded area of my subject, I am usually close enough with:
1/250 @ f/4 @ 100 ISO
(which is 3 stops away from 1/2000 @ f/4 @ 100 ISO)
These settings give me a pretty good starting place.
While you could argue that you might just go to Aperture Priority or Program mode for the sunlight areas, with an extremely backlit photo like the one shown here as an example, shooting in Manual Exposure Mode is usually the easiest.
All of this a long explanation for a simple technique. But with these simple guidelines, we're hopefully better able to cope when shooting in harsh sun.
Simple algorithm for flash w/ bright sunlight
If we decided to use flash to help us out, then we'd use this simple algorithm to get to our basic settings:
Set your camera to maximum flash sync speed,
Go to your lowest ISO, (without going to the camera's extended ISO range),
Find the aperture at which you're not overexposing the brightest part of your subject.  Now add aperture value's worth of flash to your subject.
Further articles on using flash in bright sunlight: