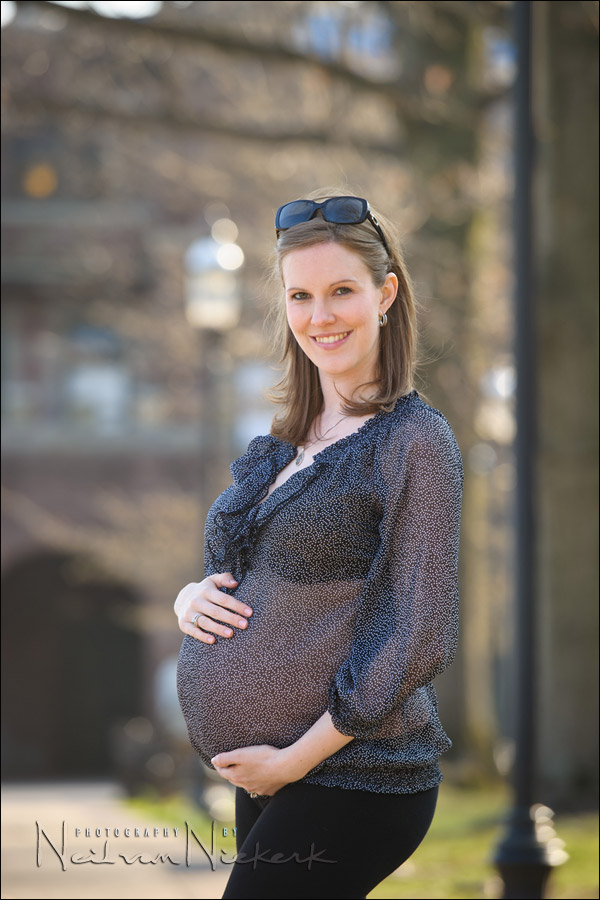 Photographing in bright sunlight – find the shade!
Hard sunlight must be one of the most difficult lighting scenarios to work under. But with a bit of thought, we can work around it and still easily get photos that look great. It's a topic that we've touched on a number of times on the Tangents blog, (see related articles at the end here). Where I can though, the simplest approach for me though, is where I can, is to just not deal with the hard sunlight. I find shade.
This maternity portrait session of Amy was taken on a bright day, and I wanted to avoid her squinting in the bright light, and I also wanted to avoid dealing with hard shadows and light across her face. I much more prefer clean open light. It's more flattering.
I posed her in the shade of a tree trunk. That slender bit of shadow is enough to avoid hard light.
Now, I could've chosen to expose correctly for her just by the ambient light alone. But I used off-camera flash in a softbox to get really nice soft light on her. Nothing dramatic or complicated. Just simple flattering light.
Here is the pull-back shot, showing Amy's husband, Nick making sure the light-stand doesn't blow over on this gusty day. I did do a few portraits of them together, and just shot quickly and hoped my light wouldn't go tumbling over. The bag there did help weigh it down.
So in the final sequence of photos, where I am shooting close-ups of Amy, there is nothing to reveal that she is standing in that sliver of shade. And the light is great.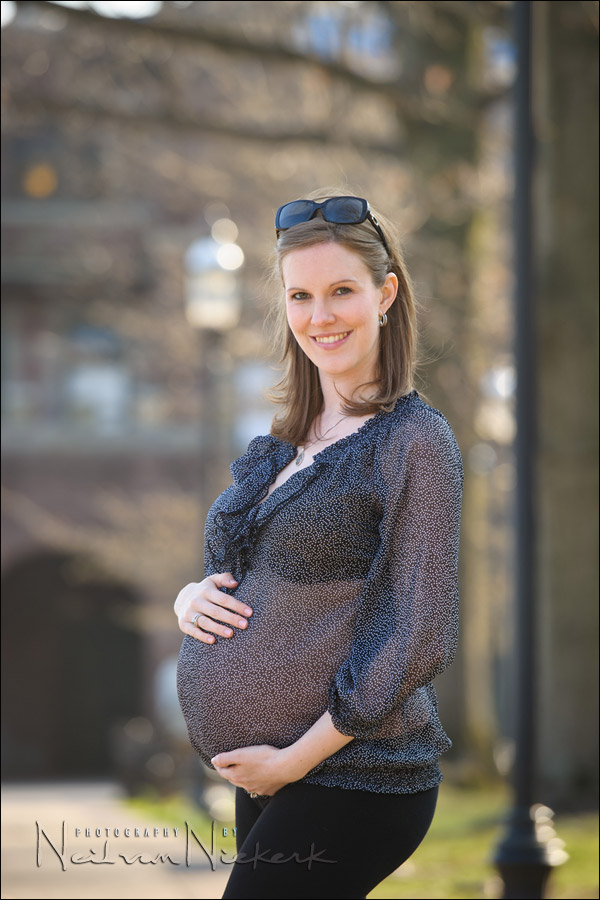 Camera settings & photo gear (or equivalents) used during this photo shoot
camera settings for the image at the top: 1/250 @ f/4 @ 200 ISO
---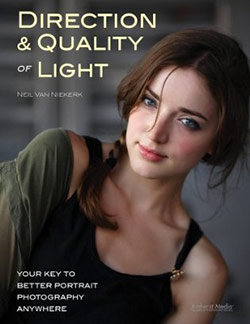 Direction & Quality of Light
I wanted to distill the essence of what we, as photographers, work with – light! Before we can truly grasp on-camera flash and off-camera flash, and really, any kind of photography, we have to be aware of the direction and quality of light. We need to observe the light that we have, and then decide how best to use it, or enhance it.
With this book, I try my best to share those "aha!" moments with you, and I do believe this book can make a difference to your photography.
The book is available on Amazon USA and Amazon UK, or can be ordered through Barnes & Nobles and other bookstores. The book is also available on the Apple iBook Store, as well as Amazon Kindle.
---
In that previous instance, I had used off-camera flash in a softbox to sweeten the available light. But the same thought-process can be used if you want to use only the available light.
With this portrait of Rachel, I also had to deal with sun coming in and out behind a thin layer of clouds. It was alternately bright, and then very bright. So I posed her in the narrow shadow of one of the pillars.
Now in this case, because I didn't use off-camera lighting – or any kind of additional lighting for that matter – I have to make sure I expose correctly for my subject, the bride. The background exposure is now out of my control. The tonal values for the background will fall where they may. However, I do make sure that the background is complementary, and not distracting. It's not arbitrary. It's a specific decision.
camera setting: 1/640 @ f4.5 @ 400 ISO
In terms of how I decided on my exposure – exposure metering for the bride & the bride's dress.
So here is a pragmatic method – my first approach – in dealing with hard sunlight. I work around it. Only if I'm stuck, then do I figure out alternate ways of shooting in bright sunlight.
Related articles