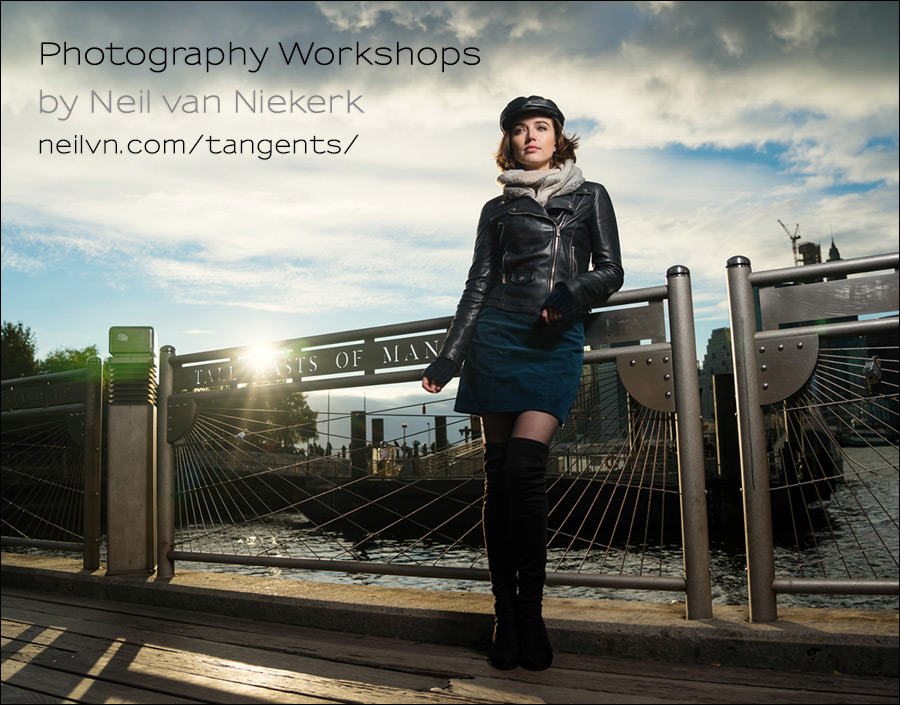 Photography Workshops in NJ / NYC  (2019)
Here are the dates for the group photography workshops for 2019.
There are two workshops on flash photography with speedlights, and one workshops on studio lighting.
Then there are the 3 dates where we will do the Photo Walks in New York again.
As always, there is the possibility for personal workshops and tutoring sessions which can be tailored to your needs and to your schedule.
Flash Photography Workshop with Speedlites
The fee for the full-day workshop is $500 and the workshop is from 9am to 6pm. Lunch and refreshments are included!
The workshops are limited to 6 people, so that I will be able to attend to everyone. There will be two models with us. The workshops will be held at my studio in Little Falls, NJ. The tempo is relaxed – I want to make sure everyone benefits, and will be a stronger photographer at the end of the day.
The flash / speedlight photography workshops for 2019 will take place on:
May 26, 2019  (Sunday)  9am-6pm

Sept 08, 2019  (Sunday)  9am-6pm
For more details and to book a spot: Flash Photography Workshops.
Photo Walks in NYC
With the NYC Photo Walks, we will photograph a model around a colorful, interesting parts of New York City. The group will be limited to just 4 photographers, so it won't be crowded. We will also work at a relaxed tempo, so that I can attend to everyone and help everyone get amazing images. There will be an assistant to carry and hold the light for us. We just get to shoot and have fun! Here is a recap of a previous photo walk which took place along Brooklyn's East River waterfront.
I will provide the Profoto B1 flash, and will have enough Nikon, Canon and Sony wireless TTL triggers for the Profoto flash so that everyone can shoot individually.
The $200 fee for the 2-hour photo walk is due at the time of registration.
June 09, 2019  (Sunday)  4-6pm  – Brooklyn Waterfront
July 21, 2019  (Sunday)  4-6pm  –  Brooklyn Waterfront
Oct 27, 2019  (Sunday)  4-6pm  –  Brooklyn Waterfront
For more details and to book a spot: Photo walks in NYC 
Studio Lighting Workshop
If you've been curious about getting to know more about studio lighting for portraits, but it all seems too daunting or technical, then this Studio Lighting Workshop is for you. The program is aimed at being is a learning experience where you get to use studio lights and light modifiers. After this workshop, I want you to feel comfortable next time you step into a studio, knowing you have a solid place to start from, and have the confidence to experiment further.
The workshop will be held at my studio space in NJ, and it has a wide range of studio lighting gear! It is easily accessible from New York as well, and we can fetch you from the local bus terminal. There is also free parking at the studio.
Nov 17, 2019  (Sunday)  9am-6pm
For more details and to book a spot: Studio Lighting Workshops.
Personal workshops & tutoring sessions
If you would like an individual workshop, or a personal tutoring session, those are available as well throughout the year, depending on both of our schedules. The studio is only 17 miles from Manhattan. Just a short hop from New York and quite accessible by bus. Oh, and there's parking at the studio. Free parking.
If you are limited in how far you can travel, there are Skype sessions and also video tutorials to help you get a much better understanding of photography and lighting techniques.