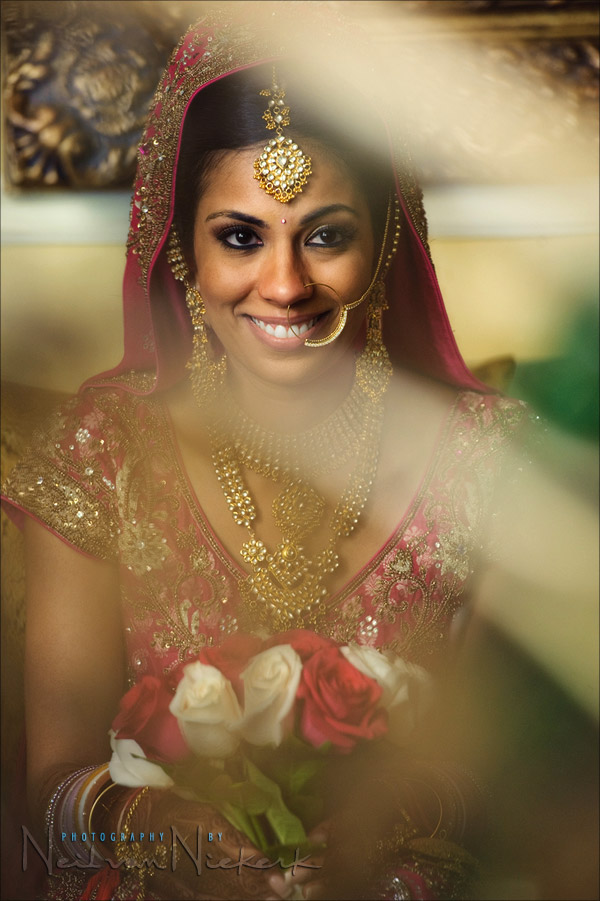 wedding photography – looking for the less obvious image
While waiting with the bride and her bridesmaids before the ceremony, their excitement made for good candid photos.  But, as ever, I was on the look-out for the less obvious photo. Trying to find something unexpected …
Changing my position and perspective, I saw this scene.  Nothing spectacular, until I zoomed in close through the back of the chair.  Using the swirly pattern of the chair's back, I was able to frame Diya, the bride, as in the photo above.  I took several frames, but liked this one the most where Diya was looking at the bridesmaid to my right .. her gaze nearly towards the camera. I liked how her eyes were accentuated by the loops in the chair's back, with everything else going softer as a result of the chair.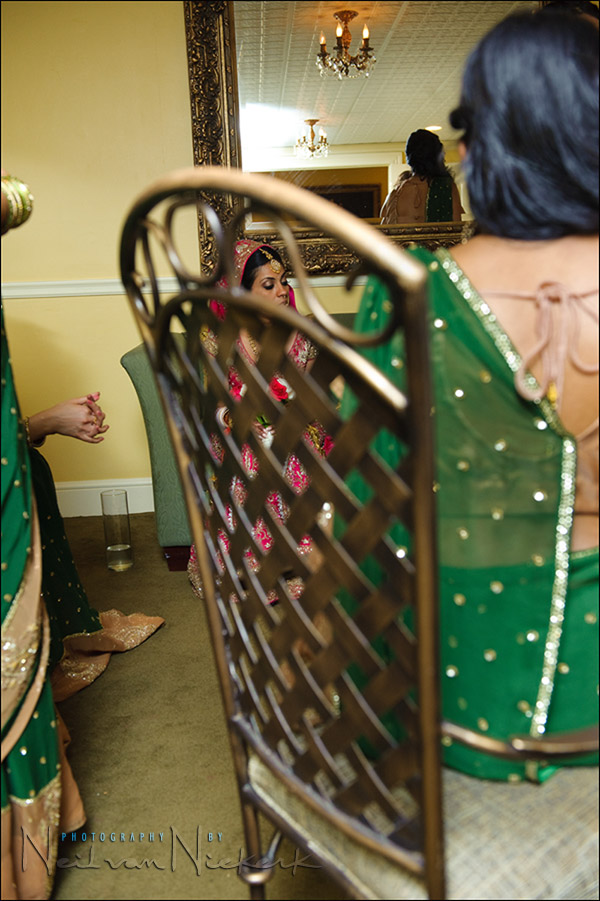 I bounced my flash to my left, and slightly towards Diya. Using the black foamie thing, my intention in how I bounced my flash, was to get soft directional light. By bouncing off to the side, the exposure for the chair wasn't blown out in comparison to her. Processing the image to post here, was similar to that described in this previous article, (but minus the B&W layer).
settings:  1/125 @ f3.5 @ 1250 ISO … TTL flash
70-2oomm f2.8 lens, used at 200mm
One thing that is imperative for me in wedding photography, is to get clean simple portraits of both the bride and groom .. and of course, portraits of them together.
This image below is typical of that.  I had Diya stand under the entrance of the reception venue, and bounced flash into the 'ceiling' of the area where the cars and limos arrive. The bounce flash helps open up the light on Diya's features.  It's a way to make sure the image is a success, taking little risk.  So while I do try to be creative and finding the less obvious images, I also have to make sure that I have certain images 'in my pocket'.
In this photo, I made sure there was NO direct flash on my subject.  The 2nd photo is without bounce fill-flash flash, just for comparison.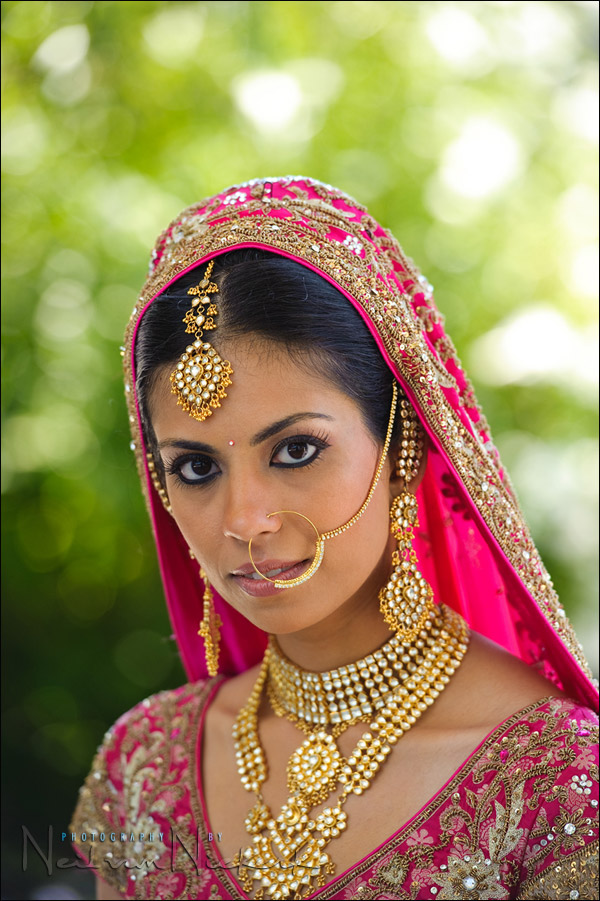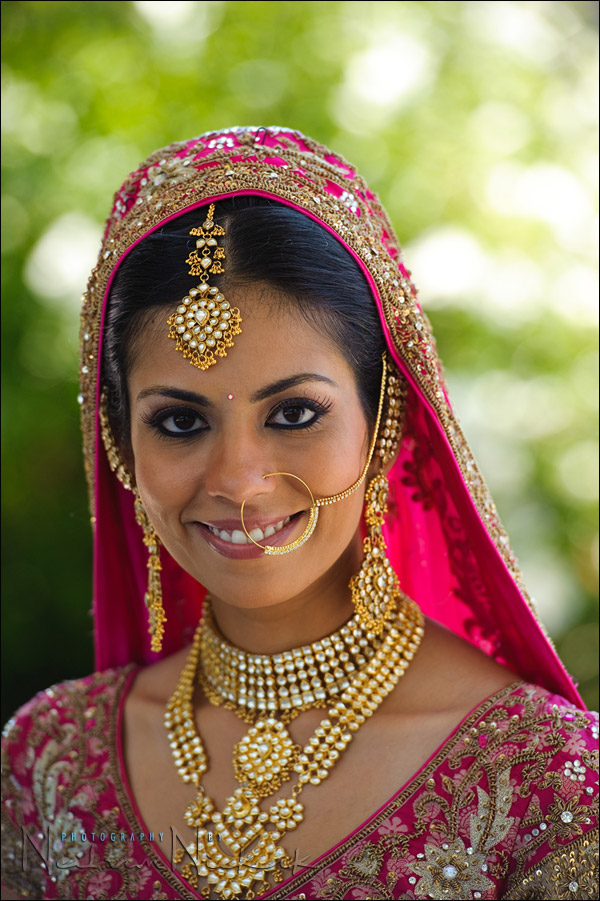 settings:  1/125 @ f3.5 @ 1250 ISO … TTL flash (1st image)
70-2oomm f2.8 lens, used at 185mm
Two more photographs to show some variety:
The first image is a semi-candid image as the bride was secretly watching her groom arrive on a horse, surrounded by dancing and singing family members and guests.  (Indian weddings are very colorful in every respect!)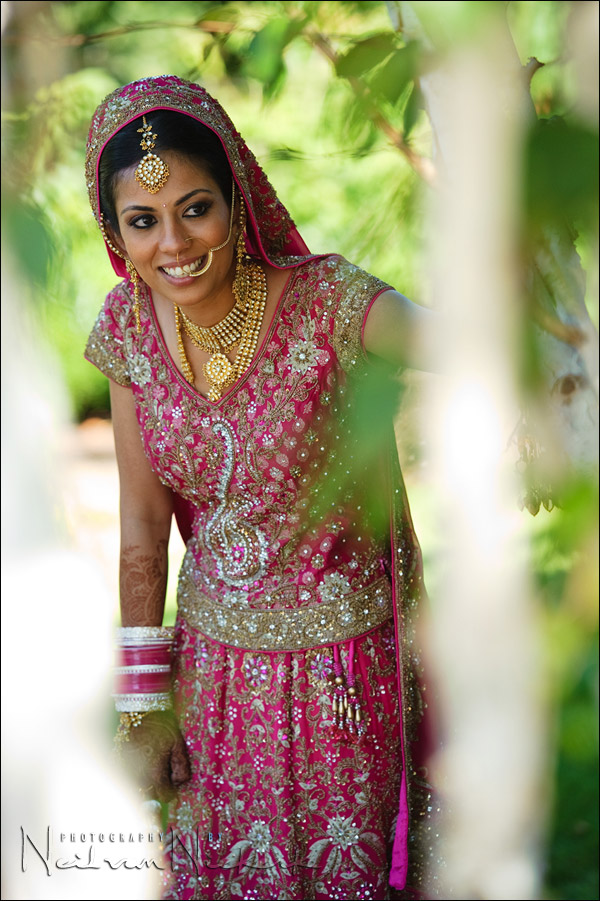 settings:  1/800 @ f3.2 @ 800 ISO … no flash, just ambient light
70-2oomm f2.8 lens, used at 150mm
As Diya walked back to the bridal suite, I noticed the way the trees were lined on either side of the door.  I knew it would give an interesting half-hidden image with the compression a longer focal length would give.  I quickly positioned Diya, and managed to get this portrait.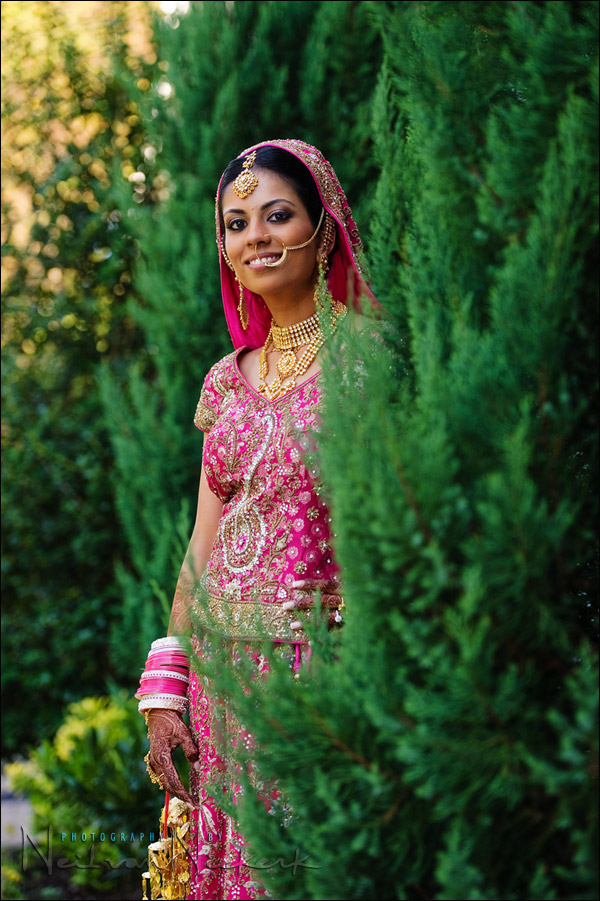 settings:  1/250 @ f3.2 @ 200 ISO … just a touch of on-camera TTL fill flash
70-200mm f2.8 lens, used at 100mm
A big thank you to my friend Jason Groupp who invited me as the second photographer on this day, and graciously allowed me to post these images.
Equipment used for these photos:
Nikon D3;   Nikon 70-200mm f2.8 AF-S II (B&H);
Nikon SB-900 (B&H);  Nikon SD-9 battery pack (B&H)
---