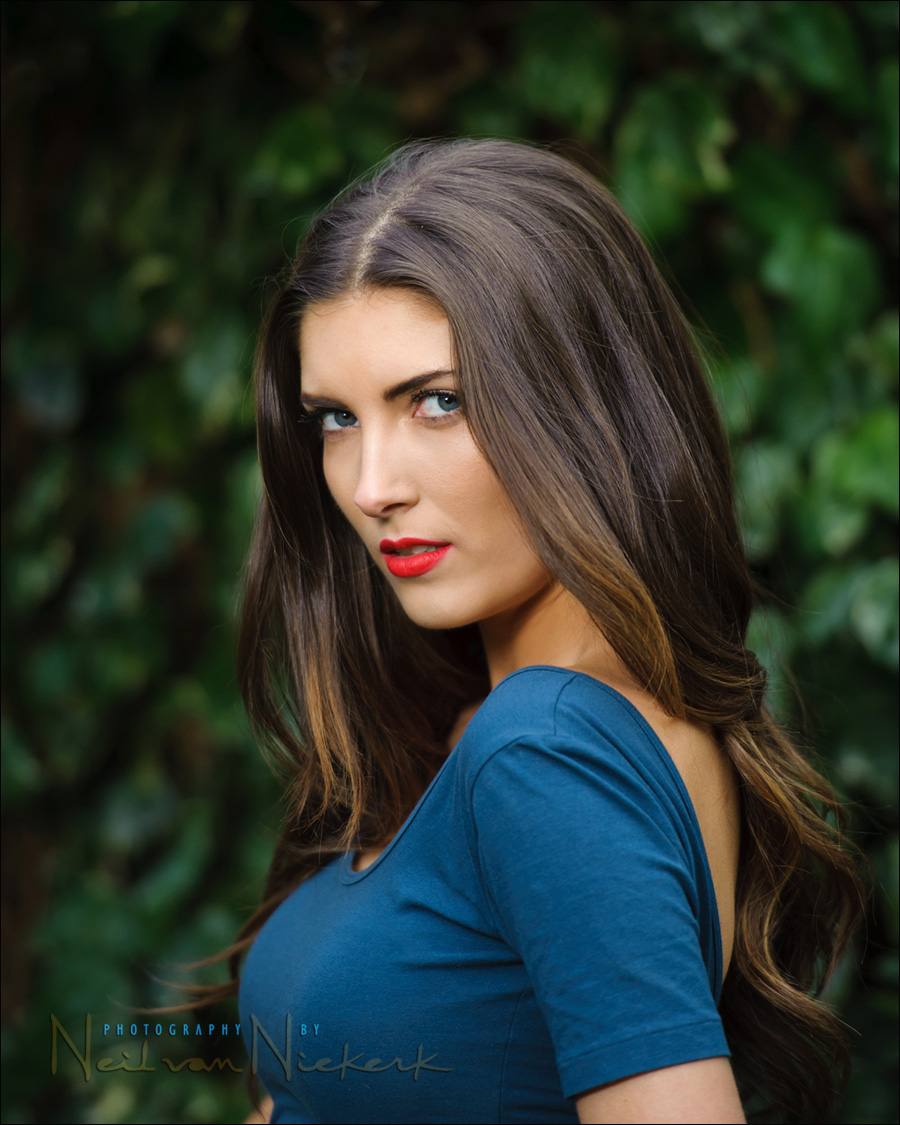 Practical tutorial: Manual flash – distance, power, ISO & aperture
The photo above is of Hannah, one of our models at the workshops in Dublin, Ireland. The lighting is off-camera flash via a softbox to camera left, held up on a monopod. In this instance we used TTL flash with Radio Poppers. TTL flash makes it easy to get to great (or close to great) flash exposure immediately. But for consistency, manual flash is usually the best option.
There are 4 things controlling flash exposure:
– distance from your light source to your subject
– power of your flash (including diffusion of your light)
– aperture
– ISO
Now, in an explanation – whether in a written description like this, or with me waving my hands around in wild semaphore fashion – it all easily makes academic sense why the 4 controls would affect manual flash exposure. For example, it just makes intuitive sense that if you bring your light source closer, you get more light on your subject … and would have to adjust one or more of the other controls: exposure, ISO and power. You move the light further away, and then you get less light. But while we might academically understand how the individual controls affect manual flash exposure, it might not immediately make sense in an "oh, yes of course, I get it!" way how the 4 controls are inter-related.
In explaining all this during flash photography workshops, I felt that the connection between those 4 controls didn't immediately interlink in people's mind. It needed a more direct explanation to get to that aha! moment that is necessary for it all to make sense. And to help with that, we work through a hypothetical scenario, camera in hand … and then see how it all connects.
It's quite an elementary tutorial, so if you're an experienced hand at off-camera flash or studio lighting, then this isn't for you. But if you feel like you just haven't quite made that intuitive connection yet between those 4 controls, and how it affects manual flash exposure, hang in there.
For this tutorial, I felt it became more of a direct tactile experience if we worked with our speedlight on our cameras. Then the changes in settings are immediate and under our control.
So here is how we see how manual flash exposure is controlled:
For this tutorial, we're going to use direct flash from our camera – flash mounted in the hotshoe – with the flash set to manual exposure.
The scenario:
We have to photograph the CEO of a company doing a major announcement, including a presentation. We even have the mayor of the city there. The venue is a huge auditorium, with members of the public attending and filling the place.
We need to take a few photos of the people at the podium on the stage. Since the audience will be seated, we can't move around, and our position is fixed where we are seated or crouched down somewhere a few seats further down the aisle. We were instructed to shoot at f5.6 for proper depth of field, and to shoot at 400 ISO to get good image quality. For this scenario, we can't use additional lighting since the venue will be filled by members of the public and space is limited. There is also no place to bounce flash in this vast auditorium since the ceiling is black and high up, and the walls are black.  The lighting in the auditorium is also very low and top-heavy. Bad lighting, in other words.
Therefore all we have is our camera, lens, and speedlight on top of the camera.
Let's say the CEO is going to pull down a projection screen and have that behind him as he talks before doing the presentation. Other times it will be a dark wall behind him. Sometimes one or two people next to him.
Since we are static in our position somewhere in an aisle between the auditorium seats, and the presenters are fixed in their position … it means manual flash makes more sense.
The practical exercise:
1. Take your camera and lens and speedlight. Hopefully it is a speedlight which gives you the distance scale on LCD panel, such as the SB-800 and SB-900 and 580 EX (I and II). If you have an SB-600 or 430 EX, then I have good news for you … you're going shopping!
2. We have four controls that we're going to adjust for.  Since shutter speed doesn't play a part while we remain below maximum flash sync speed, just set a shutter speed of 1/125 … more about this later on.
3. Set your camera to f5.6 which is the value given to us here, perhaps by our photo editor.
4. Set your camera to 400 ISO which is also given to us in this scenario.
5. Let's assume we're about 20 feet / 6 meters from our subject.
6. Now we have to adjust our flash power to get to those settings.
7. Point your flash straight forward. No bounce flash. If you tilt your flash-head even the slightest, the distance scale disappears. It's your camera's way of telling you that you're on your own when you bounce flash.
8. Switch your flash to Manual exposure by selecting the Mode button to M.
9. Your flash is now set to a random power setting, depending on what it was set to when you last used it in Manual exposure mode.
10. Read the distance. It is most likely not giving you a reading of 20 ft / 6 meters.
11. Now adjust your flash power to give you the distance you want, for the aperture and ISO that you have.
11a. For the Canon 580EX I and II, tap the center button of that dial, and rotate the dial.  (You will have to continually touch the shutter button to activate the distance readout on the back of the flash.) Now adjust the power of the flash until you get a reading of 20 ft / 6 meters.
11b. For the Nikon SB-900, hit the button just below the 'M' which appeared on the back of the speedlight. And adjust it until you get a reading of 20 ft / 6 meters.
12. Take a test shot of something about 20 ft / 6 meters from you. Perhaps something in your living room at that distance. Since it is direct flash, it won't look all that wonderful, but at this point we're not creating Art, but working through a practical explanation.
12a. If you are in a smaller room, then figure out the distance to your subject, by guesstimating it. Work through the previous steps, for that distance. Take the test shot.
13. Your test shot should be well exposed. Most likely within a third of a stop of exact exposure. If it isn't, there are a few reasons which could attribute to this:
– your guessed the distance incorrectly, or
– your flash was calibrated for a different place than you're using it now. For example, you'll get different exposures if you were shooting indoors where there are other surfaces bouncing the light around, than if you were shooting outdoors at night in the open.
14. At this point, take a minute and just let this sink in … we adjusted our flash's power for the distance we wanted , for a specific aperture / ISO combination.
15. Now change your aperture up and down, and observe how the distance scale changes. The same thing would happen if we changed our ISO.
16. If at any point during this hypothetical shoot that we needed to change one of our controls (aperture / ISO / distance) we'd have to change our flash's output (i.e., the power) to give us those settings.
It's all inter-connected like that!   Aperture / ISO / distance / power. 
If we have correct flash exposure, and we need to change one of those settings, we have to change another in tandem to retain correct exposure.
A few observations:
1. aperture / ISO / distance / power
An  easy way to remember those 4 items – 2 of them relate to your camera, the other 2 relate to your flash.
You can also use the acronym, PAID, to remember this.
Power, Aperture, ISO, Distance.
2. TTL flash exposure
If we were to shoot in TTL flash exposure, then the distance we'd read for full manual power (1/1 setting), would be the maximum range for which we'd be able to get correct TTL exposure. You can see this for yourself by flipping between TTL mode and full manual power. The top value for or distance should remain the same.
This is how TTL flash works – it controls our flash output for us to give us correct (or what it deems to be correct) flash exposure. And that's the range we have – a maximum of what the flash is capable of, for a specific aperture / ISO combination.
There is a minimum distance as well. Closer than that, the flash can't cut the power off fast enough to save us from over-exposure.
3. maximum flash sync speed
If you're not sure what max flash sync speed is all about, and why it is important, please follow that link.
Now, take your shutter speed up to maximum flash sync speed and then take it over. If you can't take it over, you haven't enabled high-speed flash sync yet.
Canon shooters: It's the little H with lighting symbol on your Canon speedlight.
Nikon shooters: It's usually custom function E1 on your camera. But it can be a different setting for some of the smaller cameras.
4. shutter speed doesn't affect flash output
Take your shutter speed anywhere lower than maximum flash sync speed – confirm for yourself that the flash's power / output is not affected. Only aperture / ISO / distance affect your flash power. Of course, if you're balancing flash with ambient light, then you have to keep in mind that a specific shutter speed will most likely imply a specific aperture (or range of aperture settings). In that sense then, your choice of shutter speed does indirectly influence your flash's output.
5. high speed flash sync / Auto FP
Now take your shutter speed over maximum flash sync speed. What happens?
If you're not sure why that happened, follow the link to the article on high speed flash sync speed.
Final summary:
Hopefully this step-by-step process with your fingers on the buttons, helped in seeing how it affects your flash exposure. Hopefully this all makes it more understandable, and that there was even an aha! moment or two. I'd even settle for a quizzical oh? moment.
Let me know how it goes, and if it all makes more sense now. If not, let's work through this until it does.
Related articles