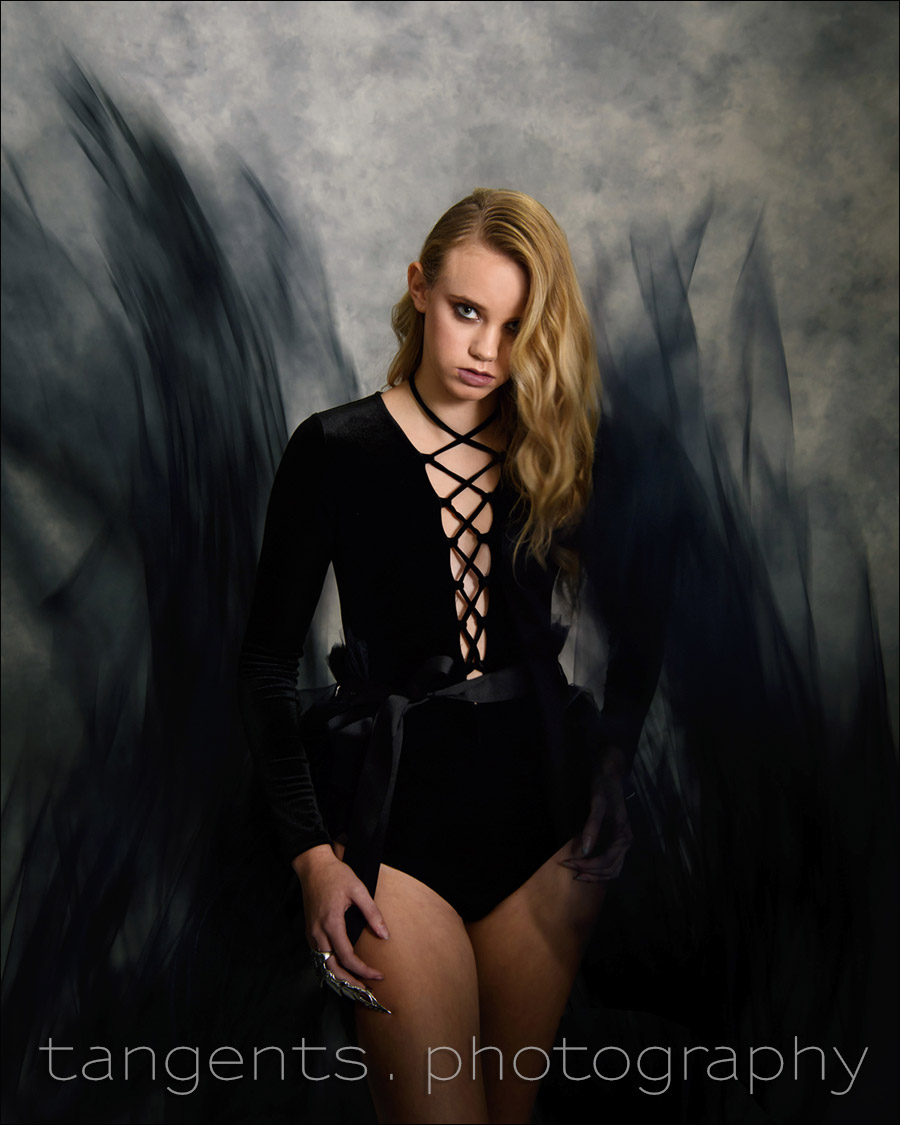 Studio photography – Capturing movement with continuous lighting
The effect here, which makes me think of black flames, was the result of a slow shutter speed (1/20th) in the studio, using continuous lighting. The short duration of a flash pulse would've frozen the movement, so I needed continuous light for this effect. I used two Litepanels Astra EP 1×1 LED Panels (B&H / Amazon) that I bounced into a V-flat to soften the light. I also used another V-flat to partially block the light  towards her feet for more light fall-off to the bottom. The photo below is a pull-back shot that shows the setup.
Bouncing these continuous lights to further soften the light, is something I did as well during a newborn photo shoot, described in this article: Lighting for a small commercial video shoot.
I had two people flipping the tulle upwards on either side of our model, Sarina, and then fired the camera at the maximum frame-rate possible for a shutter speed as slow as 1/20th. Since the material dropped fairly fast next to her, I didn't bother with exact time, but let the camera take care of getting enough images where the material was more or less symmetrical around her, and had enough of a flowing look to it – black flames!
In the final image, I added a vignette to the RAW file, and processed the JPG with Alien Skin Exposure X for a slight cross-processed look. I did this on a layer, so was able to reduce the opacity, and then with a layer mask, get natural skin tones again.
Camera settings & photo gear (or equivalents) used during this photo session
1/20  @  f/5.6   @  800 ISO
And here is how we got the movement in the tulle dress – two people flipping it up in the air repeatedly while the camera fired at full-speed frame rate.
Summary
I think it becomes a kind of habit in a studio to think of lighting just in terms of flash, but using continuous lighting opens up creative possibilities to include movement.
Related links