[ click on photo to see a larger image ]
the progression of an idea during a photo shoot; incl the use of off camera flash
Because of the positive comments I've had to the recent addition of video clips that show a glimpse of how I work, I thought I'd show the progression of an idea.  Not just how the actual image was made, but how the idea progressed.
The photo above of Sarah and Mark at Coney Island, is from the day-long photo session where we went to different locations in New York.  Where this image above started, was in a previous sequence ..
Here I just used the soft late afternoon light, diffused by the approaching thunderstorm.   Beautiful light.  No additional light or flash needed.
Turning around, I saw the sky was darkening rapidly, and becoming menacing.  As it turned out, about 10 minutes later we were dashing for the car as the rain started slamming down on us.
Here is a test shot of Sarah against the sky: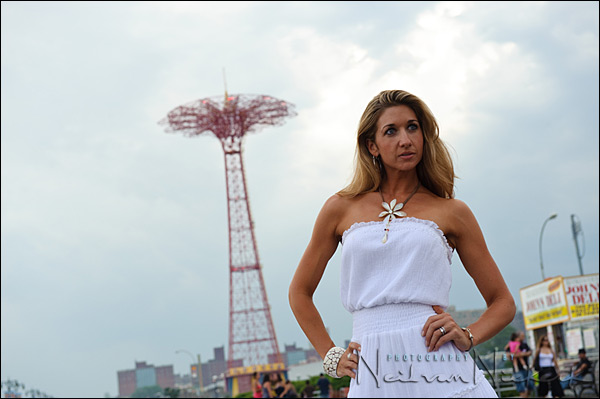 Meh.  There's nothing going on there.  There's no drama, and no punch to the image.
The camera settings here were: 1/250th @ f5.6 @ 400 ISO
but I wanted the sky to appear darker and more somber.
So I added flash from a Q-flash in a softbox off to my right – a similar set-up to this one, but with a Q-flash instead of a speedlight.  The Q-flash is also TTL-controlled by the Quantum Freewire system, as shown here in this post on the lighting set-up I took with me to Vegas. My assistant, the-other-Neil, held the softbox up high.
Here it is .. the next step .. a test shot to see how it would look with Sarah lit with flash from the softbox, and with my settings such that the sky is now darker by more than a stop compared to the first test shot.
Aaah, now we're onto something.  There's more drama to the scene now.
My settings here:   1/250th @ f6.3 @ 200 ISO
So there is a 1.3 stop difference between this and the previous image, with the flash then exposing correctly for Sarah.
A point I'd like to labor here for a while … TTL flash vs manual flash.
I know there are many hard-core strobists out there that would insist on the flash being on manual, and there are distinct advantages, primarily the consistency in exposure throughout a sequence of images.  With Manual flash, once you have determined correct exposure, if your light-to-subject distance remains the same, then your exposure remains absolutely constant from shot to shot.  This makes post-production a breeze.
However, I often find that when I am working fast, I'll take the speed of using TTL flash over using manual flash.  In this example, I wanted to under-expose my sky by more than a stop.  I changed both my ISO and my aperture … and my flash exposure followed.
With manual flash, the usual method would be to determine the aperture and ISO for manual flash, and then control the background exposure with the choice of shutter speed.  There is a chance then of hitting the ceiling at max sync speed if your background isn't dark enough yet.  So you'd have to figure out a shutter speed as a starting point, and then work out the flash power setting (at that specific flash-to-subject distance), and then figure out the combination of aperture and ISO.
It works.  I suspect the majority of photographers that do on-location lighting with off-camera lighting would work with manual flash.  And any photographer that wants to get a grip on mastering lighting, absolutely have to know how to use manual flash. Comfortably and fast.  And understand how the settings need to be juggled – shutter speed, aperture, ISO, flash power, light-to-subject distance.
So … back to using TTL flash.  Since TTL flash will follow my camera's settings, it was faster for me here to just use TTL flash.  Remember, the thunderstorm was brewing.  (A video clip that follows next week will show a sequence following this where we relied on the incoming wind.)  But I digress …
TTL flash follows my settings.  I want to get 1.3 stops under for my background?  (or more) … then I simply change my aperture and ISO and my flash output will follow.  Simple.  The possible variation in exposure is something I can live with and can fix in post if necessary.
Back to the sequence of images.  Now, as adorable as Sarah looked … it needed something more, something a little more Fashion-y.  So I added Mark and had Sarah lean back into him.
Here is the image straight out of the raw conversion program:
The settings are still:   1/250th @ f6.3 @ 200 ISO
The composition needed to be tightened up, so I went for a more cinematic crop, and added some Photoshop fairy dust again to make the image pop even more .. and there you have it!