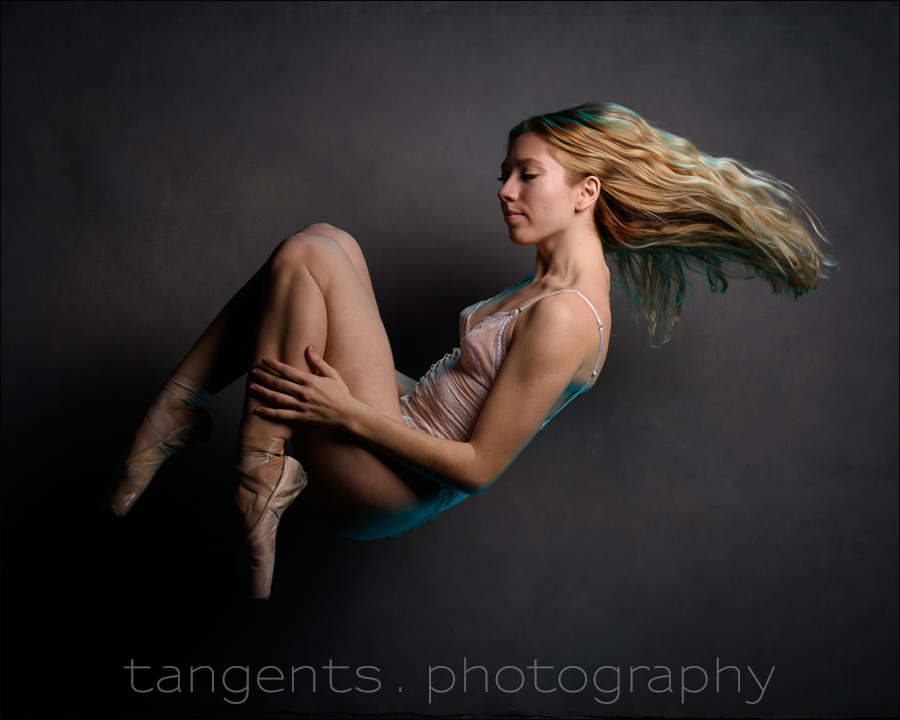 Tips on photographing dancers and ballerinas
Photographing a talented dancer / model, Anna L Russel (Instagram), in the studio, I wanted to think further than just sequences. Recently I have moved more to thinking in terms of larger projects or longer-term projects, even if just over a single photo session. I liked the results from the first few jumps Anna did – explosive movements within which she momentally holds a pose before landing again.  I don't know much about dance movements or what would be the perfect execution of a dance move … which would then affect my timing of the shot. During the shoot, looking at the photos on the back of my camera, she explained to me things to look out for in the dancer's movements. She gave me tips on photographing dancers and ballerinas – what I, as the photographer, should be looking at in terms of the best positioning of her hands and feet. For example, at the peak of the movement, the knee should be extended and locked.
It was a 2 hour photo session, we did several outfits, including the nude one when this jump looked weird with the body suit. I deleted a few of the total .. maybe 20-30 shots including the test shots were deleted. I kept 105 shots total. She nailed the various jumps. Most of the shots we lost were due to her hair. It turned out to be a true collaboration between myself and Anna.
Her insights were valuable to me in being able to capture the peak movement, so I asked her to contribute to this article, and give us photographers some tips on photographing dancers and ballerinas:
---
Here, in Anna's words: 
It is so important to publish images that capture ballet technique at it's finest. This will flatter the dancer and most of all, it will demonstrate your skills as a photographer – on more than one level.
So, let's take a moment to pay homage to the life-time of rigorous training that dancers embrace and their bodies endure.
*Keep in mind that every dancer is gifted with unique talents and physical traits.
Here are a few "rules of thumb" to practice when photographing ballet and selecting images:
1) Ballet Technique – we need to see straight legs and pointed feet.
When legs are fully extended and feet pointed, they should be defined with an "M" like bend in the joints, starting from the hip –> to the upper thigh –> back of the knee –> calf –> instep (top of the ankle) –> to the bottom of the big toe.
When legs are fully straight, you will see tension in the muscle. For more hyper-extended dancers, the "M" like bend will be more distinct.
2 – Timing
Let's focus on jumps. This is a great moment to highlight dancer's athleticism.
Rather than using multiple shutters, it's good practice to sync yourself with the movement. For jumps that are in-place – going up and down- imagine an arrow shooting into the air, stopping, then falling down. It's that moment at the peak when the arrow stops, that we must capture.
Jumps that go across the floor are harder to capture and take more practice, as they are constantly in movement and do not stop.
When a jump is on time, if one or both legs are extended, you will see the "M" bend at the joints and a fully pointed toe.
Hint: When the hair is going up, it means the dancer is likely already coming down. When the hair is pressed against the head, is means he/she is still going up. You've got to find the sweet spot where the hair is usually relaxed.
3) – Overall Effect
Ballet is meant to look effortless. After all, pointe shoes were first used to make a female dancer look floating above the stage. The poses should "breathe" and the emotion should leave a lasting-impression on the viewer.
---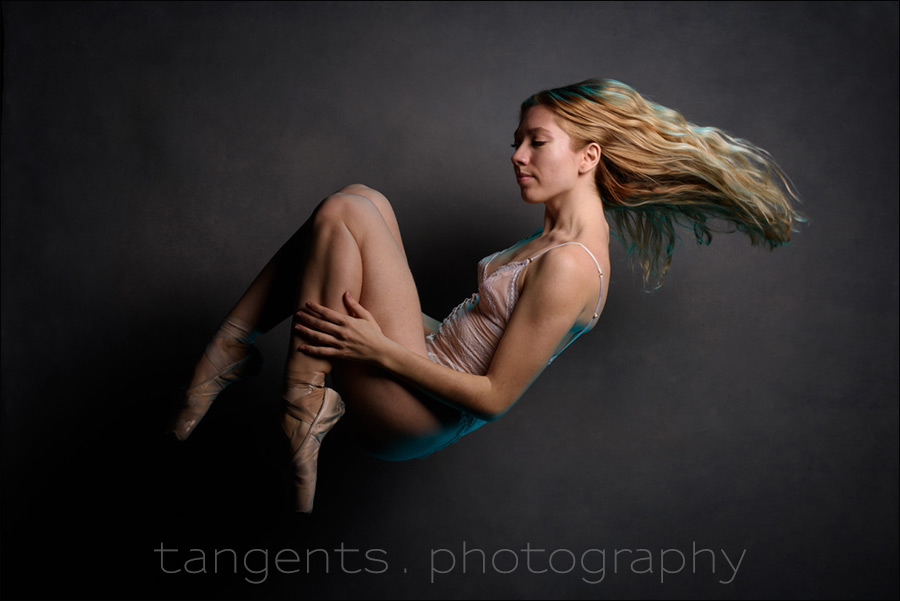 About the image at the top:
Drifting – that's the title that immediately came to mind while I was editing this photo. The original is vertical, and is Anna jumping, and caught on the downward movement. Turning the photo on its side, makes it a touch more surreal.
Here is the correct orientation, and a few more photos from this photo session.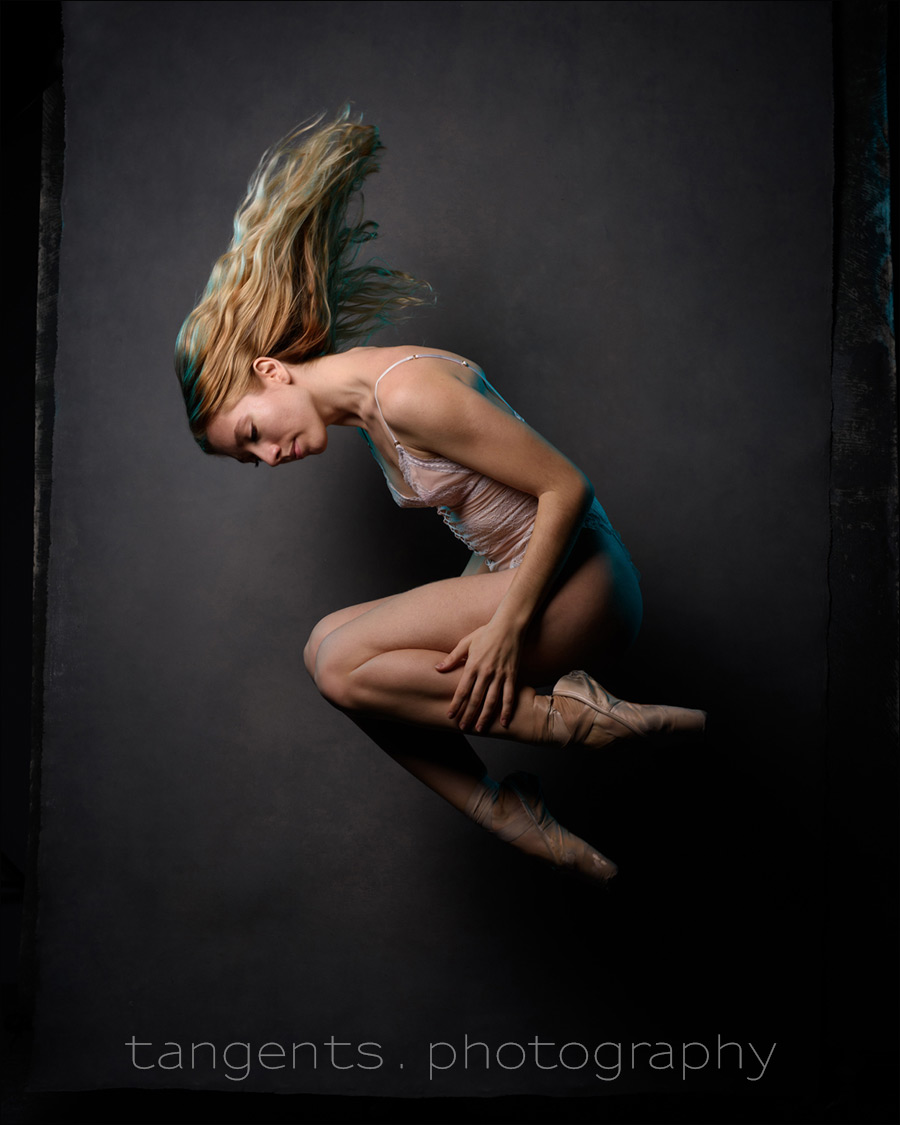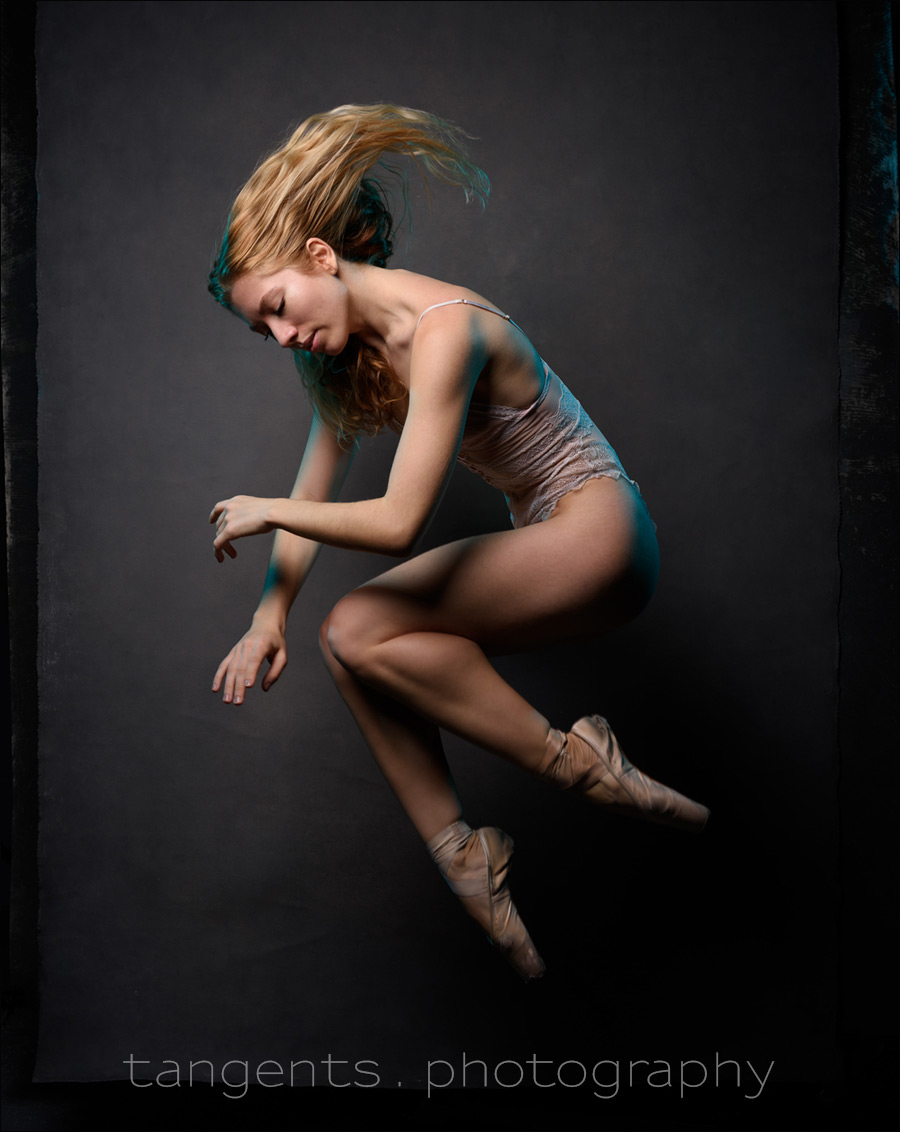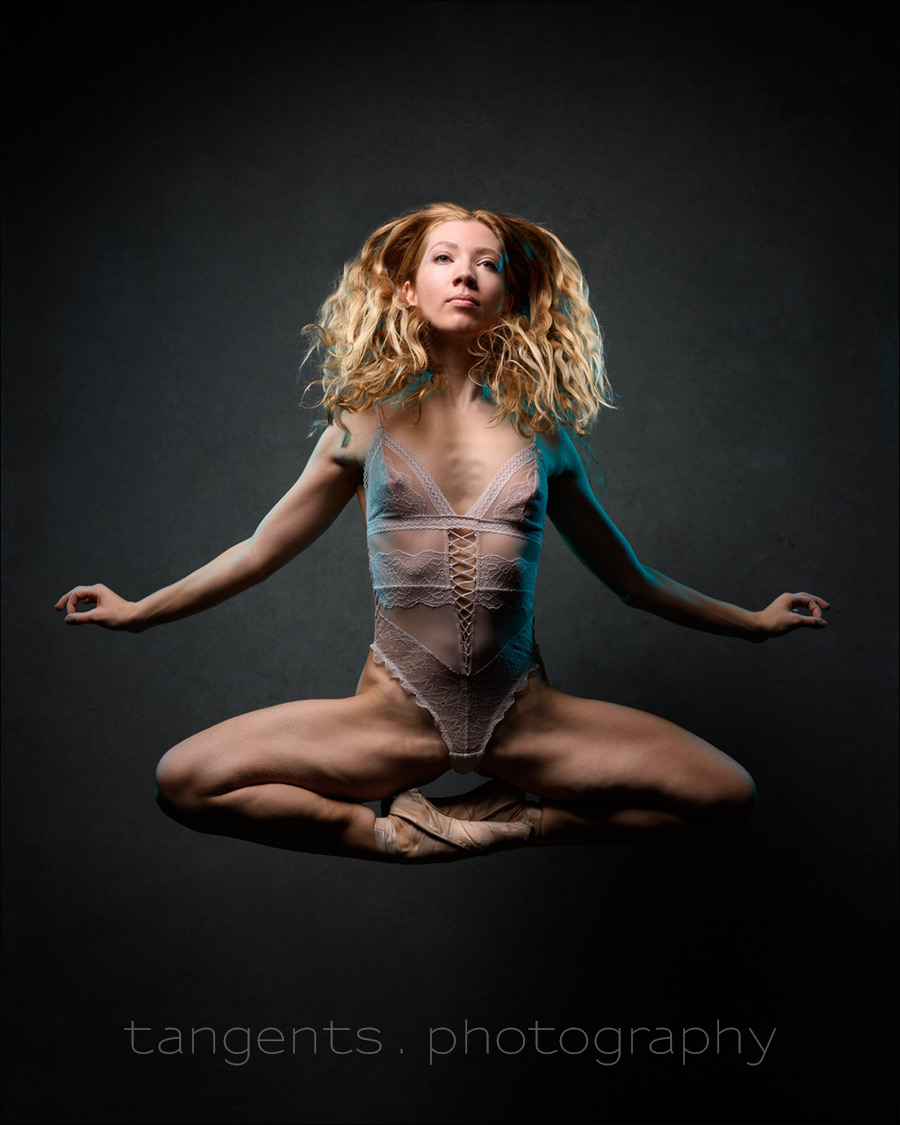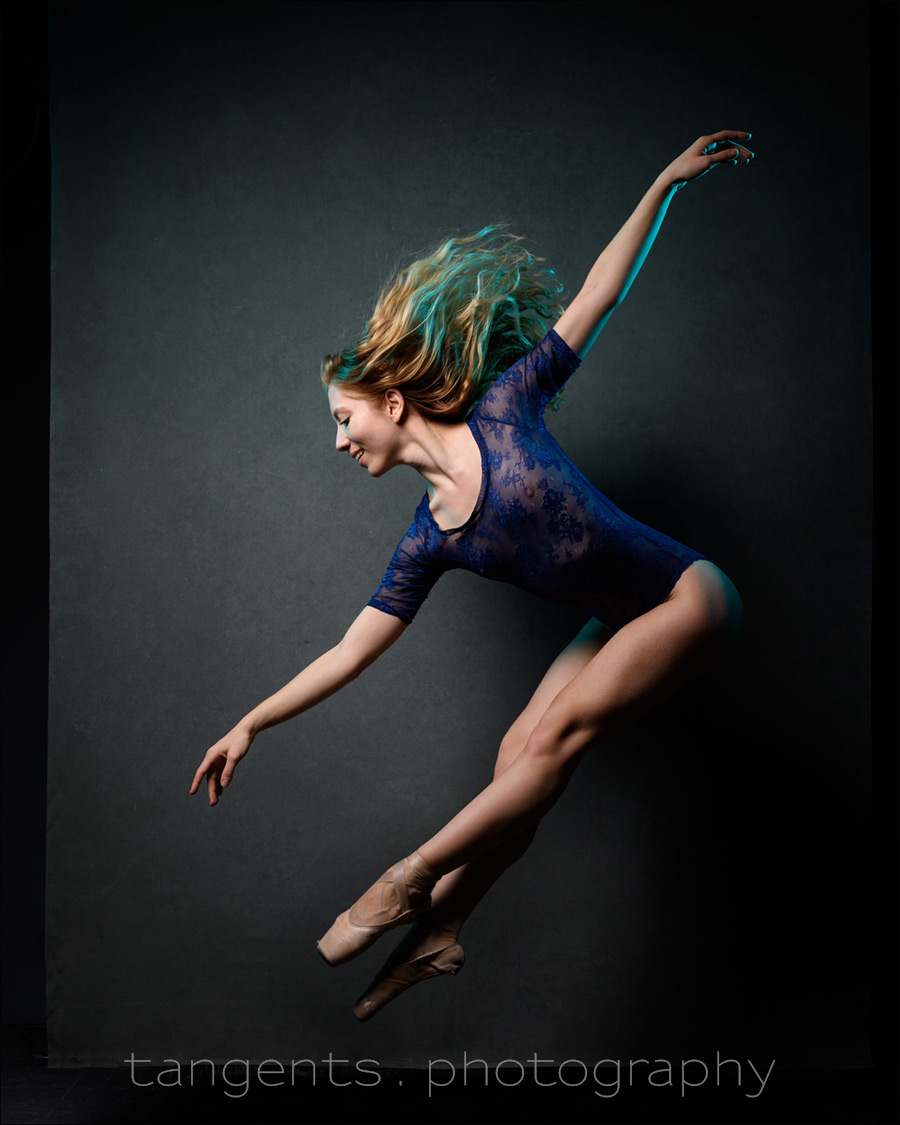 With this photo above, Anna mentioned that her left leg is bent, and not ideally portrayed. However, for me, it works in terms of the composition in how the two legs are held in that shape. So I decided to override Anna's decision – I like this photo. We did several shots of the same pose, so we did get images that satisfied Anna's demands too.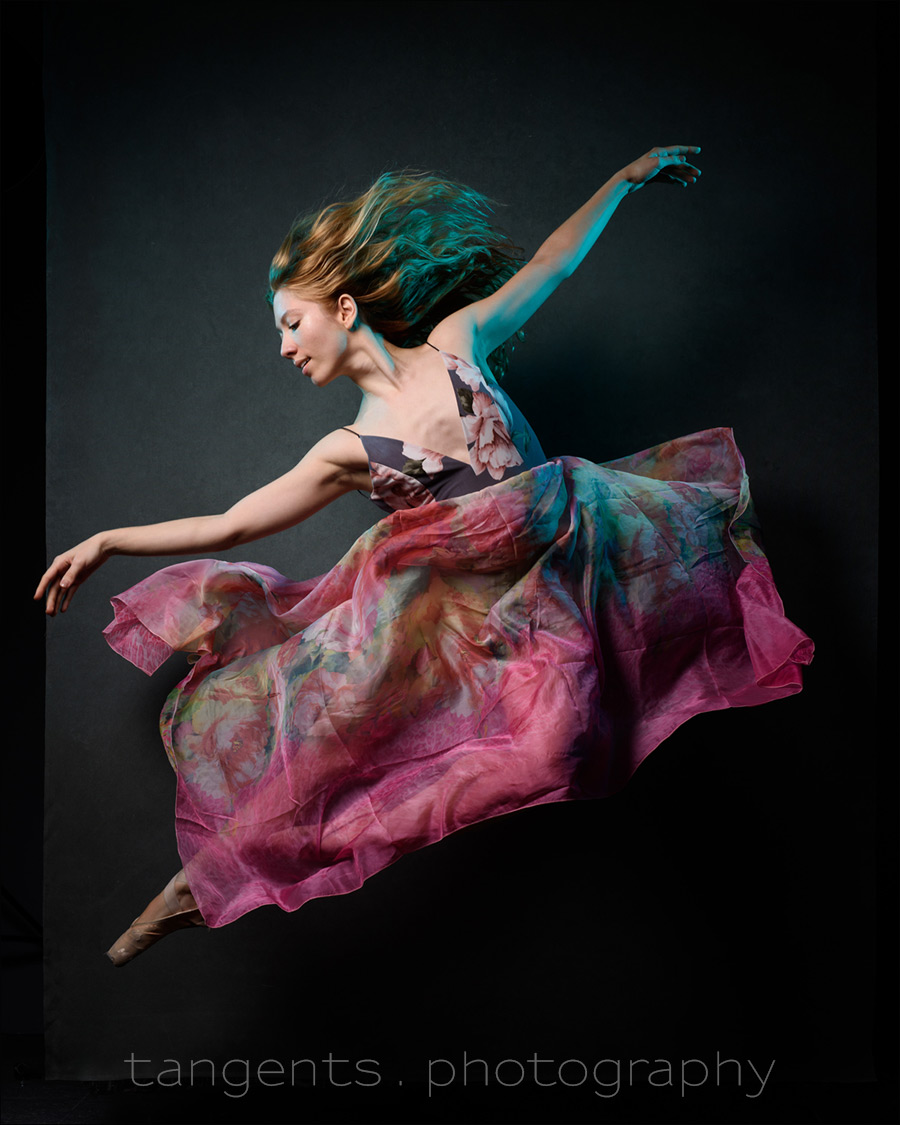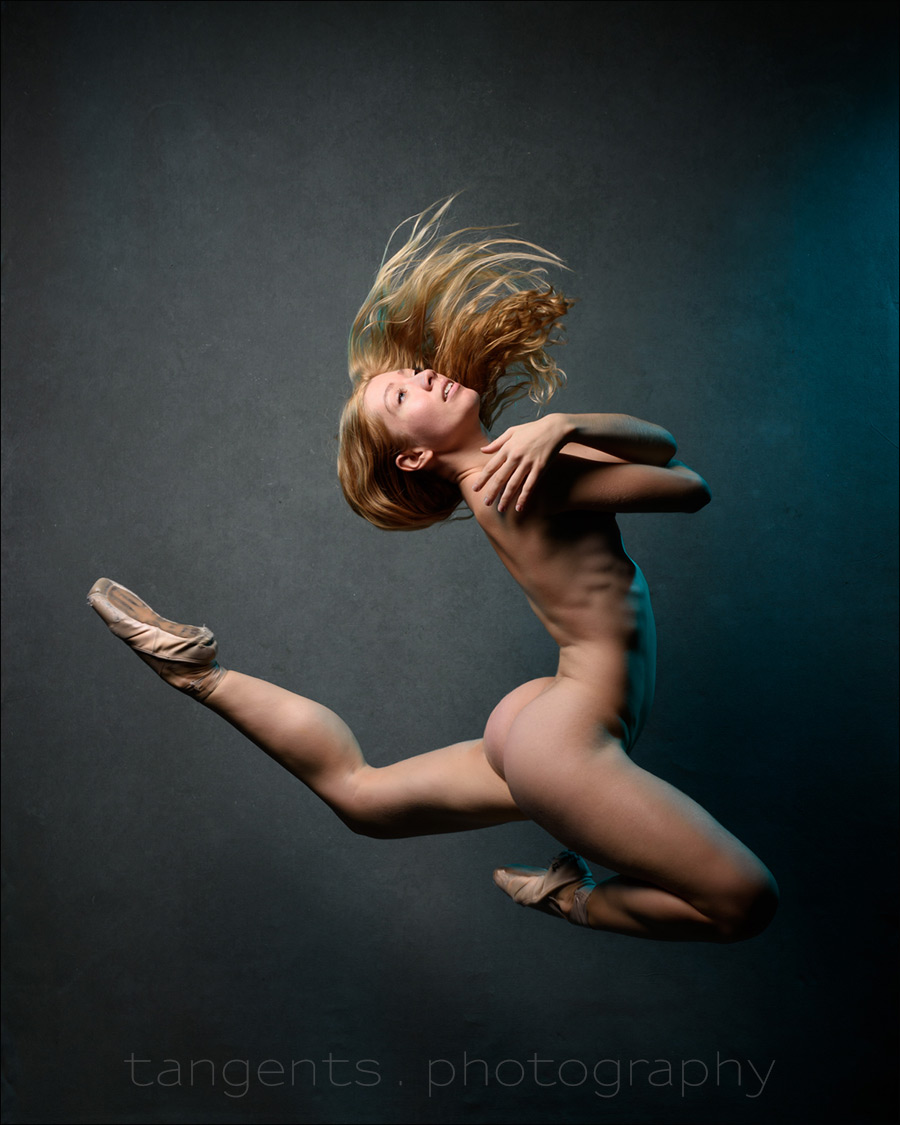 And finally, one of my favorite photos from the session. It took a few tries to have an image that was "safe" for Instagram and Facebook, without the need to blur anything out … but still have her arms and hands in a graceful pose.
---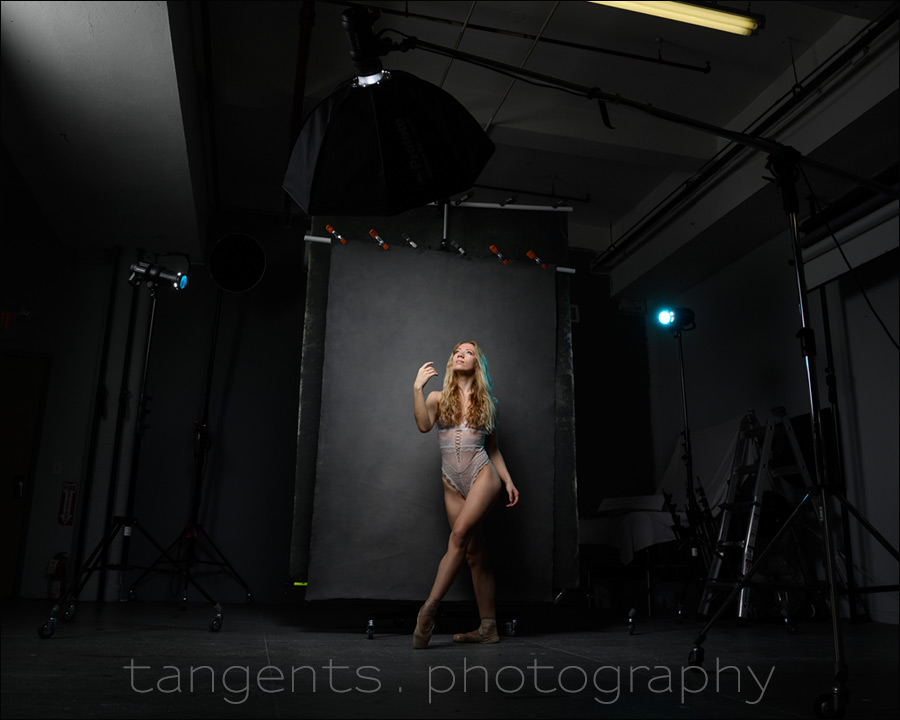 Camera settings & Photo gear used in this photo session
This pull-back shot will show the lights in position – the gridded octabox as the main light, and the two gelled flashes to the side as accent lights. That glow you see at the top left, was just for this photo – it was another flash I added so you could actually see the main octabox. In a true pull-back shot, it would have faded into black along with the rest of the studio.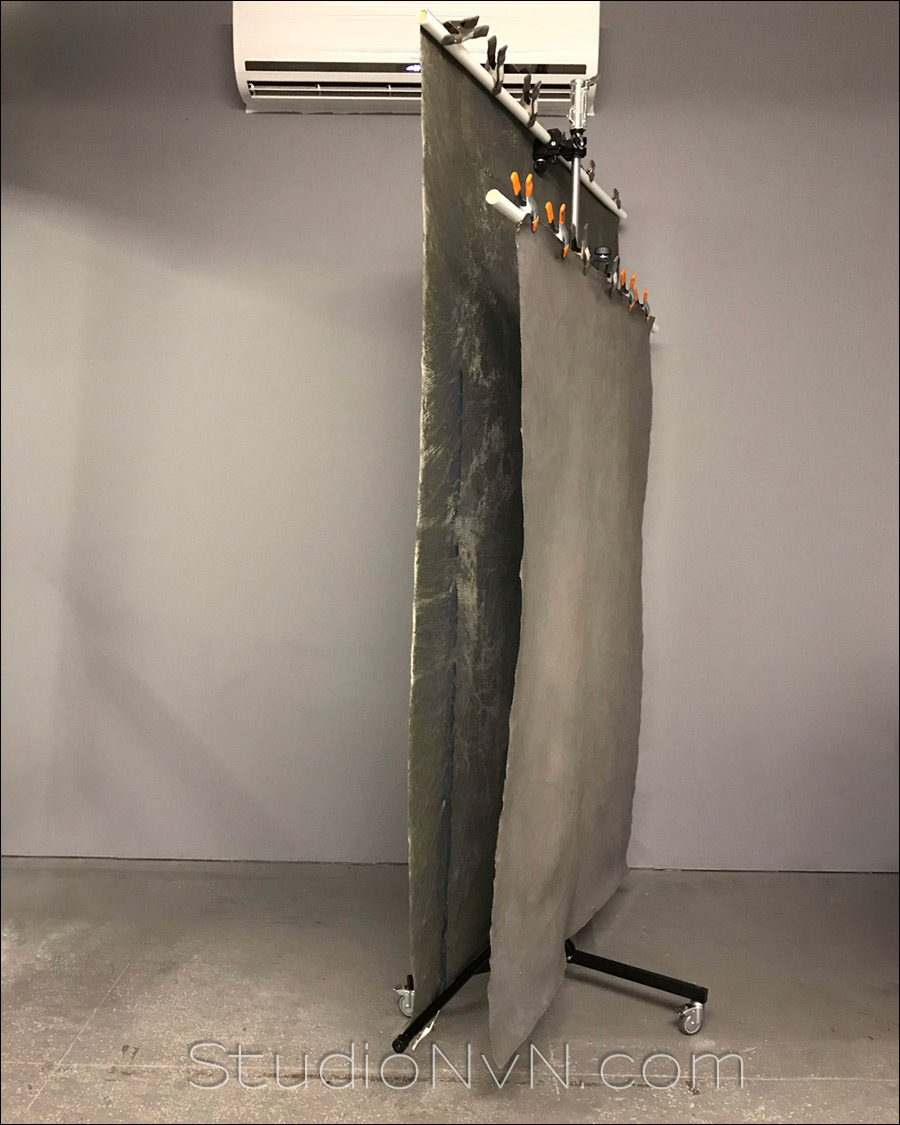 About the backdrops – with space ever more at a premium in my studio, I've had to improvise something to keep two of my favorite backdrops handy.
Mounted on this stand, I can still easily roll them out of the way. I can also rotate them around as I did with this photo session, and still keep the lighting the same.
As an aside, I want to mention that my studio is available as a Rental Studio in NJ.
I also present Studio Photography Workshops where we explore studio lighting.
Or, if you just want to learn more about studio photography, here is a good introductory article: Tips for your first time in the studio.
---
Related articles
---