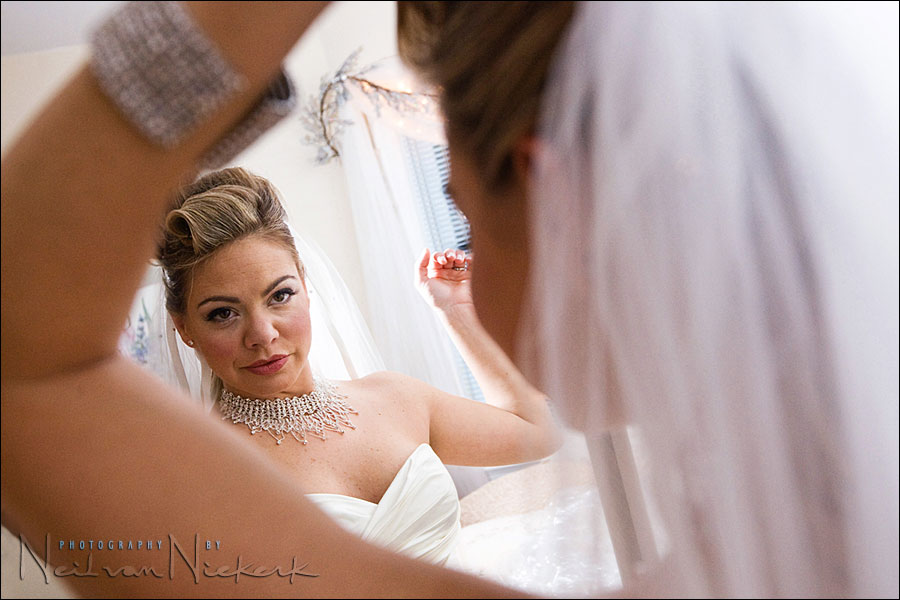 Why use an on-camera flash modifier that is black, instead of white?
This question repeatedly comes up as response to the various articles here on my favorite light modifier – the black foamie thing. For anyone new to this, here are the two main articles on how I use a piece of black foam to flag my on-camera speedlight.
The question invariably comes up:
why a piece of black foam and not a white card or a piece of white foam?
The short answer: The idea behind the BFT is that it acts as a flag, not a bounce card.
---
---
Control over the direction of light
Looking at the top – I wanted to place my light source (ie, the area where I am bouncing off), at some point to the right of me, and above me, but also a little to the front of the bride. This way her arm and back to me, are under-lit compared to her face (which we see here as a reflection in the mirror.)  Instead of a plastic light modifier or something similar, I used a black piece of foam to flag the light from my speedlight.
An open card with white on the one side might have thrown too much light into the room again, flattening the lighting.  I don't want that.  I want directional light.  I want that interplay between light and shade.  I want contrast.
And in an opposite way of reasoning, a snoot might be too specific, since I do need a fairly large area to bounce effectively.
I like this piece of black foam. I can roll it a little bit with my left hand, and turn it into a snoot if I want to.  I can also roll it back and open it up.  Ultimately, this piece of black foam is simple, yet flexible.  And this is what I use if I need to bounce my speedlight with a fair amount of control over the flash's light.
Materials for the flash modifier used – the black foamie thing
Summary
If there are no bounce-able surfaces, then you have to make other plans.  You either have to use different light modifiers, or use direct flash, or ideally, off-camera lighting.  You will obviously not be able to use a piece of black foam to flag yourself and your speedlight out of all kinds of impossible scenarios.  You have to be adaptable in how you use light.
Yes, I do use other flash modifiers at times.  But indoors, (and even outdoors), where I have surfaces I can bounce my flash off, this piece of black foam gives me the control I need.   And the results are there in the images that I show on this site, as well as my work as a wedding photographer in New Jersey.
I want to emphasize this point again – there is no quick fix.  I am staunchly against the idea of a cure-all approach to lighting and flash photography. Specifically, the idea that a single piece of plastic attached to your flash will give you the best results all the time – that idea will hold you back.
You have to constantly adapt your technique by considering your subject, the scenario you're in .. and the results you'd finally like to achieve.
Related articles