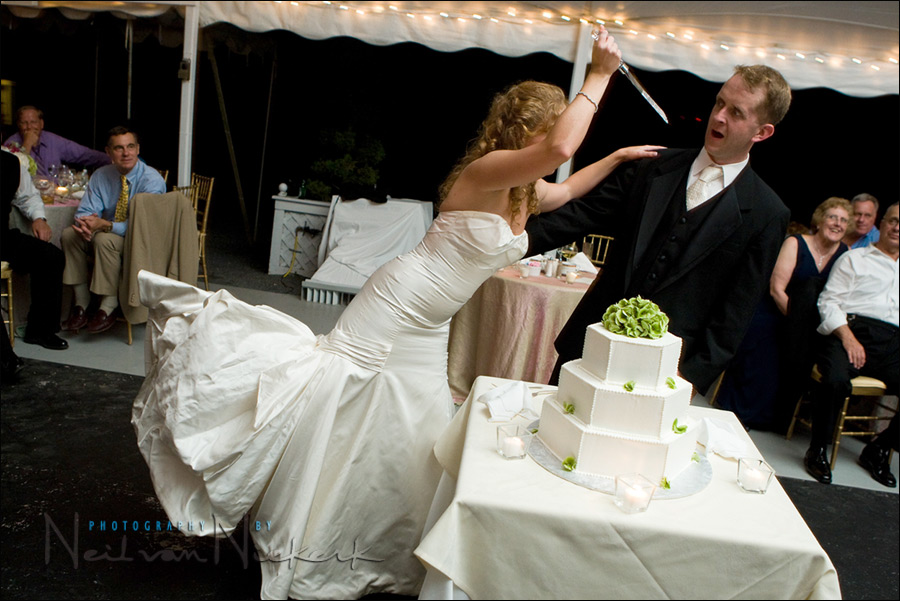 Wedding photography moments – Anticipation & being ready
Wedding photography has fortunately come a long way since the times when it was more portrait dominant. Now there's more emphasis on the story-telling aspect – the photojournalism – where the moments that happen as the day unfolds, gets rightful attention. Obviously this means you need to have a watchful eye, and be ready to respond. This also means you have to have your camera ready – appropriate settings, and an appropriate choice of lens. You have to be able to anticipate what is likely to happen where you are right then.
Depending on the specific customs of the wedding, there are moments which will happen fairly predictably, simply because of the rhythm of the day, and human psychology. So there are certain things which I know are likely to happen, and I will position myself accordingly.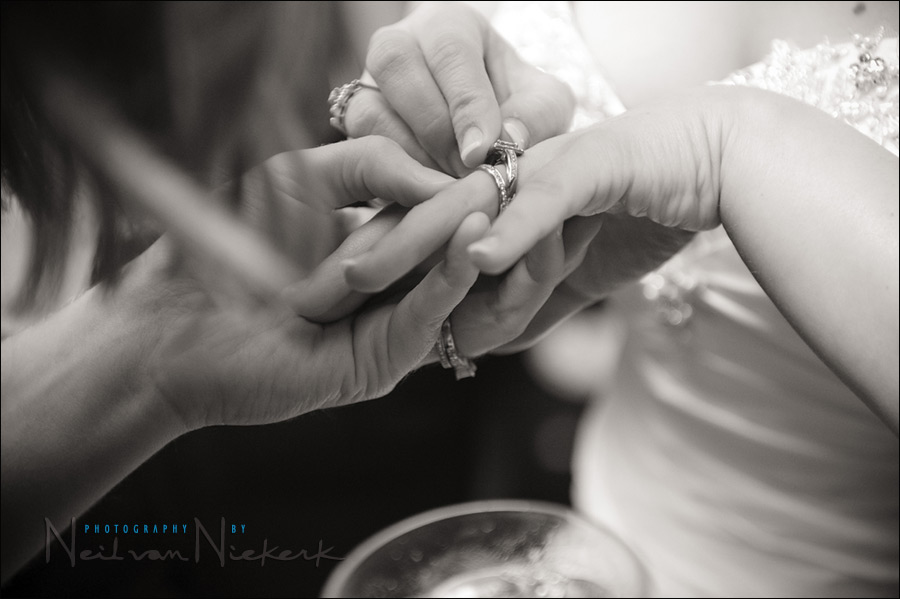 The newly-wed bride will show off her ring
That is a certainty – the bride will show off her ring, and guests and family will want to see. This is especially easy to capture during the wedding reception when everyone is more relaxed, and the bride has time to float around with her guests.
I usually have my 24-70-mm lens on for candid groups and fun shots, but I will also have the 70-200mm f/2.8 ready on the other camera, for shots just like these.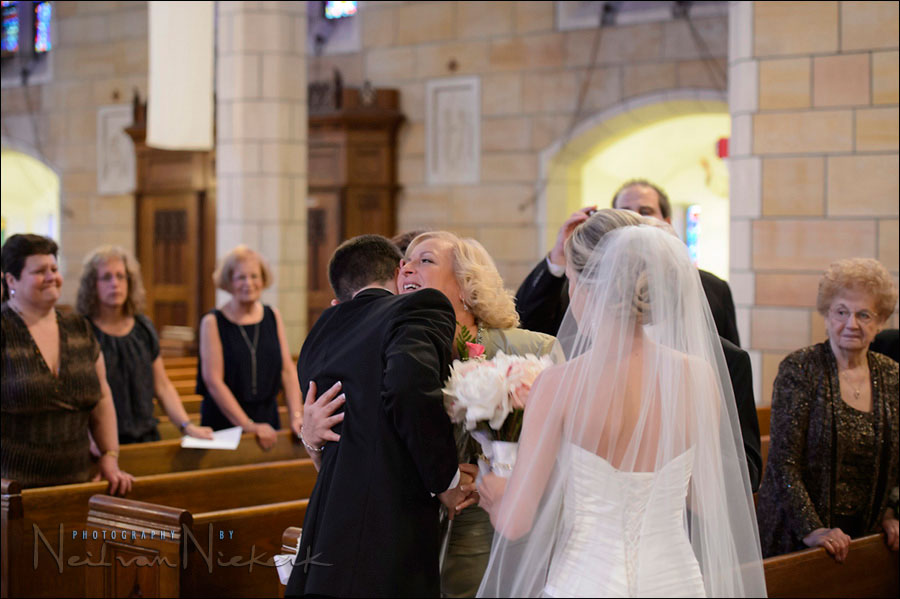 Catholic ceremonies – the Sign of Peace
Every flavor of religious ceremony will have their specific rituals and ceremonies. Familiarize yourself with these beforehand. With Catholic ceremonies there is the moment when guests are invited to exchange a sign of peace with one another – usually they shake hands, or hug and kiss. You just know already that close family members who hug the bride or groom, will be emotional. This really is a moment you should be ready for to capture.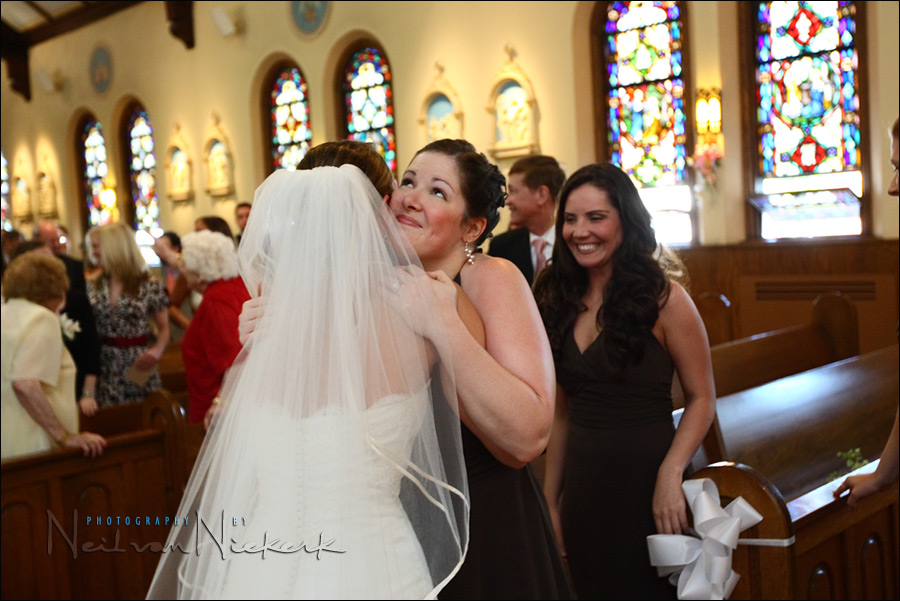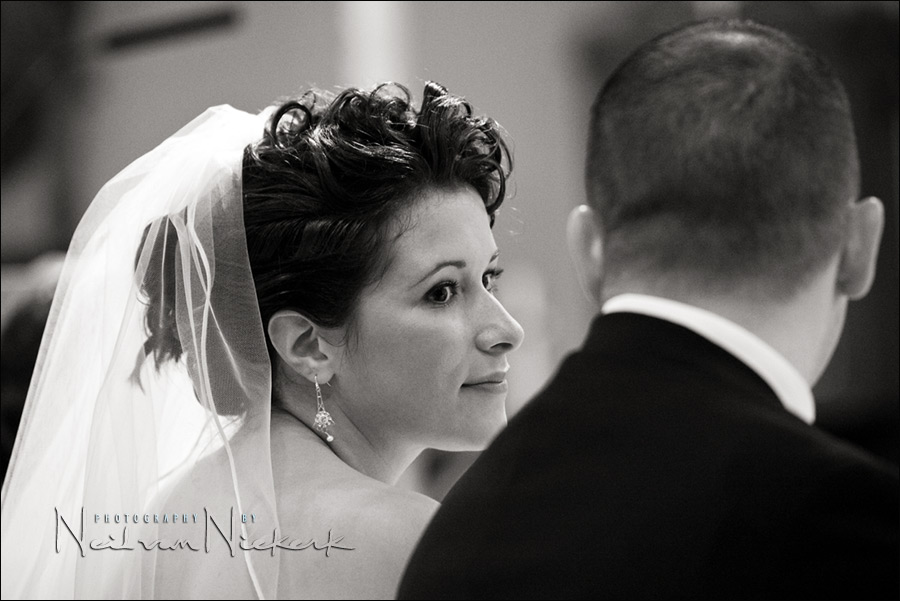 Church ceremonies – the first time the couple are closer together
In a previous article on anticipation and timing, I mentioned that the moment when the couple are seated next to each other for the first time, they will respond. With Catholic ceremonies for example, this is while guests are receiving Communion. Then there is a lull in the ceremony, where there is little attention on the bride and groom. They will look at each other, and they will lean closer to talk a little bit for the first time as a married couple. This is an easily anticipated moment during most weddings – and a fast 70-200mm lens is perfect for this.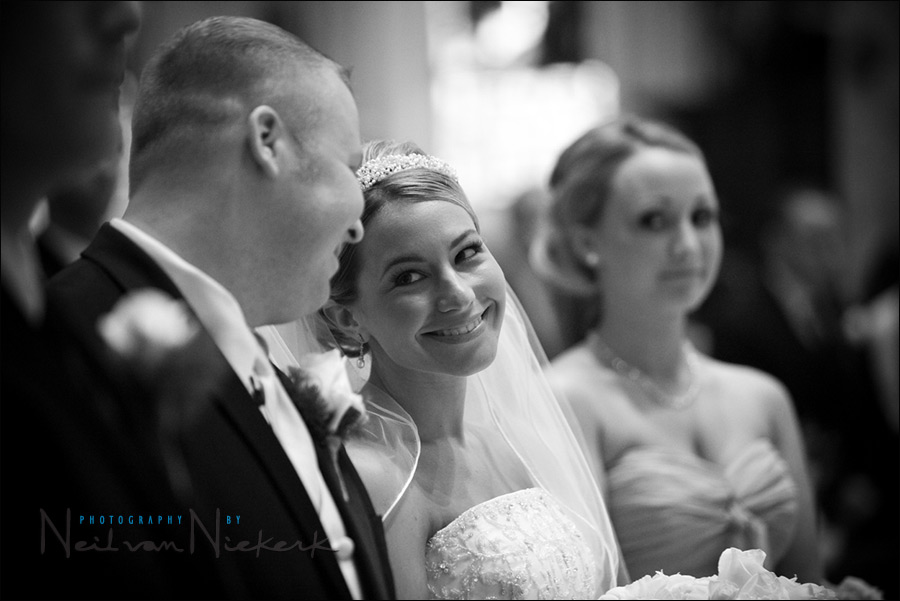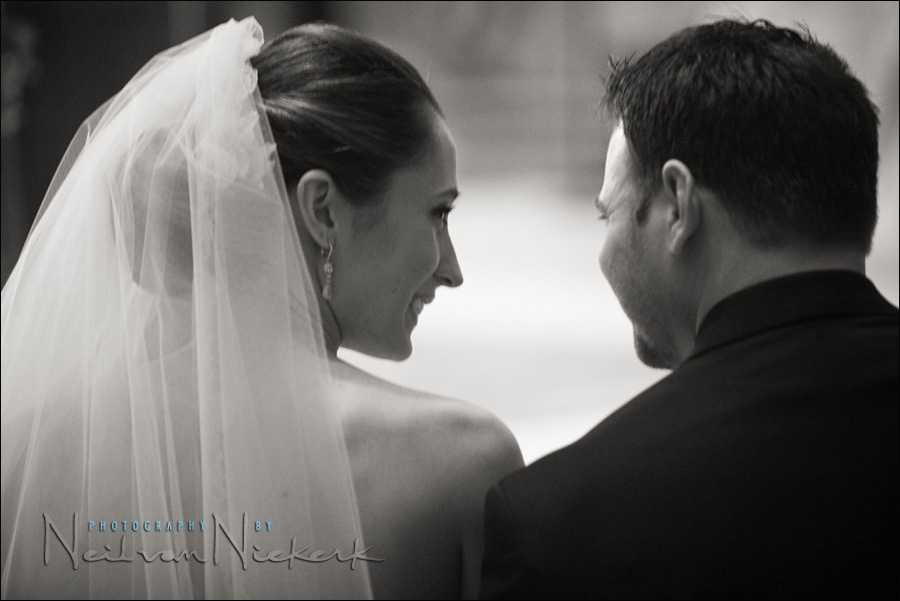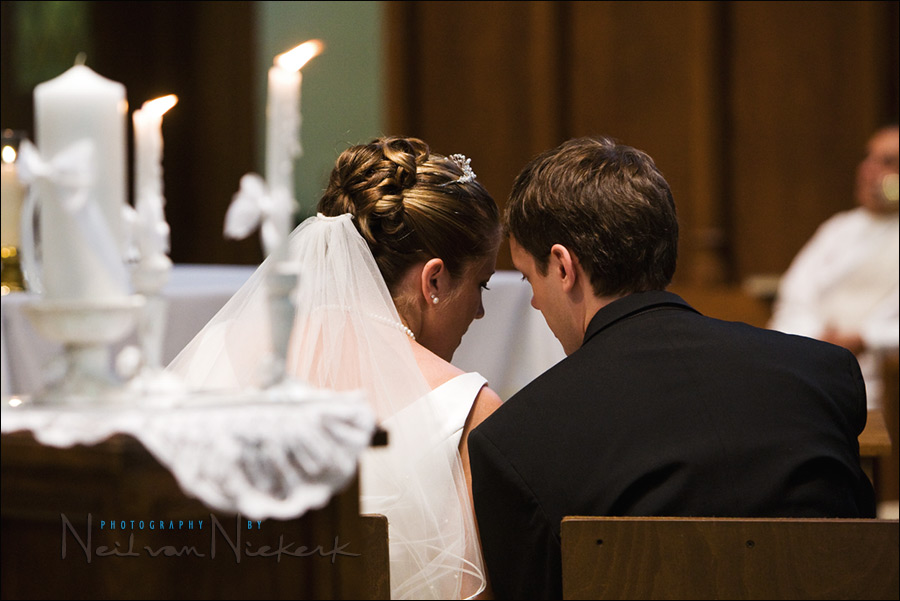 Kids!
This is an obvious one. Kids will become restless, and they will be more active and expressive than the adults. Just don't get too wrapped up in photographing cute kids, and then neglect concentrating on the rest of the ceremony unfolding, and be caught unawares.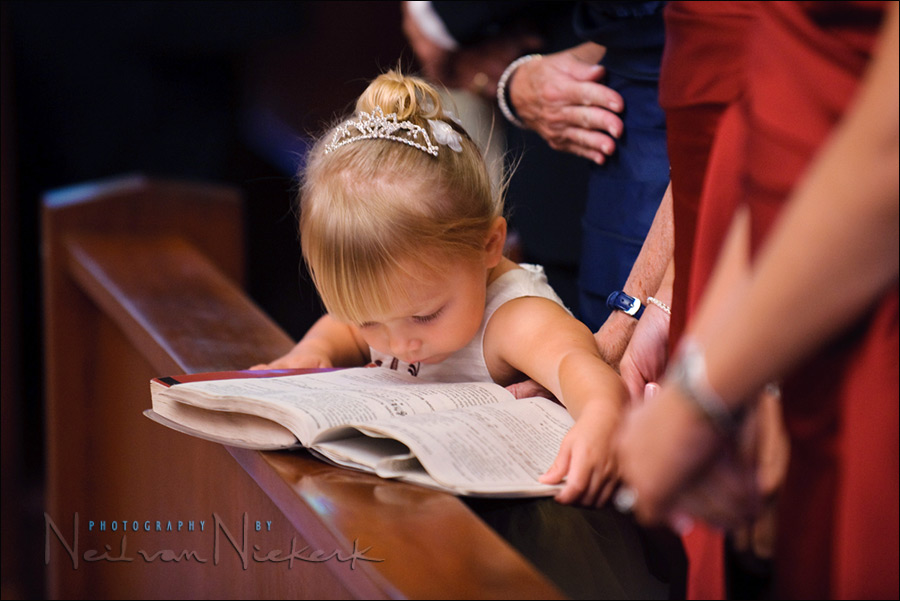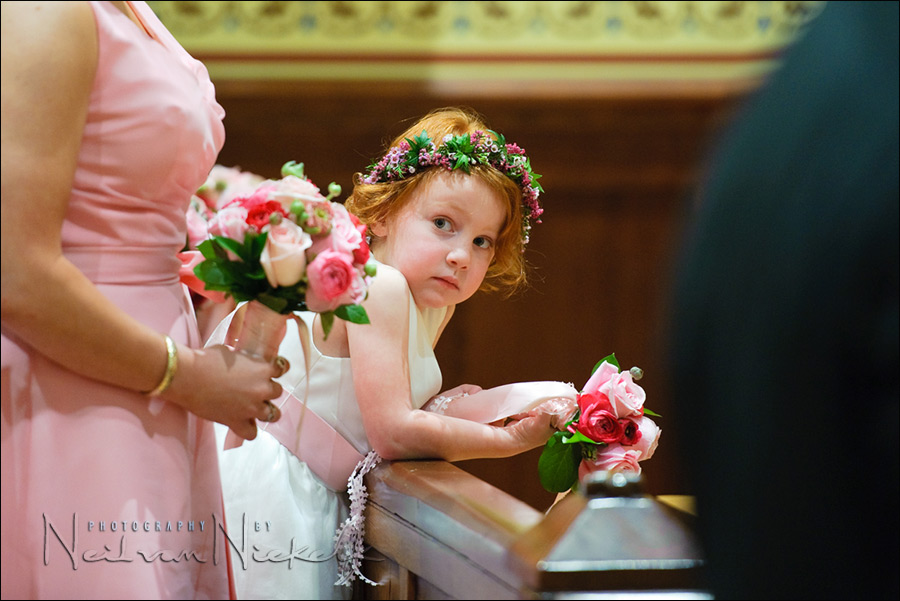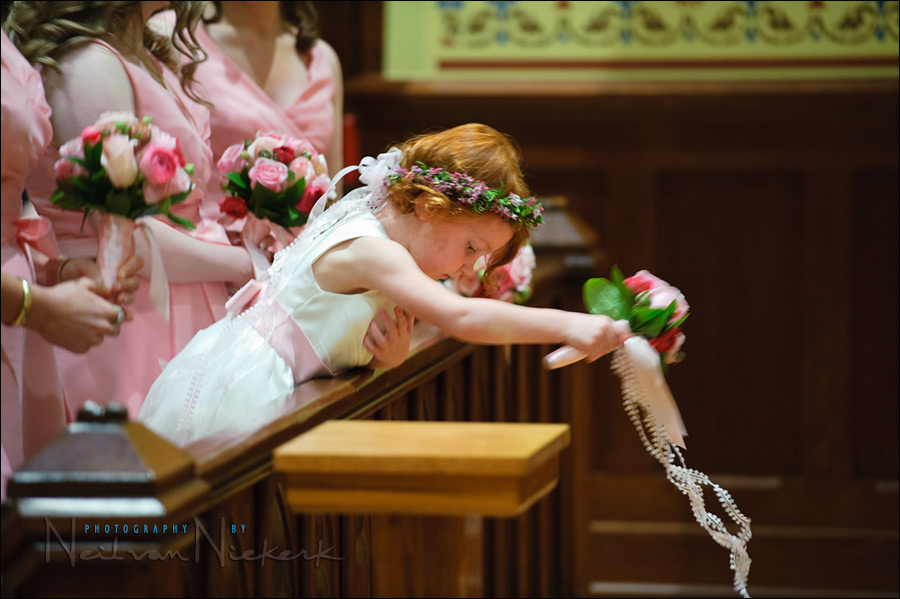 A second photographer for a different angle
In the article on tips & advice for second-shooting weddings, I mentioned that I rely on the 2nd photographer to get a different angle. During the exchange of the vows, I will instruct my 2nd shooter to get a reaction shot of the bride while I shoot straight down the aisle. The second photographer then shoots more or less over the groom's shoulder, getting a clear shot of her expression if possible. This is one of my favorite photos – a slightly cheeky expression from the bride as he gives his vows.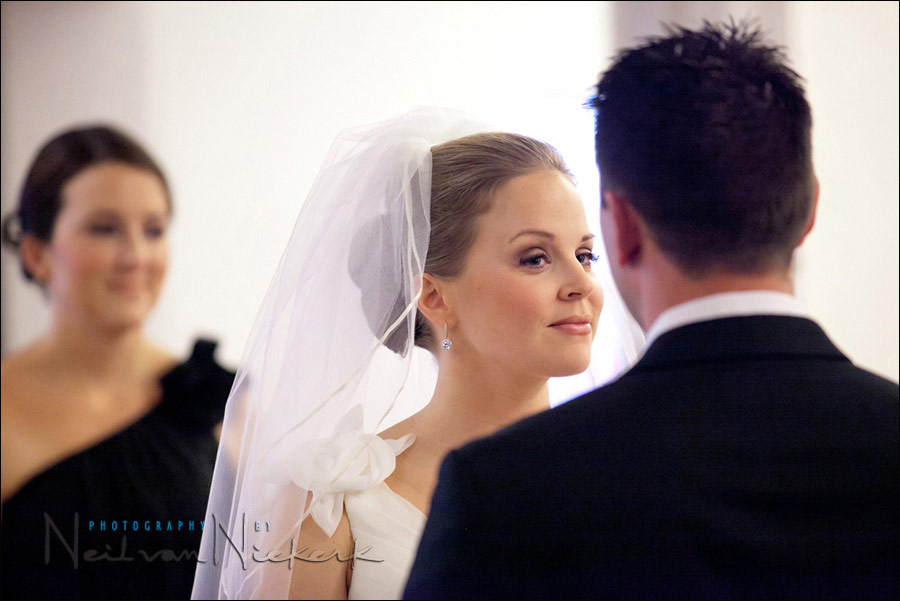 Related articles