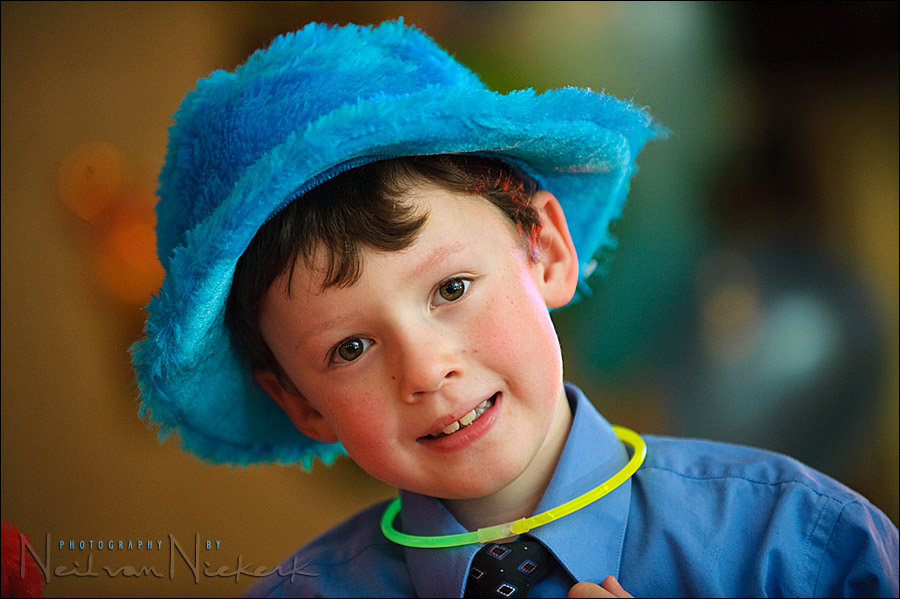 shooting candid portrait at events, with bounce flash
My favorite image from a Bar Mitzvah party that I photographed.  It is one from a series of candid (or semi-candid) portraits of various guests and their kids at the party.  Aside from the obvious photographs that need to be taken during these kinds of events, I also try and grab more candid images, and for these a telephoto zoom (70-200mm f2.8) works really well.
By going wide open on this lens, you can really isolate your subject .. and also draw in more of the available light.  In this case the background is a mixture of out-of-focus balloons and the DJ's lights and stuff. The best of these images are usually those where I am fortunate in getting a nice expression .. while still being able to position myself so that the background is complementary or interesting.
My settings:  1/160 @ f2.8 @ 1600 ISO
Nikon 70-200mm f2.8 AF-S VR II (B&H)  /  Canon EF 70-200mm f/2.8L IS II (B&H)
Nikon SB-910 Speedlight (B&H)  /  Canon 600EX-RT Speedlite (B&H)
My settings were chosen such that enough of the background shows.  Lighting is quite simple as usual, and was just one on-camera speedlight, flagged with the black foamie thing to give directional light on this boy's face.  I did have a 1/2 CTS gel on my speedlight to help match it with the tungsten lighting in the reception venue.  As such my white balance was set to 3700K.  As an aside, that image is straight out of ACR with no further adjustments from my usual defaults for the RAW file.  I did no editing in Photoshop to it.
And there you have it .. a simple semi-candid portrait, with simple yet effective lighting, while shooting "on the run".
related links