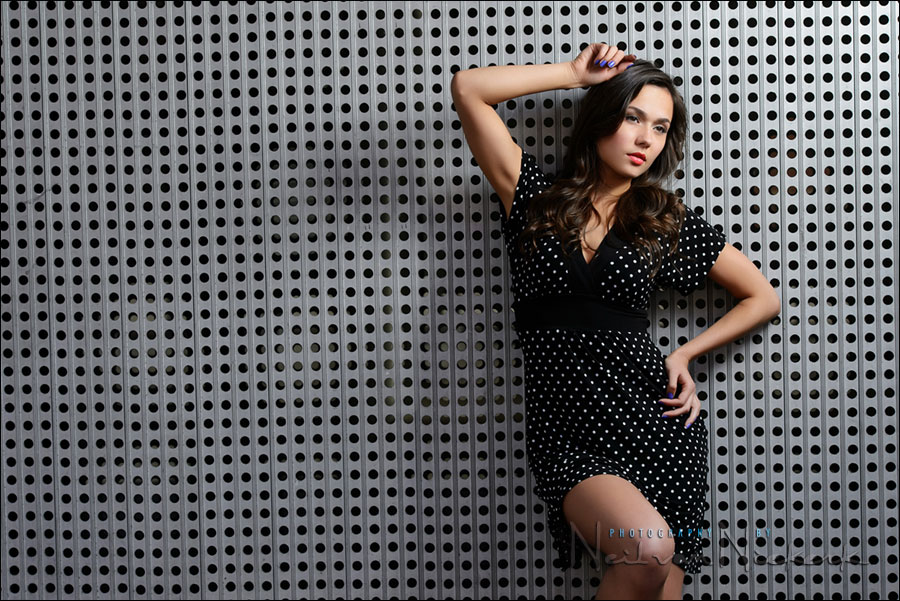 finessing photographic composition – and using off-camera flash vs. available light
With this background, I liked the way the dots were repeated in Olena's dress in reverse – white dots on black, instead of black dots / holds on silver. I liked the repetition, and decided to work with the composition of this photograph a bit.  For the final sequence of images – of which the image at the top is one – I asked Olena to really exaggerate the curve of her body to create an S-shaped, which in turn contrasted boldly with the rigid pattern of the background.
This article's original title was going to be:  Off-camera flash vs the snobbery of "available light is always better". When you look at the available light photo of Olena, you'll see that the available light was pretty sweet – soft and flattering. But it lacked punch. It needed just that little bit of drama to it. The available light shot just looked a touch too bland. Off-camera lighting to the rescue!
I had the flash in a soft box to create flattering, yet dynamic light on her. I wanted her shadow to be more defined and become part of the composition, but that would've meant a harder light source. Holding the Lastolite EZYBOX 24×24″ softbox (vendor) fairly close to her was the compromise. This way her shadow added a subtle element to the composition.
{ 12 comments }