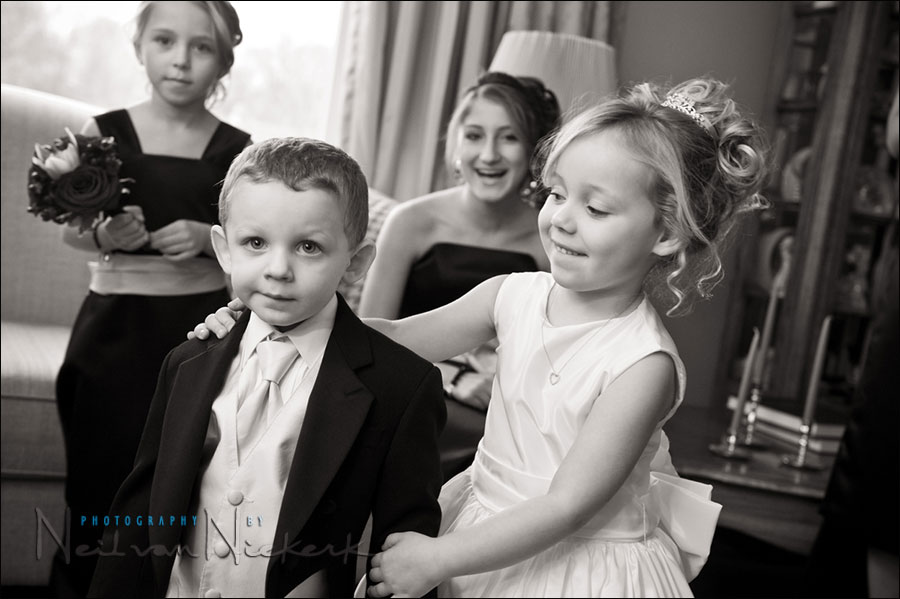 how do you meter for TTL flash & ambient light?
In taking these kinds of candid images, I set the camera so that there is enough light recorded on the test shots without flash. No real metering technique, but I judge by the LCD to see that there will be enough detail in the background. It is kinda the dragging the shutter technique, but not as specific perhaps. I just want some ambient light to register.
Then I simply use TTL flash to expose correctly for any subject which is turned away from the main source of ambient light – the window. Without flash, these kids' features would be in deep shade relative to the rest. But the TTL flash lifts the exposure to where I want it to be … with everything well exposed.
It really is that simple, and this technique allows me to shoot fast, and get great candid shots by concentrating on the photography and not the specific settings all the time.
I used the Black Foamie Thing ™ to flag my flash and not hit people behind me in the face with a strong burst of flash.
The back-ground is quite well-lit, because in bouncing flash behind me, the background inevitably opens up a bit. Again, this is the inverse square law helping us out with bounce flash photography.
camera settings: 1/125th @ f4 @ 1250 ISO  (FEC not recorded.)
So back to the question, how did I meter for the ambient light here? I didn't. And I certainly did not meter for the white tones via the histogram method. The reason is – I don't want to expose correctly for my ambient light. The light levels are too low – ie, I won't get enough depth-of-field, at a good shutter speed, at a useful ISO … with good quality light on my subject. So I purposely want to under-expose for the ambient light. And then I add TTL flash. The TTL flash here is a dominant light source, and not mere fill-flash. Hence, carefully metering for the ambient light here isn't all that useful.
{ 26 comments }