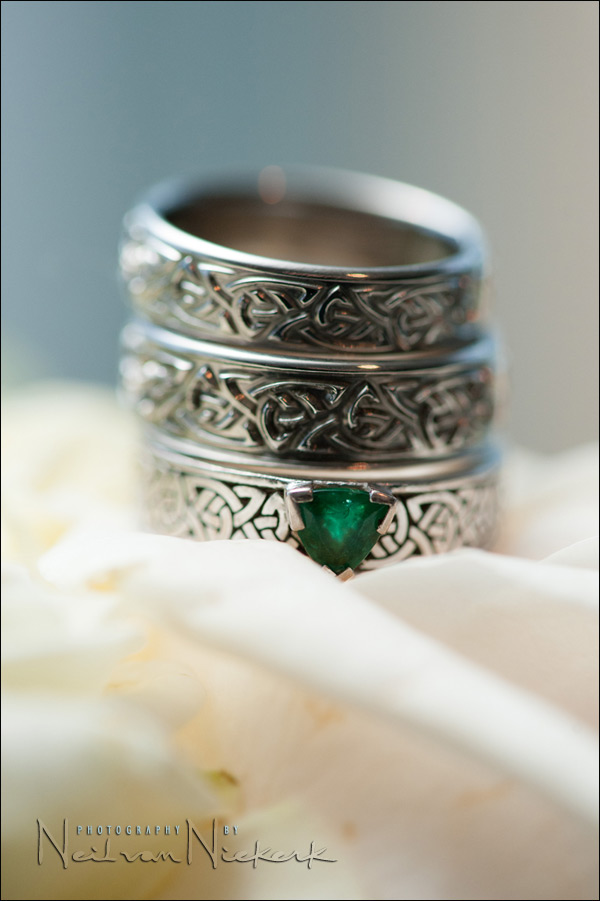 wedding photography – detail shots, bounce flash & macro lenses
Macro photography for wedding detail shots is one of those areas where you need a smaller aperture. I know it's been suggested by some high-profile photographer(s) that you shoot macro at f/2.8 but this is tough advice to follow. If you even breathe, your plane of focus changes for that close distance you're working at.
That smaller aperture (and I regularly work at f/11 or there-abouts), implies you will need a lot of light. A lot of daylight or lots of flash. When you're shooting indoors, this means flash, although it is entirely possible to use video light for macro detail photos.
As described in the article, tips for detail shots of the wedding rings, I use the black foamie thing and on-camera bounce flash to create soft direction light. With flash I can more easily get that lots-of-light for smaller apertures.
As with the photograph at the top, with photographing details, I want the light to come from the opposite side than the camera. This creates a kind of wrap-around light as the bounce flash spills all around, but with the shadowed areas towards the camera. In other words, it looks nothing like you'd expect flash to look like.
camera settings: 1/250 @ f/5.6 @ 1600 ISO
It's unusual for me to shoot macro at this medium aperture. And as you can see from the photo, the depth-of-field it already quite shallow.
A pull-back shot to show exactly where I bounced my flash …
{ 14 comments }