positioning your subject – direction of light & choice of background
Taking cover from the rain under this awning, we ended up in the same spot where I took this available light portrait posted here previously.  Looking along the wall at the same angle, the black paint of the wall reflected the light from behind, completely changing the character of the background.  Since the available light was low level, and not flattering, we added some light from an off-camera flash in a softbox …
Shooting nearly completely in line with the flash, the light on Catherine was very even.  Or flat.  (Depends on how you want to perceive it.  (One man's meat is another man's poison .. and all that.) As you can see here, shooting more straight-on to the wall, it does indeed look black.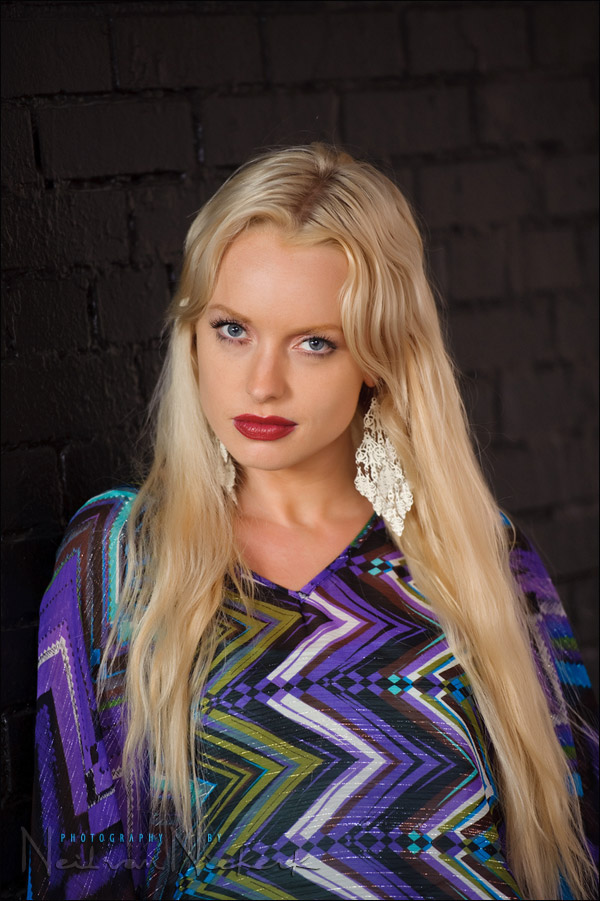 But moving positioning the light, and myself and the model at angles to each other … I was able to get the light from the background, and more dramatic light on Catherine, as in the top image.  As you can see in the pull-back shot, there is a huge amount of random clutter outside the frame.  Zooming to 165mm and moving closer to Catherine, and shooting along the wall … isolated her against the out-of-focus colors in the background.
Even though off-camera light was used here, the approach is very much in line as described in the previous post where we just used available light to photograph Catherine.  But once again it was a combination of how I, as the photographer, position myself and the model and the background in relation to the light and the background. It's a repeatable approach that works pretty much every time to give successful straight-forward portraits on location.
Settings for the photo at the top:
1/80 @ f2.8 @ 640 ISO;  TTL flash at -0.7 EV
Equipment used during this photo session:
Nikon D3;   Nikon 70-200mm f2.8 AF-S II (B&H);  Nikon SB-900 (B&H);
Lastolite EZYBOX 24×24 softbox (B&H);  Nikon SD-9 battery pack (B&H)
Manfrotto 680B monopod (B&H);
brass stud to attach softbox to monopod (B&H)