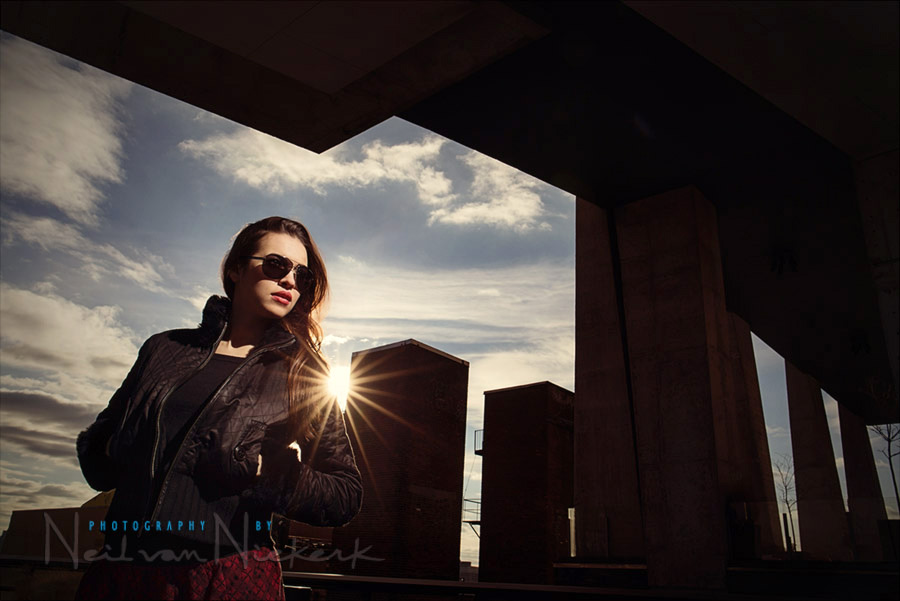 photographic composition, posing, light & lighting – when it all comes together
I just love this photograph of Anastasia Z, and want to share some of the through-process in how it came together.
To test the Canon EOS 6D camera (B&H) and the Canon 24-70mm f4.0L IS lens (B&H), I met up with Anastasia Z in New York. I scouted this area with my friend, Peter Salo, while we were waiting for Anastasia who was running a touch late. Just as well we scouted earlier on, because it was freezing outside.
I saw the way this building over the Highline in Manhattan was creating this jagged shape with strong lines. I also knew the staggered vertical lines would work well, silhouetted against the winter sky. When we met up with Anastasia, we discussed an approximate plan of where we'd shoot .. including somewhere inside eventually. But I wanted to try this one specific idea first – right here.
So, knowing more or less what I wanted, we walked towards this spot. On our way there, I did try out an idea, but it didn't quite hang together, and I dropped it to get to this place where I knew the idea would work.
So here's how this photograph came together with just three test images …
{ 24 comments }