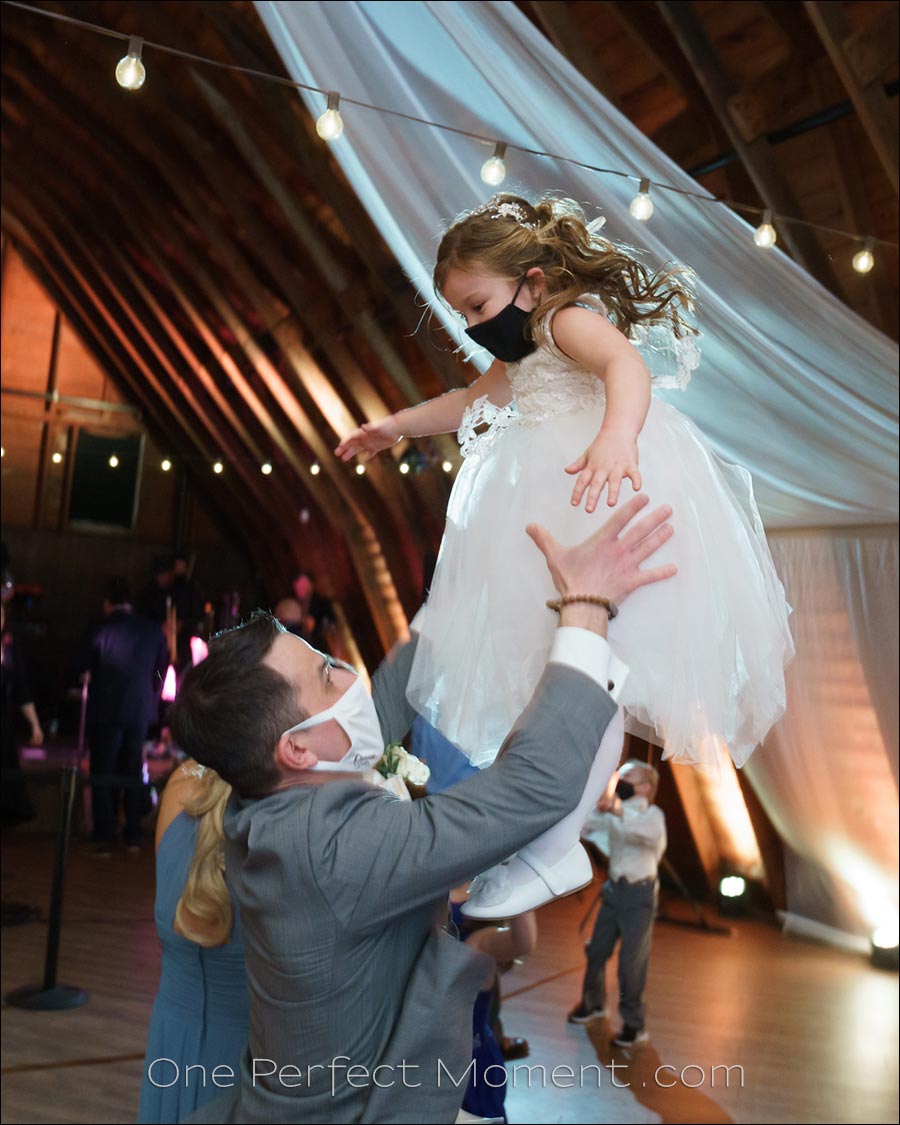 Bounce flash photography with wooden ceilings
When photographing wedding receptions, I would ideally like to get away with just one on-camera flash that I bounce off surfaces behind me. A venue with (close to) white ceilings and walls are just perfect. Super easy. Even with really high ceilings, I try to make it work. Here for example, I used a single bare on-camera flash to light up the entire place — Wedding reception lighting with one flash. No diffuser cup or white bounce card. Bare flash with the Black Foamie Thing. But occasionally I reach the dead-end of a venue with black ceilings and walls. Then I have to resort to additional off-camera flashes, and use a diffuser cup or bounce card on my flash. Not my first choice for flattering light from my on-camera flash … but these are the limitations we hit occasionally. Another situation that is a real challenge, is when the venue has wooden ceilings … but I still try to see if I can get away with using an on-camera bounce flash. And often enough it works.
The photo above is of the groom lifting his niece up into the air while they were dancing. Yes, I bounced flash off that wooden ceiling to get that soft light o them. There was also an off-camera flash behind them to help create a bit of depth to the scene. The off-camera flash was gelled with a 1/2 CTS gel to make it less blue compared to the main light. The on-camera bounce flash is very warm in color because of the wood. In post-processing the RAW file, the WB was around 2600 K, with the Magenta turned down a fair amount too.
But that wooden ceiling does eat up a lot of light. We are operating near the limits of what we can easily get away with. I was mostly using full power manual flash with a Profoto A1 @ f/3.2 @ 3200 ISO.  Really squeaking in the proper flash exposure there. I am saying "mostly" because it definitely depended on which direction I bounced the flash in, and how close I was to one of those walls. Sometimes I had to turn the flash power down by 2 stops for correct exposure. It became easier to dial in the (approximate) correct flash exposure as I started to mentally map where I am standing on the dance floor, and how I was turning towards my subjects.
Do check out this Tutorial: Bounce flash photography
My point is – while it is real trouble bouncing off wooden walls in barns etc, it isn't entirely impossible. I always give it a try first and see if I can make it work first, before going for more complex multi-flash lighting setups.
Camera settings & photo gear used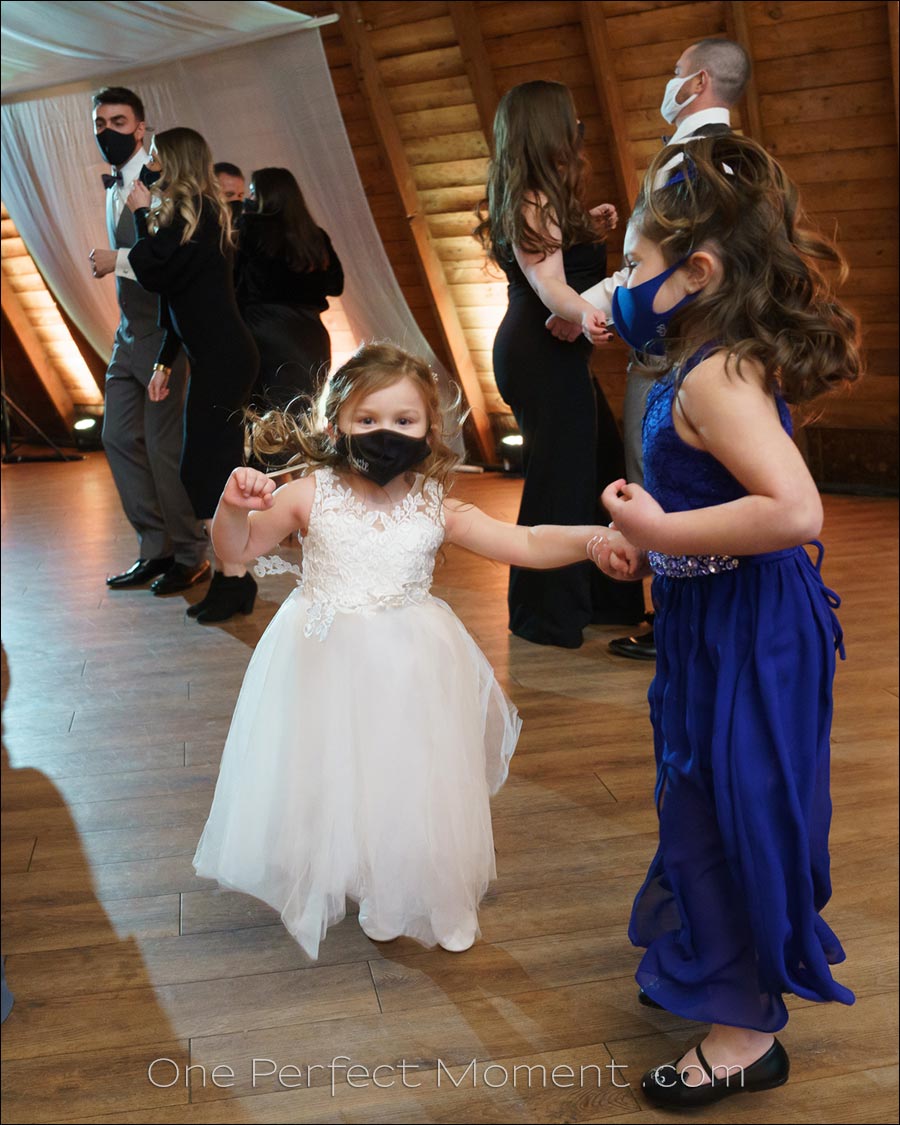 That flash behind them really helps in avoiding a background that goes too murky. In this next photo of the band leader, you can see the flash on the nightstand. It was at a low power setting: 6 stops under full power.
---
---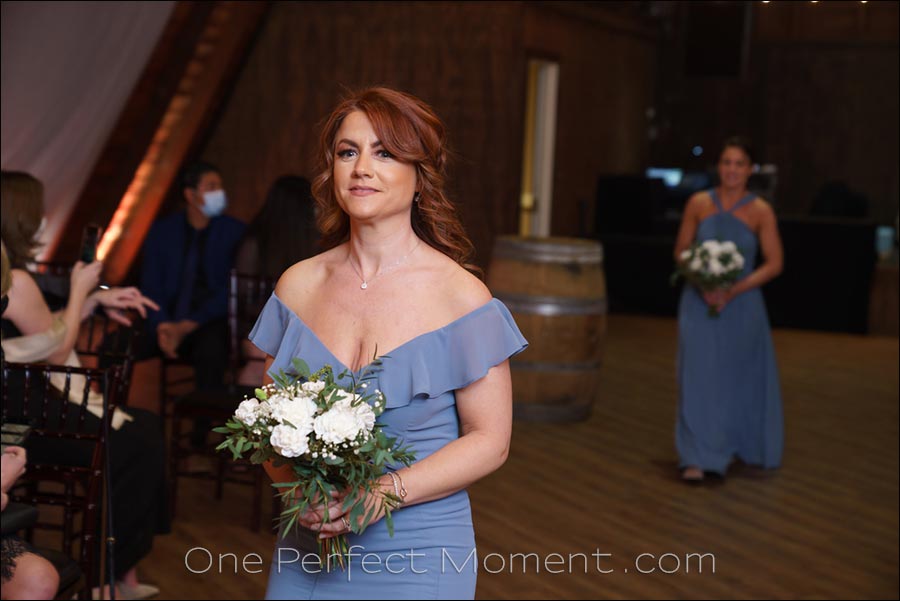 With the wedding ceremony, I used flash with the processional. No additional flash behind them. Just the on-camera bounce flash with the black foamie thing that helps control how the light spills. It also helps in avoiding blinding people behind me.
Materials for the flash modifier used – the black foamie thing
Related articles