Bridal portrait – Working with the available light
This striking portrait is of Rachel, a bride whose wedding I photographed yesterday. Yes, a Tuesday wedding! The prep was at a hotel on the Jersey shore, and when Rachel was ready, I wanted to shoot a few straight-forward portraits there in the hotel. There was a lot of light in the hotel room itself, but the decor was white – which helps for high-key portraits. But I wanted some variety.
So I scouted around, and decided to do some photographs in the passage outside her hotel room. Since it was a wedding on the Jersey shore, and we did other portraits later on, on the beach, I thought this bright wallpaper wouldn't be too inappropriate as a backdrop. Now it was just a question of light …
This pull-back shot shows the setting. I really prefer to get as simple a background as possible. An f2.8 telephoto zoom lens is essential here in compressing perspective, and eliminating clutter in the background.
It's a technique that has been discussed several times:
Now, even though the light here was soft, with the large panels of fluorescent light, the light is still top-heavy. So then it became a matter of directing Rachel's gaze slightly upward so there are no shadows under her eyebrows. Clean open light. Just the way I like it.
It's a specific approach, that helps in defining a specific style that I have – aiming for both simplicity and elegance.
---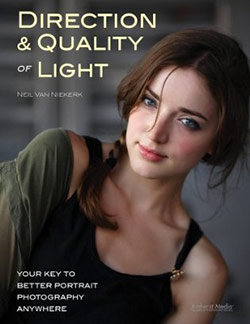 Direction & Quality of Light
I wanted to distill the essence of what we, as photographers, work with – light! Before we can truly grasp on-camera flash and off-camera flash, and really, any kind of photography, we have to be aware of the direction and quality of light. We need to observe the light that we have, and then decide how best to use it, or enhance it.
With this book, I try my best to share those "aha!" moments with you, and I do believe this book can make a difference to your photography.
The book is available on Amazon USA and Amazon UK, or can be ordered through Barnes & Nobles and other bookstores. The book is also available on the Apple iBook Store, as well as Amazon Kindle.
---
Camera settings & photo gear (or equivalents) used
camera settings for the main image:  1/100 @ f2.8 @ 1600 ISO
Related articles
---