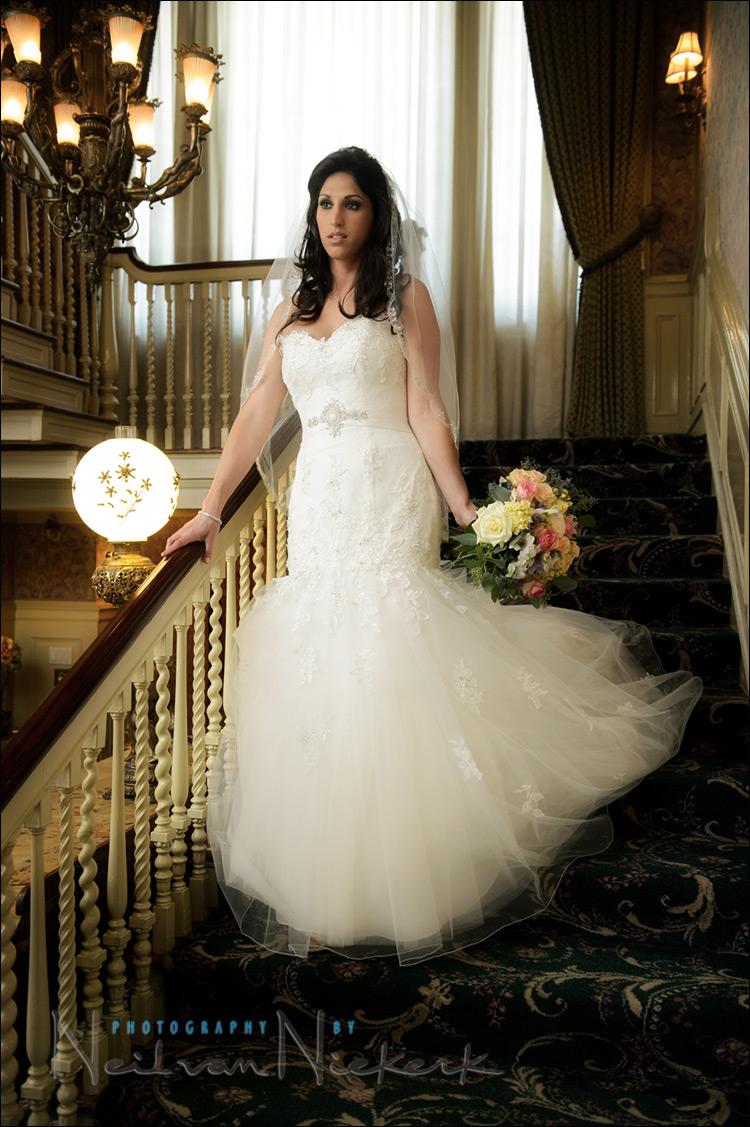 Light modifiers for on-camera flash
Event photography, and specifically weddings, can be a rushed and fast-moving, with some of the worst lighting conditions. But that doesn't mean you can't have great light from just an on-camera speedlight. By bouncing your on-camera flash with specific intent, you can achieve just that – beautiful, soft directional light.
Light modifiers for on-camera speedlights all generally do the same thing – they spread a lot of light around, and but also throw some light directly forward. In a way, this gives a bare-bulb effect to the light from the flashgun .. as opposed to the kind of light you get when you entirely bounce your flash. As can be seen in this comparison video, when bouncing flash indoors, the various light modifiers all do the same thing with greater or lesser efficiency.
I want to control the direction of my bounce flash. The generic light modifiers work counter to that … they flood the room with light from the camera's position. But what I'm after is directional light from my flashgun, and for that I need to bounce my flash in specific ways and the generic flash modifiers won't help. For this, I mostly use the The Black Foamie Thing.
The light in the photo above, is a combination of ambient light, and carefully bounced flash – all blended in such a way to look natural, with no hard flash shadow to be seen.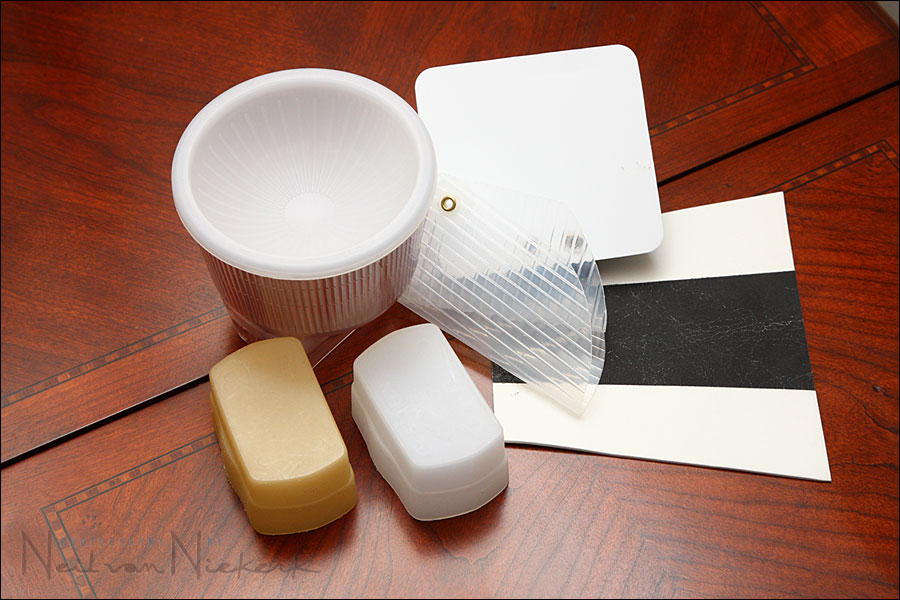 What I mostly dislike about the generic light modifiers is that they are advertised as a kind of magic bullet to make flash photography easier and better. This then allow most photographers to NOT put any thought into what they want to achieve with light, but instead reach for that advertised quick fix. And therein lies the problem. There is so much more to be done with light than just plonking a diffuser on top of your flash. For more about this: Remove the plastic diffuser cup!
The on-camera flash modifier I use most often, is The Black Foamie Thing. But there are times though that I do need to disperse light directly from my speedlight, and for this I either use the Stofen (because it is cheap and small and fits in my pocket), or a white bounce card (because it is inexpensive and light and works as efficiently as any of the other light modifiers). Some light modifiers are so heavy, that they risk damaging the speedlight's rotating flash-head through constant use. I also use the Spinlight 360, arguably the most versatile light modifier setup.
On-camera flash modifier – the black foamie thing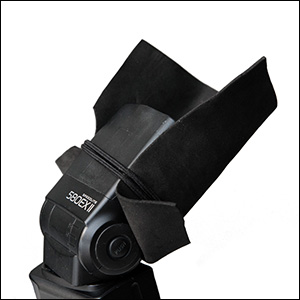 I use the black foamie thing (BFT) as a truly inexpensive flash modifier to flag my on-camera flash to give me lighting indoors that truly look nothing like on-camera flash.The 
piece of foam
 (
Amazon
), can be ordered via this link. I cut the sheet into smaller pieces.
The BFT is held in position by two 
hair bands
 (
Amazon
), and the BFT is usually placed on the 
under-side
 of the flash-head.
The linked articles will give clearer instruction, especially the 
video clip on using the black foamie thing
.
So there it is .. the light modifier I use 95% of the time when I'm indoors – a piece of cheap black foam to flag the light from my speedlight. There are also two other light modifiers I would recommend to disperse light when it isn't entirely possible to bounce flash entirely off other surfaces. I've tried numerous of the light modifiers on the market, but I feel that I simply don't need them … and I think the results I achieve weekend after weekend, consistently prove me true on this.
Regarding any light modifier – we need to figure out first why we think you need a light modifier, and then why that specific light modifier. And putting a little thought into what it is we want to achieve with on-camera speedlights, it might even become apparent that the advertising hype for these items won't help us nearly as much as a clear understanding of flash photography and light.
Related articles