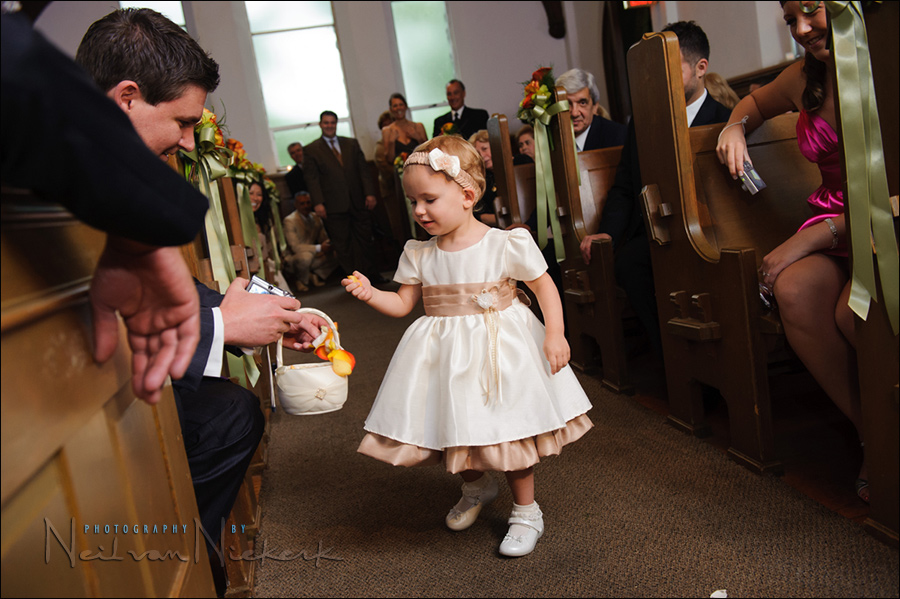 Photographing the wedding processional
The processional is technically probably the most difficult part of a wedding to shoot and get right. Light levels are low in cavernous churches, while people are walking towards you. Getting enough light on them, and having that light look good, as well as getting the image sharp .. that's a tall order.
In the photo at the top, the adorable flower girl  just had to stop and check in with dad half-way down the aisle.
[  1/80th @ f4 @ 1600 ISO  //  Nikon SB-900, Nikon D3,  Nikon 24-70mm f2.8  ]
I use on-camera flash to photograph the wedding processional. I always try to find a way to bounce the flash so that the light is soft and flattering. I want the flash to enhance the available light. I nearly always gel the flash for incandescent lighting indoors to make the flash not be as obvious.  This way I am adding tungsten light to the tungsten light and the flash therefore blends more easily with the prevailing light.
I find my settings so that the available light is about 1 stop (or a little more) under-exposed, and then bounce flash behind me into the church .. but still making sure I have a useful shutter speed.  By the way:  1/60th isn't necessarily a useful starting point.
This does mean cranking up the ISO considerably … I'm often somewhere between 1600-3200 ISO, at wide apertures. Therefore a high-ISO capable camera  is essential for me to work in what is usually under-lit scenarios.
I really really really try my best to stay away from using a diffuser cup of any kind, since this most often just makes for ugly flash photos.  But sometimes when the church is simply too large, or has wooden paneling, then I am forced to accept that compromise.
Here are a few more examples: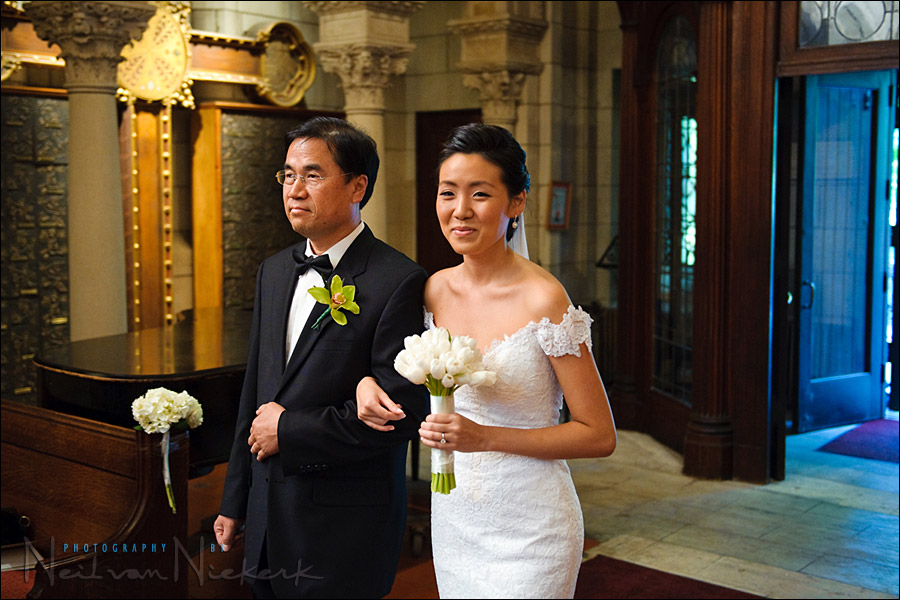 1/100th @ f2.8 @ 2500 ISO
Nikon SB-900,  Nikon D3,  Nikon 24-70mm f/2.8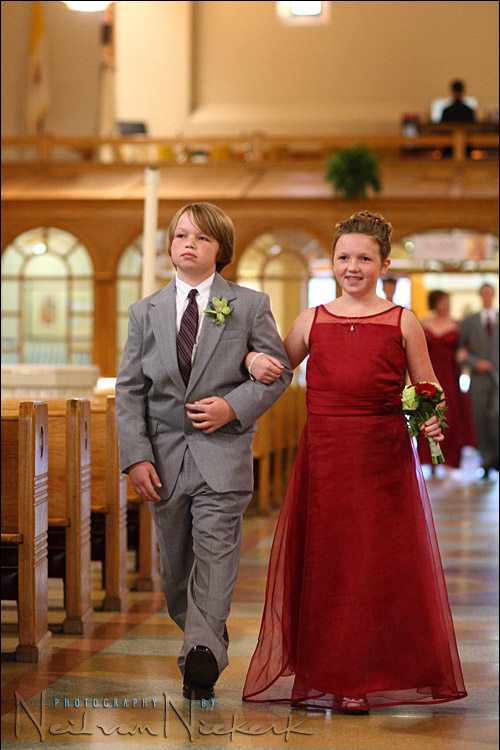 1/250th @ f2 @ 2000 ISO
Canon 580EX II, Canon 1D mkIII,  Canon 85mm f/1.2 II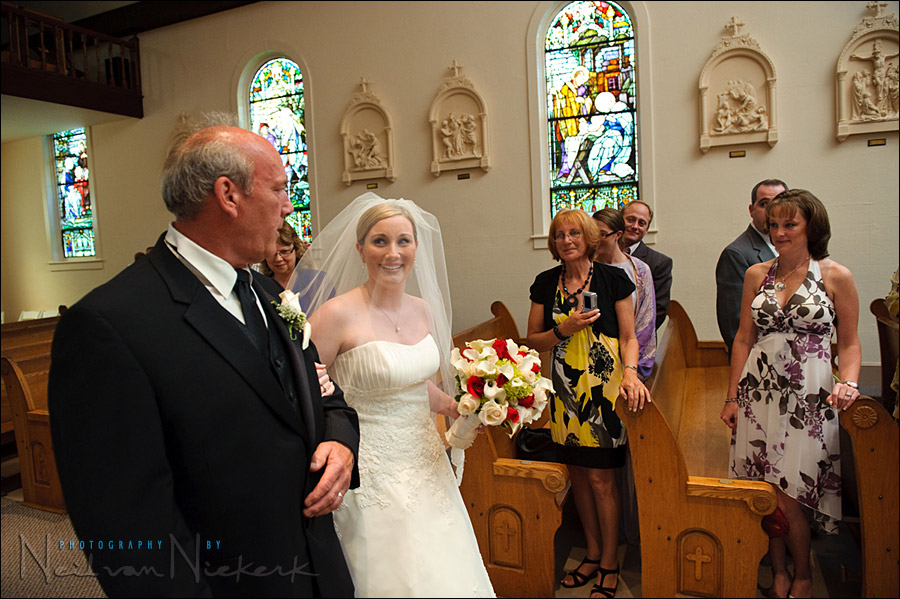 1/125th @ f3.5 @ 1600 ISO
Nikon SB-900,  Nikon D3,  Nikon 24-70mm f/2.8
Below is the image from my second photographer on that wedding, where you can see me at the very edge of the frame. Well, not quite me, but The Black Foamie Thing – the flash modifier I still prefer to use with processionals. Even though it isn't an efficient use of the light from the flashgun, I want "pretty light" instead of volumes of light from my flashgun.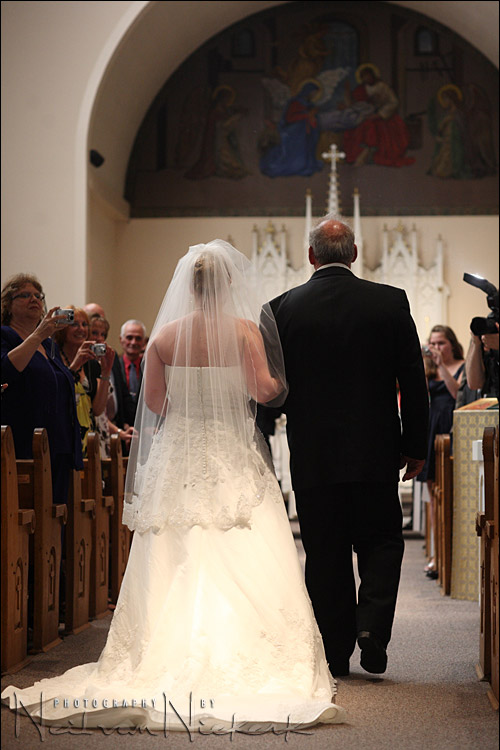 By bouncing flash into these large places, I use a battery pack to make sure the flash recycles fast enough.
Photographing the second processional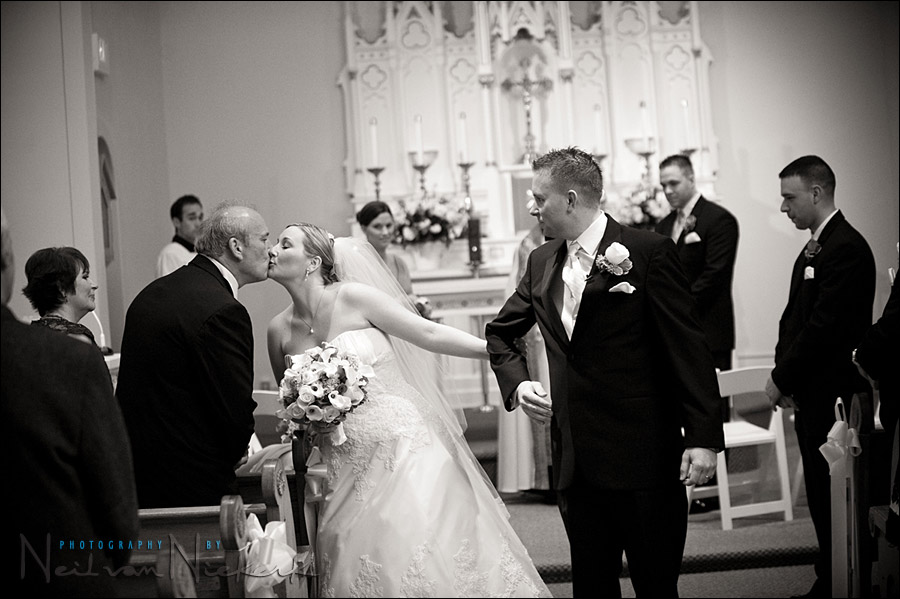 1/250th @ f2.8 @ 2000 ISO
Nikon SB-900, Nikon D3,  Nikon 70-200mm f/2.8
This technique would obviously also work for the second processional. Apparently that is the correct phrase: "second processional". Not the  "recessional", as I was once corrected by a priest when I talked about the recessional. It's the second processional. Now you know.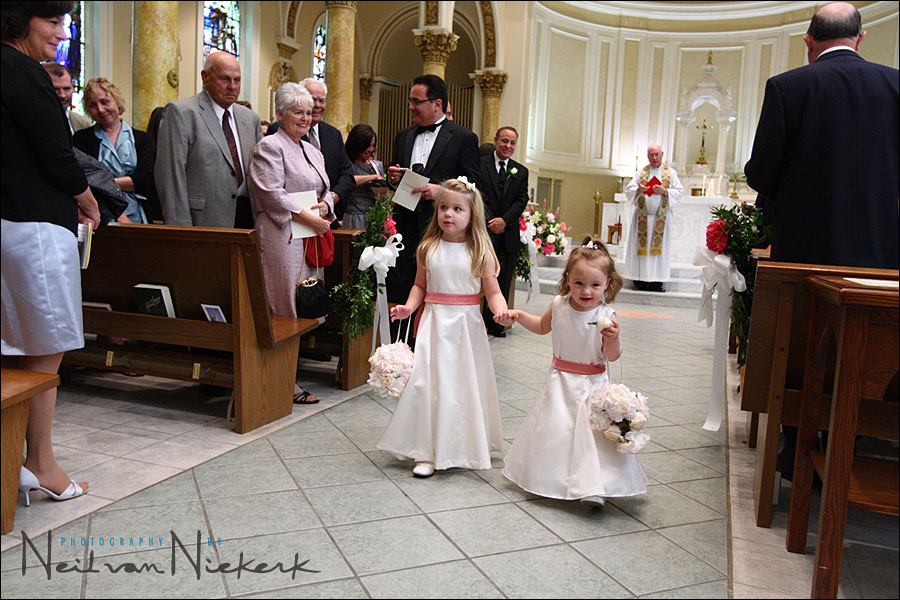 1/100th @ f3.5 @ 2500 ISO
Canon 580EX II, Canon 1D mkIII,  Canon 16-35mm f/2.8 II
Photographing the groom's reaction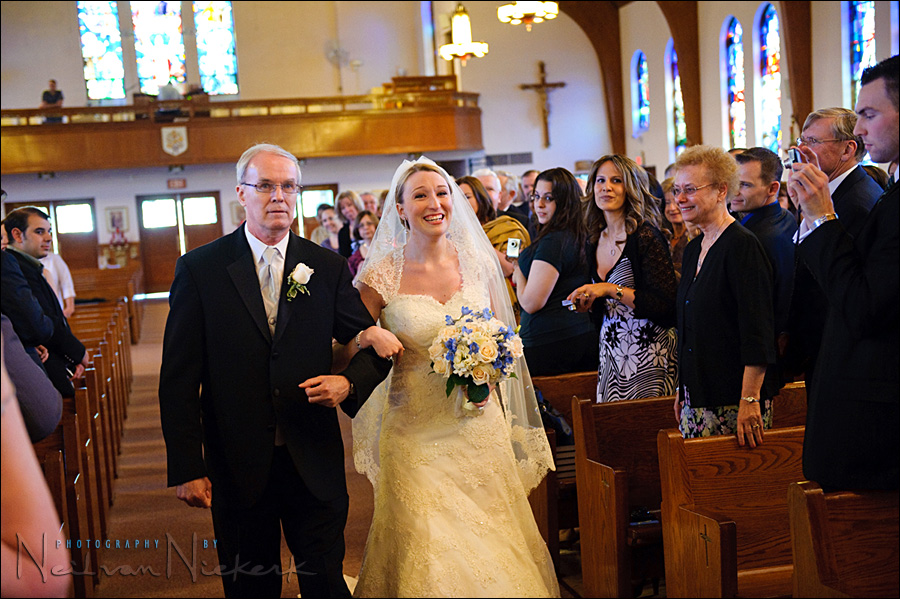 1/100th @ f3.2 @ 2500 ISO
Nikon SB-900, Nikon D3,  Nikon 24-70mm f/2.8
The ideal is to have a photo of the groom's expression as the bride comes down the aisle. So do swing around at some point to grab a shot of the groom watching his bride walk towards him.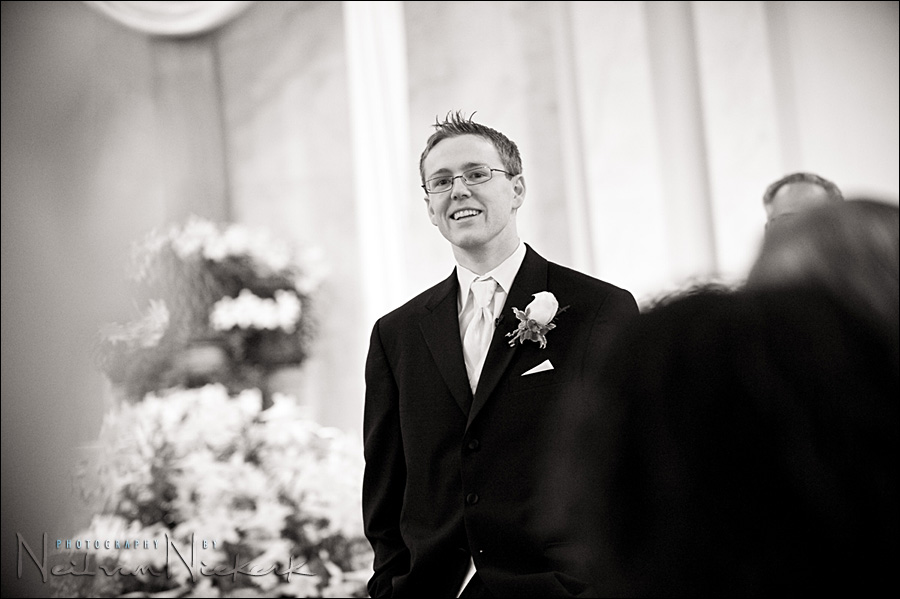 1/100th @ f2.8 @ 2000 ISO
Nikon SB-900, Nikon D3,  Nikon 70-200mm f/2.8
Just to make sure I have this type of photograph, I do take a shot or two the groom just before the bride comes down the aisle. You have such a limited time-frame, and you could be up against wedding guests stepping into the aisle, or family members with iPads, that it is too unpredictable to rely purely on the authentic moment happening for your camera.
Summary
So there is my approach to photographing the processional.  No specific settings that I could advise to be used, but rather a range of settings.  I really much more prefer a natural look to the lighting, but with the light being "open" rather than the top-heavy light you usually find in a church.  I therefore use my flash to augment the light in the church .. and for that, I need high ISOs and wide apertures and a sensible shutter speed.
Related articles
---