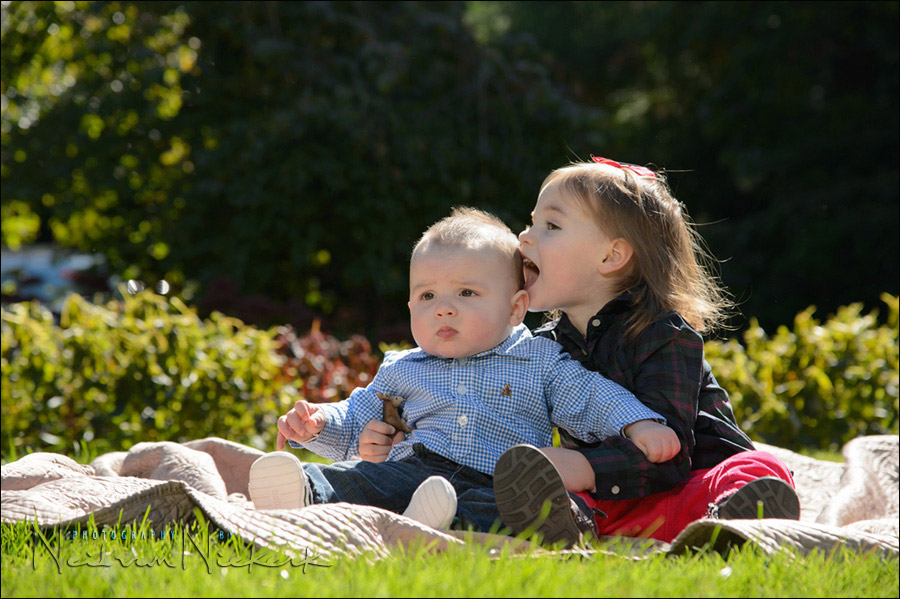 Using off-camera flash on a photo shoot
Someone emailed me to ask a few technical details about this family photo session. How did you expose for the family photos? Was a soft-box used? Or did you expose for the shadows and use fill flash? For those who regularly follow the Tangents blog, the thought-process here should be familiar. Let's take a walk through the process.
As described in the article, controlling bright daylight w/ direct off-camera flash, when trying to over-power the sun with flash, the best algorithm is usually:
– maximum flash sync speed,
– lowest ISO,
– find the aperture for your brightest area that you want to expose correctly for,
at that specific shutter speed and ISO.
Because the sun was hard, and high up already, the best start was to have their backs to the sun. This ensured no one would be squinting, and that I'd have a fighting chance with a single speedlight inside the Lastolite EZYBOX 24×24″ softbox (affiliate) as the light-source I could directly control.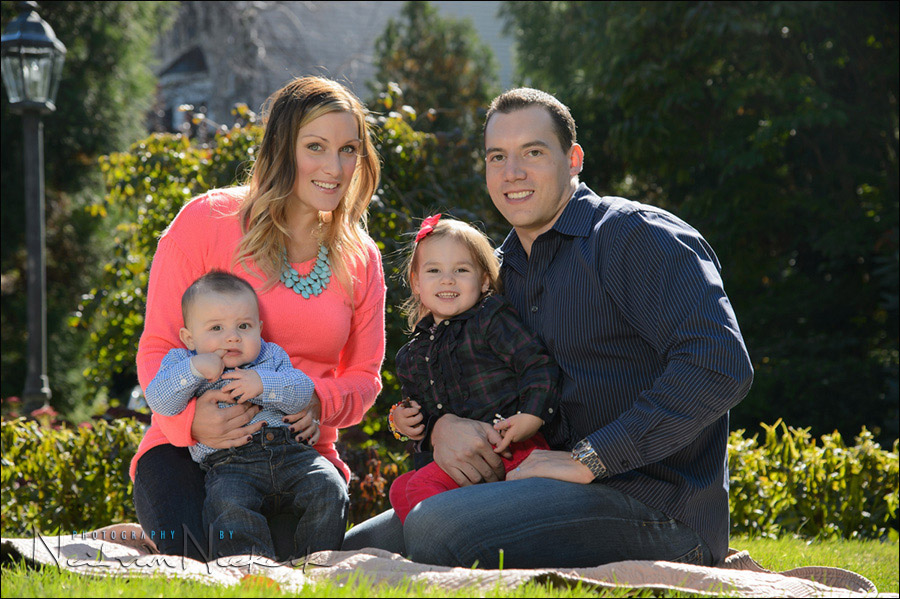 camera settings: 1/250 @ f/5.6 @ 100 ISO with manual flash, off-camera
I knew I'd have to squeeze every last photon out of the speedlight (through the softbox), to get enough light on them. I did want to use the softbox, so that the light would be more flattering and easier to deal with than hard direct flash.
Therefore, the speedlight was set to full output in manual mode. A quick recap: manual flash is controlled by 4 variables that have to be balanced for correct exposure.
However, I didn't go through a rigorous metering process here. From experience, working with the same speedlight and softbox combo, I have a pretty good idea at what distance I should have my softbox for certain settings. It's not a wild guess anymore. I placed the speedlight & softbox at a good distance, and then with a quick chimp of a test shot, I adjusted the distance until I had correct exposure for the required f/5.6 @ 100 ISO
But how did I know I needed f/5.6 @ 100 ISO ?
Let's take it a step back again to a previous article: photography technique – taking photos in bright sunlight. Yes, this stuff comes up time and again! It's all inter-connected. (And not just via hyperlinks on the site.)
As described there, when I have a back-lit subject in bright sunlight, then 1/250 @ f/4 @ 100 ISO is usually a pretty good short-cut. I am fairly close without having to wildly turn my camera dials while looking through the viewfinder at the meter. There's a certain consistency here. Experience will help us out!
Knowing all this, I set f/5.6 as a start aperture. A few test shots without flash showed that I retained enough of the highlights. Cool. That's the aperture then. My subjects would be under-exposed … but that's why I brought along awesome and easy-to-use off-camera lighting.
Bam! Done.
This stuff becomes second-nature when you keep to a specific method.
These are techniques that are accessible to everyone.
Photo gear (or equivalents) used in this photo session
Related articles