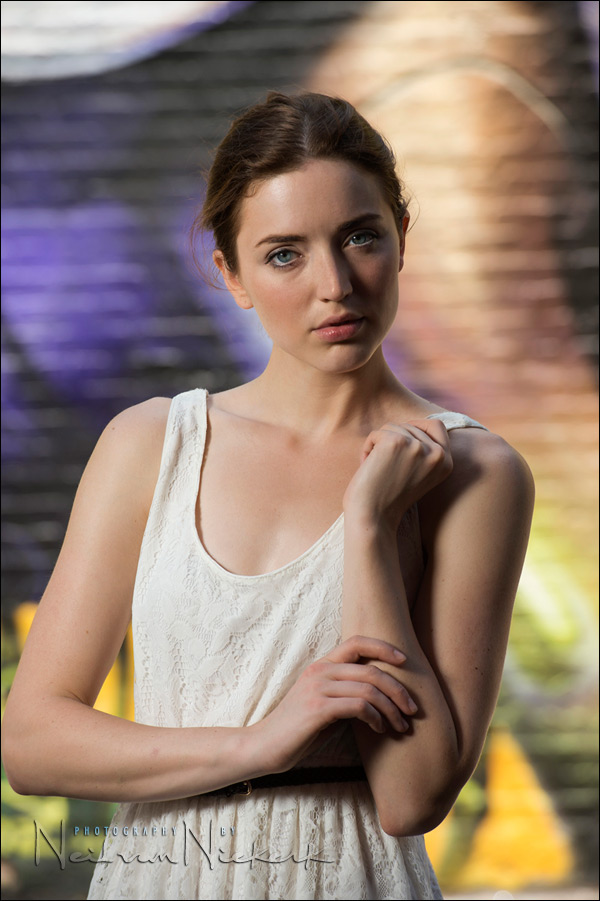 Off-camera flash photography: Short lighting vs. Broad lighting
"Short Lighting" is when the side of the face turned away from the camera, is better lit than the side of the face closest to the camera. (top image)
"Broad Lighting" is when the side of the face closest to the camera, is better lit. (second image)
This has as much to do with the position of the light, as with how your subject is posed into the light. This is true for studio photography and off-camera flash on location, and for when you photograph a subject with just the available light. As shown in a previous article here, you can easily achieve short lighting with on-camera bounce flash. Of course, with studio photography you can finesse this to a great degree.
With on-location portraits, I aim towards getting short lighting on my subjects, because it is more dramatic, and more flattering. Look at the gradient of light on Anelisa's cheek in the top photo. This kind of lighting really helps create a near 3-dimensional look to your image.
Here is the pull-back shot to show the placement of the light.
Short lighting also has to do with how the body is positioned in relation to the light. I prefer having the light coming over the shoulder (i.e., short lighting), rather than hitting my subject squarely in the chest, creating a large highlight there. I directed Anelisa in how she should turn her body and her face in relation to the light.
I can either position my subject into the light to create short lighting … or, I can move my light to the other side.
The direction of light can be controlled by your subject's position in terms of the light, or how you position the light. Both will end up with the same results. Sometimes one option is easier than the other.
Now keep in mind that this is an on-location shoot. Anelisa was standing in the street. While you can really finesse this in the studio and make it text-book perfect, for me .. especially on location .. becomes more of an approach. An approximation or guide to how I would position my lights or pose the model. I'd rather keep some of the free-flowing energy, than pose the model to a dead standstill.
So take this article more as an approach – a starting idea on how to work on location with off-camera flash and posing your subject – than a classic study of the lighting types.
Camera settings & photo gear used (or equivalents)
camera settings: 1/200 @ f7.1 @ 100 ISO
The off-camera flash in the softbox was set to full manual output to match the bright background.
Related articles:
Video tutorials to help you with your flash photography