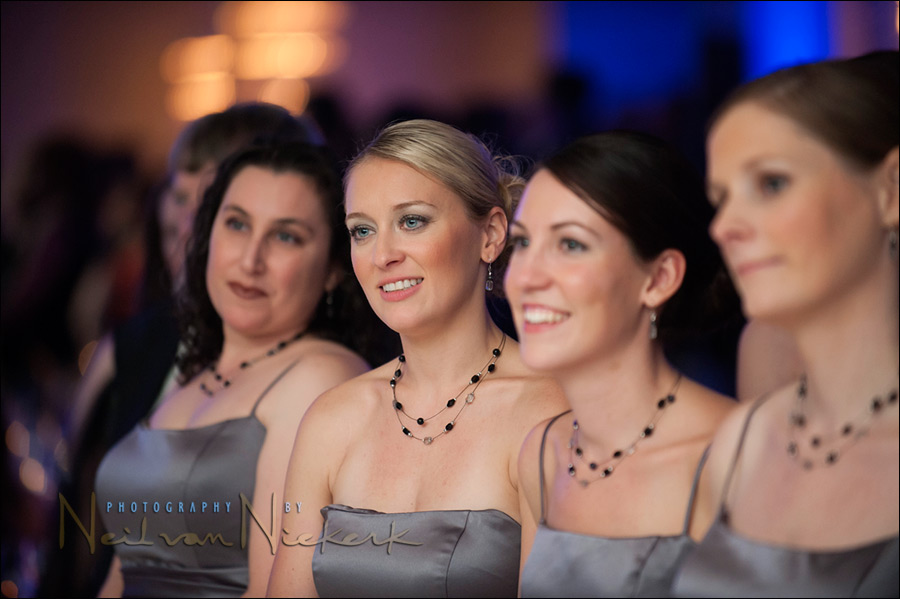 Flagging the speedlite for directional light
Bouncing your flash of various surfaces will give you a larger light source, and hence, softer light. But in bouncing it at a sideways angle compared to where your subject is, will give you directional light from my on-camera flash.
Even better, if you have a scenario as in the photo at the top, where there is a row of people, you can get nearly an equal amount of light on them. Since you can bounce your flash off a surface equidistant to them, they will all be lit about the same amount. This means less dodging and burning in post-processing. A good example is this photo at the top from a wedding where the bridesmaids were watching the bride and groom's first dance.
So the important thing to notice here is that everyone there is evenly lit, whether closer to the camera, or further away.  This is achieved by NOT bouncing the flash off the ceiling towards my subject … but rather to flag my flash so that there is no direct flash falling on my subject. And then I bounce my flash off some point equidistant to everyone.  Then the light has the same distance to travel to everyone … and everyone will be evenly illuminated by the flash.  NO need for the local correction brush in ACR / Lightroom.  It's all done in camera!
This technique is also very useful when photographing corporate events.  You will inevitably have someone closer to the camera – possibly with his back to you.  The way then to get everyone equally well exposed, is to bounce off a wall or the ceiling to the side of everyone … in such a way that there is equal amount  of light on everyone.
We are trying to move away from the idea of bouncing flash directly towards the group using a bounce card or that infamous piece of tupperware. Doing so would mean the people in the frame would be unevenly exposed – for example, the person closest to you might be over-exposed compared to the other people in the frame. But bouncing your flash in a way to create an equidistant light-source, will mean you will have even exposure on your subjects.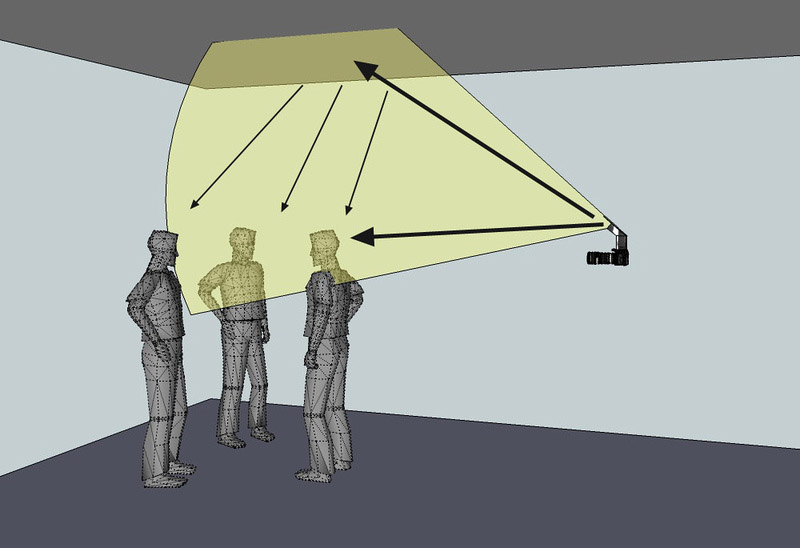 In contrast to that, here is what happens when you flag your flash, bouncing your flash ONLY off a surface parallel to everyone in the frame …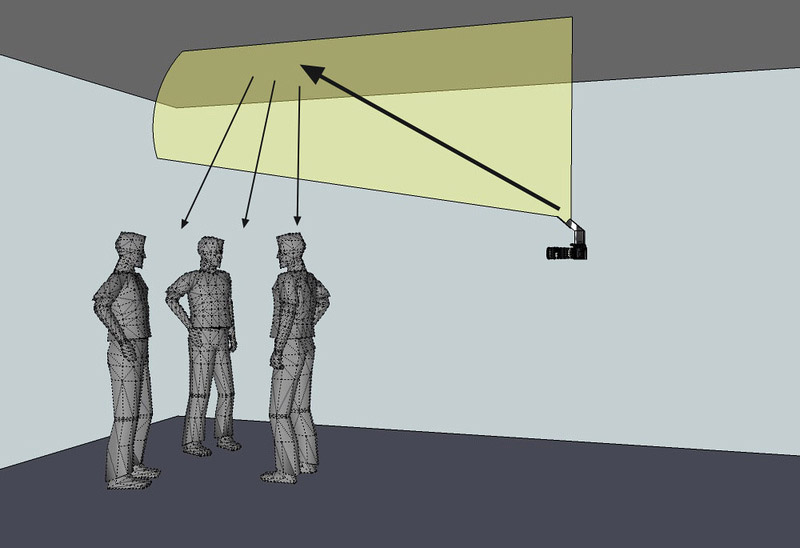 A regular reader of the Tangents website, Alex Perry, works as an event photographer in Washington DC … and he just posted an insightful article about this technique on his blog.  With his kind permission, I'm including the illustrative diagrams here.  But check out his blog post to see his description of how he uses this at events.
Hopefully these diagrams will help in making the concept more clear. Thank you for this excellent contribution, Alex!
On-camera flash modifier – the black foamie thing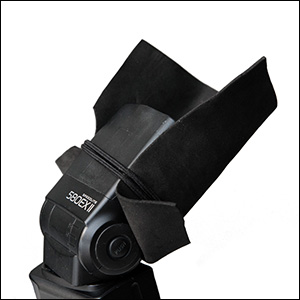 I use the black foamie thing (BFT) as a truly inexpensive flash modifier to flag my on-camera flash to give me lighting indoors that truly look nothing like on-camera flash.The
piece of foam
(
Amazon
), can be ordered via this link. I cut the sheet into smaller pieces.
The BFT is held in position by two
hair bands
(
Amazon
), and the BFT is usually placed on the
under-side
of the flash-head.
The linked articles will give clearer instruction, especially the
video clip on using the black foamie thing
.
Related articles