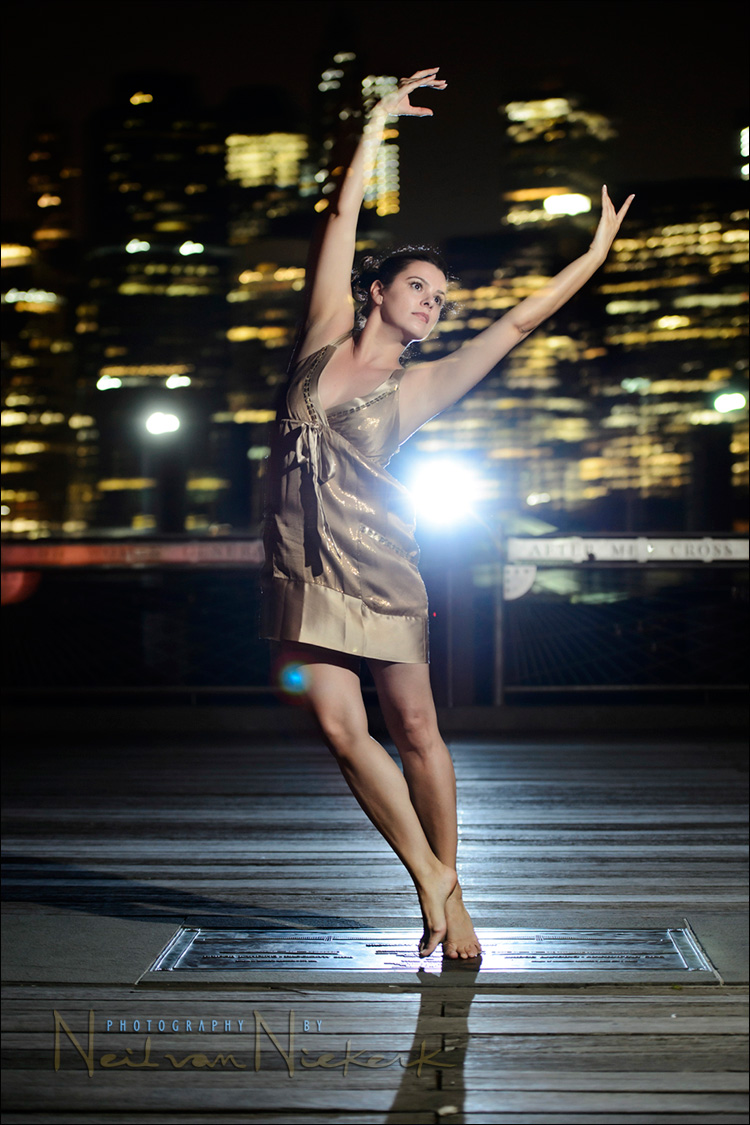 Will flash freeze movement at slow shutter speeds?
Does flash freeze motion at slow shutter speeds (in low light)? The answer is … maybe. Perhaps. It depends. There are several factors which will determine whether flash will freeze motion at slow shutter speeds.
It is difficult giving a definitive answer because it depends on the scenario. In short – if your subject isn't lit by much available light (with ambient light 4 stops or less than your flash exposure), then flash will freeze the action … if there is no bright background. Probably. But it depends on the type of movement, and how critical you are about image sharpness.
See? We just can't quite get away from those qualifiers – perhaps / depends / probably. But let's jump into this and see when flash will freeze the action, and when you're likely to be successful.
The photo above, of Oktavia dancing, was shot at  1/10 @ f/2.8 @ 1600 ISO
At 1/10th of a second, the flash did freeze her movement.
You can see the background lights streak as I moved my hand-held camera to try and keep up with her movements. I was trying to hide the flash behind her, but I liked the effect here. You can also see the city lights streak through her arm as she moved.
Let's quickly look at the pull-back shot to see how the flashes were set up, and then we continue the discussion on whether flash freezes action …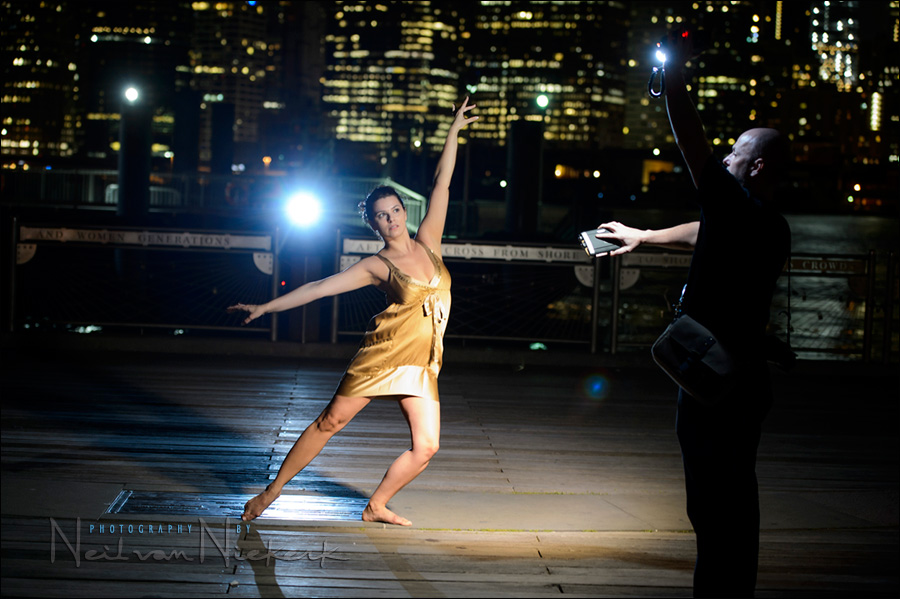 The lighting setup for this photo shoot
We were on the boardwalk area at the Ice Cream Factory in Brooklyn, with its magnificent view of Manhattan's lights. Therefore my exposure was based on the city lights. With test shots, it looked like  1/10 @ f/2.8 @ 1600 ISO  would let enough lights register.
Erik wanted to shoot with his brand-new Fuji X-T1  (Amazon) here, so we decided to use old-school PocketWizards with manual off-camera flashes. This meant there was no infra-red beam from the camera / flash to help with focus. We were working in complete darkness there! I So I had Erik (who helped me on the shoot), hold up a video light (right hand) for me, so I could focus. Oktavia would be statically standing so I could focus on her. Then I would tell Erik to drop the video light completely out of shot, and then I'd cue Oktavia to start her dance movements. I would rapidly fire my camera, since it was tough to see in the dark what her actual movements were.
Flash exposure – we worked via the distance scale on the Nikon SB-910 Speedlight (Amazon). It would tell me what distance the flash should be from my subject for a specific distance / ISO combination. This is explained thoroughly in this article – getting the most power from your flash / speedlite / speedlight – although in a completely different context. This time we wanted very little light from our flashes, because we were shooting at 1600 ISO and f/2.8 
The main flash on Oktavia was gelled with 1/2 CTS but the flash behind her wasn't gelled. Then by changing the WB on my camera to be correct for the main (gelled) flash, the background went blue. That gave a nice rim-light on her with the difference in color. This technique of gelling one flash to get a blue background, is thoroughly explained in that linked article.
---
---
Will flash freeze the action?
Let's step through different aspects and see how the flash & ambient combination works:
a.) Flash duration
Without getting into a thorough discussion of T.5 and T.1 durations of flashes, let's look at flash duration in a more simple way:
Studio flashes generally control the amplitude of the flash pulse to control power / brightness. Therefore at lower power settings, the flash duration becomes longer. Some studio flashes have durations as low as the vicinity of 1/500 which isn't enough to freeze fast action.
Speedlights control power / brightness by shortening the duration of the flash pulse. Therefore, the lower the flash power setting, the shorter (i.e., faster) the flash pulse. So if you want to freeze drops splashing, then you're most likely going to use speedlights at low power settings.
For simplicity of explanation, let's say that the flash duration is in the order of 1/1000 and this would then imply that normal human motion would be frozen by flash. But if you were photographing sports action in the studio, then a high-kick from a martial artist would still not have hands and feet crisply sharp. So you'd have to accept that minor compromise, or delve much deeper into fast-duration flash.
b.) Ambient exposure
Inevitably, when we use flash, we have to consider the ambient light. Especially here. Whether the ambient light is bright or whether we are working in low light, will have impact on whether flash could freeze action.
For this scenario, use a faster shutter speed and high-speed flash to freeze the action.
If you are working in typical on-location scenarios, and your ambient is only 2 stops under – which would be typical for using off-camera flash for on-location portraits, then the flash won't be enough to freeze the action … because you would have to rely on your camera's actual shutter speed to freeze action.
This then is the crux of the matter for portrait photographers shooting on location in low light:
– how low is the ambient light?
– what is your shutter speed?
If the ambient light is 1 or 2 stops under, and your shutter speed is slow, then flash will NOT "freeze the action". Or, you will have to be okay with ambient smearing of your subject. That can be cool too. But it isn't "freezing the movement" then.
With the ambient light around 3 or 4 stops under, you have a better fighting chance of the ambient light not obviously smearing.
If your ambient exposure is 5 stops under your main flash exposure, then the ambient will not register.  So then you're safe. Working in near darkness with a dark background, and only using flash.
c.)  The brightness of your background
Now, lets say you work in the dark, and flash will freeze the action because so little ambient light will register. Now you have to consider how bright the background is. If the background is, for example, a bright sunset, then your subject will "disappear" into the brighter light as they move. Hands and limbs could disappear or "melt" into the background.
You can see a little bit of that happening with Oktavia's wrist which blends with the city lights as she moved. So with a uniformly brighter background (like a sunset), the hand and arm would've "melted" into the background.
So that is something to keep in mind as well – even with your subject in deep shadow, how bright is the background? Enough to show blur? The flash would freeze the movement, but the ambient exposure with the very slow shutter speed, would still show because of the brighter background.
Summary
Will flash freeze the action? It depends.
With this photo session of Oktavia, I knew I would have a greater chance of success because I worked within what was reasonably possible. The ambient light was very low – the background was bright to the point that it would be a problem. In other words, pick your battles. Not everything will work every time, so you have to sway the photo shoot's success in your favor.
Hopefully this article will help explain what to consider and which situations are going to be more successful than others. In the end though, you have to do some homework and play. Shoot a lot, and see. That's always very good philosophy in photography – practice a lot!
Related articles