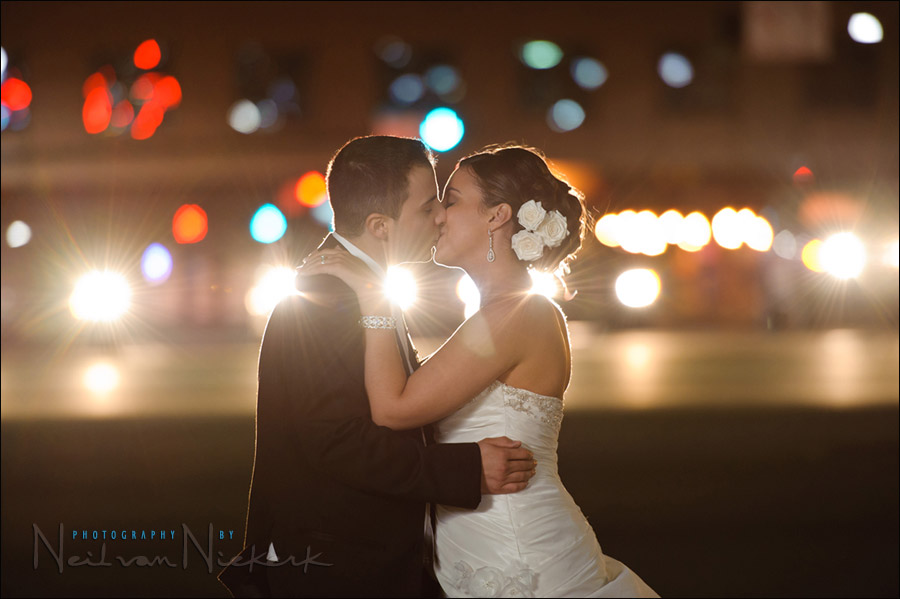 Wedding photography: Night-time city lights & off-camera flash
For the romantic portraits, I often take a couple around the venue – the light is just different than during the day. This is where video light comes into its own. Here though, I wanted some of the city lights and light from the traffic outside the venue to appear in the background. The way I envisioned it, was as a stream of cars behind them, but in the first few test images, the cars were too distinct, even at f2.8 and 200mm focal length. Looking at how the approaching cars lined up at the traffic intersection, I decided to use that instead, and let the cars' headlights flare out.
Then I just needed some light on the couple to complete the image …
Shortly before we went out, I was still photographing a last few family groups that we didn't get to earlier in the day. So I had a light-stand and white shoot-through umbrella ready. (Exactly the same off-camera lighting setup as shown in this recent post where I photographed band members.) I had my assistant hold it up at camera left. I tried shooting in TTL, but the exposure varied too much as the background lights flared or not. So I settled on low-power manual flash with the speedlight. I didn't need a lot of power since I was shooting at f3.2 and 1600 ISO. In using the PocketWizard TT5 and AC3, I could easily flip between TTL and manual exposure for the off-camera flash.
The wide aperture was to help separate the couple from the background with the thin depth of field. The high ISO was because I was shooting hand-held. I didn't have time to fetch and set up a tripod on this cold evening. Even at f3.2 and 1600 ISO, I used 1/25th shutter speed. This is where a stabilized lens is essential.
Proper technique to steadily hand-hold the camera and lens also made the difference.
– lens supported with my left hand under the lens;
– anchoring my elbows in my sides;
– legs apart;
– breathing controlled;
– lightly pressing the shutter release.
Focusing was a problem. The strong back-lighting from the cars' headlights made it really difficult for the camera to focus. So I had to prefocus before the cars stopped there again with the next light change.
In terms of the chosen exposure – the camera settings are guided by the ambient light. There isn't a real way to meter for it with your in-camera meter. So it really just depends on a good guesstimate for the initial exposure, and then nudging your shutter speed, aperture & ISO to where you need them to be. But mostly you just change your shutter speed to bring in the ambient light, because f3.2 and 1600ISO are getting close to the ceiling of useful settings. Also, since I was shooting with manual flash, it just made sense to change the shutter speed before I change anything else.
The flash was gelled with a 1/2 CTS gel to bring its color temperature closer to that of the city lights and car headlights.
And that is how this image came together. It even works in Black & White: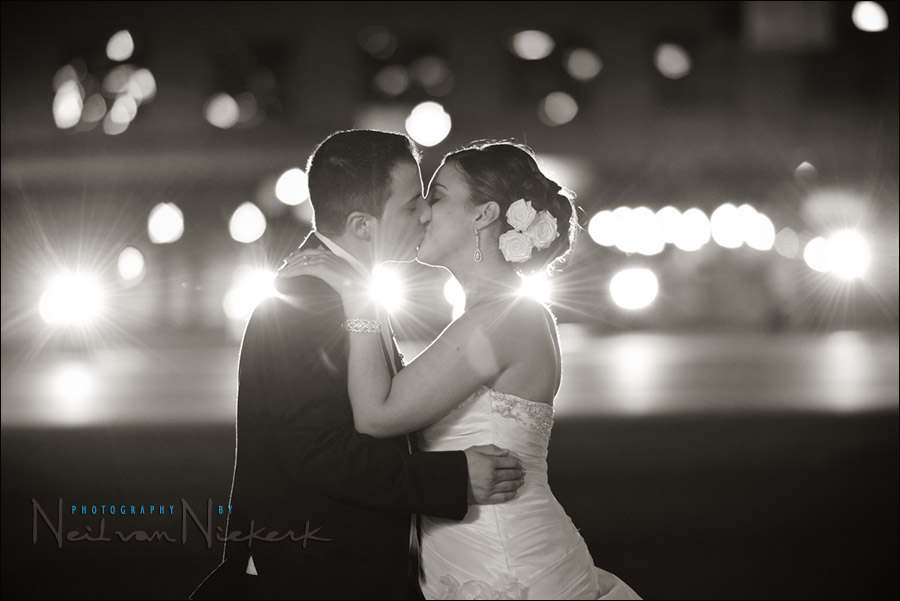 Related articles
Photo gear (or equivalents) used during this session
You can buy gels through these affiliate links: Video tutorials to help you with your photography
If you like learning by seeing best, then these video tutorials will help you with understanding photography techniques and concepts. While not quite hands-on, this is as close as we can get to personal instruction. Check out these and other video tutorials and online photography workshops.