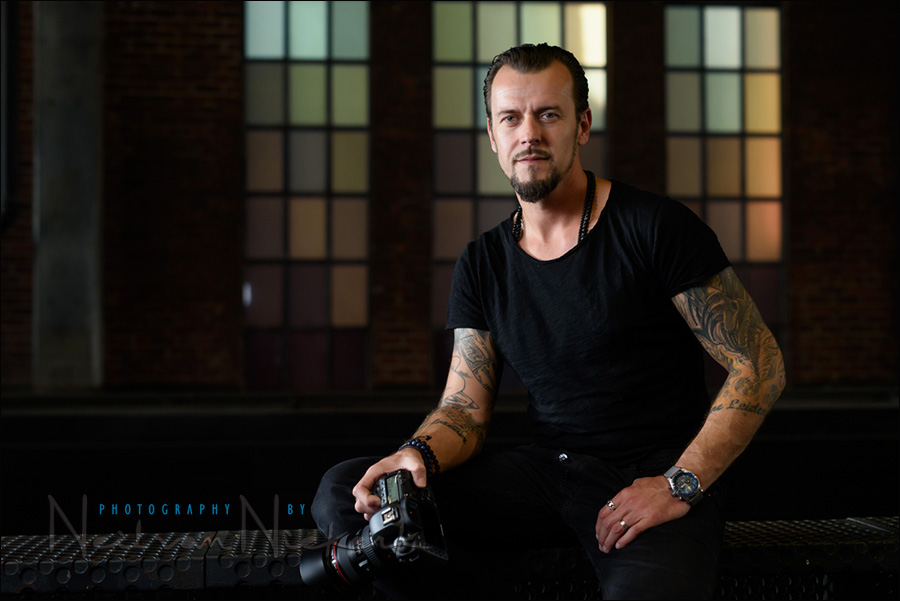 On-location photo session in New York – BTS video
I met Marco when he attended one of my photography workshops – he is charismatic and with that photogenic ruggedness, I thought he'd be a great subject to photograph on location. He was visiting New York from Germany for a few days, and I asked if he would be up for a photo session. And here we are.
With this photo session, I also wanted to try out something I saw Dani Diamond does – where he has an on-camera stabilized gimbal for his Go-Pro, to give a wider point of view from the photographer's perspective. A kind of behind-the-scenes look.
I often have people ask me how I saw a specific photo. How did I choose the background and the framing. And how I posed my subject within the frame. Now, with this POV-style video while actually taking photographs, the thought-process might be more apparent.
There are a few problems with this video clip, as I will explain further down, but even then, this video clip will be insightful for the timing, and will reveal the context of where the photograph were taken. I would also love to hear your opinion on whether this should be a direction I should take with future photo sessions to post on the Tangents blog. Let me know.
[ For more videos, follow me on Vimeo / YouTube ]
Most of the images shown were lit using the Profoto B1 flash, diffused by the very portable Profoto 1'×3' stripbox. My assistant Kat, held this up with a 75″ tall Gitzo monopod. Two of the images where shot with available light only. Scroll down for the discussion and details about the photographs.
If you like this look to the portraits, then join us for one of the NYC photo walks. We'll have a very similar style of working with our model and the lighting.
---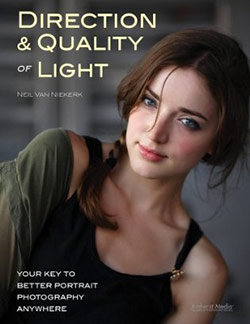 Direction & Quality of Light
I wanted to distill the essence of what we, as photographers, work with – light! Before we can truly grasp on-camera flash and off-camera flash, and really, any kind of photography, we have to be aware of the direction and quality of light. We need to observe the light that we have, and then decide how best to use it, or enhance it.
With this book, I try my best to share those "aha!" moments with you, and I do believe this book can make a difference to your photography.
The book is available on Amazon USA and Amazon UK, or can be ordered through Barnes & Nobles and other bookstores. The book is also available on the Apple iBook Store, as well as Amazon Kindle.
---
Gimbal setup used for the BTS video
This was shot with the GoPro Hero3 (affiliate), mounted on a Feiyu FY-WG 3-Axis Gimbal (affiliate), which in turn was mounted on a flash bracket (affiliate). The flash bracket was necessary so that I could have the GoPro above the camera, regardless of the camera's orientation – vertical or horizontal.
As you will notice, the framing of the video is a little too high. , and somehow, somewhere, I had skipped a software update on the GoPro, so I couldn't get the GoPro video to show on my iPhone like I was used to. I also didn't have my GoPro Bacpac with me, so I couldn't preview the video while shooting. A bit of sloppiness on my part, having just set this up the night before. Next time I will be ready, and have the GoPro better framed on my subject.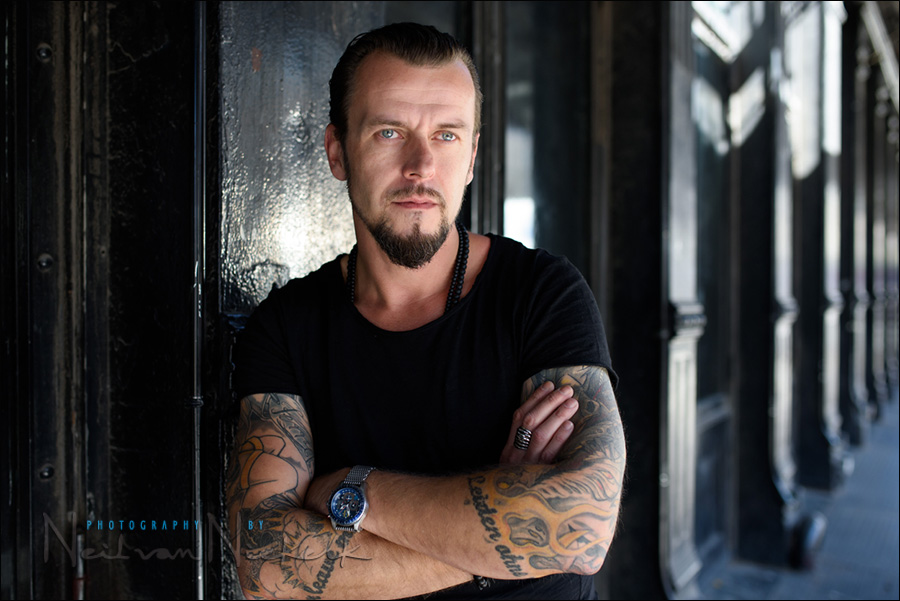 We started off in this spot in the Meatpacking District. Working under the awning, there was a lot of clean, open light coming in from a good angle. Enough light and with the proper direction and quality to it that we could shoot with just the available light.
1/250  @  f/2.2  @  200 ISO  … available light only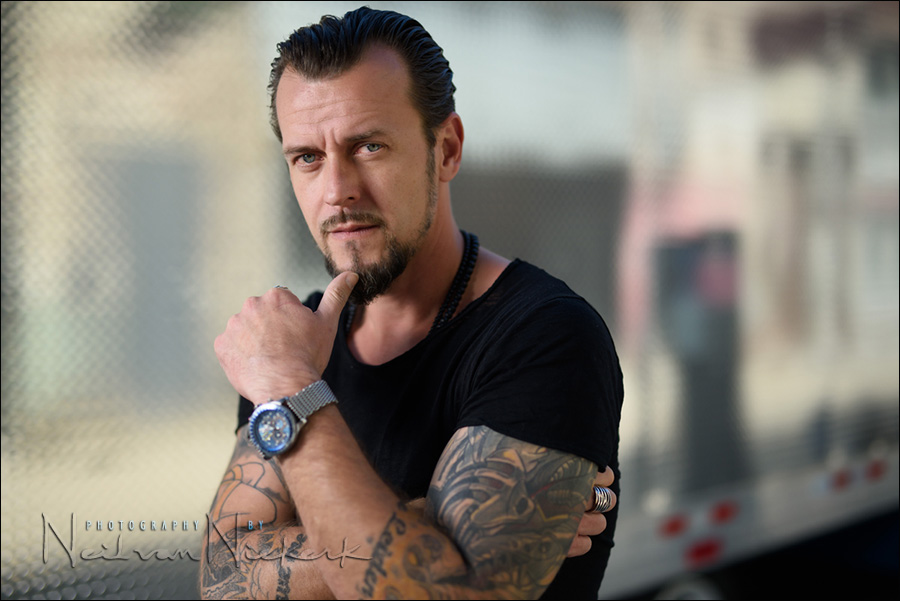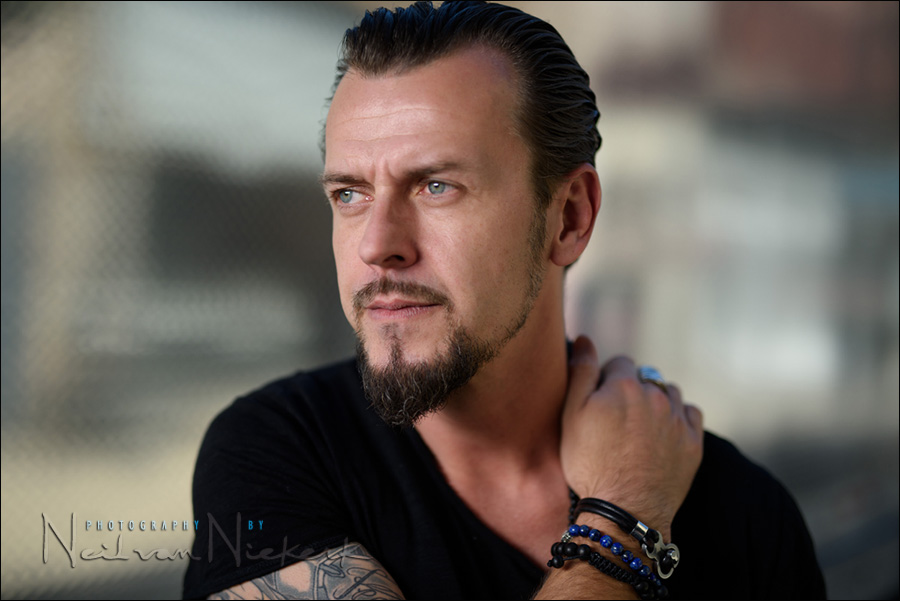 Just a hop, skip and a jump away from the other spot, we walked past this truck used by a crew filming something there. The highly reflective textured surface of the truck intrigued me, and I wondered if it would make a suitably unusual backdrop for a few portraits of Marco. The shallow depth-of-field was of course a deliberate choice here.
1/4000  @  f/1.6  @  200 ISO  … w/ off-camera flash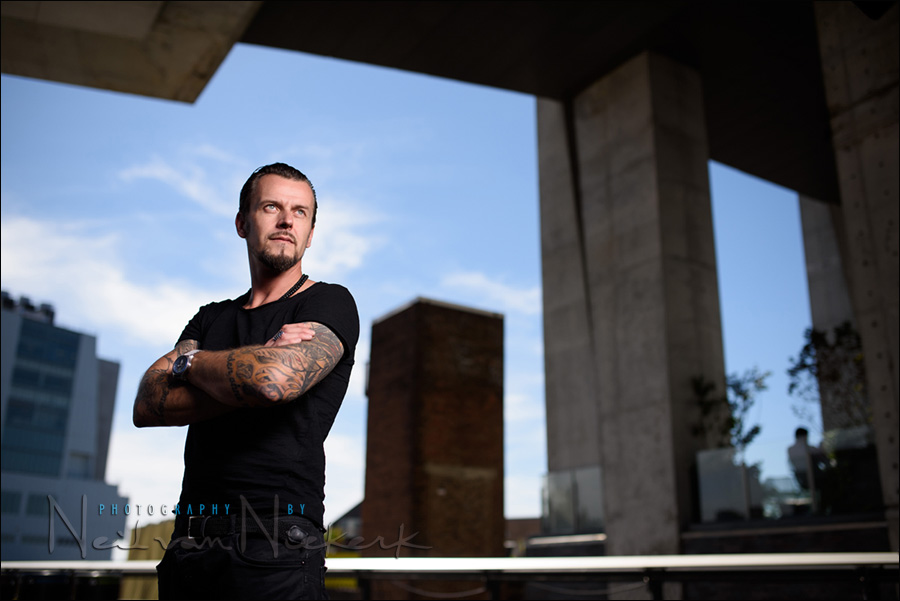 Shooting on the Highline, I gravitated to a spot that I knew would work well. I had photographed a model there a while back, using the buildings' shapes as a natural frame – composition, posing, light & lighting – then a blast of flash, and Marco is properly lit, and exposure balanced with the blue sky. A dynamic composition.
1/5000  @  f/2  @  200 ISO  … w/ off-camera flash
The more playful shot worked better than the more serious expressions. I wanted to move towards him with the camera and the GoPro on the gimbal so that the POV video would show the softbox and light … and as I moved closer, Marco goofed around. As a portrait photographer, you can't necessarily pose spontaneous moments – you have to wait for them, and be ready.
1/250  @  f/2.8  @  100 ISO  … w/ off-camera flash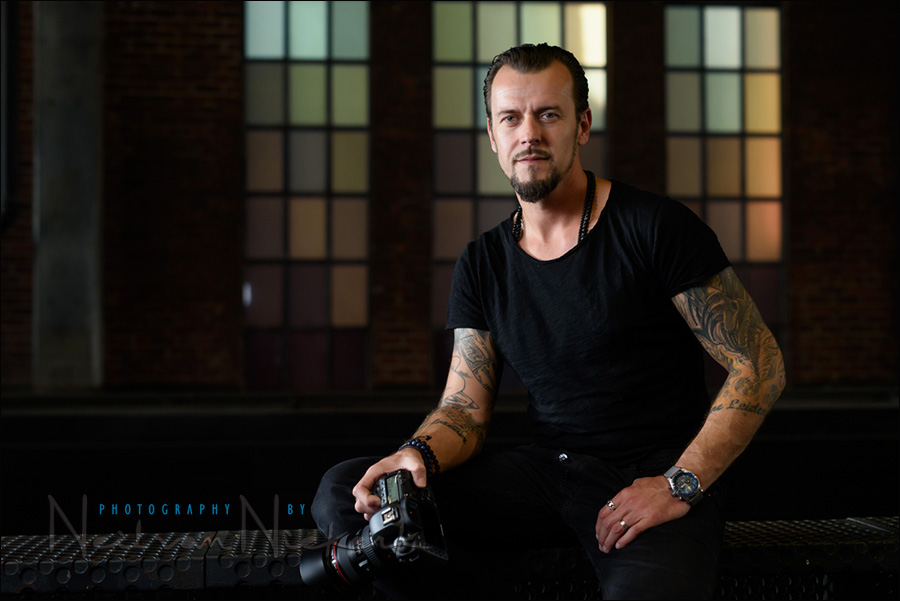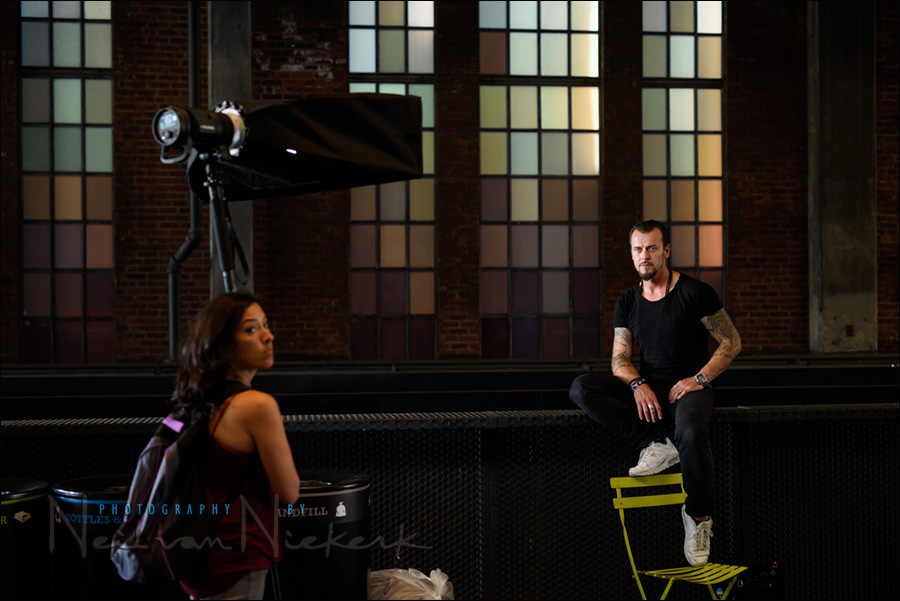 Under this overhang area on the Highline, I knew the colored window panes would make a fantastic background. We could get away with carefully posed images, just using the available light. But with a softbox giving a kiss of light, the light is perfect anyway. It's just so much easier to work this way.
1/250  @  f/2.5  @  200 ISO  … w/ off-camera flash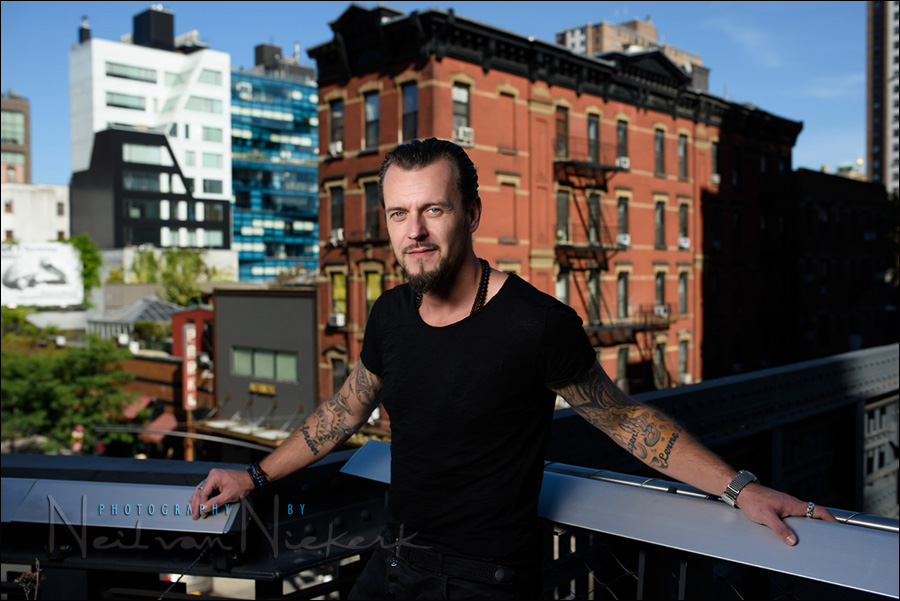 This one was for Marco – in several places he wanted a more scenic view of New York behind him. So the choice of aperture was deliberate again so that enough details is available, but not f/22 sharp. But neither f/1.4 blurred. Just right for context.
1/1000  @  f/4.5  @  100 ISO  … w/ off-camera flash
We went up and down this elevator several times because the light on Marco's face would continually change. I had him move to the side so that in a few places, just a spot of light would hit one of his eyes.
The color was a severe yellow-green, so I knew this would be a B&W sequence. I even changed the Picture Style on my camera to B&W to show him what my intention was.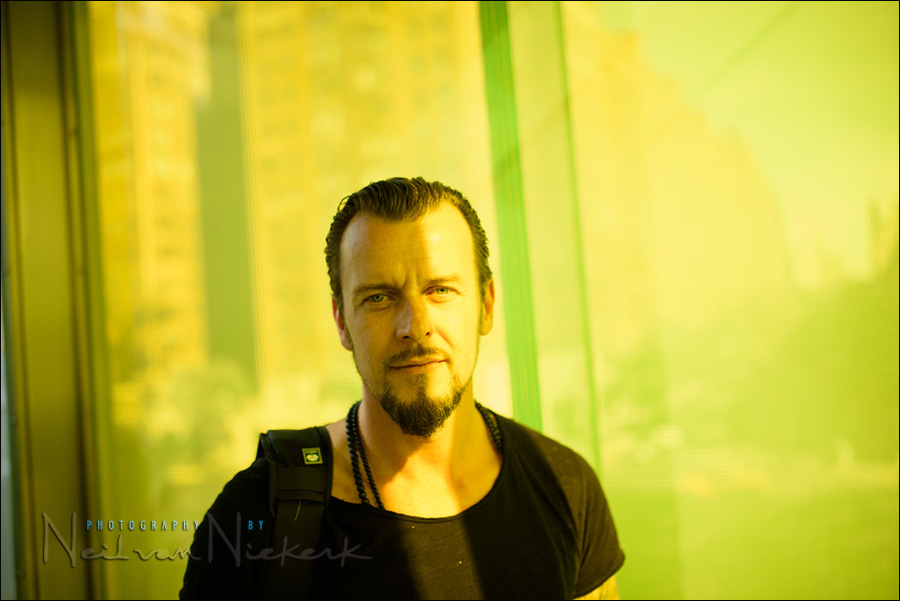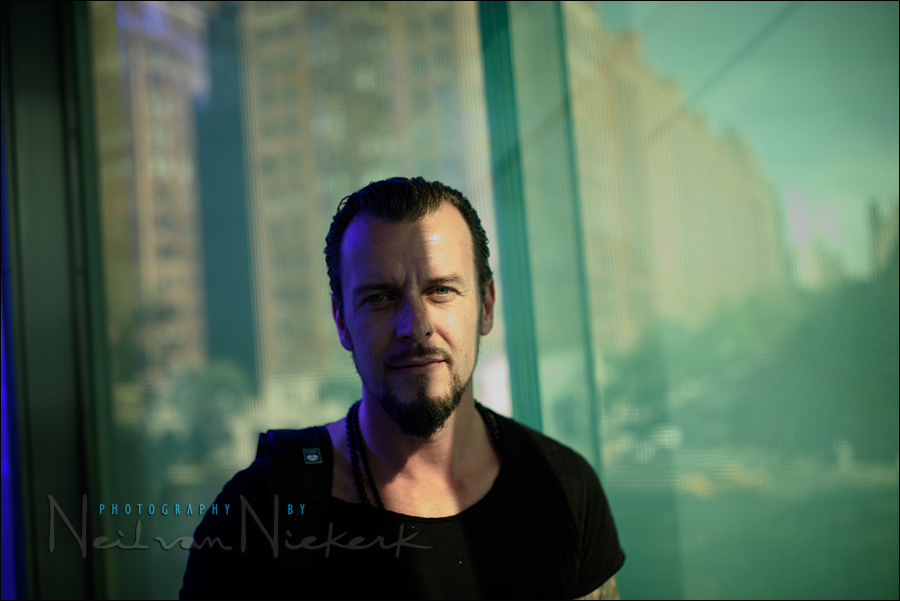 Just to show that the color shift is so severe, that it wasn't possible to get proper skin tones out of the RAW file. Even then, it does have a cross-processed look that works well. Still, I prefer the simplicity of the B&W images we shot here.
1/500  @  f/1.8  @  100 ISO  … available light only
This was shot with me balancing precariously on the white traffic bollards you find in the Meatpacking district. I also positioned Marco on purpose so that that highlight on the cobble stones (due to light reflecting off a window somewhere), was directly behind him. I wanted a less distracting background, and cropped the photo in post-production to lose the sidewalk clutter with trees and people. With the high megapixel count of the Nikon D810, I still ended up with a 24 megapixel image. Loads of info still there.
1/2000  @  f/1.8  @  100 ISO  … w/ off-camera flash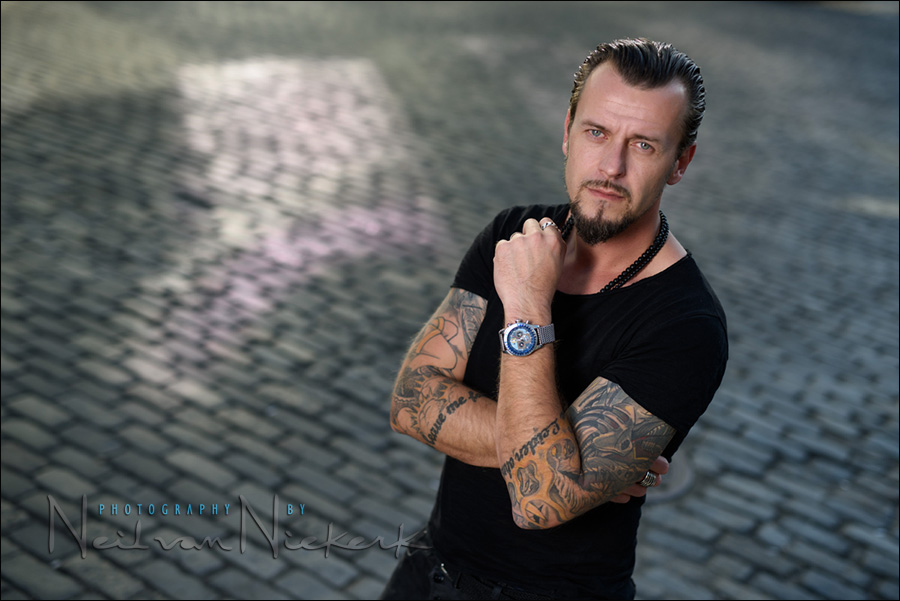 Still loving the simplicity of the repetitive pattern in the cobblestone street. I changed the composition to see if the highlight on the street would creative a dynamic tension in the composition – I feel as if my eyes move to and fro between the highlight on the street, and his expression.
1/800  @  f/2  @  100 ISO  … w/ off-camera flash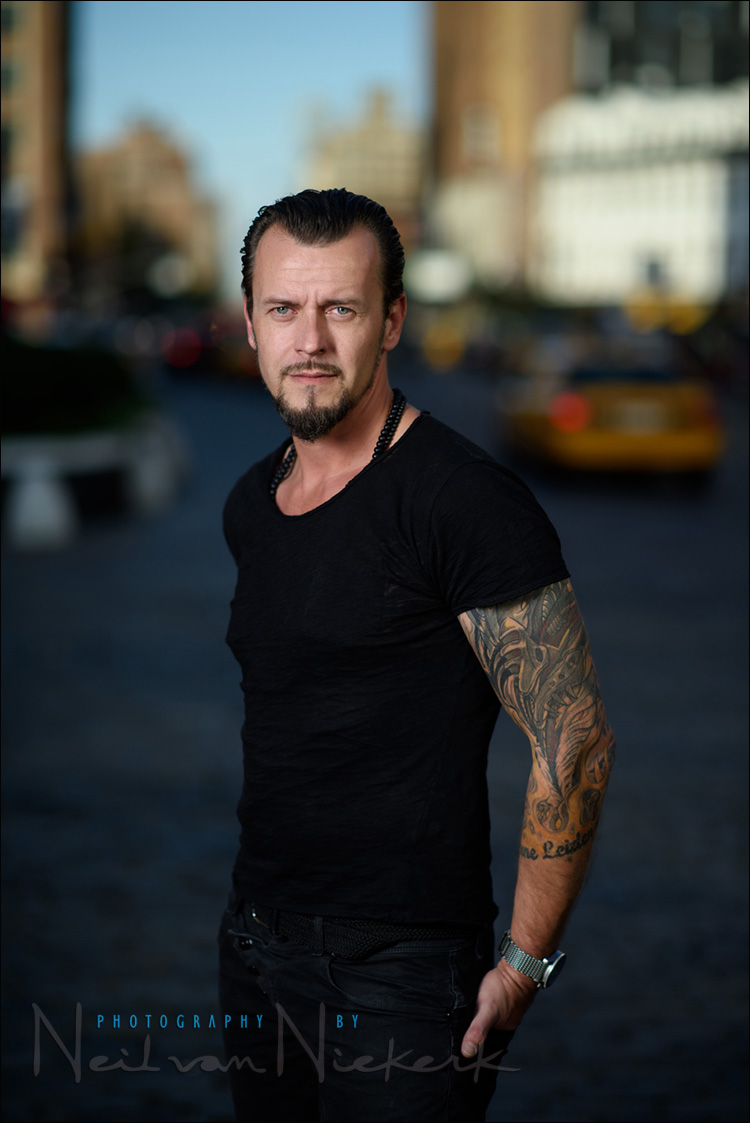 With my feet back on the ground, I had Marco pose in front of a busy intersection, timing it so that none of the pedestrians or nearby traffic showed. The wide aperture on the 85mm lens helped focus attention just on him, even with the busier background.
1/2500  @  f/1.8  @  100 ISO  … w/ off-camera flash
Again simplifying the composition with a wide aperture on the 85mm lens  –  the best lens to change your portrait photography.
1/1600  @  f/1.8  @  100 ISO  … w/ off-camera flash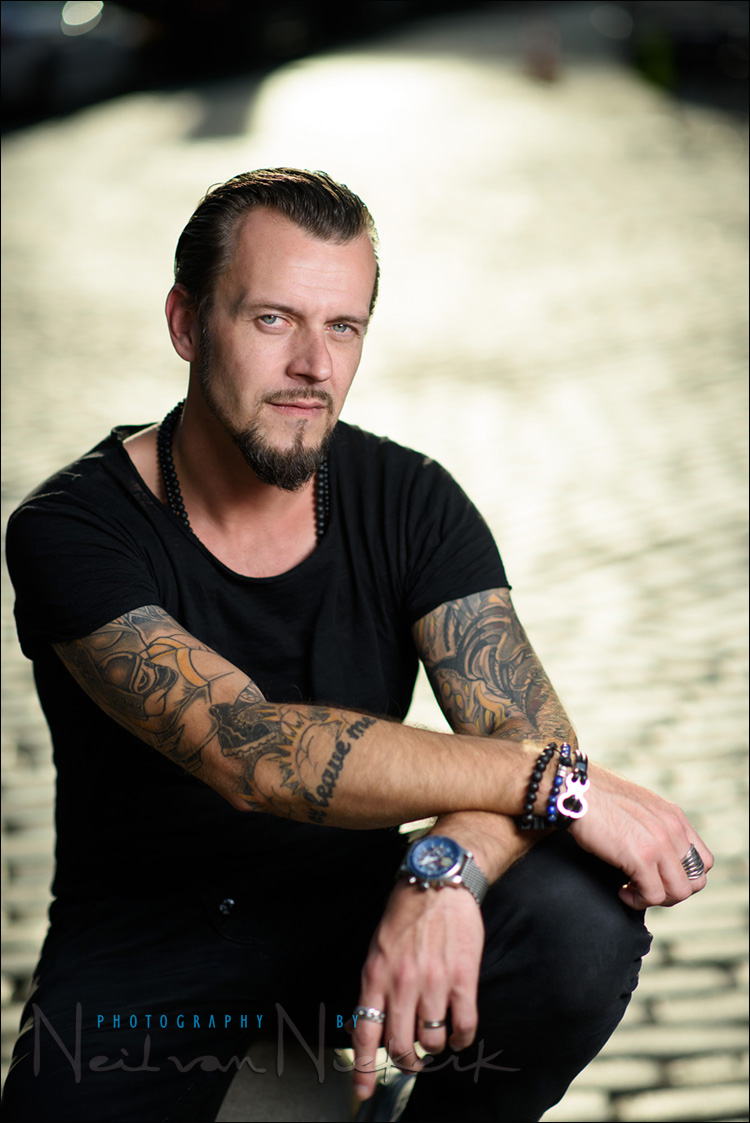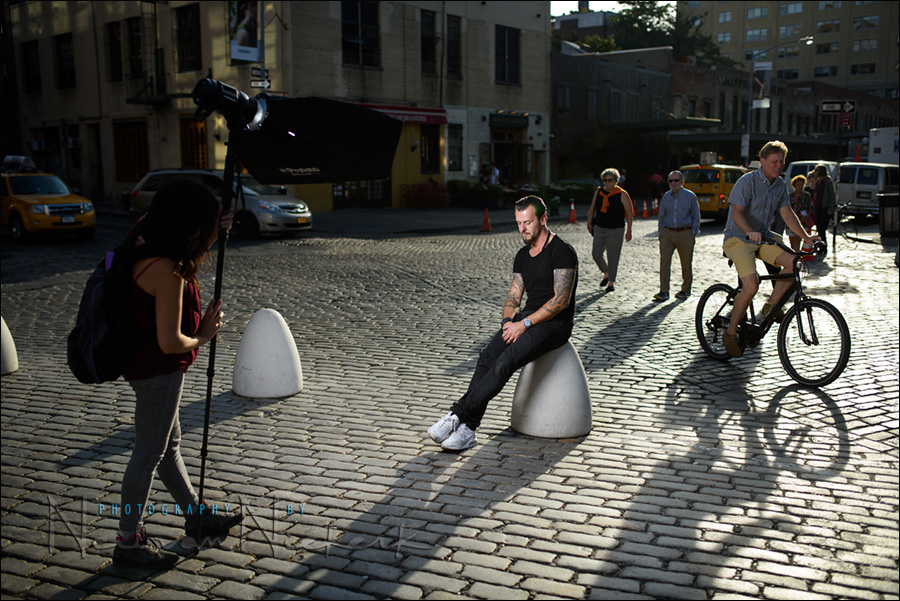 Again, a busy intersection where I had to carefully time my shots. The POV video clip shows this very well, as I wait for those few moments where the background is uncluttered.
1/6400  @  f/2  @  100 ISO  … w/ off-camera flash
Related articles